Happy Friday friends!  It's been way TOO long since I've done a Flavors To Follow post and I've really missed them.  I used to have much more recipe, inspiration, photography posts and I promise to bring those back.  It's funny, the other day someone referred to my blog as a fashion blog and instead of rebuttling and saying, no it's a lifestyle blog, I let it go.  Because really, it's starting to look that way.  Not that there's anything wrong with having a fashion blog, but I do want to stay true to my roots of being a lifestyle blog.  So girl scout's promise, you will be seeing posts other than just outfit ones in August.  There I said it, now I gotta stick to it.
But anyways, on the post, which I guess can still be considered a fashion post, but in mind, it's more like fashion inspiration or me doing the shopping for you on a certain trend and not pictures of just me in an my outfits.  I really enjoy putting these little collages together~!  This week's trend is ombre, dip dye, gradient, whatever you want to call it.  It's going from one color to another in a gradual way.  I like it.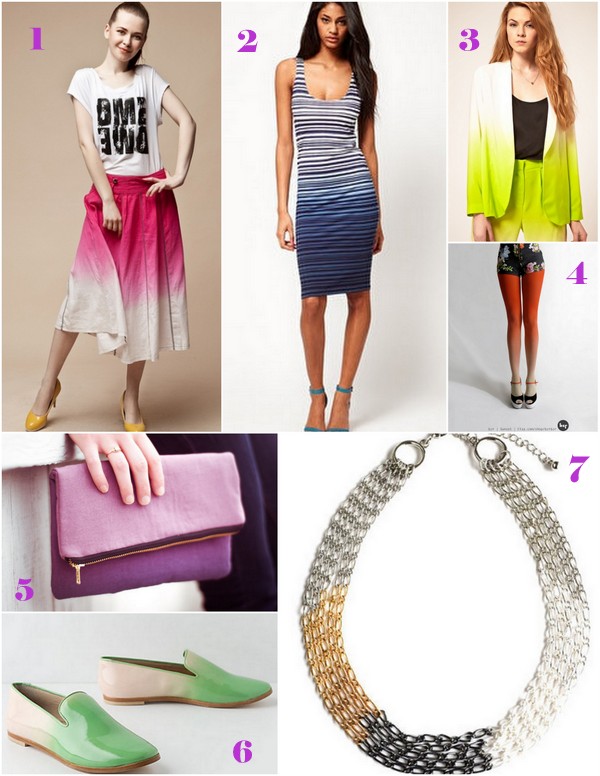 1. This OASAP skirt is totally on my wishlist.  It's got a bold ombre effect, cute embellishments and a length that's great for work!
2. Stripes and ombre on a curve accentuating ASOS dress sound like a staple trendy dress in any wardrobe.
3. Light up a boring boardroom meeting with this ASOS blazer.
4. Have you started shopping for Fall yet?  Because these tights need to be at the top of your shopping list!
5. Just getting warmed up with the ombre trend?  Why not start with this Rouge & Whimsy foldover clutch?
6. Wear these juicy watermelon loafers from Anthropologie and be the sweetest gal in town.
7. And of course with my current obsession of chain jewelry, I had to show you this JEWELIQ necklace!
If you've got a sweet tooth, then you need to enter this Tookies giveaway.
If you are in to the nautical trend, then you need to enter this Sincerely Sweet Boutique bracelet giveaway.
Have you joined the Ombre trend yet?  What Ombre pieces do you own?