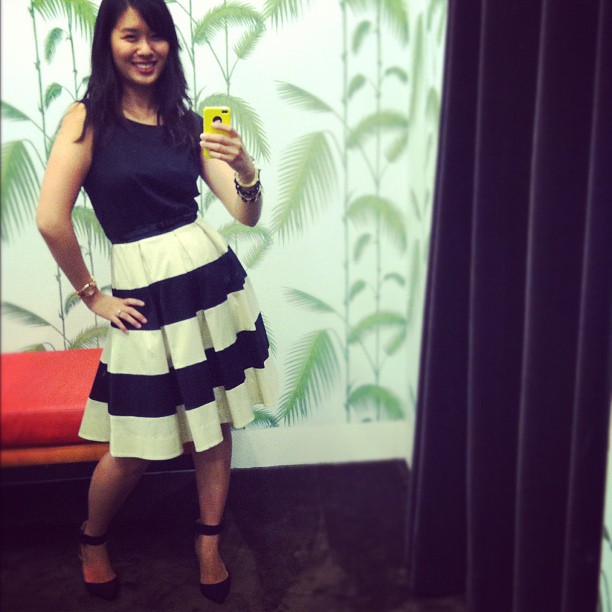 If any of you follow me on Instagram (@sandyalamode, come follow me if you don't already!) you may have seen my post last week about the dreamy Kate Spade dress that I've been eyeing forever.  Only reason I didn't actually buy it is because I'm waiting and hoping it goes on sale or for a discount (please please please).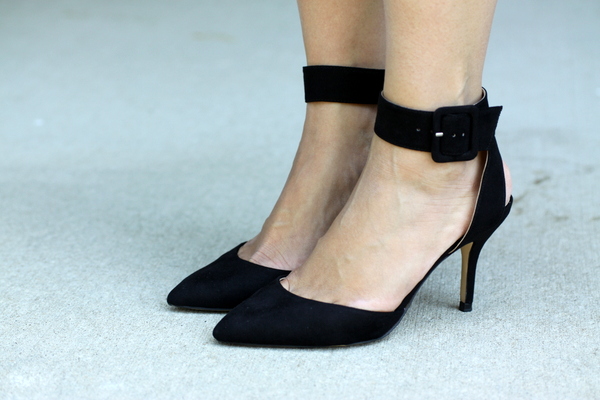 Top: Forever 21 | Skirt: Modcloth | Shoes: Zara | Bracelets c/o The Shine Project, Ladyee Boutique | Necklace: Deuce | Earrings: JEWELIQ | Pouches c/o Stephanie Johnson
I decided to recreate the  look of the Kate Spade dress and was SO excited when I found this skirt from Modcloth.  Seriously, I spent FOREVER looking for the perfect striped skirt with wide enough stripes and pleats.  With it being a skirt, it opens up many possibilities for remixing outfits since I can change the color I want to wear up top.  I'm a huge fan of green/teal (and cobalt blue, purple, well any bold color) against black and white.
And can we focus on my shoes for a second?  These Zara sling backs are my new favorites for fancying up any outfit!  Sad thing is when I wore them out last week I stepped into a grate and my heel got stuck.  As I pulled it out, it ripped off some of the suede on the heel and I cried inside.  Luckily I was able to use a Sharpie marker to color in the part of the suede that tore off, it works, but still a sad situation nonetheless.  Le sigh.  I probably won't show you that part in pictures though, it would make you sad too.
Oh, did I mention pink and green is a fave color combo of mine as well?  Which brings me to discuss my new favorite line of pouches.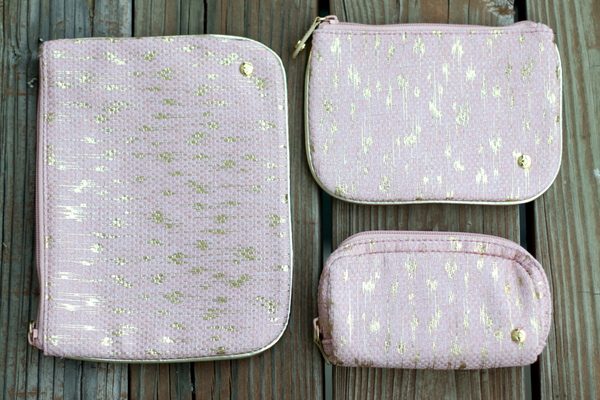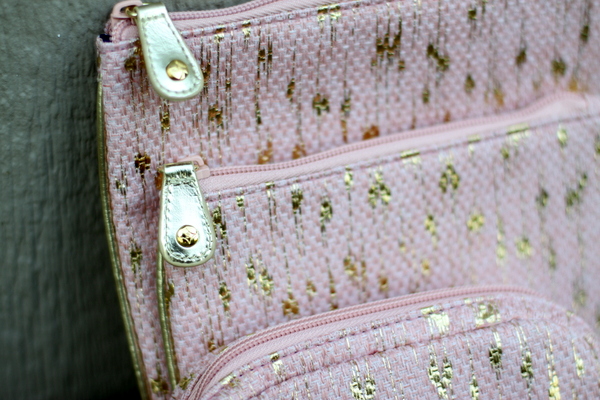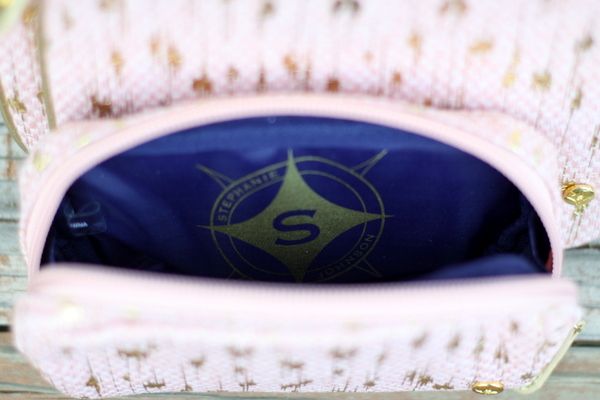 Ummmm why did it take me so long to find Stephanie Johnson?  Have you checked out their shop before?  They've got a variety of cosmetic bags, little pouches and clutches and items for travel in the prettiest designs one ever did see.  Stephanie Johnson sent me a set of pouches in this gorgeous Palm Springs Pink design and I've been using the smaller one to hold makeup, the medium sized one to hold rewards cards and receipts all inside of my big purse, and the larger one as a regular clutch when I don't feel like lugging around my big purse.  The quality is amazing and I just love the gold foil design, makes me feel fancy.   🙂  Get yours now, do it.
What clothing items or accessories make you feel fancy?