Hi friends! I feel like it's been forever since I've been a Flavors To Follow but don't worry, I didn't forget about it. In my two year blogiversary feedback, many of you said that you loved these posts so I felt like it was about time I owed you one. This week's current obsession is color blocking. This trend has been around for a couple months now but I've finally just got around to embracing it. It's basically where you pair a few bold colors and wear them together, or the colors can appear in a single item. There's so much you can do with this as the color combinations are endless! Some of my faves are turquoise + aqua, black + white + coral, cobalt + turquoise, neons + neutrals and green + yellow! Here's a few items I have found and love!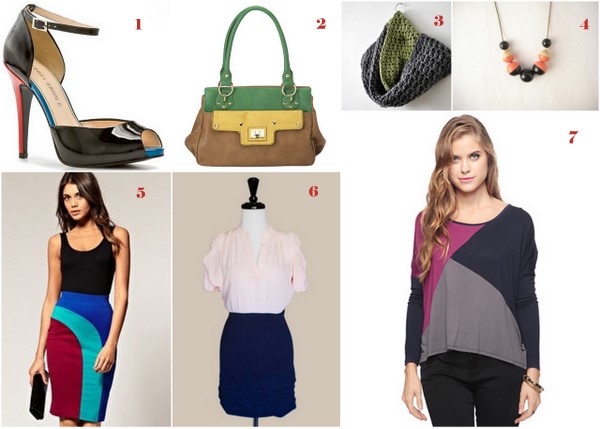 1 These DSW black pumps with a touch of red (and blue) hot!
2 Loving the yellow and green pairing of this Nine West satchel. I think it's about time I buy a new bag, don't ya think? Who's with me?
3 This Ayca knit scarf is quite the beauty and sure to keep you warm too in these cold winter days.
4 What a gorgeous pairing of coral with black and white in this LaPetitPaillette necklace, what a great contrast!
5 Go bold with color blocking in this Asos skirt.
6 Or be a little more subtle and sweet with this Shopkempt dress!
7 Be comfy casual chic in this flowy Forever 21 top.
P.S. The winner of the Fresh Tangerine earring giveaway is Kait from Pretty Things! Congrats girl! Please email me at sandyalamode(at)gmail(dot)com with your mailing address and we'll get the earrings sent out to ya!
What are your favorite colors

to color block together?