I have a real treat for you today, friends. I have two outfits in one post. OK, I actually did that on Sunday, but yea, I'm doing it again. I like to call this series Happy Hour Style. Why? Because it's Friday, the best day to go to a happy hour after work to kick off the weekend right!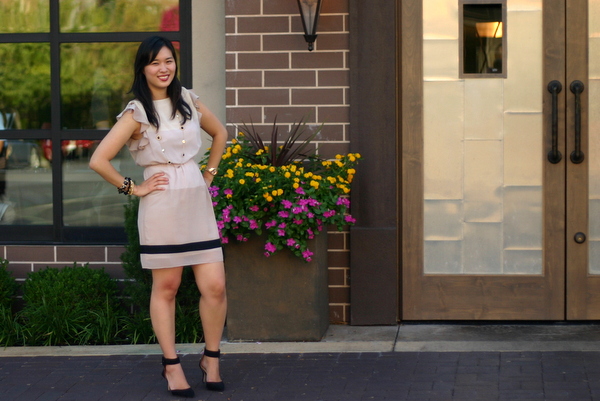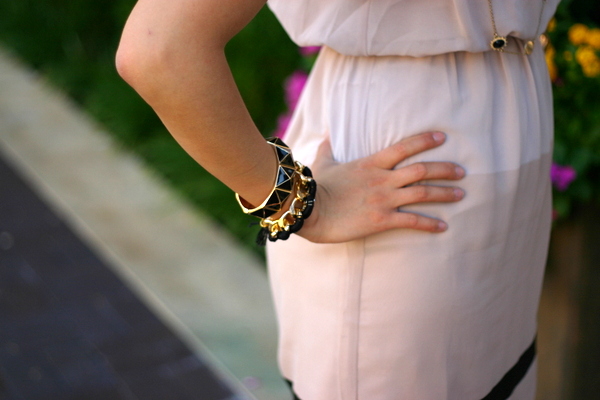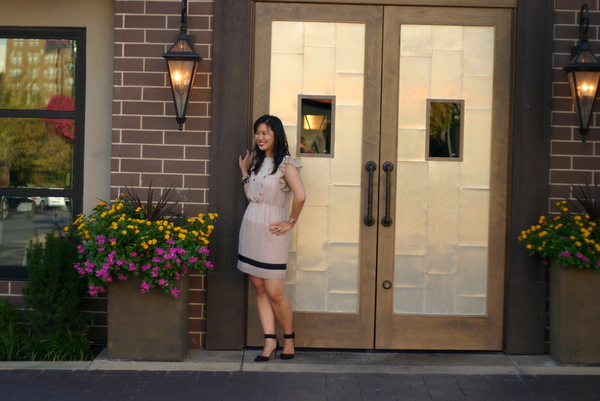 Dress: LOFT | Shoes: Zara | Necklace: Swell Caroline | Bracelets: Forever 21 and Isshou No Yakusoku
This first outfit was the one I wore to last blogger event at J.Crew! It was the release of the Fall line (which I absolutely love) and some fellow bloggers and I met up at Gram & Dun for some drinks beforehand. I decided to stay with a classy neutral and black look. I got this dress a few years ago at LOFT before I even knew what colorblocking was. Who would have known that I was trendsetter back then? 😉 Thanks for taking these pics, Chasing Davies!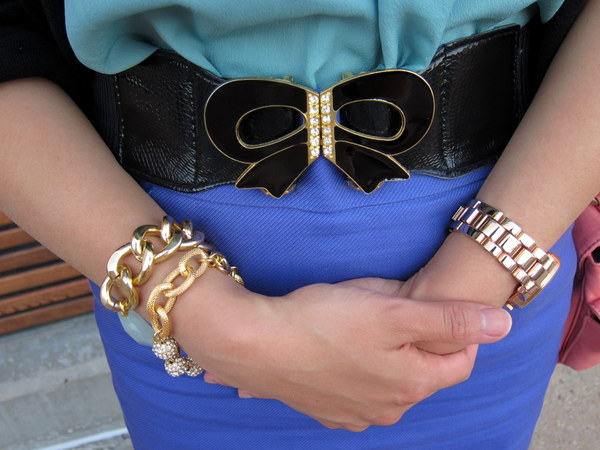 Top: Urban Outfitters | Skirt: J.Crew Outlet | Cardigan: Gap | Belt: K Fashion House | Shoes: Sole Society, borrowed from friend | Purse: Asian iCandy | Necklace: Petitor | Bracelets: Oia Jules
For this next outfit that I wore to Snow & Company (an awesome happy hour location with iced slushy shots) I went with a more colorful look. And if you couldn't tell, I'm kind of obsessed with gold jewelry. I used to be a silver metal freak but now all I ever buy is gold! I'm sure silver will come back in one of these days, right? Thanks to Nancy for taking these pictures and letting me borrow your awesome shoes! 🙂
P.S. The winner of the Stephanie Johnson giveaway is Phoebe of The English Breakfast! Please send me an email at sandyalamode(at)gmail(dot)com with your choice of item (except Scarlett Satchel) and mailing address!
P.P.S. The winner of the Isshou No Yakusoku giveaway is Krysten of Why Girls Are Weird! Congrats girl! Please send me an email at sandyalamode(at)gmail(dot)com with your mailing address!
What's your Happy Hour style? Or how about your drink of choice?