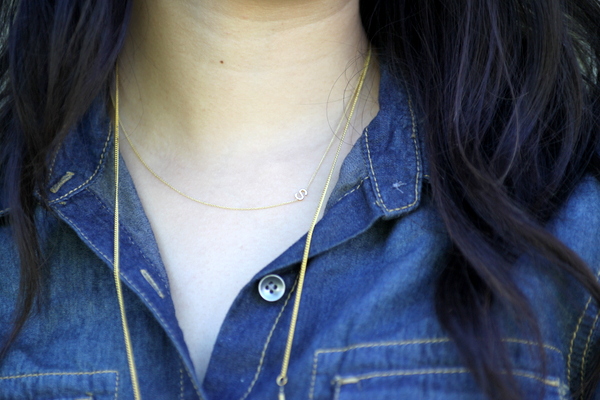 Dress c/o Conversation Pieces | Button Down: Target | Boots: Country Outfitter won on Audrey Allure | "S" Necklace c/o Maya Brenner (use code "SANDY25" for 25% off your order) | Quartz Necklace: Deuce | Bracelets: Threads, Chloe Vs. Tank, Isshou No Yakusoku | Bag: Urban Outfitters

You guys.  I can now say that I am the proud owner of a pair of cowgirl boots.  Real, true, country western, cowgirl boots!  I have to say, I had to wear them around to break them in for awhile, but now they fit like a glove and I love them so much.  The design is so intricate and beautiful and they can really go with a lot of things.  For this outfit, I decided to pair them with a feminine pink dress and a tied denim button down over it (I am obsessed with tying my button down shirts now, no idea why).  And you may have noticed that I've ventured on to necklace layering.  It's my new favorite style challenge for myself.
P.S. The original winner of the  eNVe Designs giveaway didn't contact me so I am picking a new one.  Congrats to Chrissy Nicole Jordan of Parlo & LOGI, send me an email at sandyalamode(at)gmail(dot)com to claim your credit!
P.S.S. The winner of the Amykathryn Handbag giveaway is Shea L. of Bon Chic Bon Gastronimique!  Congrats girl!  Send me an email with your bag choice and mailing address!
Do you own a pair of cowgirl boots?  What kind?