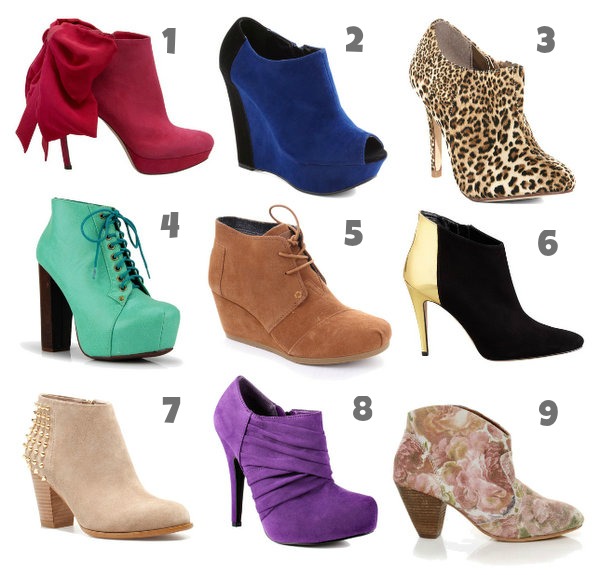 1 These Alexander McQueen beauties are a gorgeous red color for Fall and just a tad bit expensive, but that bow detail is just makes it over the top super fabulous!
2 Colorblocking, cobalt + blue, peep toes – these Modcloth booties are way too fun!
3 My leopard flats are like my go to shoe, so if I had these Dorothy Perkins leopard booties, I'd probably wear them all the time too.
4 My Hot Shoes literally makes the hottest shoes and in TONS of fun colors!
5 These wedges are from TOMS so they will probably be SUPER comfortable. And a child in need will get a pair too!
6 I think I need a pair of Manolo Blahnik's in my shoe collection and I don't mind starting with this black and gold pair.
7 I can't get enough of Zara shoes, these studs are edgy and fantastic.
8 Been wearing a lot of this purple color lately, need these Guess booties!
9 Florals are another fun print that is totally in right now. These Lulu's beauties are so romantic and chic!
With the Labor Day long weekend only a few hours away from us and Fall only a few weeks away from us, I can't help but look forward to shopping for colder weather. The first thing of mine that needs updating is my shoe collection. Well, a girl can never have too many shoes, especially this girl. Recently, I've been on the hunt for ankle booties. I don't know what it is about the word "booties" that makes it sound cooler than "boots", but it does. If all of these booties could walk their way into my closet, that would be quite fantastic.
P.S. You've got a few more days to enter the GIVEAWAY to win a Jose Eber Curling Iron!!
Hope you have a wonderful Labor Day weekend!