You've seen me post about Stitch Fix before and I just gotta say, I'm kind of addicted. For those of you who aren't familiar with this company, they are an online website where you fill out a Style Profile and tell them which items you are looking for (Dresses, Tops, Bottoms, Accessories, etc).  They have stylists review your profile and send you a handpicked box of 5 items.  What I love about it most is that you receive items that you may not otherwise think about buying in stores, you try them on, and then sometimes just really love them.  Anything you don't wait, you just send back in the pre-stamped envelope!  Only fee is a $20 styling fee, but if you purchase anything, that money will goes towards it!  This is my 3rd box so far and I've always found a thing or two that I've kept!  Here's a look at what was in Box #3!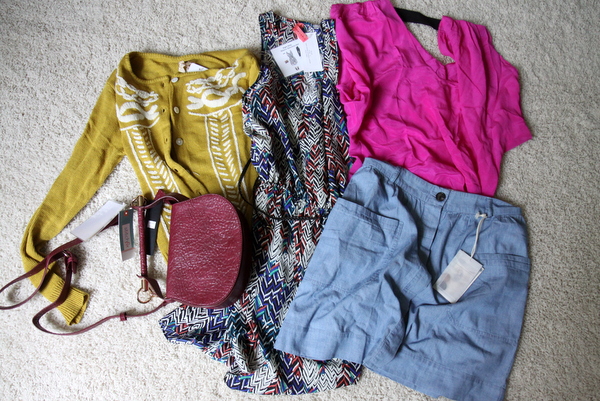 Tons of color and lots of great Summer going into Fall pieces!
Mystree Elsie Longsleeve Embroidered Cardigan – really loved the design on this cardigan, but I actually already own 2 mustard cardigans..
S.Y.L.K. Bindy Back Strap Silk Top – cute and bright staple top
Eight Sixty – Balazuc Sleeveless Belted Dress – chevron dress with some great Fall colors
Penny Stock Camelia Chambray Cotton Skirt – I have chambray tops and a dress, but not a skirt!
Street Level Handlebar Purse – fun bag in the color of the season…
I really wanted to keep it all, I really did, but after multiple outfit changes and bugging my husband to tell me what looks good 😉 I decided to keep… the dress!  And here it is all styled up!
Dress: Stitch Fix | Jacket: Thrifted | Shoes: Zara | Necklace: 31 Bits | Hair clip: Lilla Rose
I love this dress because it's got a ton of color which means lots of options for different colored accessories!  I found this jean jacket on my last thrifting trip.  It was like $5.  I suppose I could have just kept my jean jacket from middle school and not had to pay a thing.  I've recently decided that I should probably keep all my clothes from now on as they will eventually be fashionable again and I can always pass them on to my future daughter (no, I'm not pregnant, but I do hope to have a daughter one day)!  By the way, I'm seriously comtemplating getting these navy Zara shoes I'm wearing in wine color as well.  Do you ever do that… buy 2 of the same thing/style in different colors?  Please say yes so I'm not the only one who thinks about this.
OK now, go get your

Stitch Fix

on.