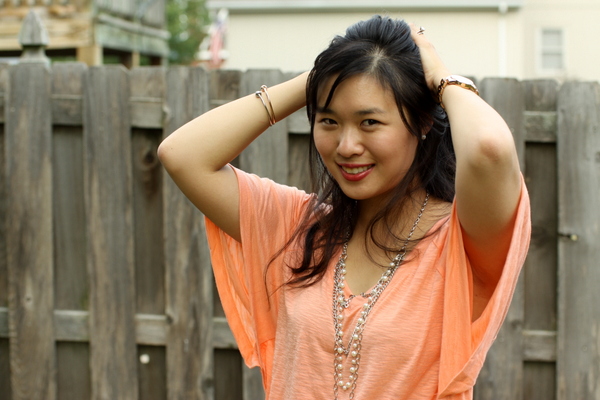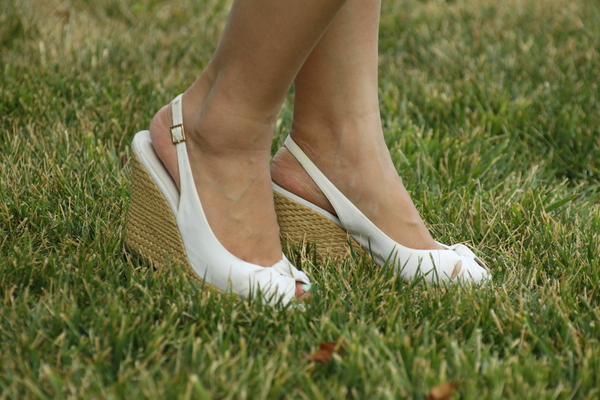 Top: Hang Ten (gift from SIL) | Shorts c/o Automatic Doll | Shoes: Steve Madden (old) | Necklace: Forever 21 | Bracelets: JEWELIQ
With the 100+ degree weather back again, all I want to wear are flowy tops and lace shorts. No, not just any shorts, but my new favorite custom made lace ones by Automatic Doll! I seriously am in love with them and have already worn them too many times to count on one hand… and I just got them a couple weeks ago. Visit Automatic Doll's shop and blog for more information on how to get your own custom made shorts… she can embellish your shorts with lace, leopard, studs, so cool!
On another note, I'm so happy that wedges are in right now. I don't remember when I got these white wedges but I swear it was sometime in high school or college? And that was a LONG time ago. So glad to be able to wear them again, I've gotta be honest, they've been sitting in my shoe closet for years without wear. I know, I'm bad, I admit it, my closet is a little ridiculous right now.
Well we survived another week of taking care of A and working from home at the same time! Yes, there were many a time when I felt like a failure at both being a working professional and being a mom, but we got through it. My in-laws are coming back this weekend and will be living with us for 2 months. I know, we're all real spoiled! 🙂
By the way, you've got until Sunday to place your JEWELIQ order for $5 off with code "SANDYSTREAT"?
And… I've got some winners to announce! The winner of the Le Lapin D'or giveaway is Jelena of Neon! Congrats girl! Send me an email at sandyalamode(at)gmail(dot)com to claim your prize!
The winner of the Simply Livly giveaway is Tabetha of The Closet Intellectual! Congrats! Send me an email at sandyalamode(at)gmail(dot)com with your mailing address and we'll get the necklace sent to you! Yay, we're gonna be twins! 🙂
What are your weekend plans?