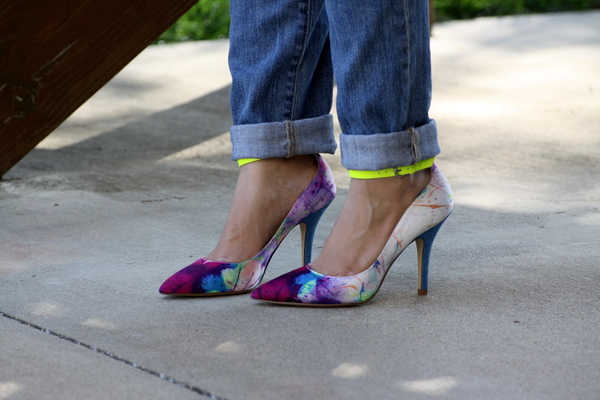 Peplum Top: H&M (from flagship store in Stockholm!) | Pants: Charlotte Russe | Shoes: ASOS | Necklace: c/o Yellow Heart Art | Blue Bracelet: Whimsical Workhouse | Green Bracelet: c/o Daily Dose
My mom is the best. My dad and her recently went on a trip to Russia/Sweden/Eastern Europe and what did they bring back for me? Clothes from the flagship store H&M store and 80 proof pretty smooth tasting Russian vodka for me to enjoy with my friends (and enjoy with my friends we did)! I love this top because its super soft and casual but stylish as well with some peplum flare. And what better way to accessorize then with some bright neon colors. The camera necklace is so darn whimsical and the shoes are kind of out of this world (don't they look cosmic?)! I have a serious necklace and shoe obsession. I can't be stopped.
P.S. This is way overdue, but if you are Chelsey of The Fair Fox then you won the Lee Jeans Giveaway! I will send you an email shortly, congrats!!
What's the coolest item you received lately from somewhere outside of your own country?