Button down: J.Crew | Skirt: Forever 21 | Boots: Target | Necklace and Bracelet: JEWELIQ
I'm not sure I can count on one hand how many times I've worn this polka dot blouse with these booties. In fact, I know for a fact that you will be seeing this combo in a future outfit post soon (but with different bottoms of course). If you haven't gotten yourself a staple pair of nude booties this Fall yet, then you're falling behind. I think I could rock these boots with almost any outfit I wear and the are way comfortable too! I'm linking up with Marionberry Style for the Trend of the Month – Boots and Booties Challenge and The Pleated Poppy What I Wore Wednesday and Rolled Up Pretty Whatever Whenever Wednesday!
And can we just pretend that the skirt is orange in the spirit of Halloween, it's red-orange, so good enough yea? I have to say that I'm a little sad we won't be home passing out candy, since we got about 270+ kids last year! But I really can't complain since we're kind of in paradise right now. I'm also a little sad we couldn't have spent this Halloween with Austin but if we were going to miss a Halloween, this one would make the most sense since his bedtime is around 8PM and he can't walk yet. Next year, I CAN'T WAIT to take him around to collect candy for me… ahem… I mean for him, even though kids shouldn't eat too much candy. 😉 But of course, we couldn't pass up the opportunity to at least get him dressed up in a costume, because babies in costumes are the cutest thing ever.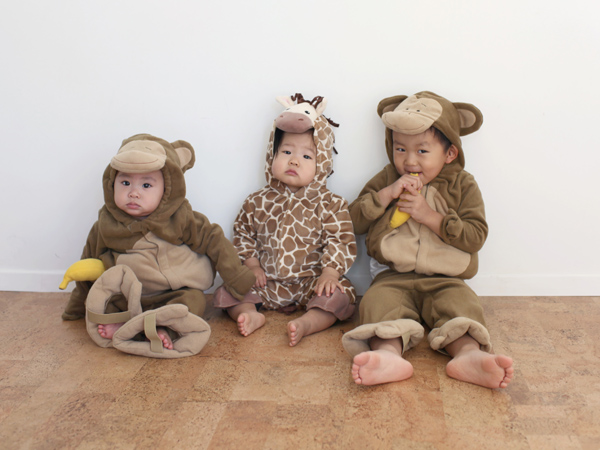 Here's the little cousin zoo animal clan. 2 boy monkeys and 1 lady giraffe. Can I get a collective "awwww"!?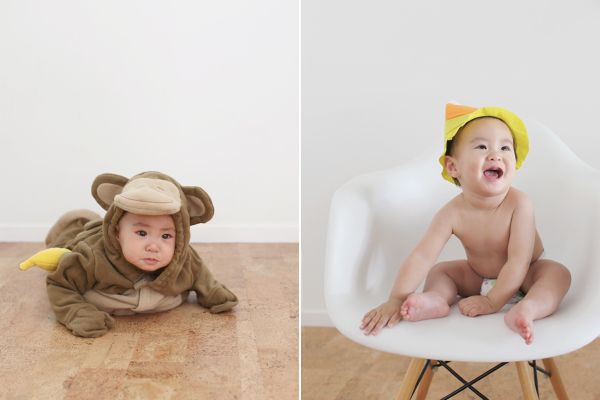 Austin didn't last long in the monkey costume since it was literally 90 degrees outside. So we stripped him down and made him into candy corn instead. 🙂 Thanks for the pics sis!
Happy Halloween!