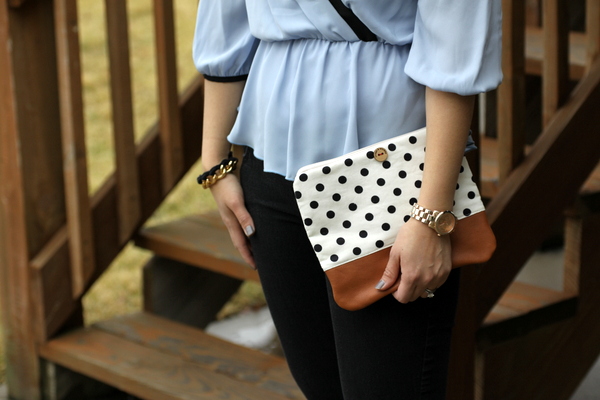 Top: Conversation Pieces | Pants and Boots: Old Navy | Necklace: Gift from Friend | Earrings: INPink | Bracelet: Isshou No Yakusoku | Clutch: Rouge + Whimsy
One color that has really been lacking in my wardrobe is light blue and I don't really know why.  It's the perfect color to wear for Winter going into Spring.  These pictures were taken a couple weeks ago as right now all you would see outside is snow, up to the height of my boots!
For this look, I was going for a modern equestrian.  Pants inside riding boots, buttons on the top, and then fancied up with some fabulous jewelry and a fun clutch.  I'll have you know that I used to take horseback riding lessons back in the day, as well as ballet, figure skating, tennis, Chinese dance, tap dance, flute, and piano lessons too.  Of which I don't know how to do a single thing anymore, sorry Mom!  But I'd like to think it's helped me build character, or something.
Have you entered the ShoeMint giveaway yet?  Three winners will each win a pair of shoes!!
What sports/instruments/hobbies were you into back in your childhood days?