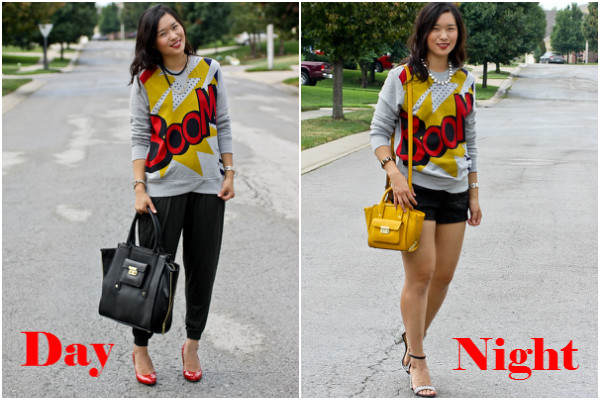 First of all, let me tell you the story of how my Sunday morning went down. Of course, we all knew that the Phillip Lim for Target collection was about to debut. Just like any Target collection, there is no set time for release of online products but regardless, many people stay up until the wee hours of the morning waiting for the release. Well, 12AM CST rolls around and I'm sitting on Twitter following the #PhillipLimForTarget and OMG, people are tweeting out links! These are links to items from the Phillip Lim collection on the Target website, I go to Target's website and do my own search and can't find a single product except the Preview Collection page. I have no idea how people were finding these "magical links" but I was so grateful for it. One by one, the navy tuxedo jacket, the floral blouse, the Boom sweatshirt, the leopard items, men's collection were being released. BUT… WHERE WAS THE BOOM SWEATSHIRT AND THE BAGS? It was nearly 1AM and my eyes had a hard time staying open. 1:30AM rolls around, nothing happens. A couple of my Twitter friends and I said, what the heck, let's stay up til 2AM and see if anything is released. 2AM rolls around and nothing happens so I decide to call it a night since I knew I'd be braving the stores in the morning.
To make a long story short, I wake up at 7AM, look at my phone and realize that the Boom sweater and bags were released pretty much 10-15 minutes after I went to sleep. *slaps hand to forehead* If I had only just stayed up a little bit longer, then I wouldn't have had to wake up to brave the store, but to the store I must go. So I get ready and dressed and head to my nearest Target store at 7:30AM. When I arrived, there was no one there, except when I parked, a girl got out of her car and headed to the door to stand in line so I followed her. She turned out to be on a US trip from Denmark and she had to get her hands on the bags. Apparently no one else in my local area knows about fashion, except the next girl that showed up at 7:55AM, 5 minutes before store opening. 8AM rolls around, Target doors open and the 3 of us walk straight to the Phillip Lim collection and grab everything we want (and then some). I had NO intention of reselling any items, but I merely couldn't decide what I wanted so figured I get them all and return them later. I spent a lot of money, let's just say, but most of it IS going back. However what you in this post are some items that I'm excited about keeping, the coveted Boom sweatshirt, small yellow mini satchel and the big black tote.
So here we have 2 looks w/ the Boom sweatshirt, a Day and Night look!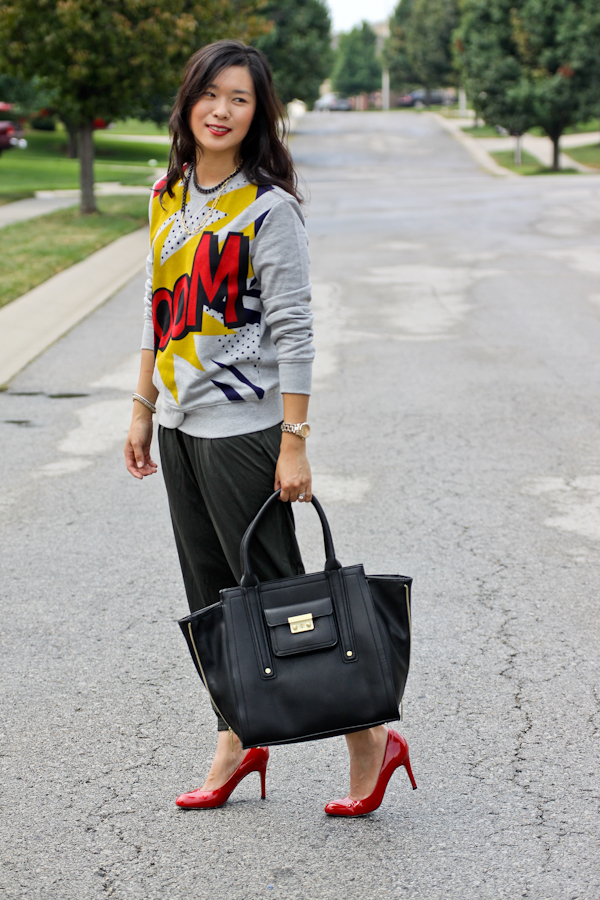 For this day look, I went super casual with some track pants (these are SOO comfy), red heels, and the bigger tote. I'm thinking of using this tote as my new laptop bag for work!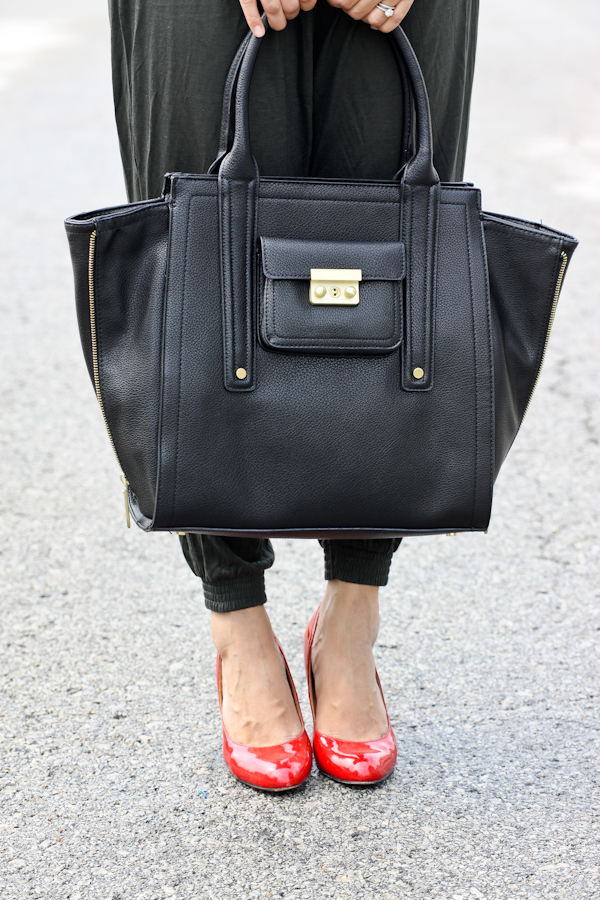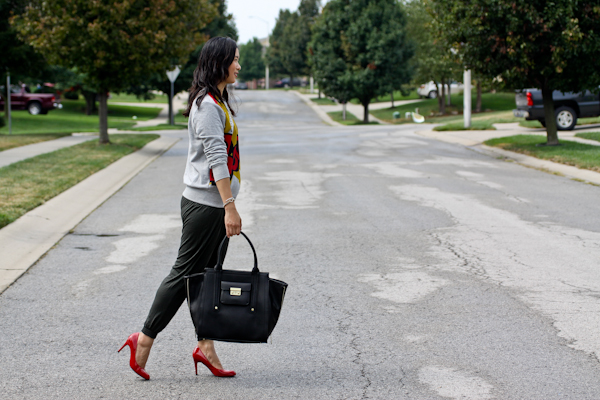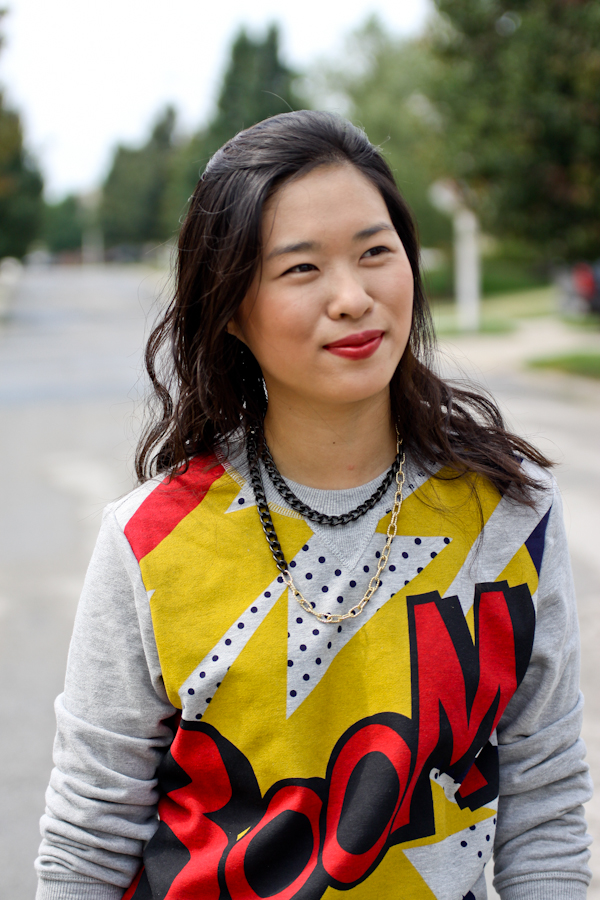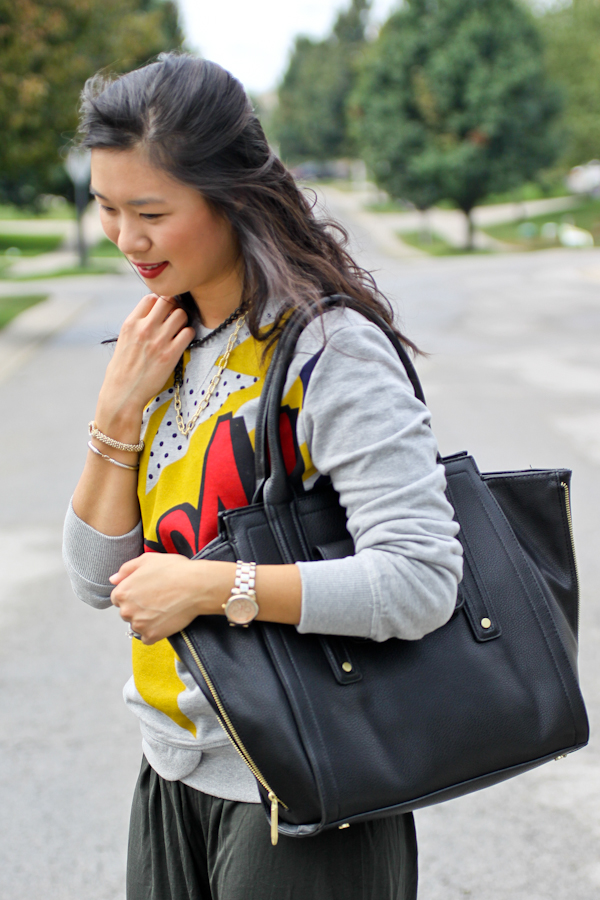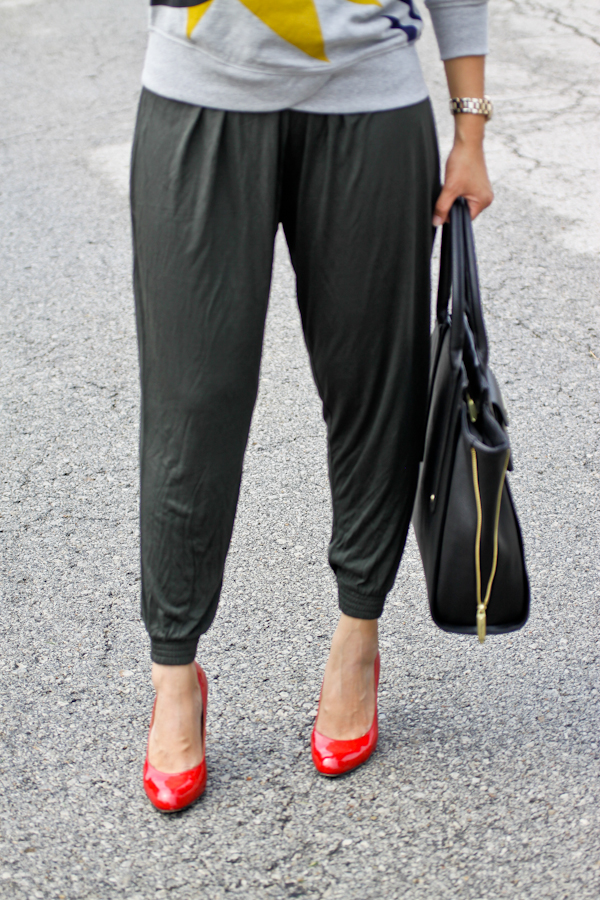 Day Outfit Details:
Sweatshirt: Target
Pants: H&M
Bag: Target
Shoes: Corso Como
And for the Night / going out look, I decided to go a little edgier with this outfit.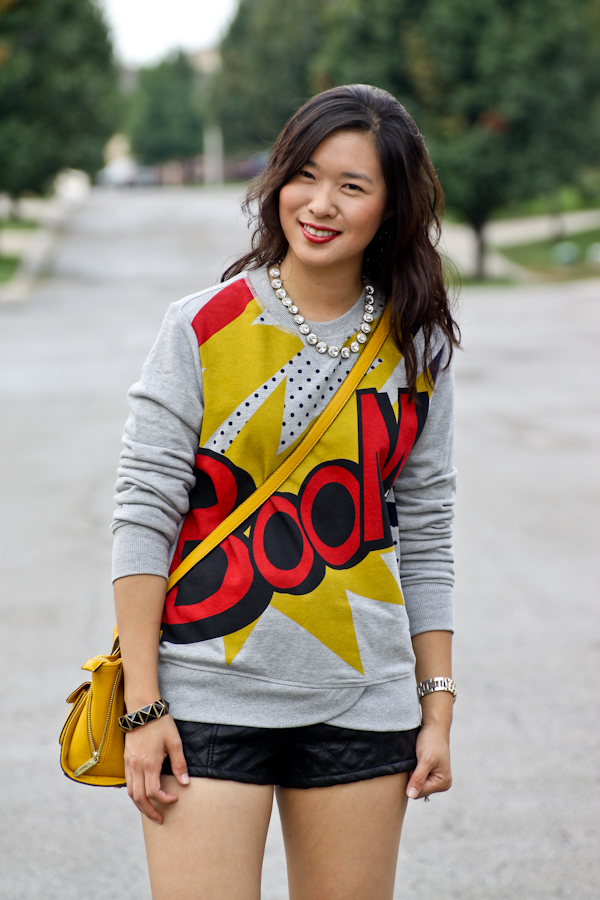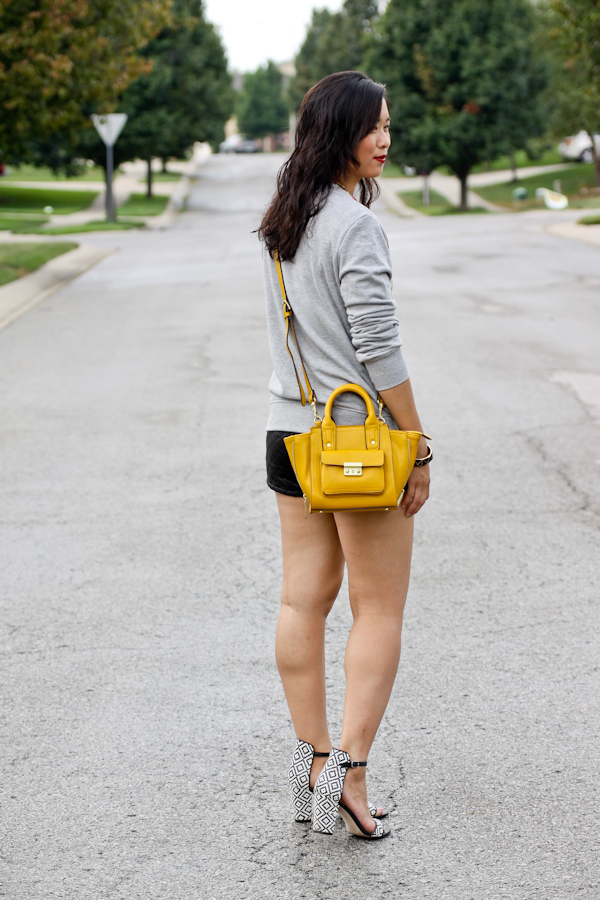 Paired with some quilted leather shorts and my fave Zara tribal pumps, the mini yellow satchel is a nice pop of color.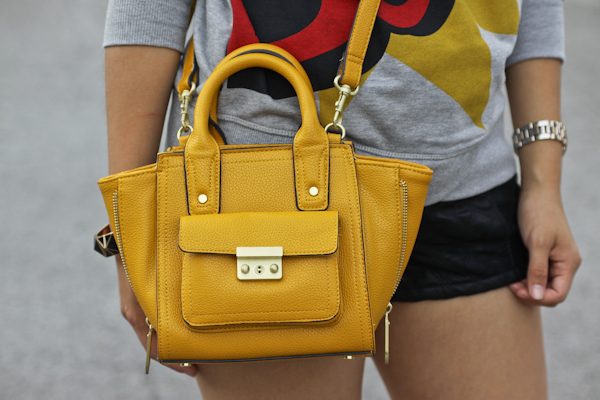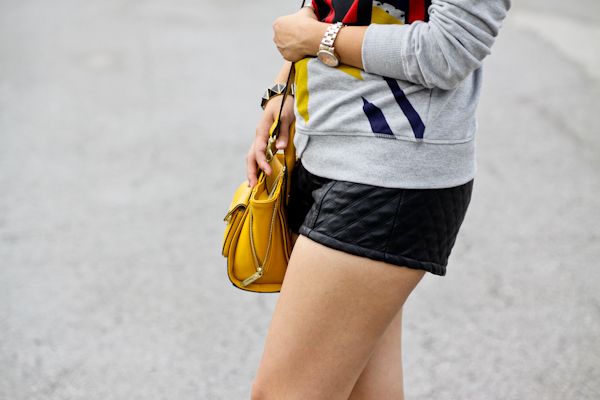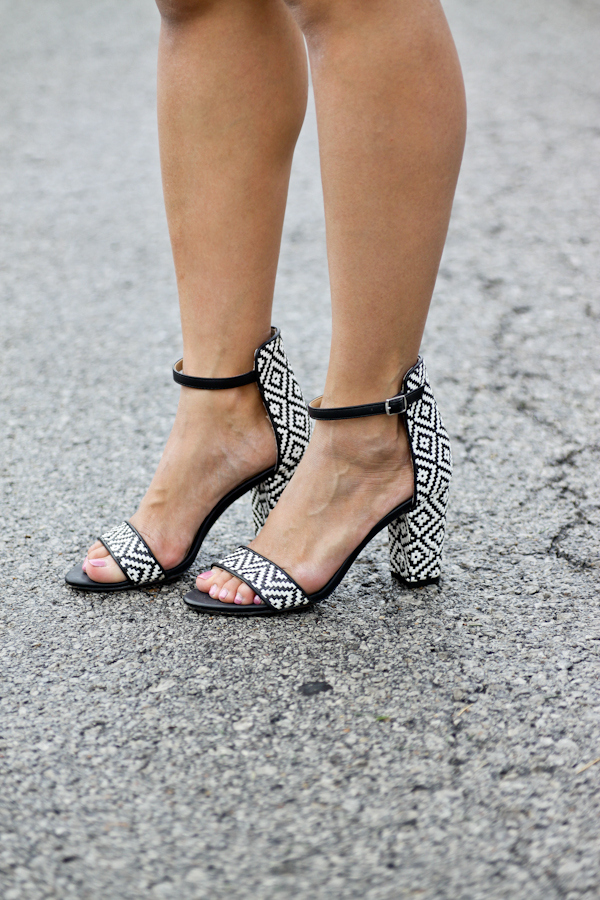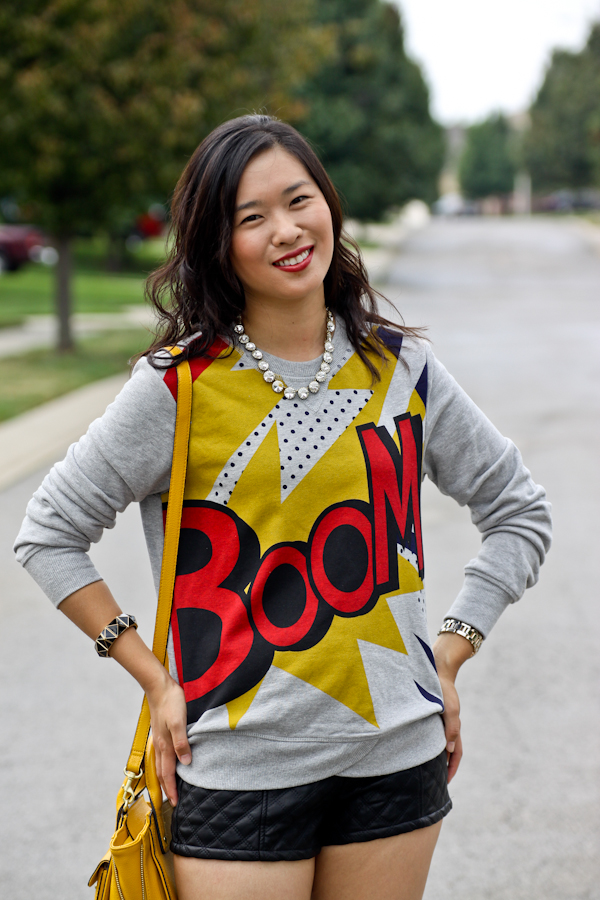 Night Outfit Details:
Sweatshirt: Target
Shorts: Forever 21
Bag: Target
Shoes: Zara
Necklace: J.Crew
All in all, I'm happy with the quality of the bags for the price, I like how the Boom sweatshirt fits (I got a larger size b/c I like my sweatshirts looser) and I still have a few things coming in the mail later this week. 🙂
A couple of you have recently asked me what I do to edit my photos and create collages and I just wanted to share with you this new free online photo editing program called Fotor. You can basically easily upload your pictures to the site (you can upload multiple at once) and go through and apply basic edits on them (like crop, rotate, contrast, color, etc). as well as add photo effects, add text, add little picture icons and more! I also love creating photo collages like for the first picture where I wanted to show off a Day and Night look side by side. See some examples and screenshots below: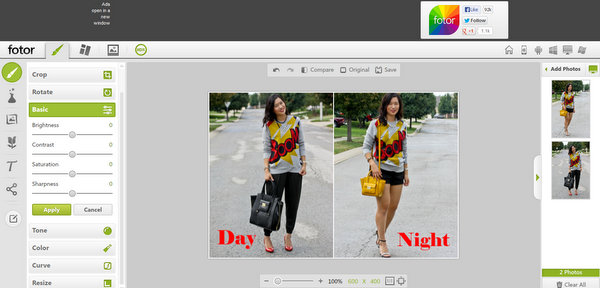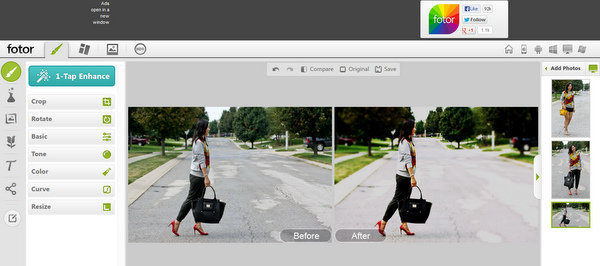 I really like this feature where you can see the Before and After photos as well, it really helps when editing photos to be able to see the differences you are making in the photo.
Oh and one more thing, the winner of the Deerie Handmade giveaway is Emily S. Congrats girl! I sent you an email!
Linking up to Verizon Voices Fashionista Style Hop, Style Sessions and Random Wednesday with this post!
Did you buy any Phillip Lim for Target goodies? Would love to hear about your purchases and shopping experience!!