Today is the day I turn the big 3-0, my 30th birthday, gosh, I feel OLD! 😉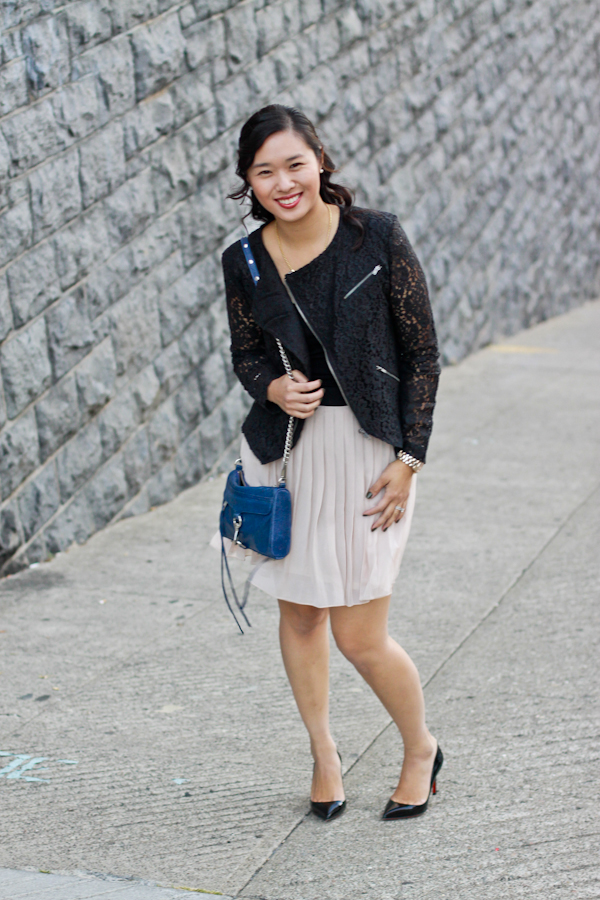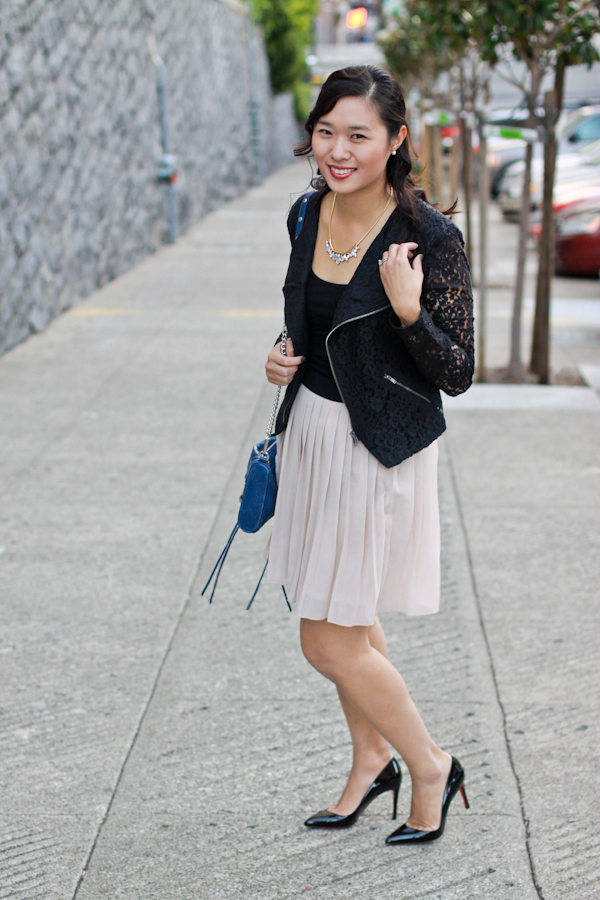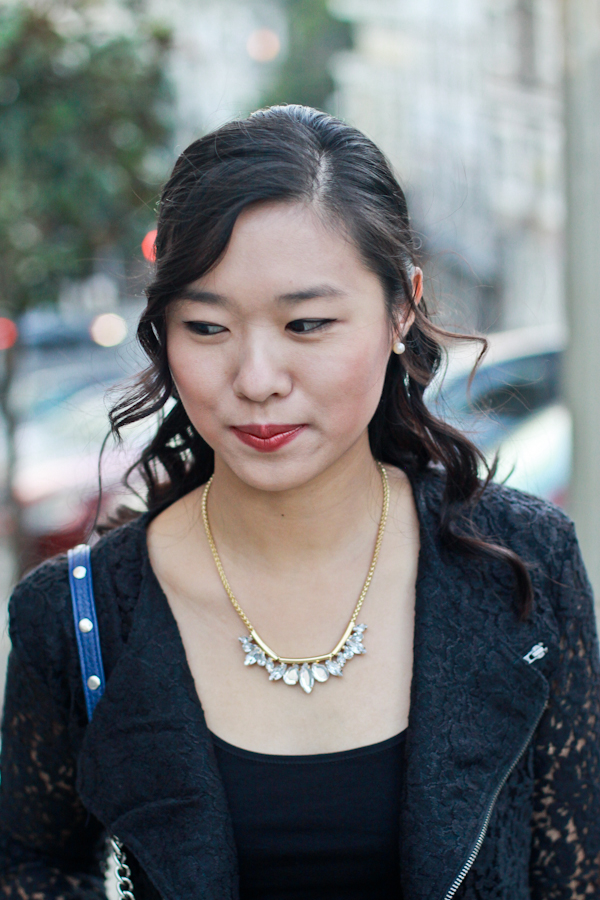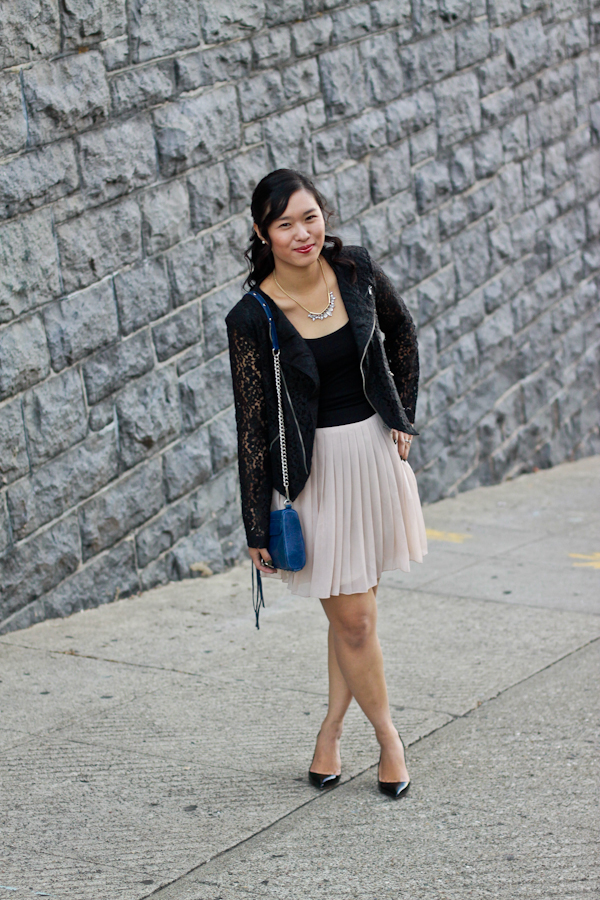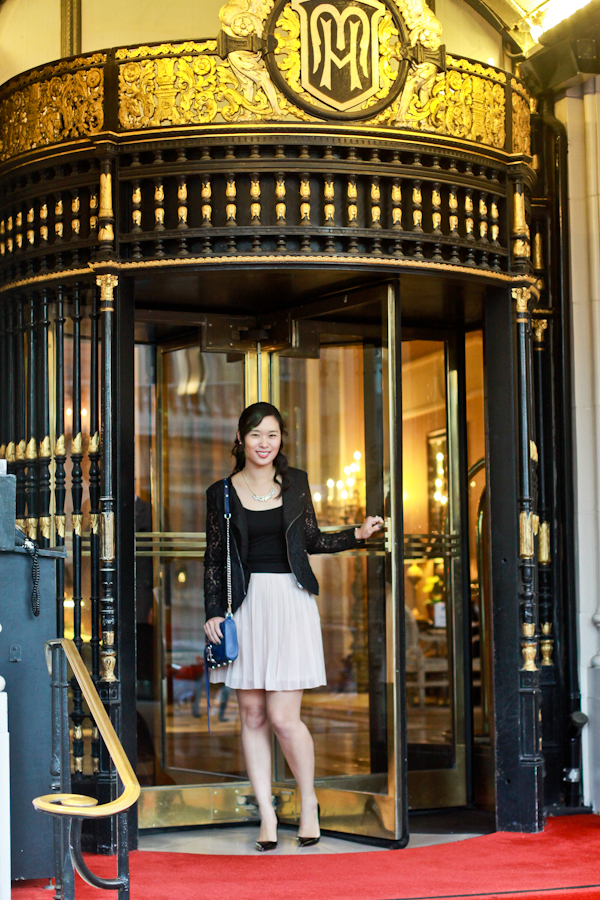 Outfit Details
Tank: H&M
Lace Jacket: Target {similar}
Skirt: Forever 21 {similar}
Shoes: Christian Louboutin
Necklace c/o Riffraff
Bag: Rebecca Minkoff
For today's post, I wanted to share a list of 30 things about me (that you may or may not know), sooooo here goes!
1) I was born and raised in Ann Arbor, Michigan (with a small stint in Riverview, Michigan). GO BLUE!!
2) My brother is 8 years older than me.
3) My Mom is Chinese, my Dad is Taiwanese, and I am an American citizen, so I guess that makes me Chinese/Taiwanese/American.
4) I can speak, read/write (not that well) Mandarin Chinese.
5) When I was 5, my brother picked me up from school on his bike to go to piano lessons. I sat across the middle bar, fell asleep, and my left foot went into the front wheel. My brother and I went tumbling on to the ground and I got a rock stuck under my eye that was there for 4 years.
6) I took lessons for ballet, figure skating, gymnastics, tap dancing, Chinese folk dancing… which is what I blame the "thickness" of my legs on.
7) I was first chair flute in 8th grade. It went downhill from there.
8) I played Junior Varsity tennis all throughout high school.
9) I went to Chinese School every Friday night throughout grade school. It was my social hour(s).
10) The essay I wrote to try to get into University of Michigan was about how I wanted to go into Education.
11) I majored in Economics and minored in Statistics at University of Michigan. I don't utilize any of that knowledge currently.
12) I was part of multiple "crews" in college… P.Crew, A.Crew, Summer Crew.
13) Bubble tea is my weakness and I will never get sick of it.
14) Playing Photohunt took up much of college nights. I was very competitive at always trying to get the top score.
15) Vodka cranberry, Soco Lime, Jaeger Bombs, Sake Bombs, Lemondrops… are my go-to drinks of choice.
16) Before I became a beer bonging champ, I practiced with water.
17) I interviewed for MANY MANY jobs but only got one offer, at the company/job I am still currently at!
18) When I moved to Kansas City, it was my first time ever in the fields of cattle and the land of Oz. After I moved here, I realized it was much more than that!
19) I met my husband in our company's cafeteria in January 2005.
20) I got engaged in November 2008 and married in May 2009 – only 6 months to plan!
21) I got married in the Henry Ford Museum – my parents were Ford employees, which makes me a Ford baby!
22) The only car I've ever owned on my own is my blue Volvo S40.
23) I traveled all over the world regularly (like at least 25-50%) for 6 years, it's slowed down a bit now thank goodness!
24) I always like to keep busy.
25) I am a night owl, I sleep about 5-6 hours every night. I know I should sleep more (Mom)!
26) My toddler is 22 months, my world revolves around him and he is the light of my life! Tantrums can be difficult, but his giggles and dimple make everything better!
27) Blogging has been my creative outlet for almost 4 years now. I don't know life without it!
28) I don't think I have gone a day in my adult life without taking a picture (OK, maybe that's not true, but it feels like it)! I mean I was known as the Picture Queen in college and as you can tell I always take pictures now too!
29) I am obsessed with designer handbags and shoes (duh).. and shopping in general!
30) I have approximately 31 first cousins, and I am the youngest out of all of them!
And this is quite timely for my birthday, but myself and a bunch of other awesome fashion bloggers are hosting a giveaway! So ahead and enter in the Rafflecopter widget below and find some new blogs!
In case you haven't heard……..the Nordstrom's Half Yearly Sale starts on the 6th! It's a perfect chance to shop and stock up on staples, plus a few fun wardrobe extras. No one does style and wardrobe extras like these amazing ladies, and we've teamed up to give one lucky reader a $525 Nordstrom's gift card…..just in time for the Half Yearly Sale. Looking for a little what to wear inspiration? Stop by their blogs, and let the virtual shopping begin!
/Lipgloss & Crayons/Because Shanna Said So/Here & Now/Sandy a la Mode/Walking in Memphis in High Heels/
/The Freckled Fox/Lauren Elizabeth/Because of Jackie/Classic & Bubbly/Bella/
/GBO Fashion/Ma Nouvelle Mode/Salt Style Blog/Life of Bon/Rags to Stitches/
Good luck!