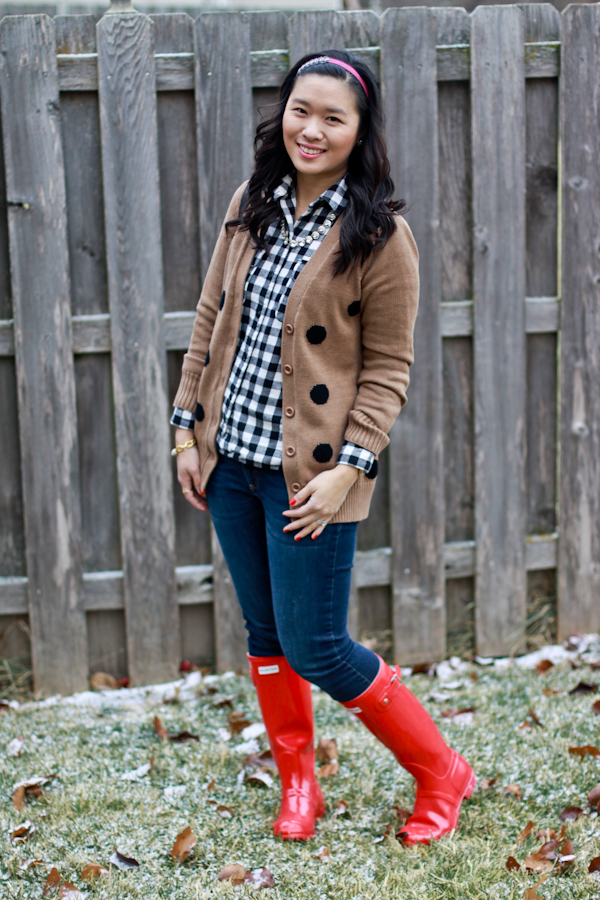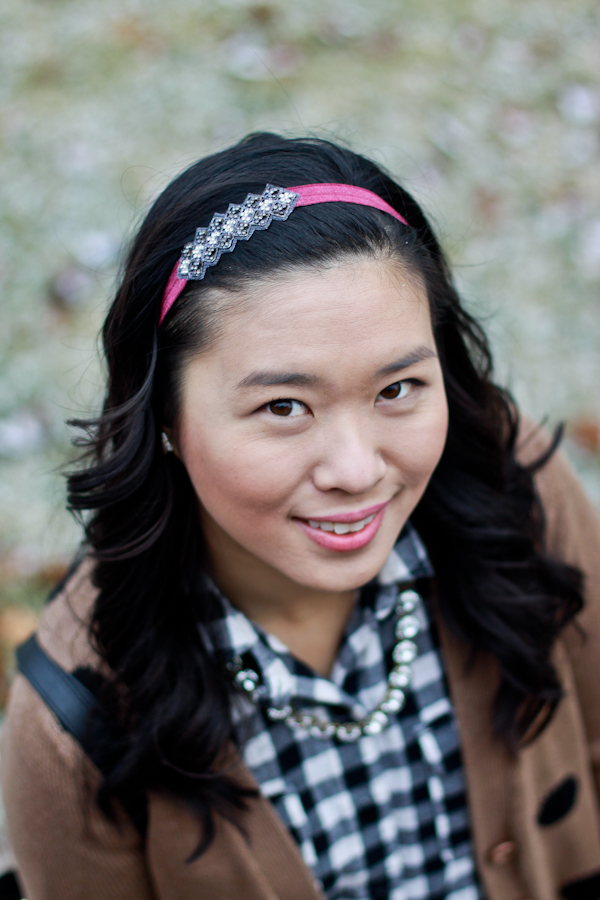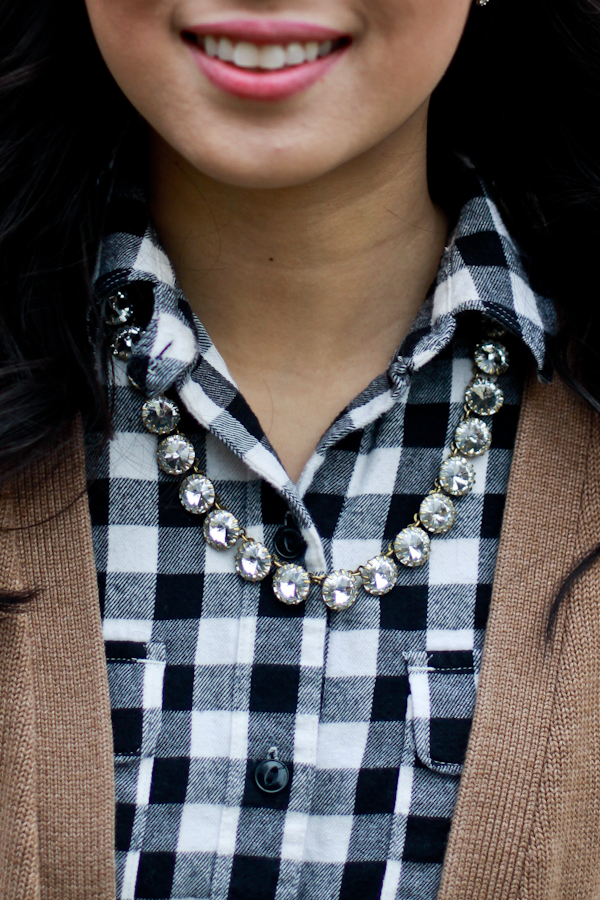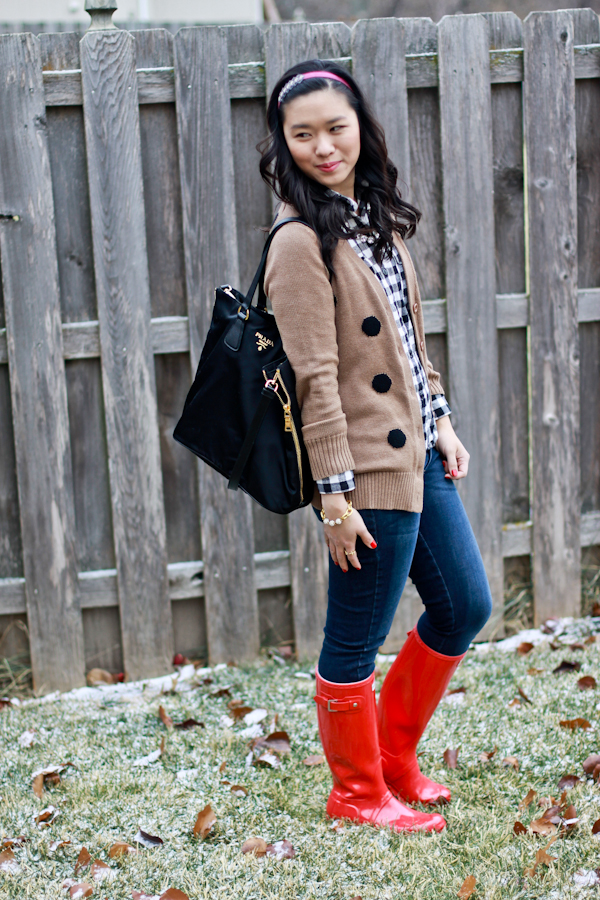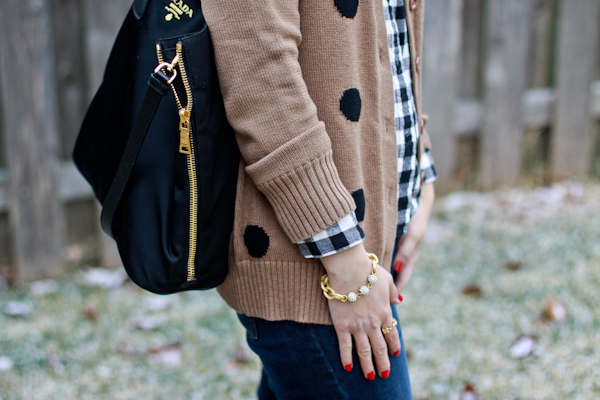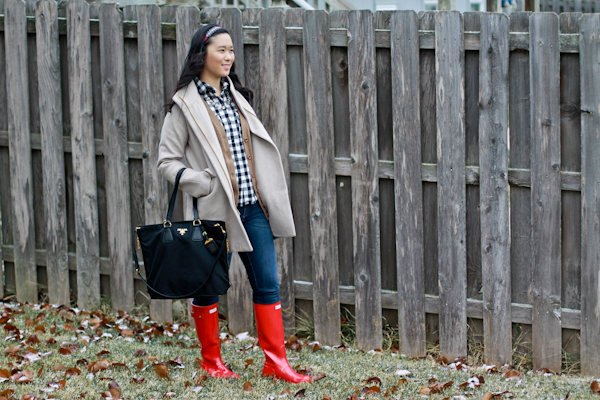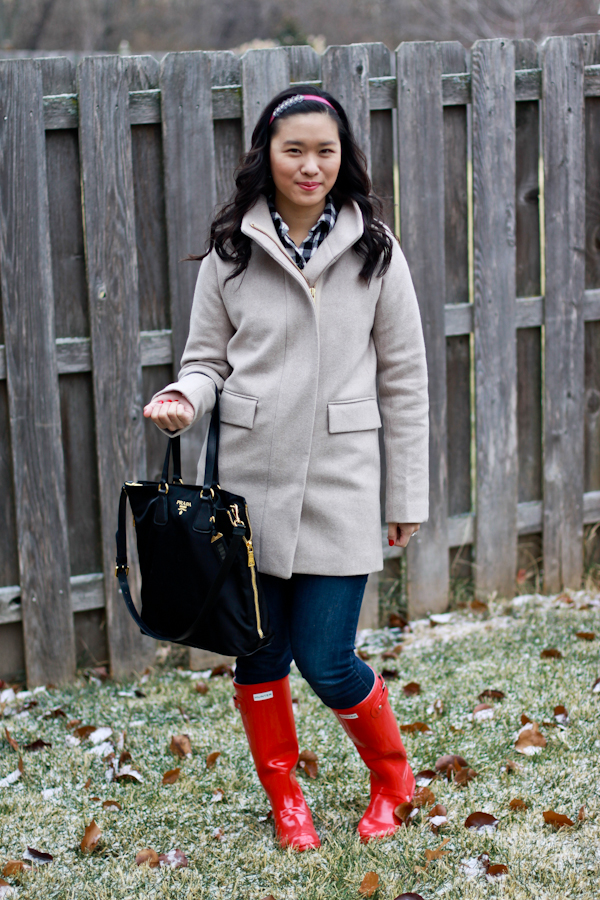 Outfit Details
Button Down: Madewell {similar}
Cardigan: Conversation Pieces {free shipping with code "sandy"}
Pants: Lee Jeans
Boots: Hunter
Coat: J.Crew Factory {similar}
Bag: Prada
Necklace: J.Crew
Headband: Anthropologie
Today I am joining in on the #Making2014Count posts hosted by In Honor of Design and another handful of amazing bloggers! The question I am choosing to answer is…
What is something you want to change, or a goal you want to set for the New Year, and what is your plan for making it happen?
I like that they call it goals or changes, because the word "resolution" never lasts past February for me. I've got a few goals up my sleeve and the new year is a great time to start!
1. Curb my spending. You can probably tell I spend too much by the new clothes that I wear (or Austin wears) all the time. Our house is full of clutter, the boxes from the many packages I get every week are piling up in our basement and it just goes to show how much I spend. I've been thinking about how I'm going to go about making this happen and it's a tough one. A spending freeze for multiple months is probably not the most feasible, so I'm thinking of going the budgeting route. Perhaps average my spending for the last year per month and then try to halve it or quarter that amount each month? Either way, something needs to be done. Also, I want to not spend so much money on the little things (because they add up) and really invest in quality pieces even if they do cost a little bit more. I know that might sound a bit controversial, but hopefully these long lasting things will help in saving more in the end? We need to focus more of our money on new windows for our house, redecorating, saving up for Austin's college education, saving up for the prospect of a baby #2… and saving up for the end of the year, with all the present buying, mortgage payment, car insurance, etc. hits at once. Plus I have a handful of gift cards that I've gotten as gifts, won from giveaways, etc. that should be spent first before spending my own money.
2. Being intentional about blogging. As Austin just turned 2, he needs more and more of my attention, to learn new words, to help him learn new skills like stacking blocks and spools, to help him be a confident little man in new situations. And he's sleeping later and later these days which means less time for "me" and "blogging" at nights. Don't get me wrong, I'm not stopping because I know I need this outlet, but I am not going to be so caught up on posting 4-5 days a week just because. But I want to blog because I have something to document, something to share with you all. I'm going to be more intentional.
3. Teach Austin Chinese. These past few months, Austin had language explosion! He knows so many English words now that we can't even keep track? We think he knows upwards of 100 already? Is that even possible? And he is learning new ones every day, and it's just so fun! However, I could probably count the number of Chinese words he knows on one hand and that's got to change. My parents always spoke Chinese with me at a young age and I went to Chinese School all the way through grade school. Although I didn't appreciate it at the time, now I do, and I want Austin to learn it too because I think being bi-lingual is important. So my goal this year, is to make sure he knows as much Chinese as he does English by the end of the year! I may need to enlist my Mom to come stay with us again to help us out with this one. 😉
I think I'll leave it at these 3 for now, if I have too many, there's more of a chance I won't be able to keep them all up. And if anyone has tips on how to achieve these goals or what has worked for you, I'd love to hear it! What are your New Year's goals?