*This post is sponsored by Cottonelle, all opinions however are my own.
I don't know if you guys have realized, but I am posting more about family and home lately, and I hope you don't mind. Obviously my blog is mostly about fashion still, but I do love sharing parts of my life and home with you as well. Since I've had Vivian, I haven't talked about Austin a lot, but oh you know, he is just your typical threenager right now. He's moved from the twos to the threes class which was a bit of a struggle. I actually reached out to a Mom group with some of the challenges we continue to face with him when that mom directed me to look up "highly sensitive child (HSC)", which I did. It was interesting to me, because Austin does show off a lot of HSC characteristics and with that apparently there's different ways you need to handle these type of children. Just so you know, he's always been pretty shy and introverted and takes a long time to warm up to people. He loves routine, doesn't particularly love being dirty or wet, and asks a lot of questions. Lately, he has also been very whiny and demanding and wants snacks and desserts and juice all the time.
It's enough to drive us crazy, that we need to change his behaviors or possibly the way we are disciplining or treating him. One of the things that I've learned is that he needs to keep busy and that I need to teach him about earning desserts or candy, instead of passing it more readily like we had been doing. So one thing that we started instituting is a reward chart for chores that he does around the house. He actually REALLY loves helping out and it makes him feel empowered and important which I think is great for his self esteem. Here's a few things that our three year old has been able to handle successfully.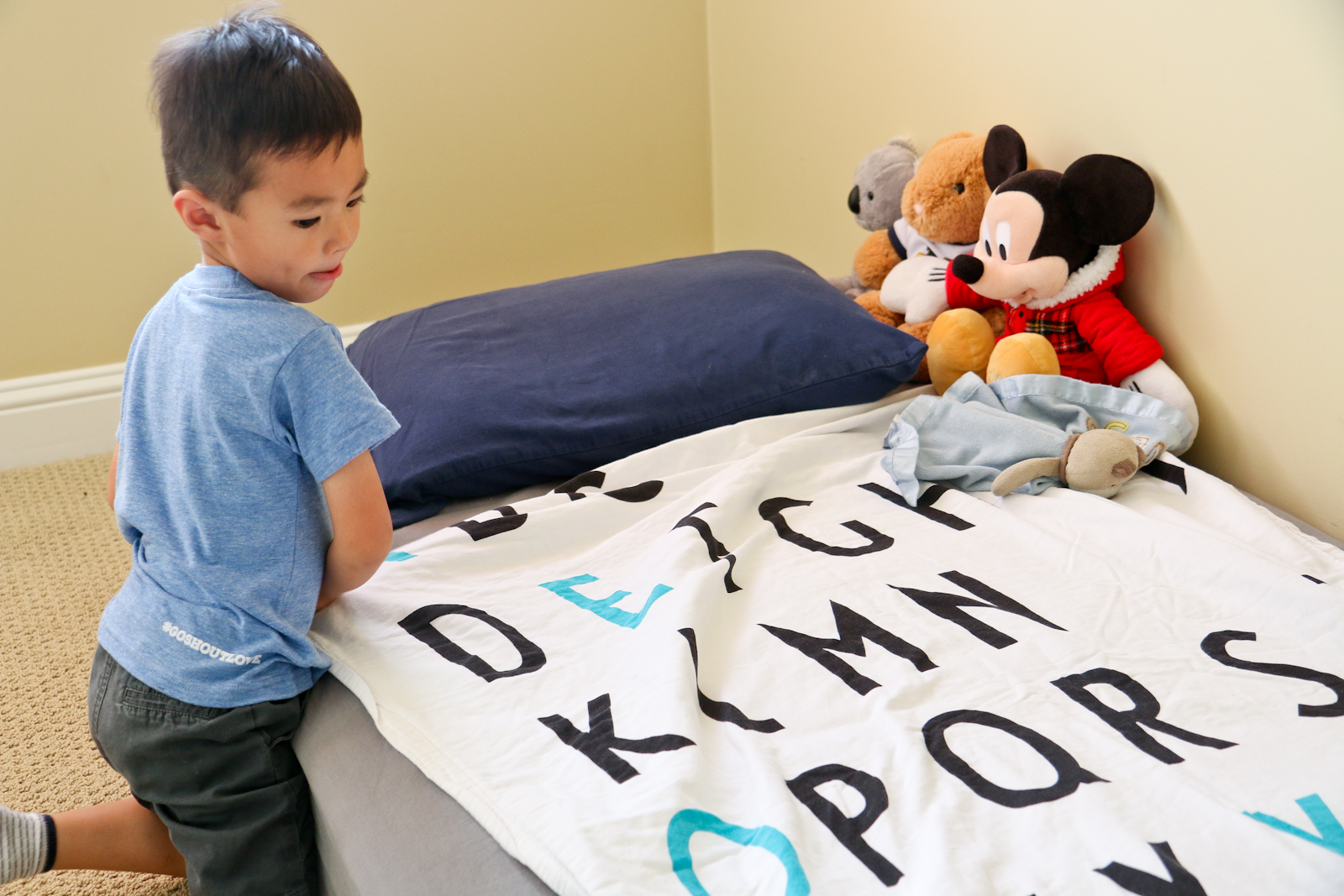 1. Make the bed. – After waking up in the mornings, we ask him to make his bed. This is simple, yet teaches him responsibility. Sometimes he takes a long time trying to get it just perfect, but that's also a good lesson in doing things the right way!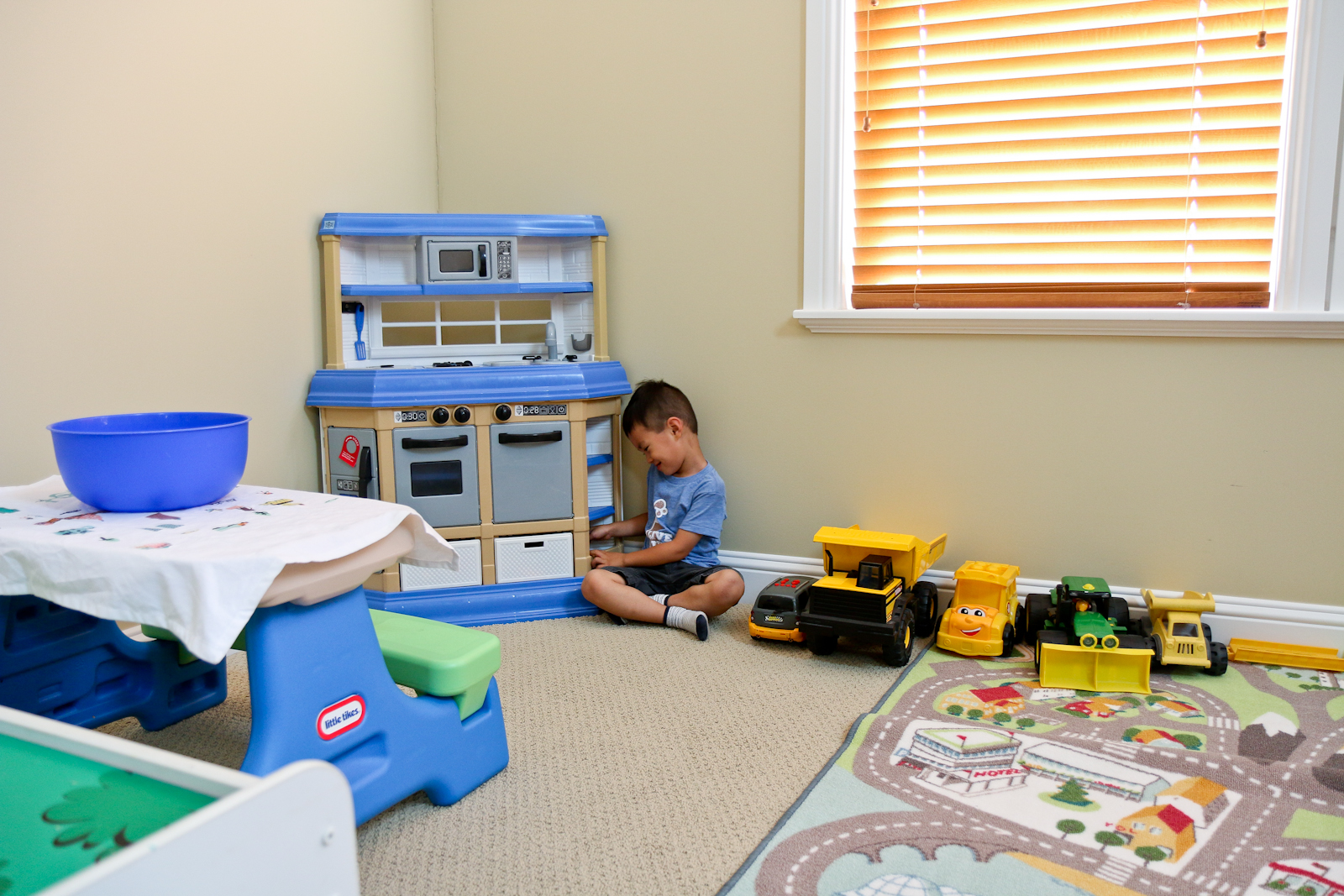 2. Clean up his toys. – His playroom and the amount of toys is has is kind of insane. He has a HUGE room full of toys, which is great for days that we stay in. It keeps him AND his sister both occupied for a very long time. One thing I have noticed about him is that he does like to play by himself a lot (this is one of those traits of HSC). He doesn't really play well with new kids, just the ones he knows very well. So after he does play in his playroom, each time we do ask him to clean before leaving the room. He doesn't always follow this rule, but depending on his mood, he actually enjoys cleaning up sometimes. I remember my mom told maybe a year ago that when she took him to story time one time at a local library, after it was over, Austin was the only one who stayed after to clean everything up, he actually WANTED to do it!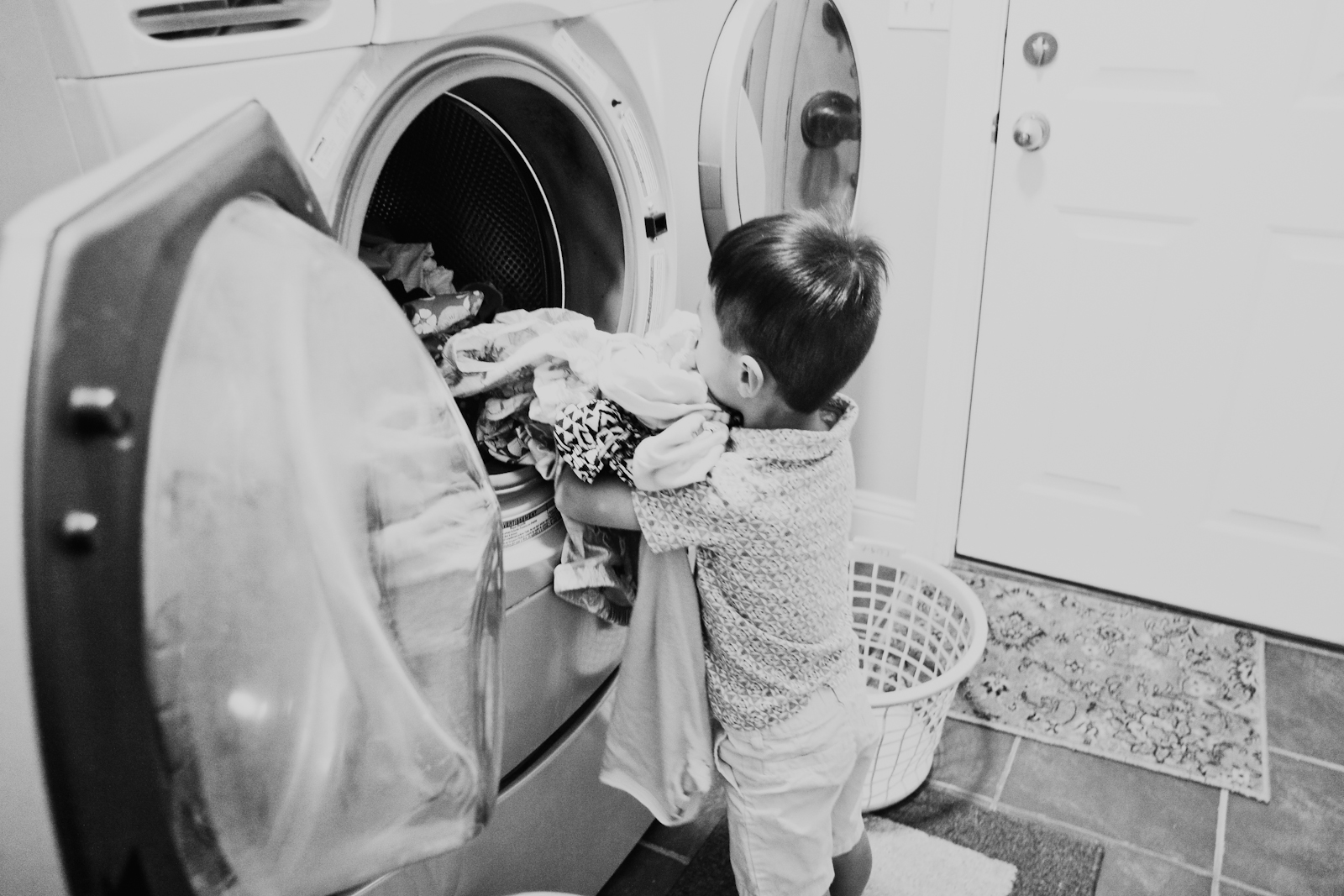 3. Help with laundry and folding clothes. – This is one of those recent things that he's started to love doing. He has a little blankie that he always HATES when we put him in the laundry. So to remedy that tantrum about to happen, I decided to ask him to help me do the laundry and put his "Spencer" in the washing machine himself. This really helped in calming his nerves about the situation and since he was in control of where his blankie was going, it helped relieve that anxiety, win-win. Now if he could just be tall enough to reach the buttons…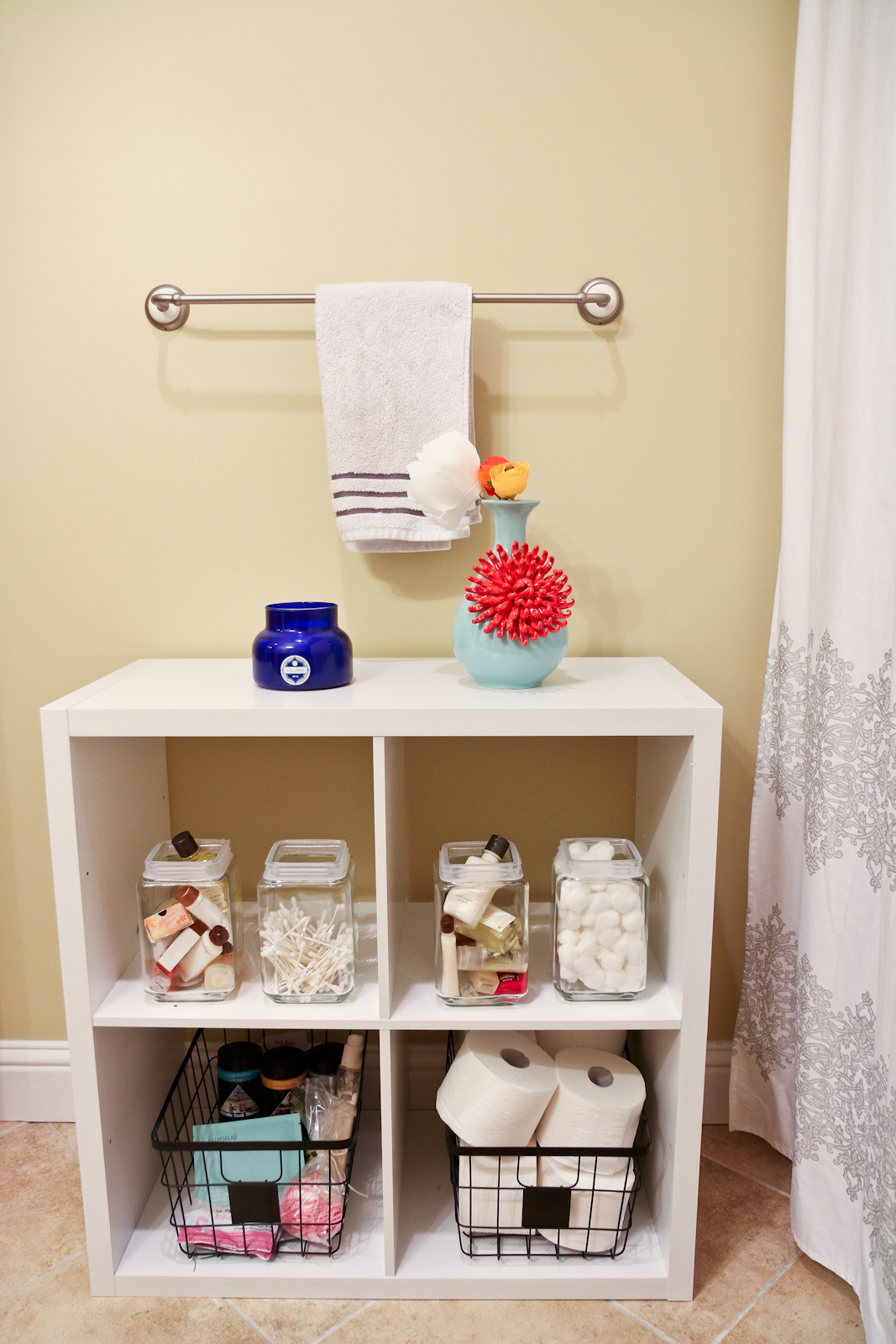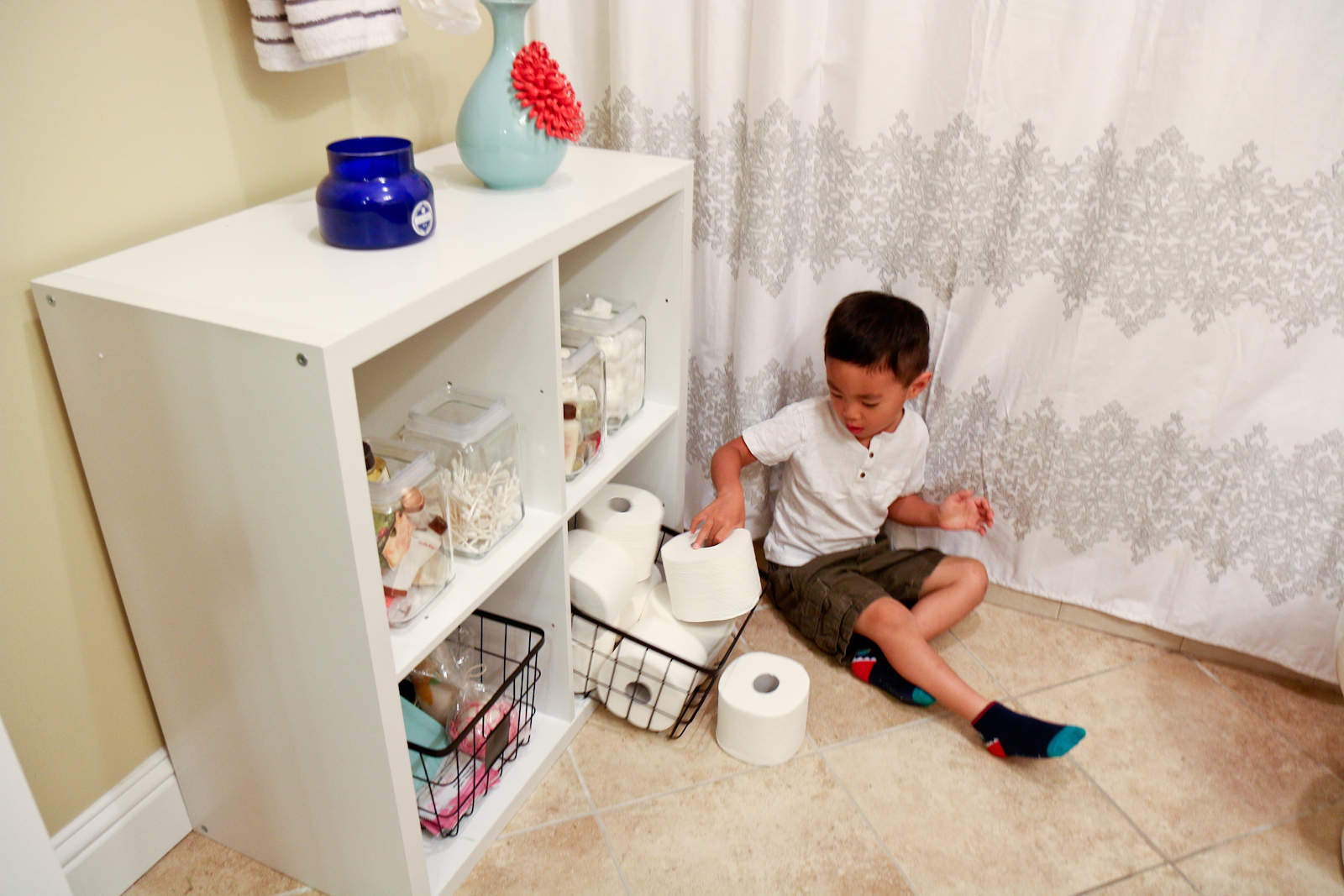 4. Help stock the bathroom. Because oftentimes we will have my kid's grandparents come and stay with us for long periods of times (or sometimes we have friends over), making sure that the bathroom is stocked is important. Whether it's toilet paper, q-tips, body wash, I want to make sure all of the little things are there. Making sure that toilet paper is stocked in every bathroom is kind of a no-brainer but I also wanted a nice way to display it so guests wouldn't have to be searching through cabinets in case they ran out. Cottonelle's Mega 4-in-1 Roll has a lot on one roll, but also fits standard holders, and is great so that it will be a longer time before we run out of it, and it makes a little less work for Austin when he has to help me stock up.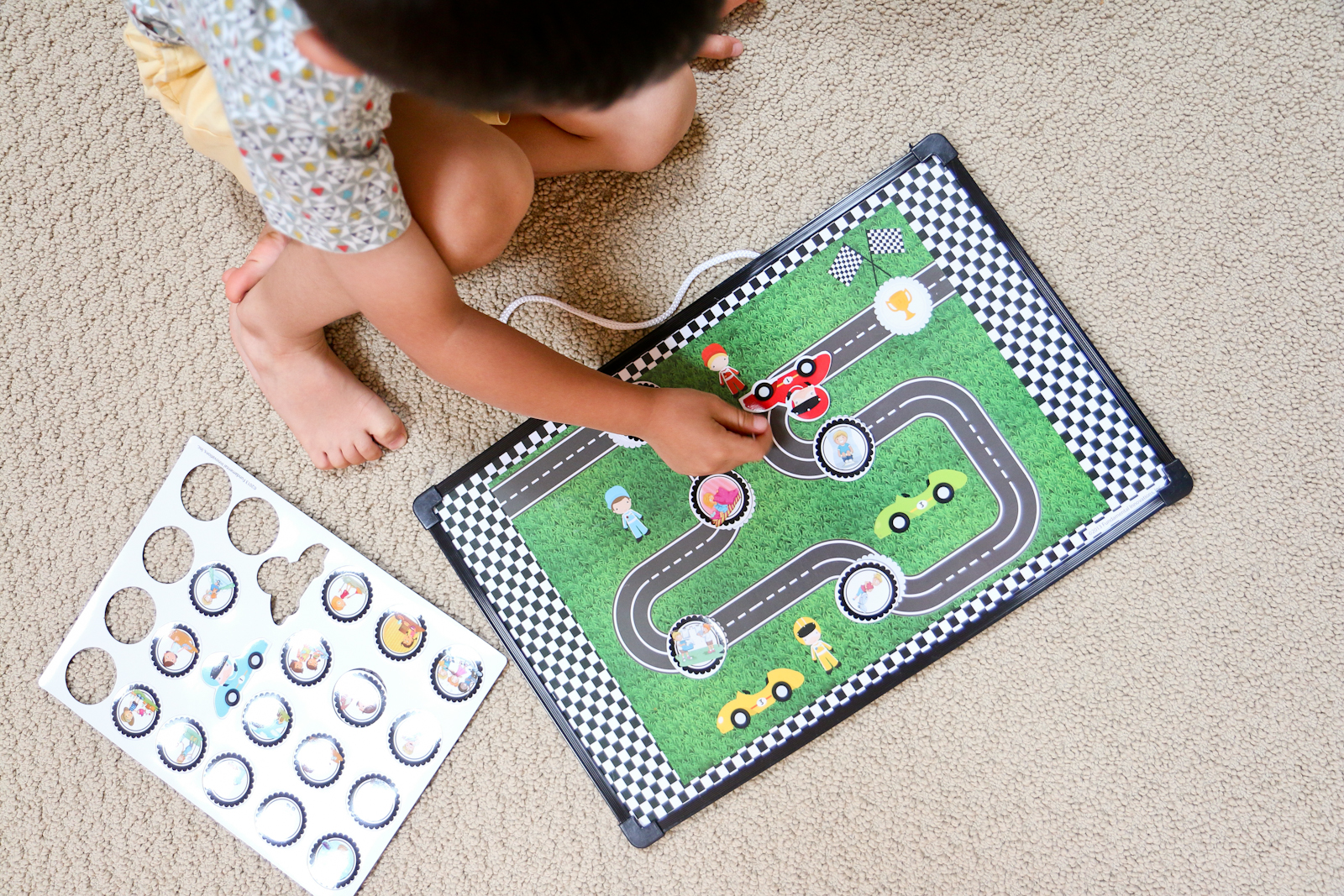 And of course all his chores would need some type of reward, or else, let's get real here, he probably wouldn't help me. This race car magnetic chore chart was something I found on Instagram awhile ago and have been waiting for the right time to use it (basically when he was old enough to understand). There's pictures of different tasks and you put them on the squares and once you've reached the finish line, a reward it is!  Sometimes our rewards are in the form of dessert after dinner, going out to eat, or suckers.. but I really like to make the rewards not food related, but something like a ferris wheel or train ride.
So I'd like to hear from the other mamas out there, I need some more ideas, how do/did you get your toddlers to help around the house?  And what types of "rewards" do you give to your children?