As an extension of a recent post about 10 tips for throwing a classy Halloween party, I wanted to share more details about our 5 stylish Halloween costumes for women in case you are still looking for one for this upcoming Halloween! Again, we all tried to stick with a black and white colored theme for our party so our costumes coordinated as such.
1. Witch





I decided to take a super modern and quirky take on a witch costume with a simple black top from Nordstrom, a black tulle skirt from Cents of Style, sheer black tights, black pumps, black witch hat… and of course black nails by my nail artist @chelsgels. 😉 Add in a the tiniest broom you ever did see and a gold spray painted pumpkin "cauldron" and I was ready for trick or treating to commence.
2. Bat
My girl Gentri of Gentri Lee blew us all away with her DIY bat wing costume. Can you guess what it is made of? Yes, an umbrella, SO clever! She wore a sleek all black outfit, a fun sparkly mask and really let her wings be the star.
3. Kitty Cat
Another great all black costume where you could just find pieces in your home is a kitty cat costume. Chelsey of Housewife 2 Hostess also wore a sleek black outfit, added ears and a tail and did some killer makeup for her look!
4. Mary Poppins


Prim and proper, Mary Poppins, my friend Caroline of Armelle Blog wore a white blouse with black trim, midi length skirt, vintage shoes and hat and topped off her look with a white lace umbrella of course. It had to be classy. Love her poses too!
5. Egyptian
Lastly, my friend Sara from Confetti Sunshine dressed as an Egyptian. She took a simple black maxi dress and added a gold embellished collar, belt and a headband for accessories and her costume was complete. Random fact, but did you know that I use to have a work client in Egypt and have actually been there 5 times? It was back in my crazy travel days!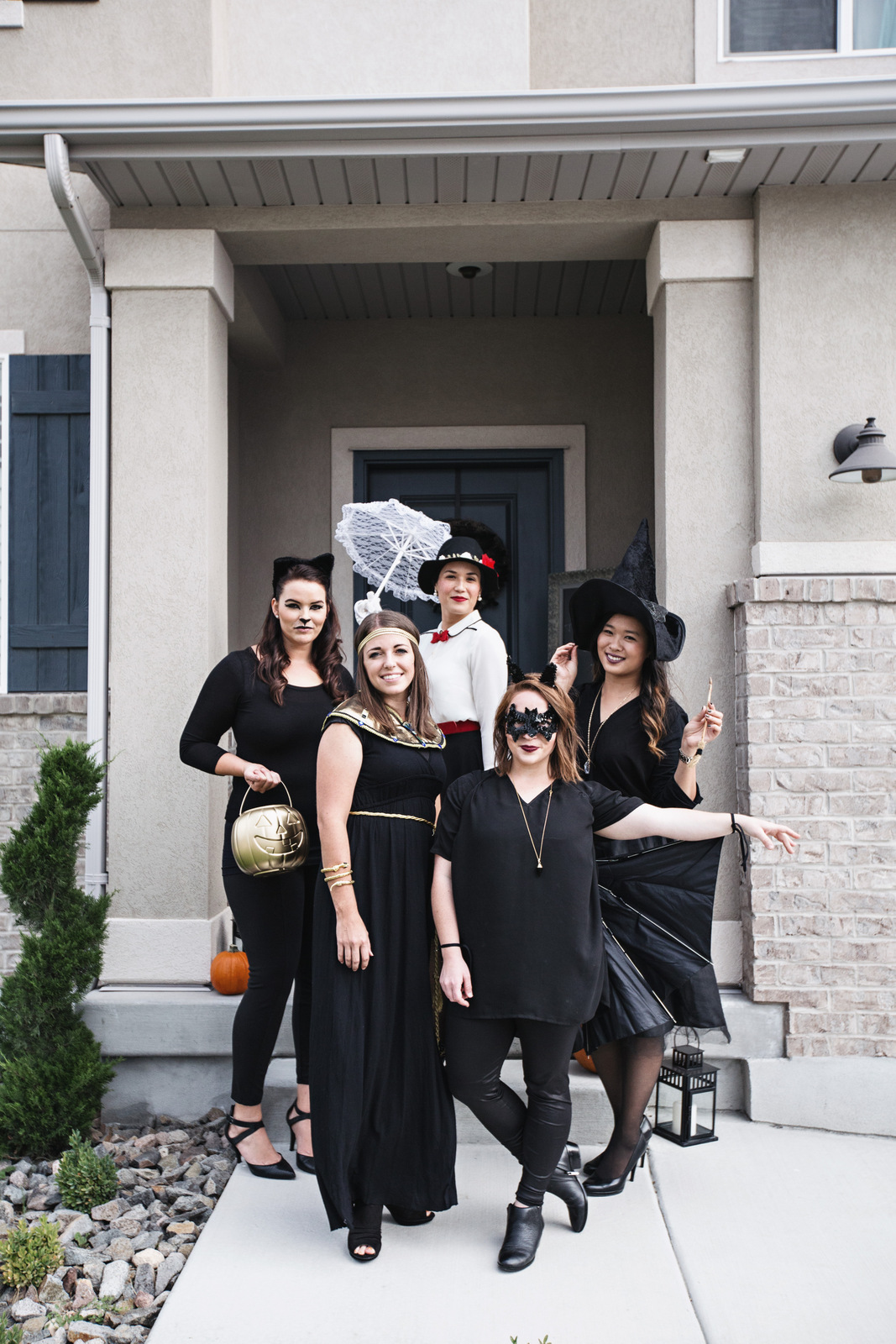 I just love how coordinated we look with each other and how many of our costume pieces were just taken from clothes we already own with some added accessories and props. Those are the best kinds of costumes, right?
Do you know what you are going to dress up as this Halloween?
Last but not least, a bunch of beautiful bloggers and I are hosting a $400 Nordstrom gift card giveaway! Because we could always use some extra money to there to buy things for ourselves or our family, right? Enter below!
Fall has arrived, and to celebrate I've teamed up with these other fabulous bloggers above to bring you an awesome giveaway that will allow one lucky winner to update their wardrobe this season with a $400 e-gift card to Nordstrom!To enter just follow the instructions in the Rafflecopter below
Make sure to perform actions in the Rafflecopter, we always double check
Rules and details below
a Rafflecopter giveaway

Must be at least 18+ years of age
Open internationally
Must have a valid email
Any email provided may be used by bloggers for their own promotional purposes and blog updates
Rules can be changed at any time with or without notice
Thanks for entering and good luck!