For the past month, I've gotten to try out a new monthly diaper care kit subscription service called Everyday Happy. If you haven't heard of it before, it is a monthly subscription service created by moms and dads to make everyday happy for kids and families around the world. They offer products for babies such as diapers, wipes, body washes and creams. They offer things for the home such as baby laundry detergent and cleaners. And they just started offering daily multi-vitamins and Omega-3 tablets too.
There's something about babies in diapers and bare legs and feet that is just so adorable. Sometimes, Vivian just doesn't like to wear pants, but I mean, who does, right? 😉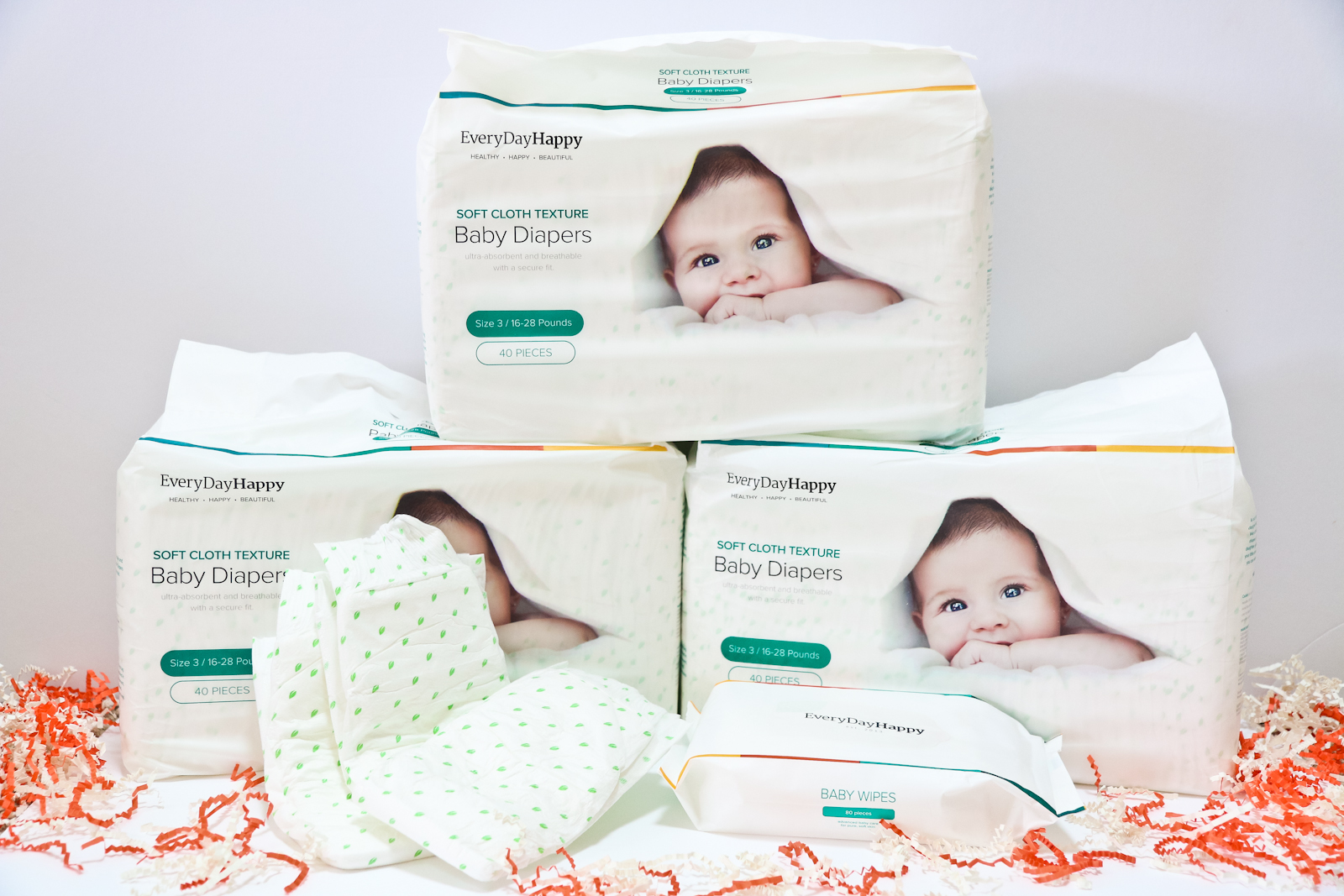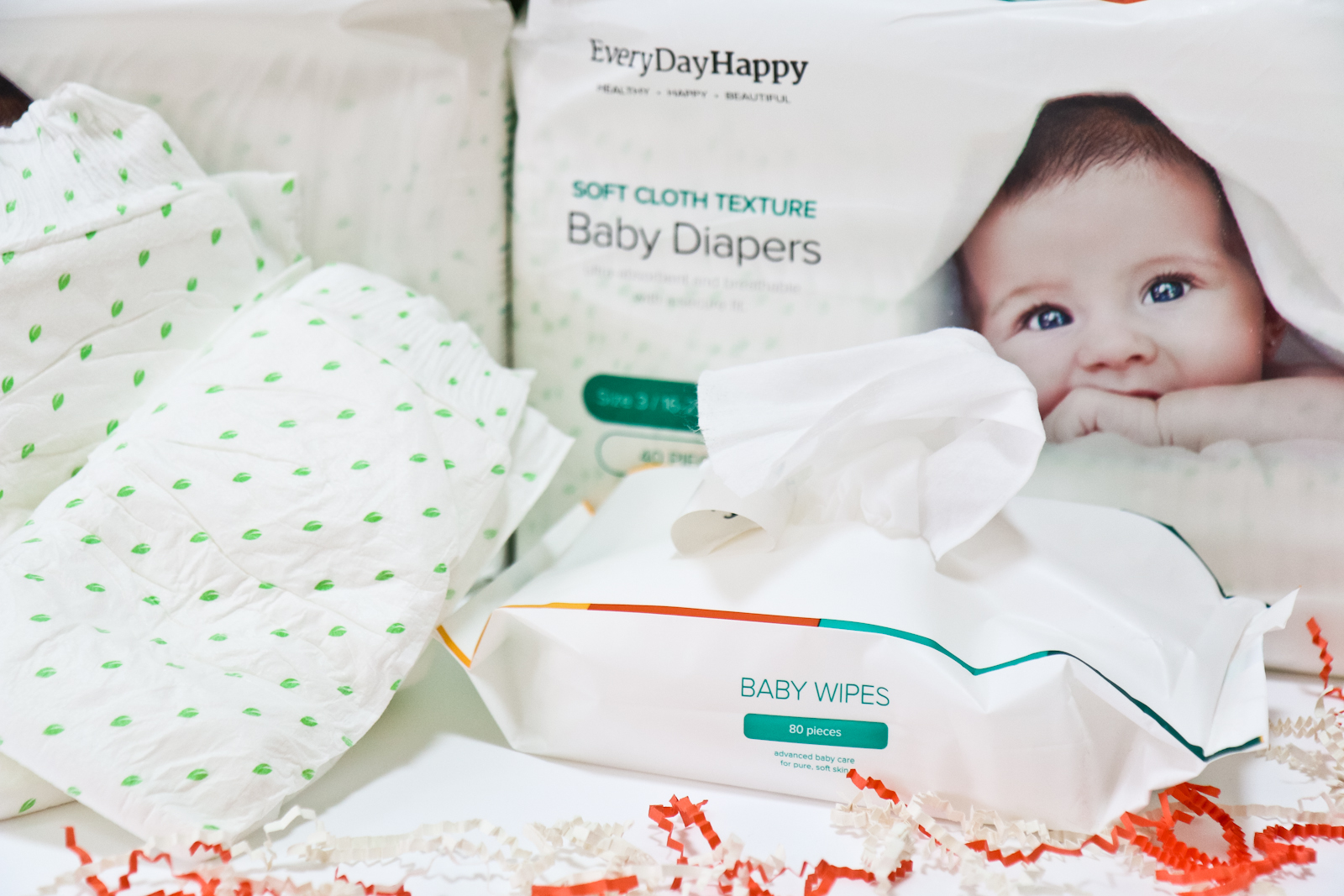 Since we use disposable diapers instead of cloth diapers around here (nobody's got time for washing that time, am I right? But if you do, props to you!), I was happy to see such a service like this where you can basically subscribe, get bundles and save. In the monthly Diaper Care Kit you will get enough diapers and wipes to last you a month. Vivian is wearing size 3 now so she gets 200 diapers in her kit (it varies by size but goes up to 315 for Newborn size because we all know how many diapers those little creatures go through (sometimes it's like 10 a day) and accompanying wipes. With Sustainable Forestry Initiative-certified wood pulp absorbent cores, their diapers are free of harsh chemicals, toxins, latex and optical brighteners. I also like the simple white with green design on it, and can't wait to see if they come up with even more clean and simple designs. And the wipes are on the thinner side, but are definitely soft.
The monthly price is $79.95 per month and you can get the convenience of just subscribing and forgetting about it and having them sent right to your door step. In doing some research and math, I saw the price to be a bit higher than some other subscribe and save online companies but it cheaper than if you were to buy all of these items in the store. I think their selling point is definitely the fact that their products are renewable, they use biodegradable materials, and they're completely free of the toxic additives found in many popular baby brands. AND the whole being sent to your doorstep deal, I can't stress that enough. Because moms and dads are busy, so one less trip to the store is always a plus.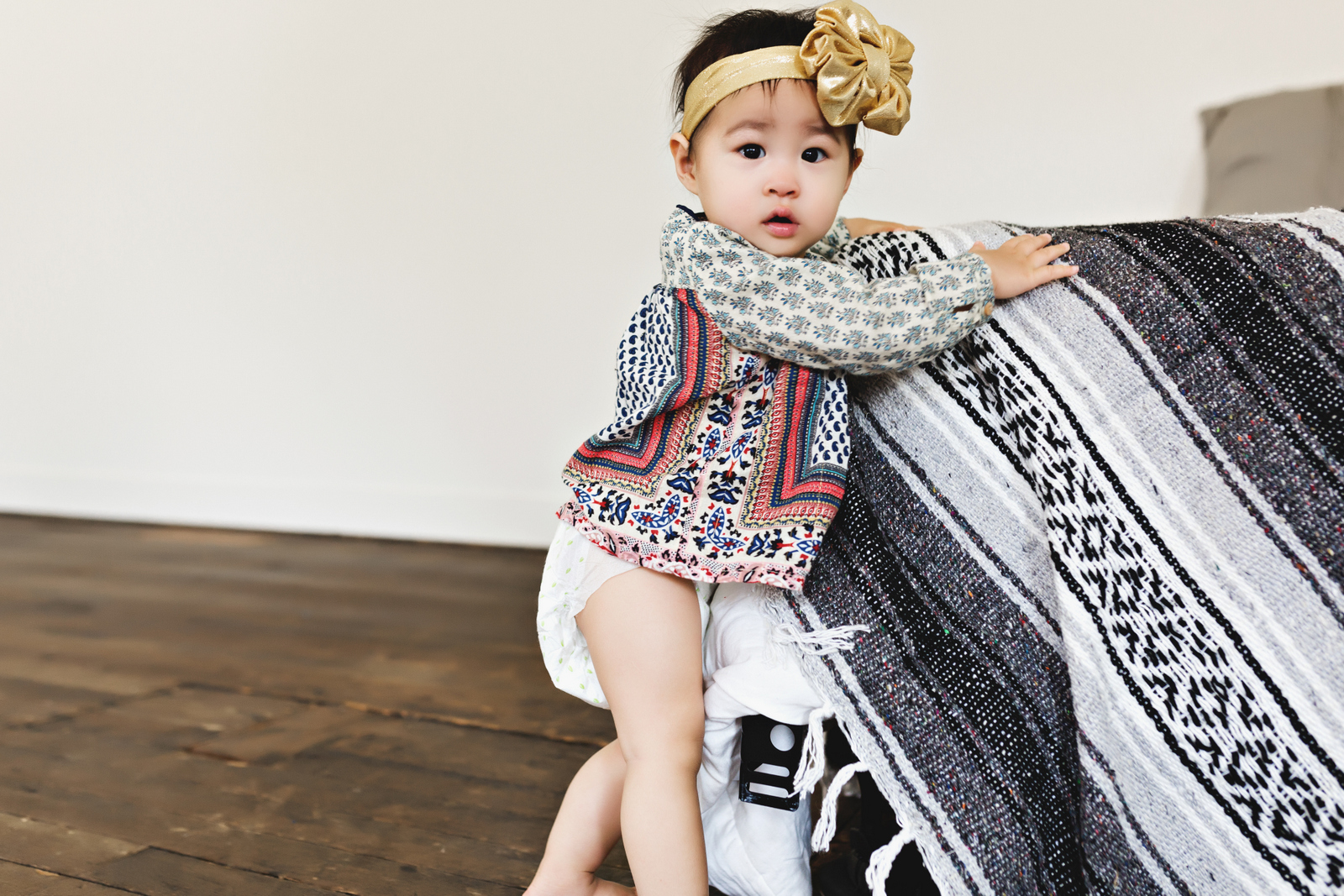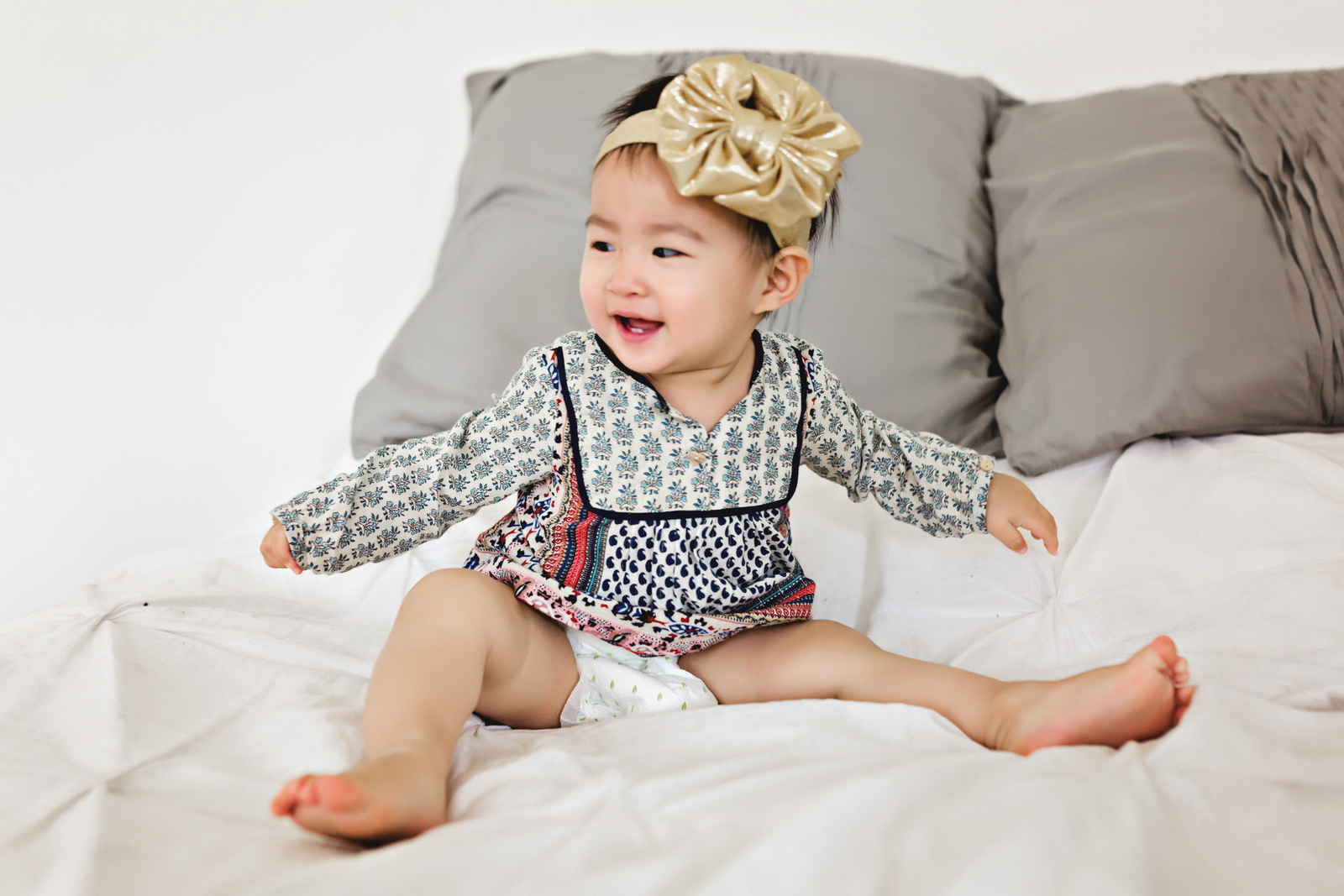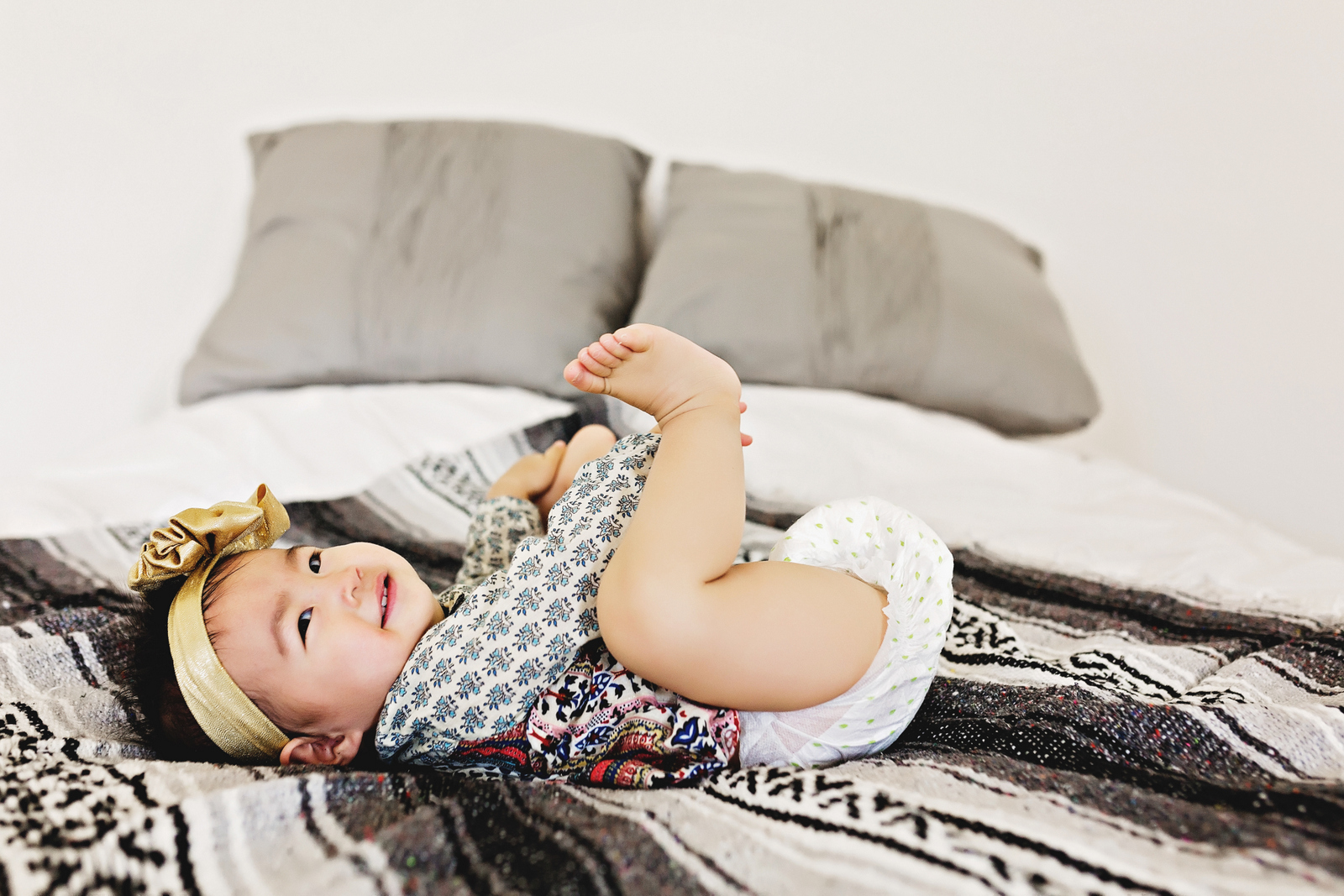 Vivian's outfit:
Top: Zara
Headband: Ruby Blue Inc
Blanket: Spanglish Heart
Photography (of Vivian) by Nina Tekwani
If you are interested in signing up for a FREE TRIAL of some Everyday Happy products, then sign up here. FYI, the trial period is not for a whole month's package, but just a sample.