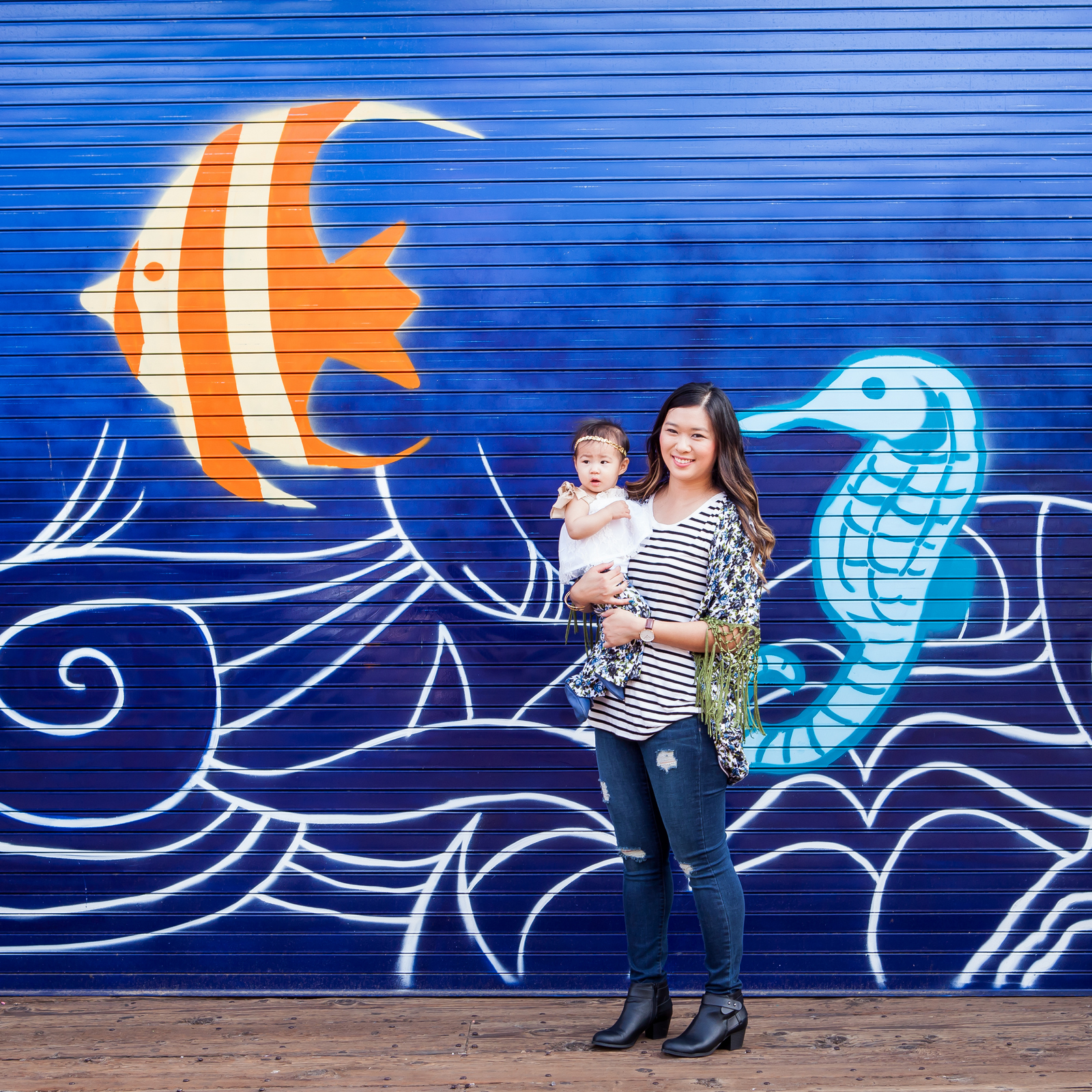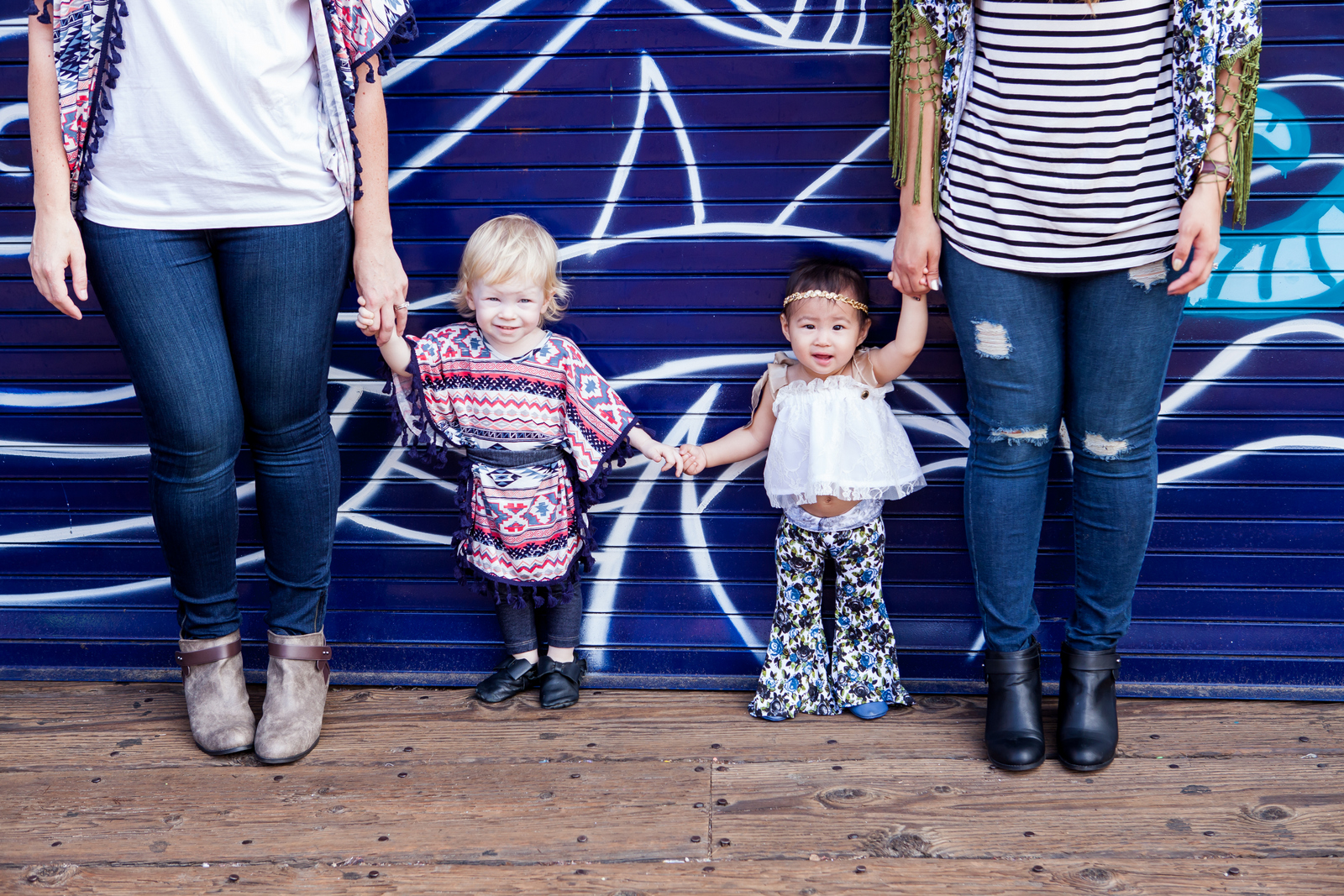 Each month, I team up with Carly and two of our other favorite mommy and me bloggers to share our favorite shops and trends for Mama / Daughter Duos. For this month we are showing you Boho style for mamas and babies… because apparently it's my new thing as I blogged about it last week too.
I got to meet up with Carly of Lipgloss and Crayons and her adorable girl Lydia in California and we got to shoot this look together! Carly and I actually met a few years ago in California at a blogger dinner and have kept in touch on social media, text and email since. 🙂 I love that we both blog about Mommy and me fashion… it's just so fun! 🙂 We've partnered with Kapri Couture to show off their new fall line of kimonos for mamas and tunics and bell bottoms for baby girls (they sell other Boho things too). But seriously… these are Vivian's first pair of bell bottoms as I think they look best on girls that can stand, but I AM OBSESSED. Baby bells, as I call them, are the cutest and paired with a crop top so her belly is sticking out? LOVE! And that girl HAS a belly, she just loves to eat non stop and we can't even keep up with her hangriness sometimes, yikes! And I just love the tunic print on Lydia! For the mamas, we both styles our kimonos with jeans, a tee and some stylish boots from Cents of Style (you should check out their collection of shoes, jewelry, tees for affordable every girl prices).
Here is a little look at what the other girls are wearing that are part of this series! Keep reading to be able to click over to their blogs to see their full looks!
/ blue and coral kimonos / teal fringe / black and white boho / boho and stripes /
My outfit:
Top: Downeast Basics
Pants: Tummy Trimmer Denim
Kimono c/o Kapri Couture
Shoes c/o Cents of Style
Vivian's outfit:
Top: Sadie Then Ty
Pants c/o Kapri Couture
Shoes: Sophie Kate Moccasins
Photography by Kelly McDaniel Photo (California based)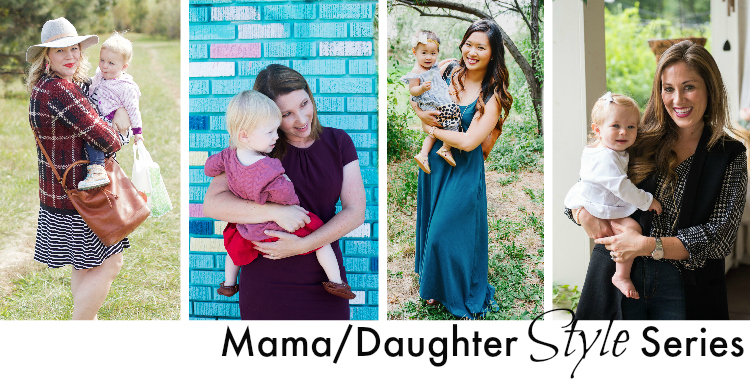 We hope you are enjoying the Mama / Daughter Style Series as much as we are loving taking pictures with our baby girls! Don't forget to check out the other blogger mamas too!
Chasing Davies | Lipgloss & Crayons | Walking in Memphis In High Heels