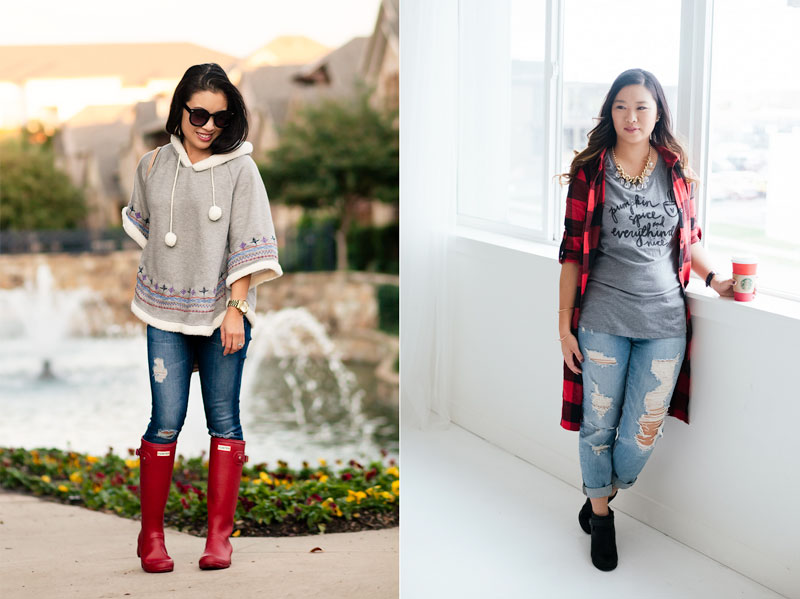 Kileen | Me
So I know this On Trend Tuesdays Linkup post was technically supposed to just be me… but not going to lie, I've been having way much more fun with Mommy and me fashion that I don't even have outfit pictures of me, by myself ready to go! Hope you don't mind my little girl making an appearance today (again)! 🙂 With fall in the air and Thankgsiving coming up, this Mommy + me graphic tee was only fitting. It says "pumpkin spice and everything nice" and I think it's just the cutest font ever. And yes, my Starbucks red cup did actually have pumpkin spice in there. I always get mine with a pump of caramel, love the combo! And no, this post is not an ad for Starbucks, but it really is one of my fave coffee places. 🙂
For my outfit, I just went a little casual with jeans, a midi dress worn as a cardigan from NJ Rack (I got this in a small because I knew I'd wear it as a cardigan, but if I were to wear it as a dress, I'd probably size up 1 or 2 sizes), boots and a clear statement necklace. I just discovered NJ Rack at a local conference and I fell in love with all of their pieces, seriously. I also wore one of their chunkier cardigans here.
For my little lady, well, she wore her tee with some bloomers, the most adorable knee high socks, gold moccs and a headband. She was also pretty casual and I did decide to layer a long sleeve leotard underneath her outfit for warmth.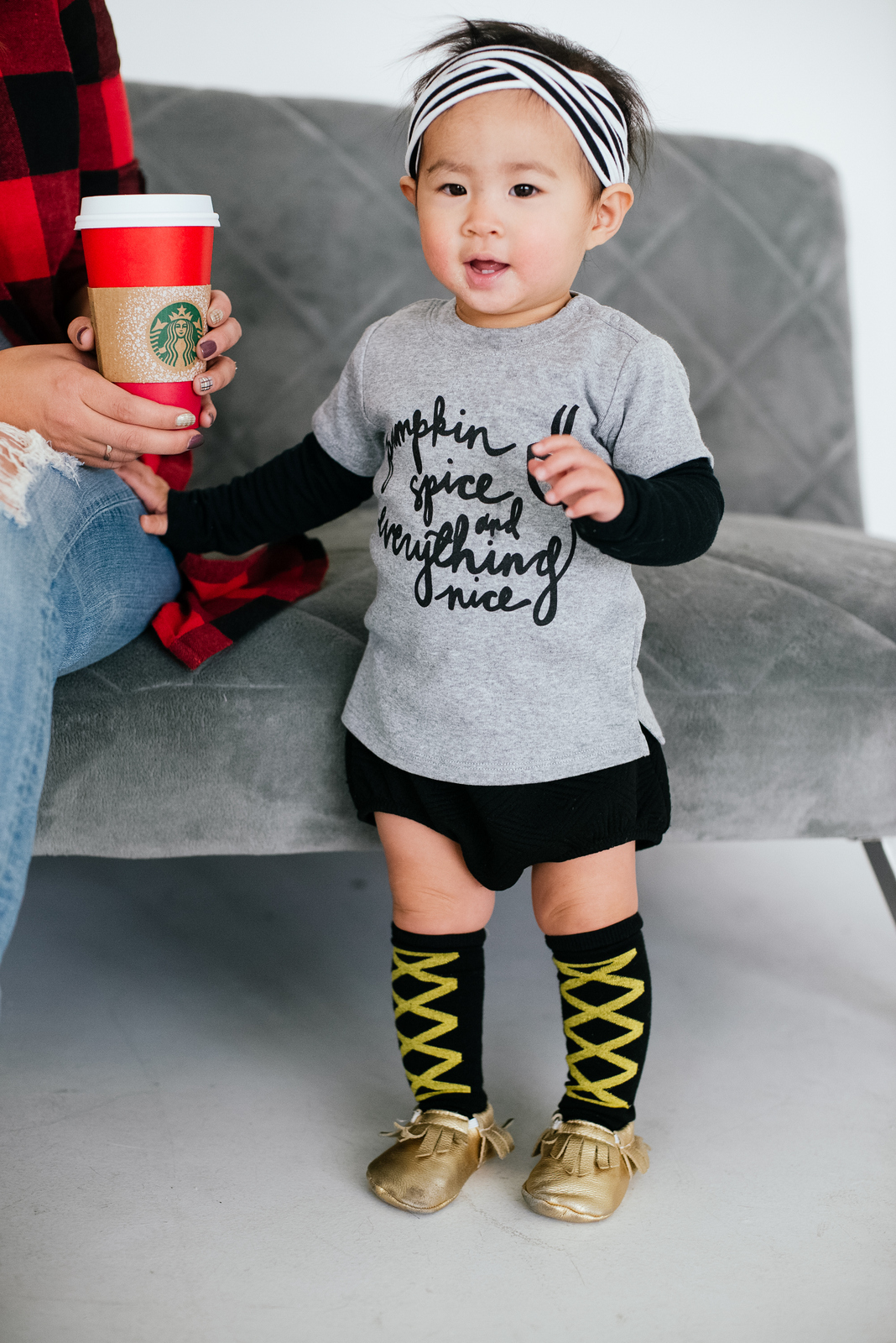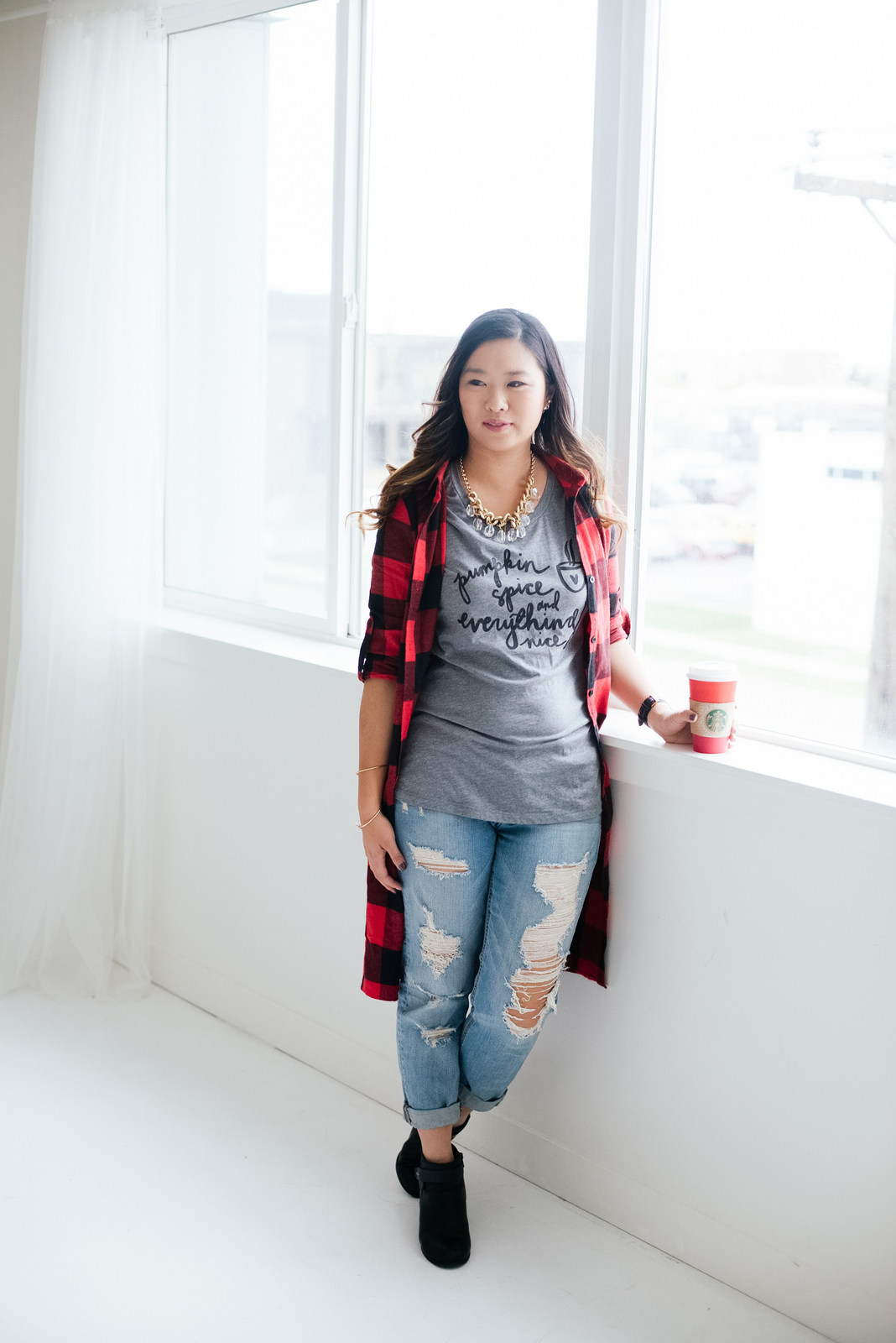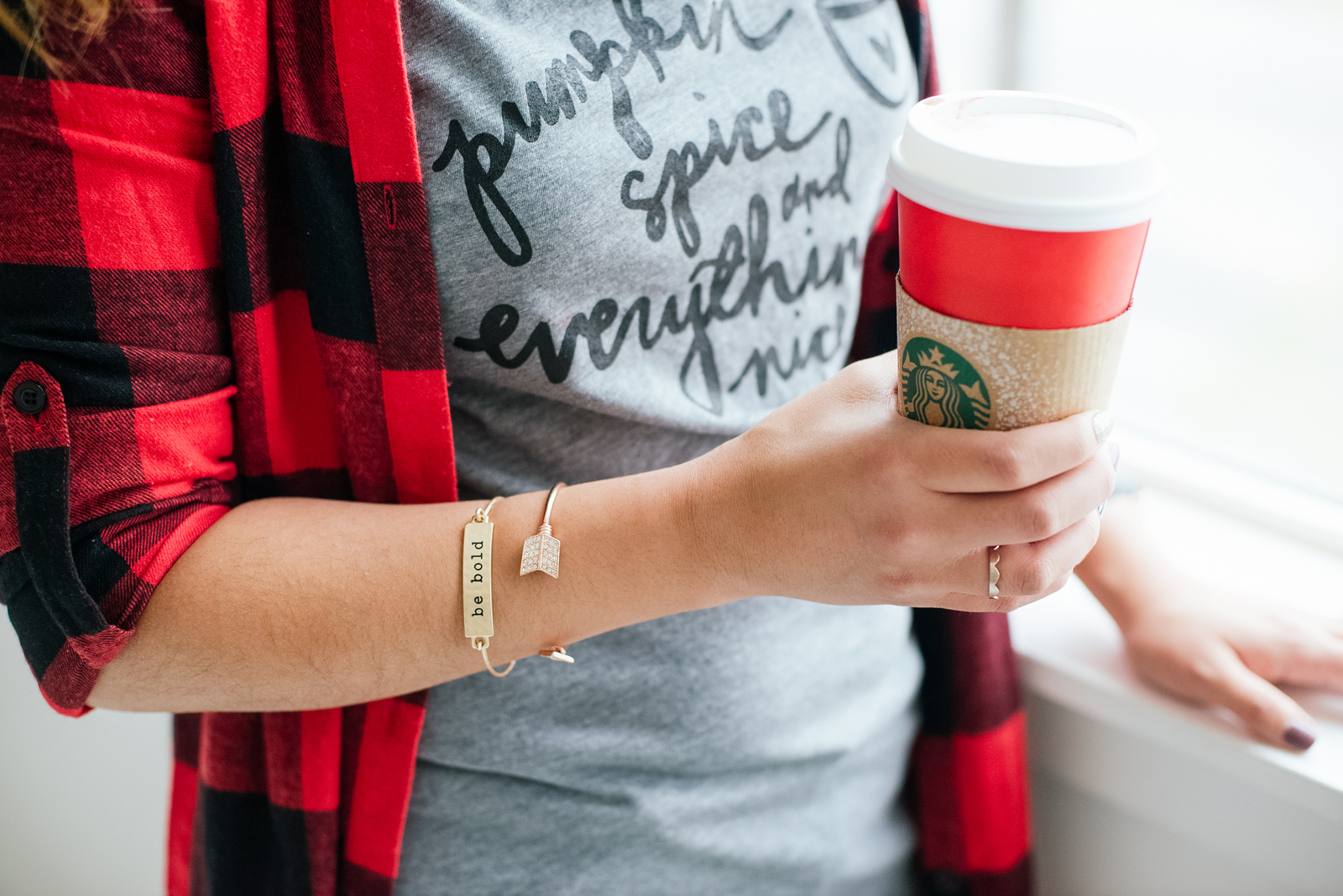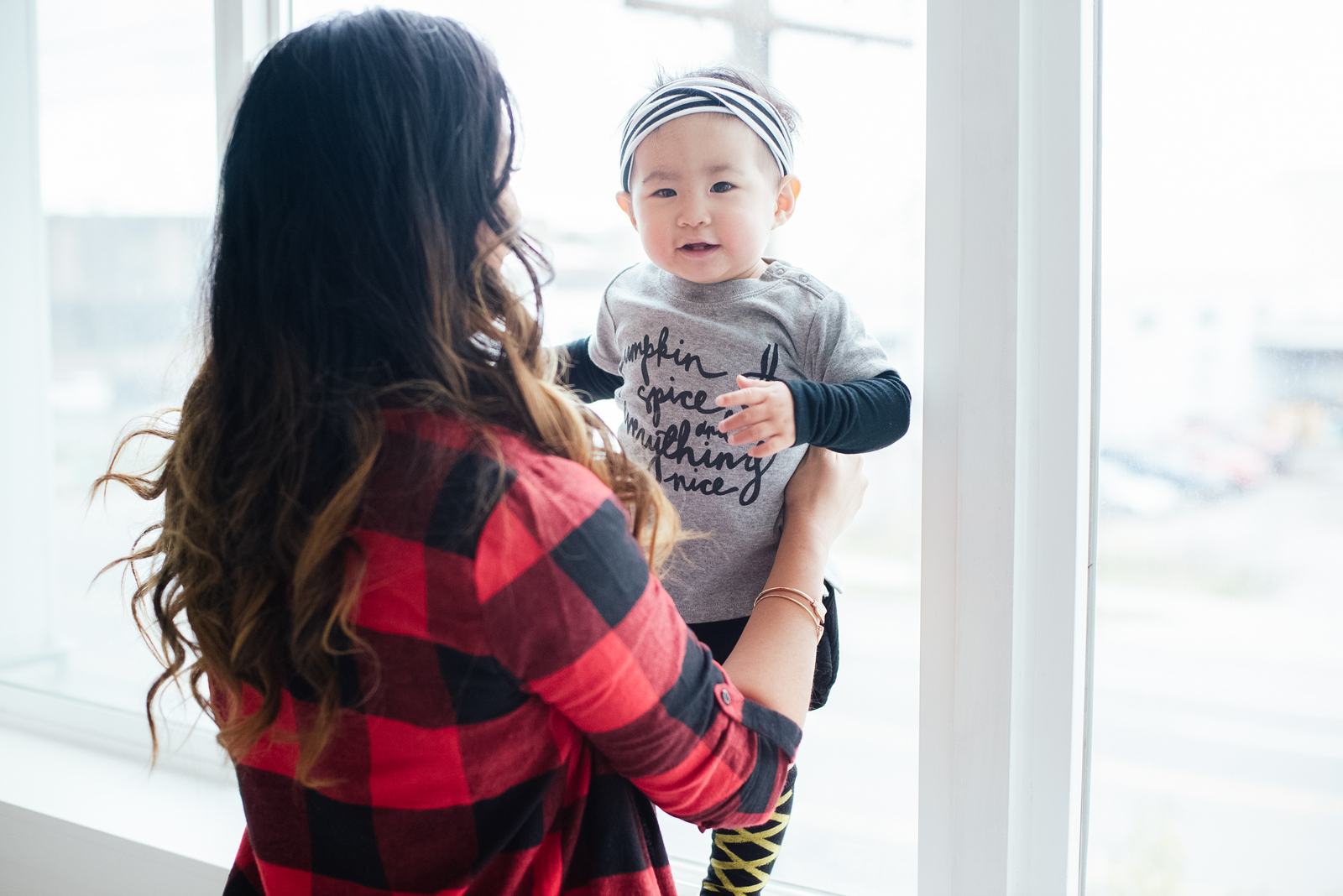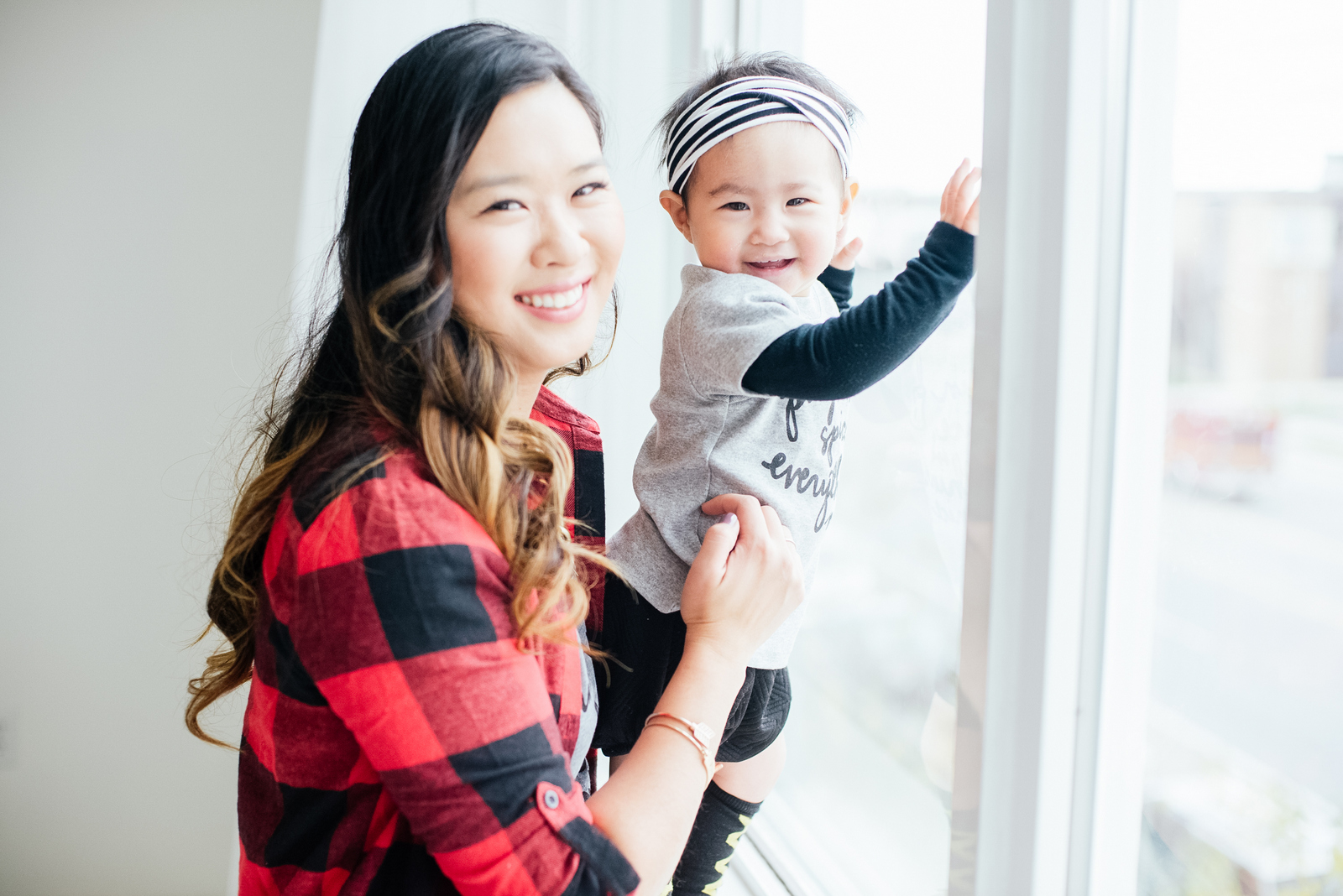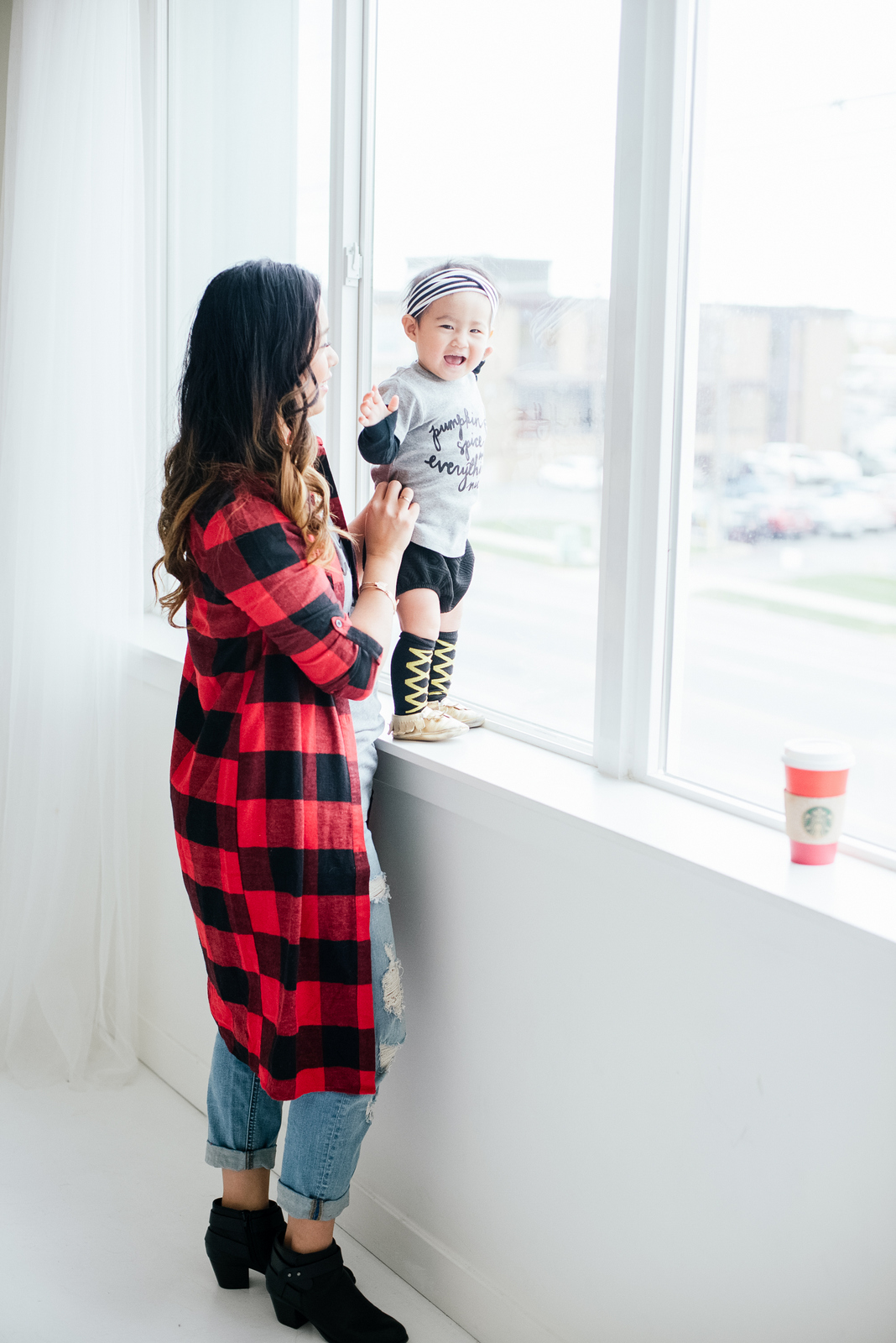 My outfit:
Tee c/o Lavish Leo
Cardigan (or Midi Dress) c/o NJ Rack
Jeans: Ruby Claire Boutique
Boots: Cents of Style
Necklace: eNVe Designs
Bracelet: Cents of Style
Vivian's outfit:
Tee c/o Lavish Leo
Bloomers: Crew & Lu
Knee Highs: The Little Wears
Moccs: Sophie Kate Moccasins
Headband: Nicky + Stella
Photography by Haley Nord
Shop similar items:
I am pretty stoked about it, but this week's On Trend Tuesdays Linkup winner is my girl Kimberley of Eleventh & Sixteenth! I met Kim last year at ALT Summit (can you believe that the next one is coming up so soon, who is going??) and we've met a few times since, since we both live in the same city! The even cooler thing is that this shoot that she did was in the exact same studio that Vivian and I shot our look AND with the same awesome photography, Haley!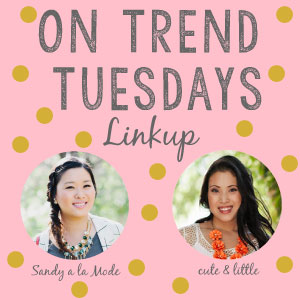 Feel free to link up your fashion post below! Please make sure to add the button or link back to myself and Cute & Little in your post and go and comment on at least 5 other blogs, please please!!! 🙂 We want this to be a community of fashionistas to keep you inspired and supporting each other is what we are all about!