Over the holiday break, I had the urge to do something creative. I wanted to do something beyond my comfort zone, that uses my love of "event planning". So I put together a Valentine's Day Outfit Styles for Girls shoot, that was of just girls age 1-6 and I am so happy to be able to share some of my favorite pictures from it! 🙂 Crane & Co Photography (Utah based) and I had never worked before but I knew I loved her work, especially shooting kid's fashion before. So we planned and planned and sent lots of Instagram messages together and got 5 other little girls (and Vivian) together for a fun filled afternoon. It was actually rather chaotic, but I don't mind chaos among kids, especially since they were all so adorable! 😉
So we put together 3 Valentine's Day outfit for girls and 1 Spring look with a bit of Valentine's in it, hopefully to inspire you on how to dress your little girl for the upcoming holiday and season.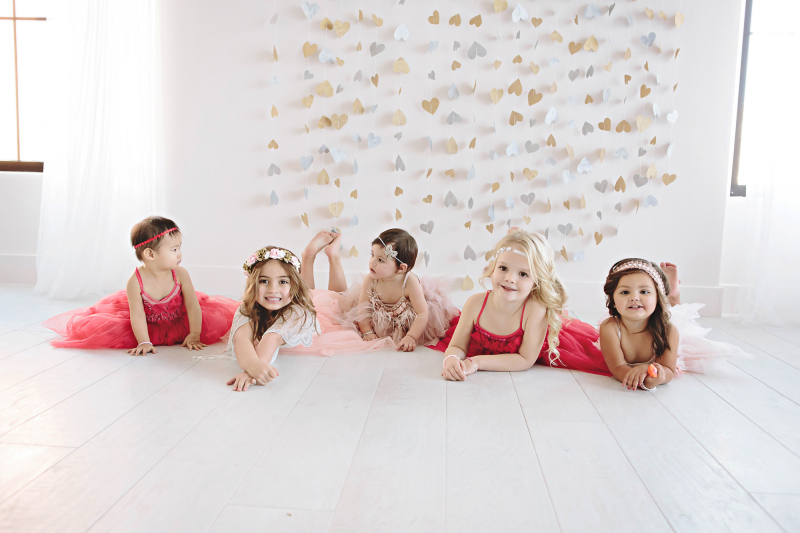 Dresses: Tutu du Monde via Rainey's Closet
Headbands: Garden of Arden
Bracelets: Little Pretties
Backdrop: KMHallbergDesign
Shop the look:
This first look is whimsical, romantic, sweet, and very dressy. I went with a mix of pink and red shade dresses and a mixture of different style and colored headbands. Their delicate bracelets were a great addition to this look as well. For the backdrop, I knew I wanted it to be somewhat neutral, so we could let the color of the dresses stand out. The mixture of silver and gold hearts going in different directions in a garland was absolutely stunning.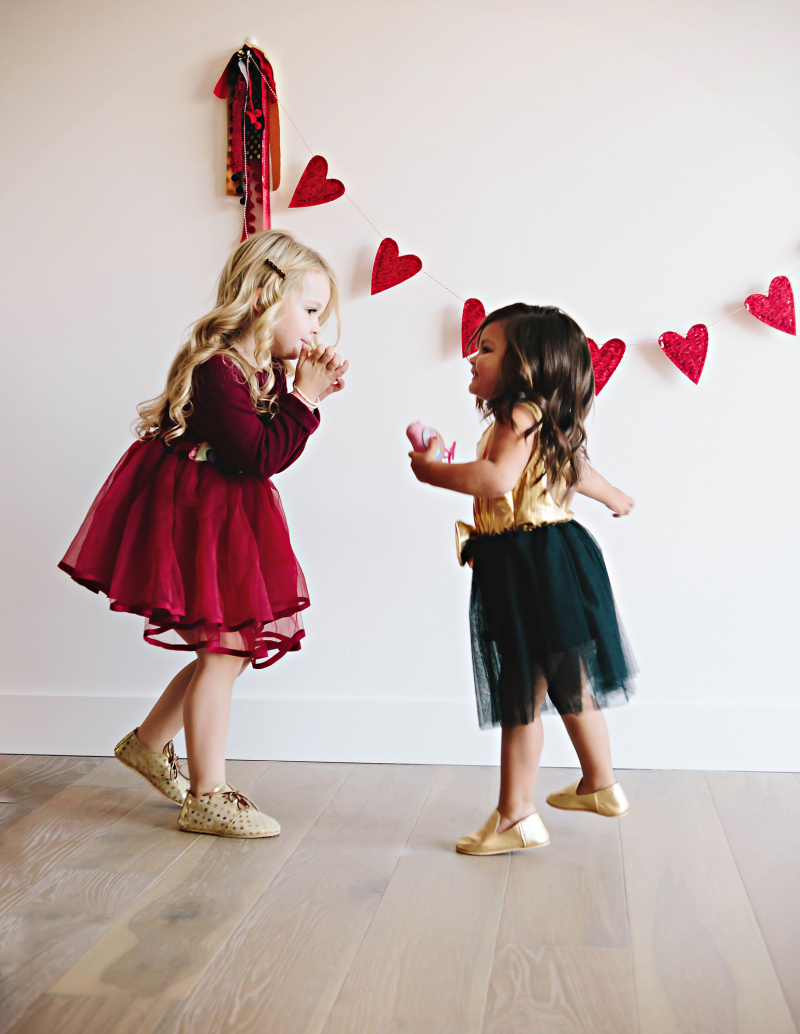 Dresses: A Pocket Full of Sunshine Boutique
Shoes: Lili Collection Shoes
Headbands: Nora Madison Designs + T Posh Society
Backdrop: Pearl and Jane
Shop the look:
For this look, it was a dark red, gold, and black themed look. Something that reminds me of what you'd wear on a Valentine's dinner date, but of course, these girls should not be dating yet. 😉 I think this is a very classy, yet affordable and wearable style.
Tees: Mochi Kids
Shoes: Mon Petit Shoes
Headbands: Skippee
Backdrop: Pearl and Jane
Shop the look:
For this third look, as you can tell, we got a little bit more casual and it was just all around fun! The kids wore some adorable Valentines themed tees, their own bottoms, and a mixture of red, pink, metallic shoes! That LOVE banner was the perfect addition to coordinate with their outfits!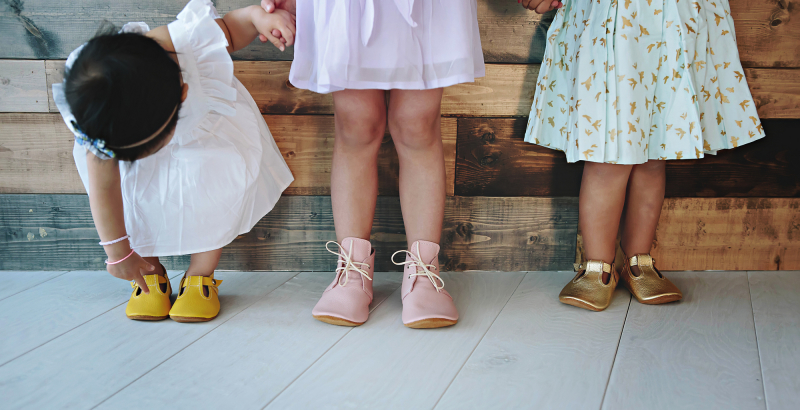 Dresses/Skirt: Gentille Alouette
Shoes: Mon Petit Shoes
Headbands: Mark It With A Q
Backdrop: The Lovely Ave
And this last look is a Spring look with a little bit of Valentines in it (how darling is that XO?). Flowers definitely remind me of both the upcoming season and holiday. I stuck with a soft color palette and love how these turned out!
Oh yea, and these looks were actually featured in the Young Fashion Kids Magazine, how cool is that?! Thank you again to Crane & Co Photography for being so wonderful and shooting these photos for us to cherish of our babes! And hope this inspired you on how to dress your babe for this upcoming Valentines Day! <3