I'm sharing #WholeBlends in my life as part of a Garnier sponsored series for Socialstars™.
Have you always wanted shiny hair? I'm the first to admit that sometimes I feel like my hair gets dull, but I know that there's always ways to keep is healthier and shinier. Right now, with many trips to the pool, laying out in the sun, summertime can be damaging to hair. I've recently learned a few tricks from some of my fave local hairstylists and I wanted to share thwm with you here!
5 Tips For Shiny Hair
1. Brush wisely. Use natural bristles-they distribute the oils in hair, making it glossier.
2. Get highlights. It's really the the illusion of different colors that can make your hair look shiny. Be careful not to do it too often to damage your hair though.
3. Trim regularly. Keeping the split ends away will always make your hair look healthier.
4. Use the right shampoo and conditioner. Whether you wash your hair every day or every 5 days, finding a moisturizing and conditioning shampoo and conditioner like Garnier Whole Blends Green Apple & Green Tea is super important. It's wholesome and has tons of natural ingredients that will help boost shine and make you feel good.
5. Look in your kitchen for home remedies. Apple cider vinegar. Eggs. There's ton of home treatments that can help increases shine.
Can we take a quick moment to talk about this bangle keychain? It's seriously been a lifesaver recently when it comes to finding the keys in my bag and being able to wear it on my wrist while picking up my kids from daycare. Not to mention that the charms are pretty adorable.
Outfit Details:
Hoodie c/o Evy's Tree
Shorts: Old Navy
Shoes: Filly Flair
Necklace: Silpada
Keychain Bracelet c/o Coco + Kiwi
Bag c/o Little Unicorn
Photography by Diana Putnam Photography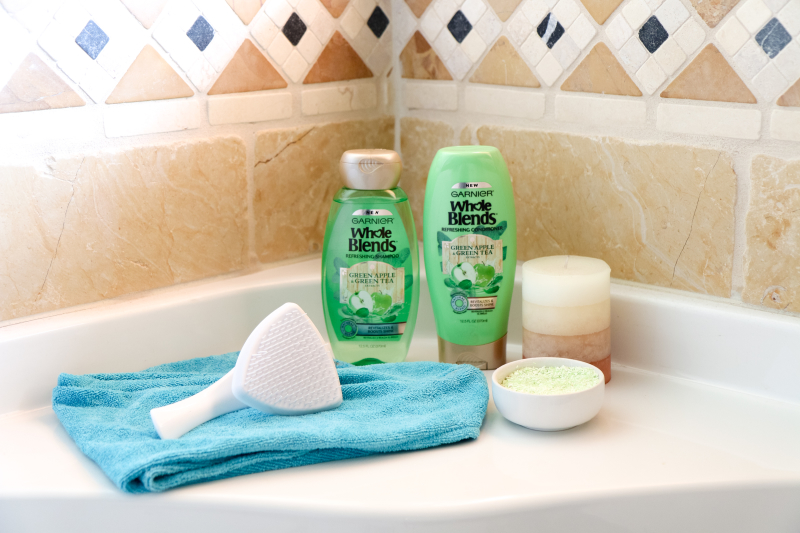 Join the Garnier Crowd on Crowdtap for your chance to receive some Garnier goodies! Don't forget to enter your shipping address on Crowdtap once you join, and stay tuned for even more upcoming opportunities to try Garnier products.
Save