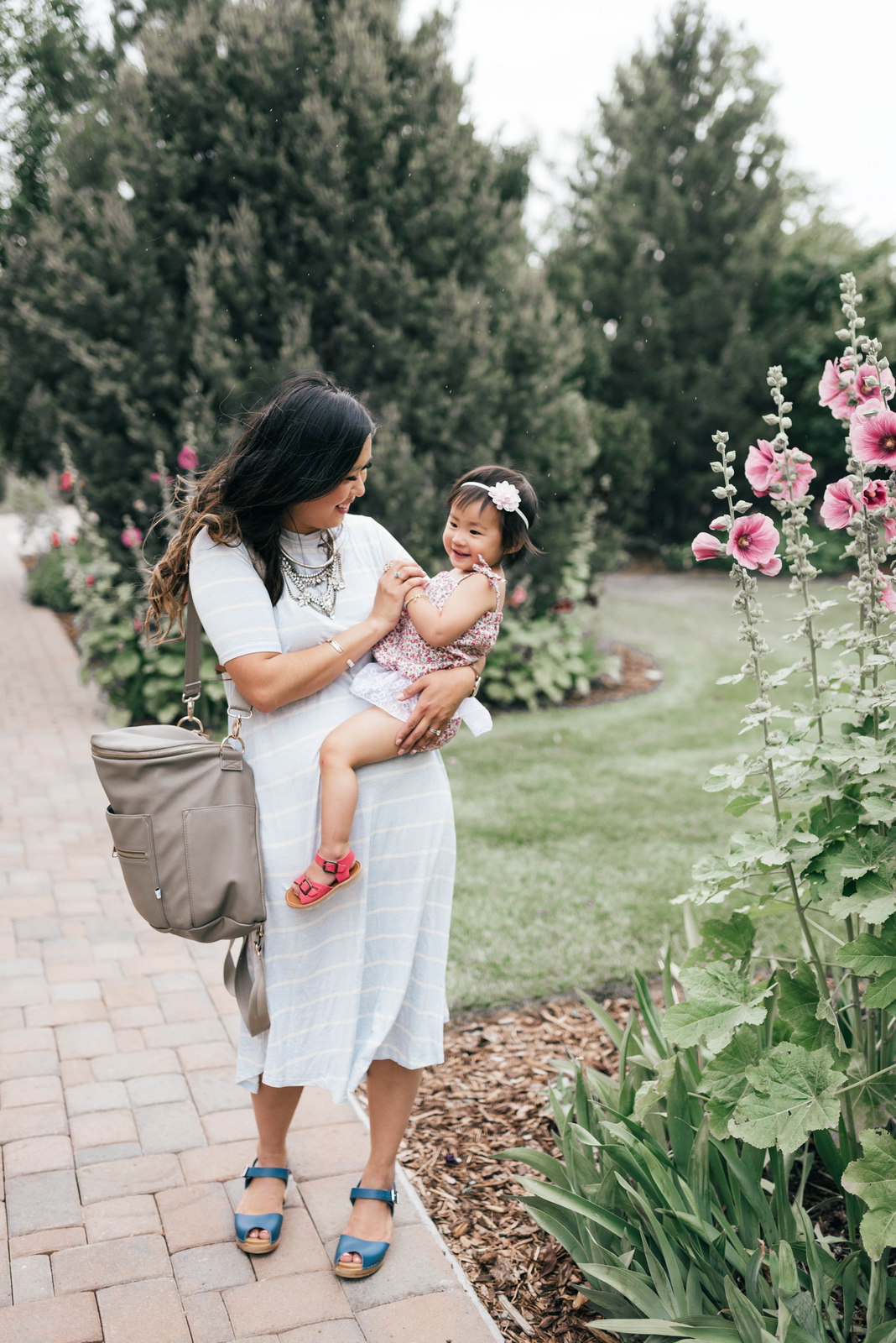 Vivian and I… we take a lot of photos, yes we do. And it may look like she cooperates at every single photos session, but that's SO not the case. I definitely do have some talented photographers that are great at getting "the shots" we need, but sometimes it can be a struggle, A REAL STRUGGLE. With toddlers especially, sometimes you just never know what mood you'll get. But because I've definitely had a little experience in this, I wanted to share some tips for getting kids to cooperate for a photo session, that I have found worked for me at least once. There's a lot of posts out there written from a photographer's standpoint, but I wanted to share tips from the viewpoint of a parent, because I think the focus can be slightly different.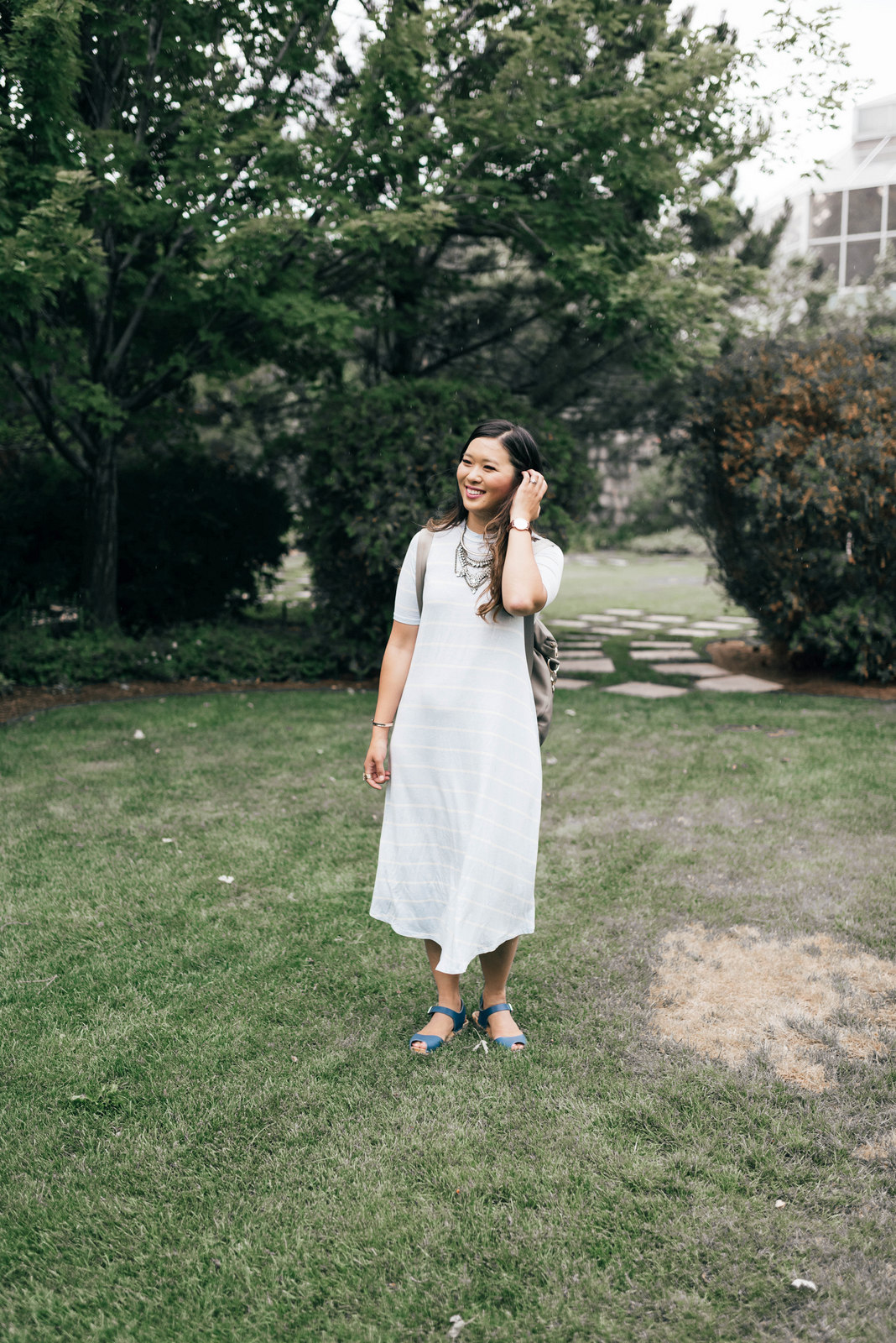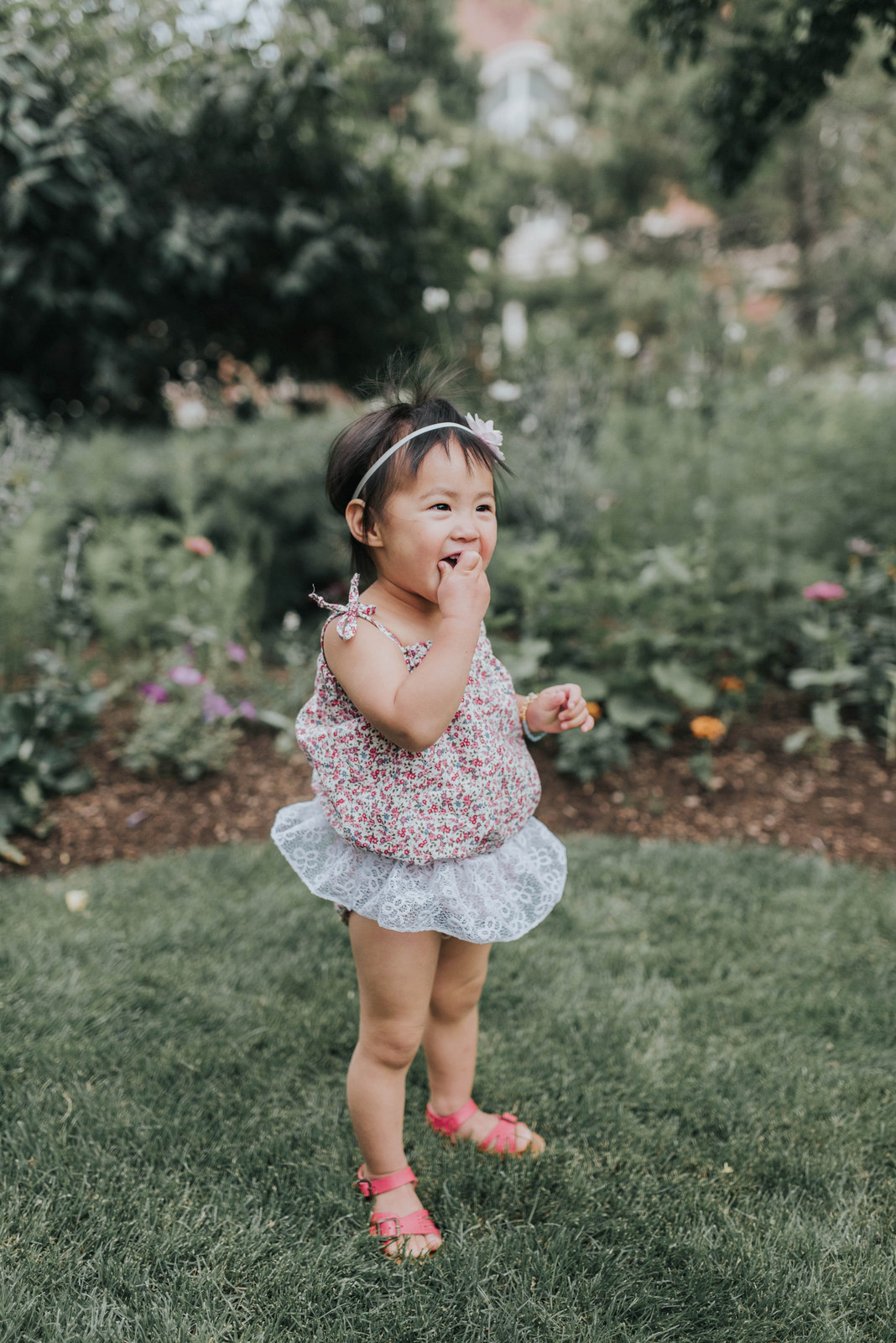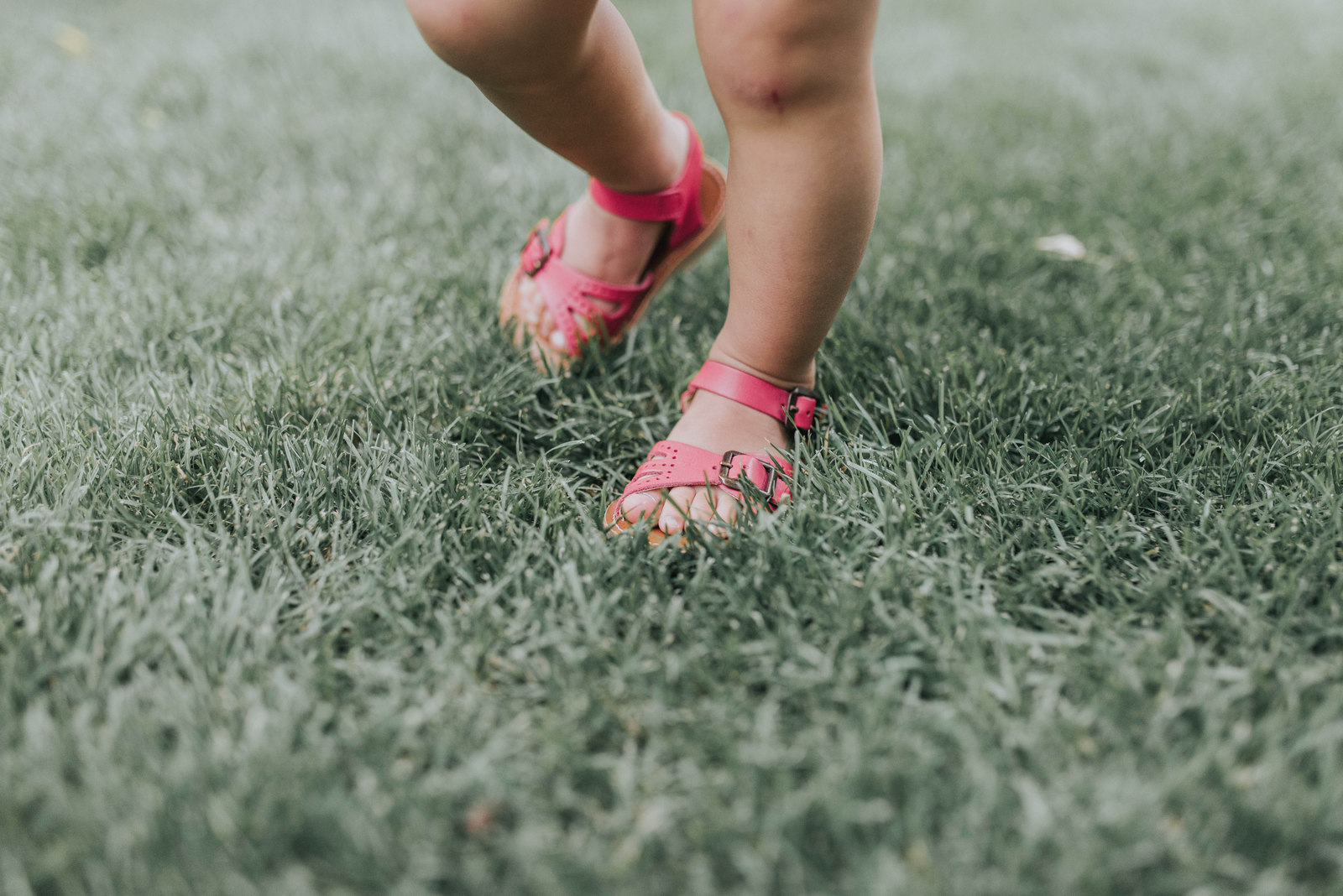 My outfit:
Dress: ROOLEE (blue sold out, grey here)
Shoes: ROOLEE
Bag: Fawn Design
Vivian's outfit:
Romper: Les Petits Darlings
Shoes: Young Soles London
Bracelet: June and Penny
Photography by Paige Nicolle Photo
Timing is key. Scheduling a photo session during a child's nap time or meal time could spell for disaster. You want to make sure your kids are well fed and well rested. Also, plan to arrive early at the location so that your kids can get comfortable with it. You know your child's schedule the best and although a photographer may prefer to shoot during certain times due to lighting, I fully believe that if the timing is off for your kids, you will have a harder time taking photos.
Change at home. I've gone back and forth with this one but I do think that changing at home for your photo session and getting in the car and driving in those clothes is best. It is best to not get your kid agitated by changing in the car or next to the car right before your photo session. The risk you run a little bit is clothes getting a bit wrinkled, but I think in the end, making sure they aren't annoyed from changing right before, is more important.
Keep them engaged. I don't love posed photos and really do prefer more "lifestyle" photos of my kids. Instead of just bringing them around and making them say "cheese", make a game out of it. Have them chase you around, play tag, throw them in the air, swing them around.
Plan for backup props to be a part of your photo. I actually LOVE having props in our photos, but I know some of you may not, especially if it's like family photos for a Christmas card. Sometimes though, you may not have a choice but to bust out those bubbles, those wooden toys, a book, or a blanket to sit on. I think that props add another dimension to family photos and can be really great.
Ask your photographer if it's OK for them to see the pictures. My son especially, loves seeing the photos that the photographer takes. It's kind of like giving him the complete picture about what we are even doing and what the end result is.
Bring bribes. – Unfortunately, sometimes this ends up happening way before you want it to, but you are paying for your photographer's time and I know you don't want to gather the troops again for a later date. Make sure to bring along their favorite snack… bribes can range from fruit snacks to apples, you can decide how healthy you want to be with it, as long as it's something your kids get excited about. However, always make sure to not show them a huge bag of apples or gummies, they will likely want to grab on to it and eat the whole thing (which could take awhile). I always take things out of the packaging or container I brought it in and offer 1 or 2, and not let them realize there really are like 10 of them.
Take breaks. – If your child is really in a full on tantrum, upset about something or just downright not cooperating, then take a break. Go on a little adventure in your photo location, sometimes kids just get anxiety from a camera in their face and if they start off on the wrong foot, it takes a lot to calm them down. Once they are calm after a break (hopefully), then your photographer may be able to start snapping photos again.
Take a step back and relax. Kids are so smart and they can feel when parents are stressed, and it usually makes them more stressed too. If you are getting worried that the right "pictures" aren't getting taken, just take a step back a little and relax. When your nerves are calm, your kids are likely to "behave" better too.
Don't force it. – Sometimes I just want Vivian to take her own photos, and she just wants to be held. Other times I want to hold her, and she wants to wander off and explore. Honestly though, some of the best pictures are ones where they are in charge and doing their own thing, without being forced. You never know, some of these photos could turn out to be the best ones.
I'm not going to say that using all of these tips works every time, but they sure can't hurt. There's been times where Vivian downright cries the whole time, fusses about something, and it really can't be helped. Last resort would really be to reschedule with your photographer. It may cost you some more money for their time, but they also will understand and want you to be happy with your images as well. Just make sure to talk it over with them and see what they can do for you.
Shop my favorite photo props:

Want to save this for the next time you take family photos? Pin this image!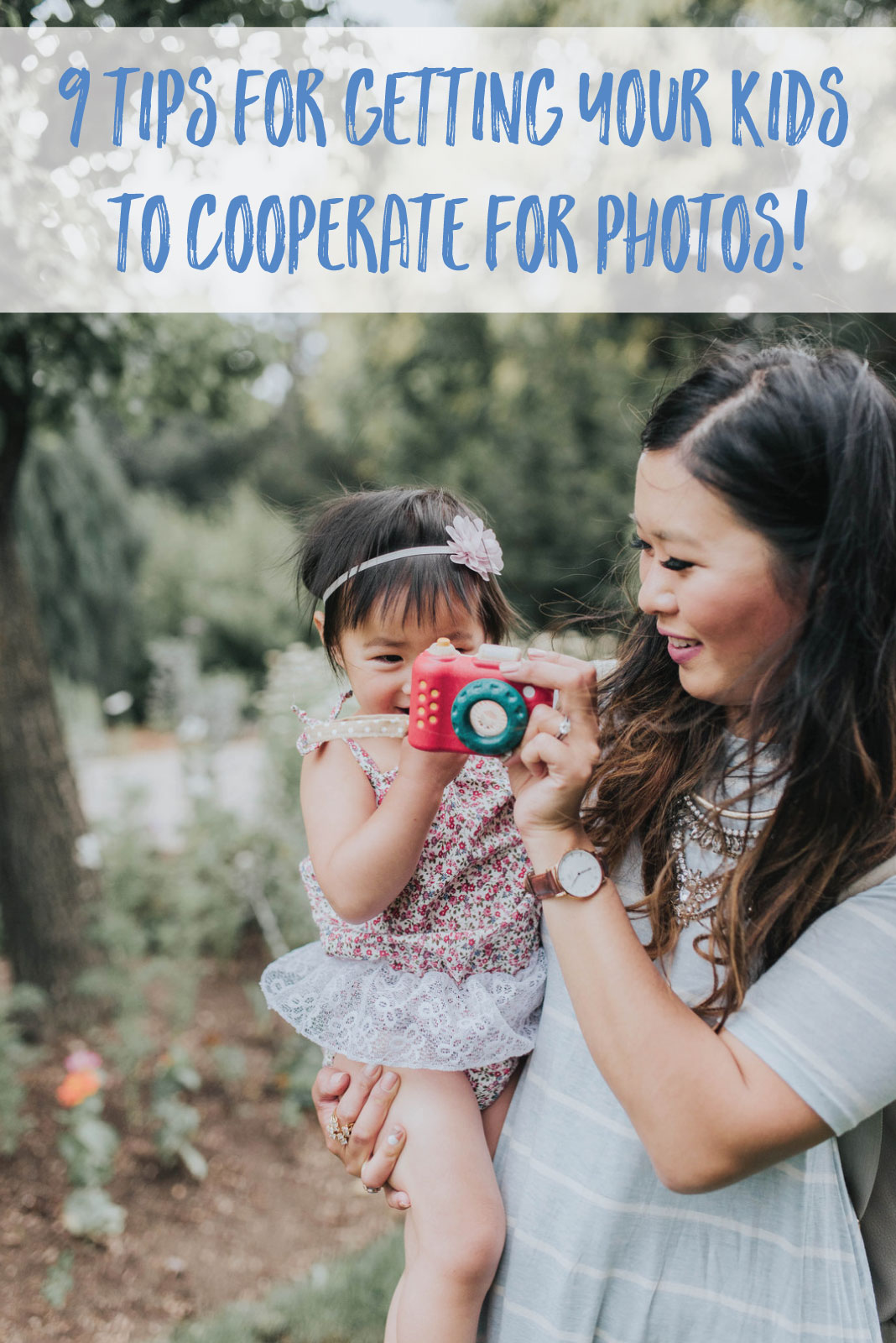 Got any other tips?? Would love to hear them below in the comments!