I received credit to Havenly for this post, but all opinions expressed are 100% my own.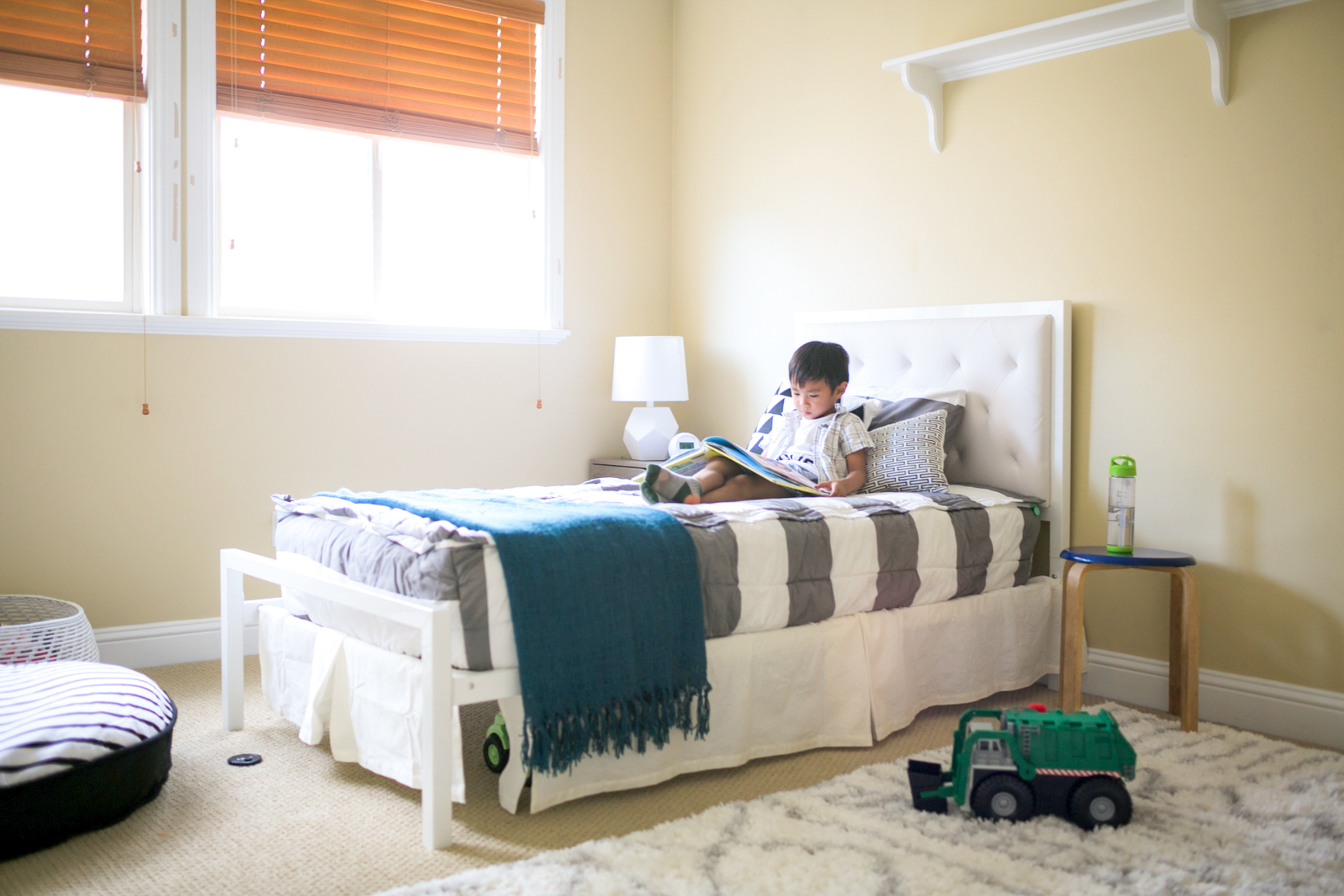 Just because I love fashion in clothing, doesn't mean that I have an eye for interior home design. Actually, I'm pretty far from it. Most of the decor and furniture in our house right now is from college days or was gifted to us from a furniture close-out years ago. Slowly, but surely, I have been updating our furniture and decor pieces to really turn out house into a home, but it's a long process, as you can imagine.
A few months ago, I discovered Havenly, an online interior design firm that caters to any budget or style and aims to provide its users with a fun, affordable and empowering design experience. The company offers two interior design packages: The Havenly Mini for $79 and The Havenly Design for $199. Both packages include choice of a personal designer, two custom concept boards, personalized product suggestions and complimentary buying services. The Havenly Design package for $199 includes an additional room placement visualization and extra revision time with a designer. They can save users up to 90% compared to traditional interior design services.
I decided to update my son Austin's bedroom. He is 4 years old, loves garbage trucks and trash cans, and traveling! You see, when we were in our old house, I put a lot of effort and time into his baby nursery, but since we moved to Utah, I never had the time to really update his room into a boy's room. I did just recently pick up this Game on Grey Beddy's set, so I know I wanted to have it in his room. If you haven't heard of the before, they are zippered bedding, yup that's right. There are just too many nights where my son wakes up because his blankets are either off or not positioned correctly on his bed, so with Beddy's that problem is completely solved. It's sheets, comforter, and bedding ALL IN ONE, guys! Also, I already had a dresser and bookcase that I felt that we could keep in the room.
When you first sign up for Havenly, you fill out a short questionnaire about your design preferences and what you are looking for. You can also upload pictures of the current room and give them measurements so they can ensure they are picking the right pieces for the room. Another important piece is telling them your budget. For Austin's room, I went with a $1000 budget (and we ended up super close to it when all said and done)! Then you are matched with a designer (mine was Stafford, love her)! We got on a quick call where I was able to tell her all about Austin's likes and wants as well as what I wanted for his room. Essentially, I really like the whole black and white with pops of color design, so that's what we went with!
Havenly Design #1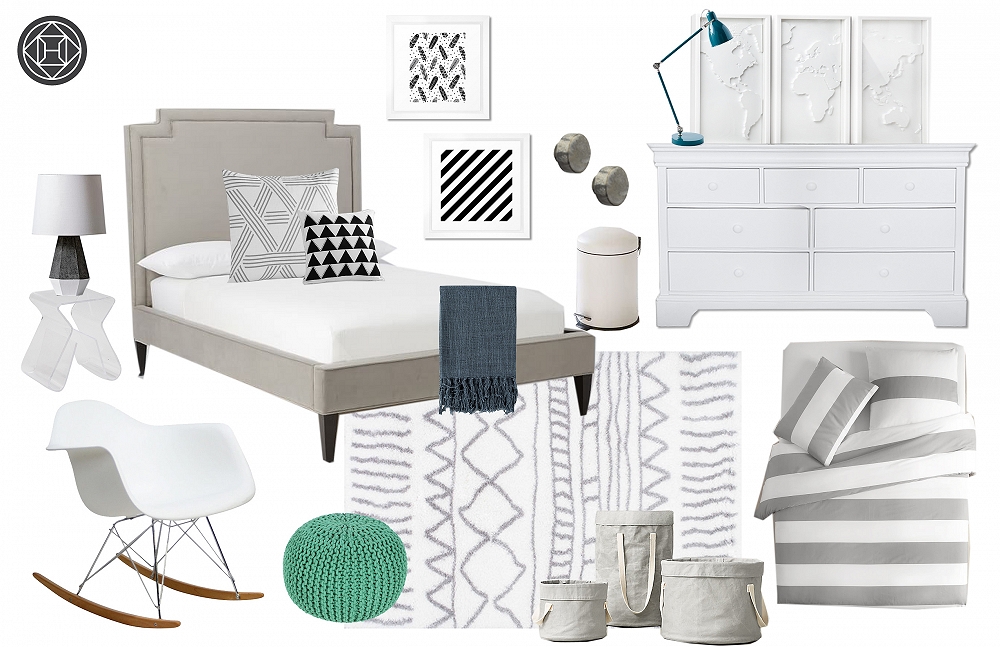 Havenly Design #2
A few days later, Stafford was able to whip up these 2 designs for me!! Gosh, I loved them both sooo much! I hard a hard time deciding between the rugs, chairs, etc., it was all so cute! So I went through both designs and ended up picking my favorites from each of the designs. I honestly liked a mixture of both!!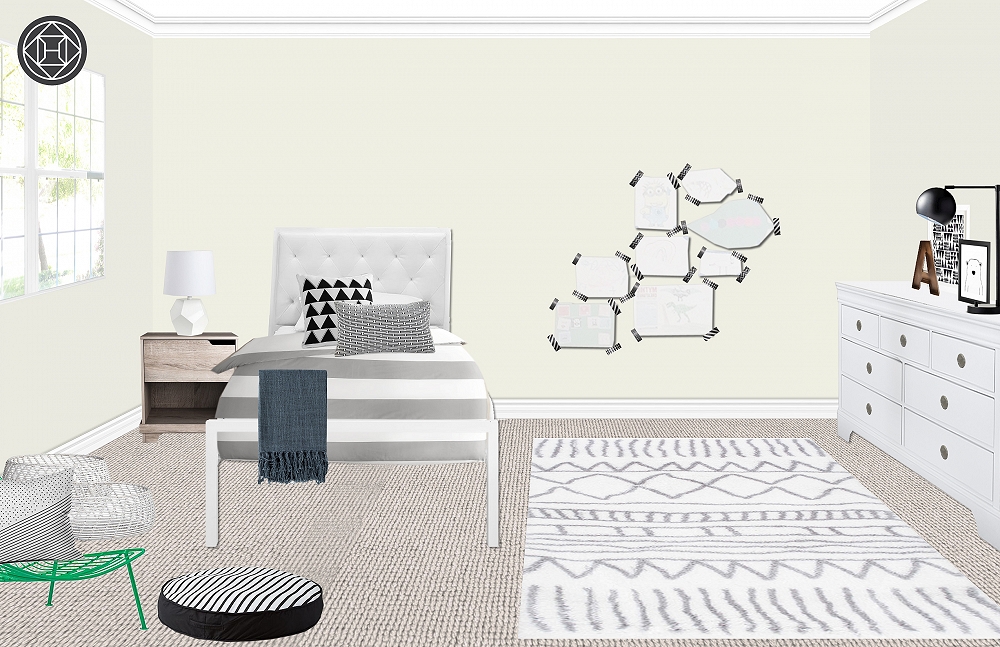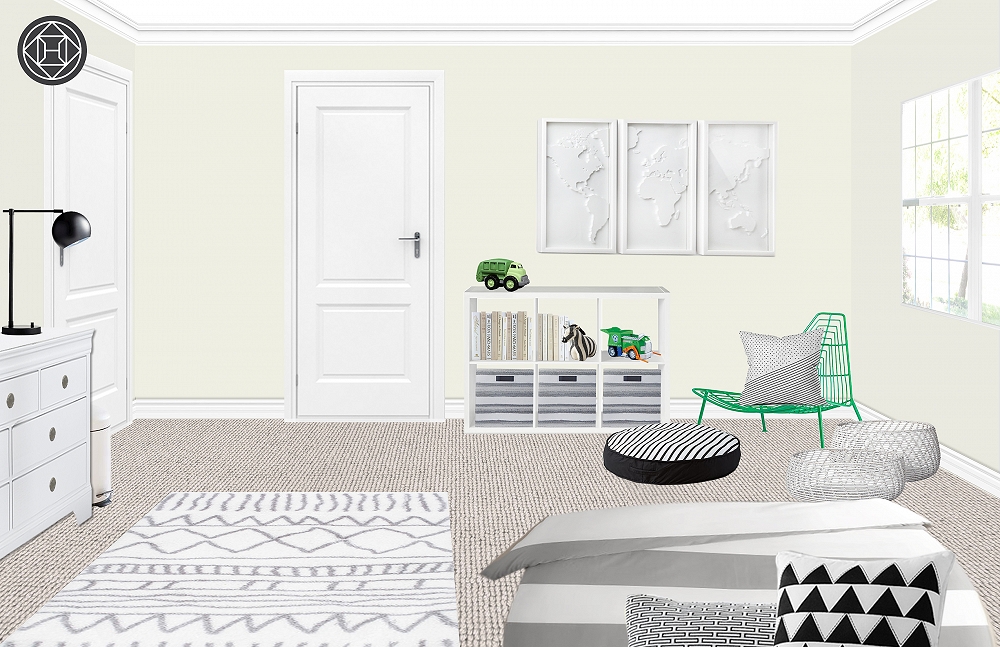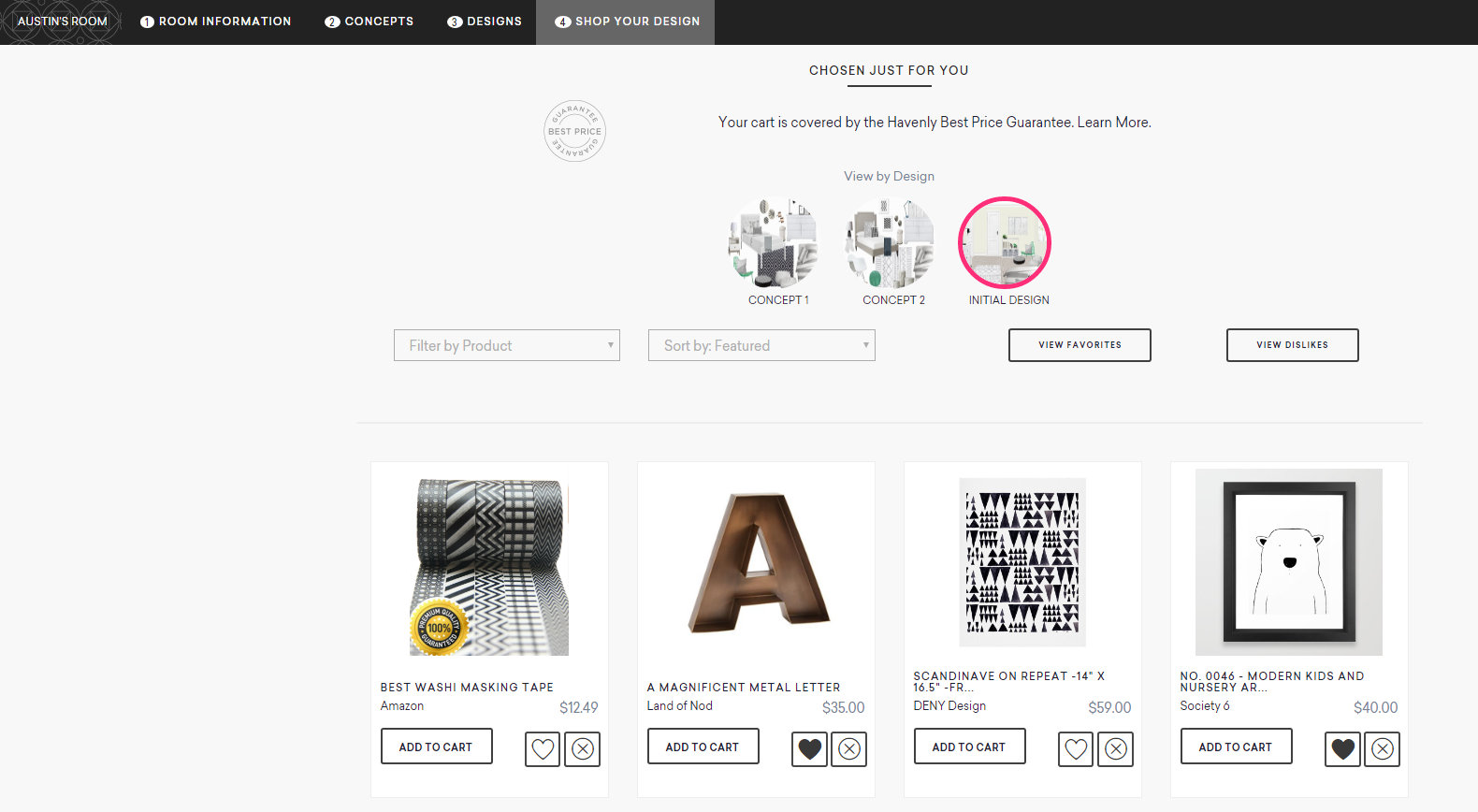 And then in another couple of days, Stafford was able to whip up my Initial Design and I was completely in love!! The coolest part is that she was able to "stage" it into how his room currently looks which gave me a great visual of how I would need to set things out. Because I am totally a visual person, this was so great. Also, at this point, once I approved that design, I was able to just go in and BUY each of the pieces directly from the Havenly site. You see, they source things from a ton of major retailers liker Amazon, Target, CB2, The Land of Nod, Pottery Barn Kids to name a few… The great thing about shopping through their site is that they handle all of the orders, tracking numbers, and shipping within their site. And if you think you can find a better price elsewhere, well they do price matching too! The hardest part of the process was waiting for all the pieces to arrive! But it was like Christmas morning on my doorstep for weeks on end. 😉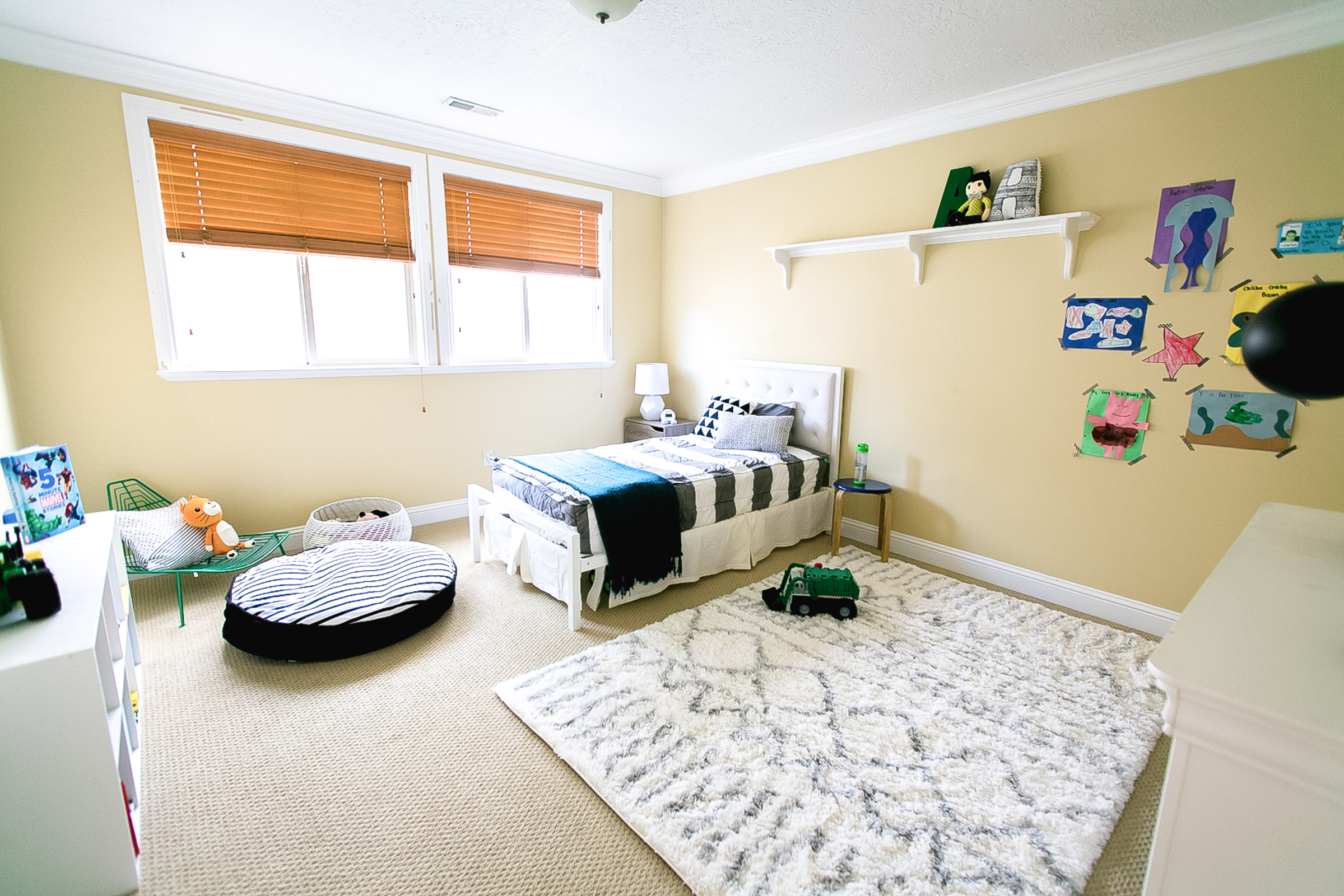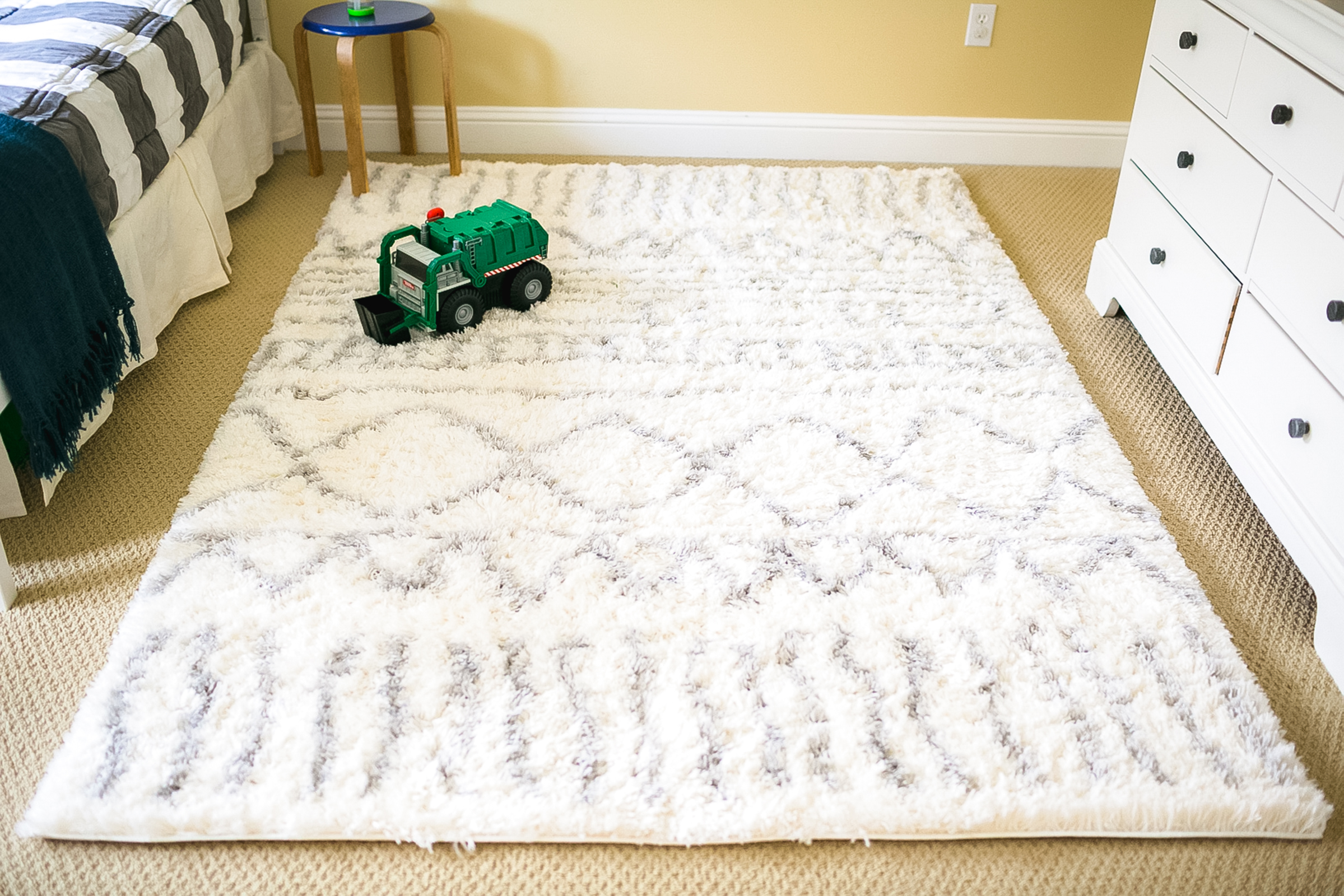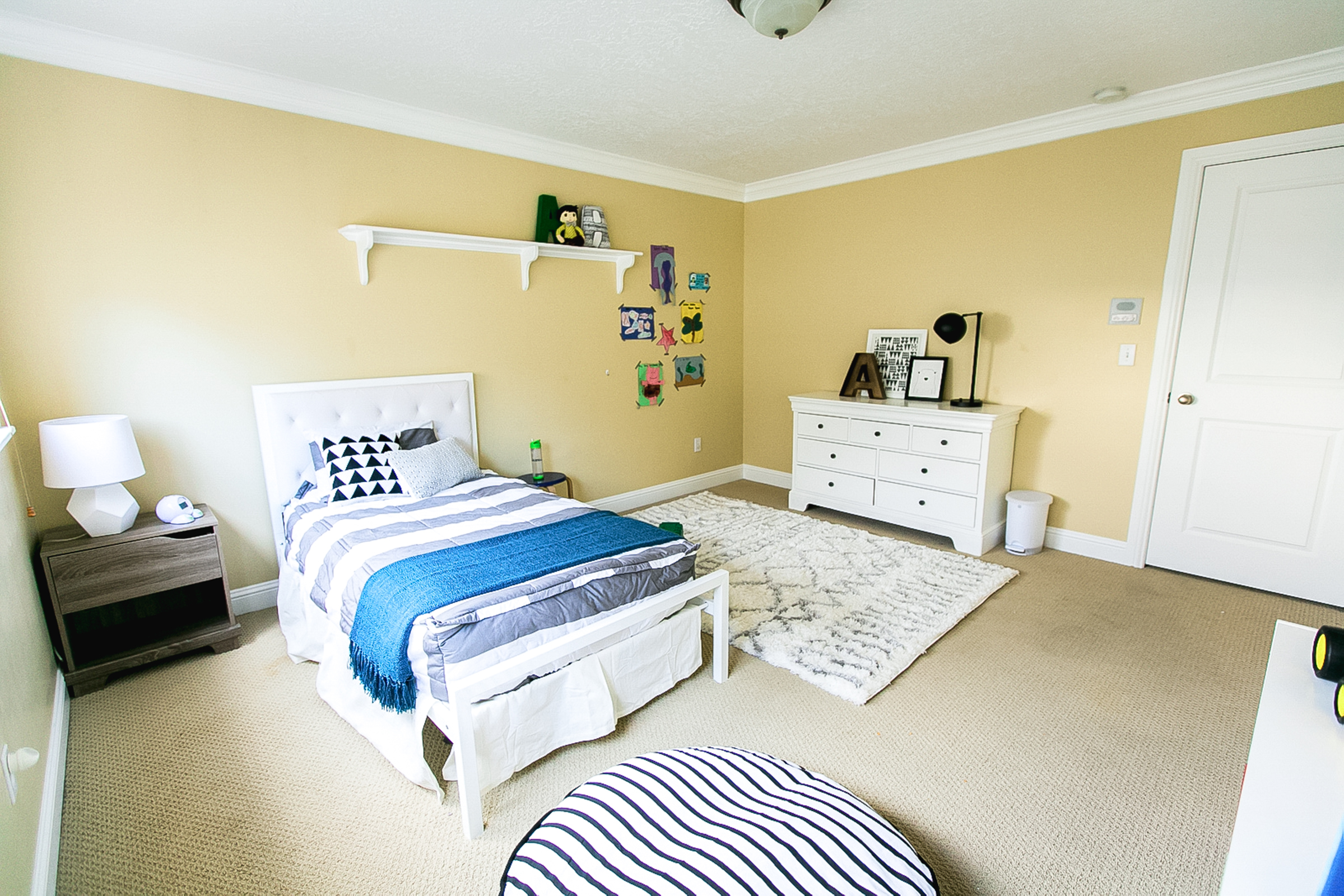 And finally, I was able to put his room all together and he absolutely loved it! He loved that there was a distinct space for his trash can, he loved how soft that rug was, he loved his new nightstand! Also, prior to this, he was sleeping on a twin mattress on the floor, so now that he actually has a bed higher off the ground, it really makes him feel like a big kid.
Items purchased:
Metal Letter "A": The Land of Nod
Wall Art: DENY Designs
Bear Print: Society 6
World Map: Dot & Bo
Green Chair: The Land of Nod
Drawer Pulls: CB2
White Table Lamp: The Land of Nod
White Table Lamp Base: The Land of Nod
Black Desk Lamp: Target
Velvet Geo Decorative Pillow: Pottery Barn Kids
Throw Pillow: DENY Designs, Pottery Barn Kids
Black and White Floor Cushion: The Land of Nod
Basket: CB2
Moroccan Shag Rug: NuLoom
Twin Bed: LexMod
Bedding c/o Beddy's
Throw: Tilda
Shop the post: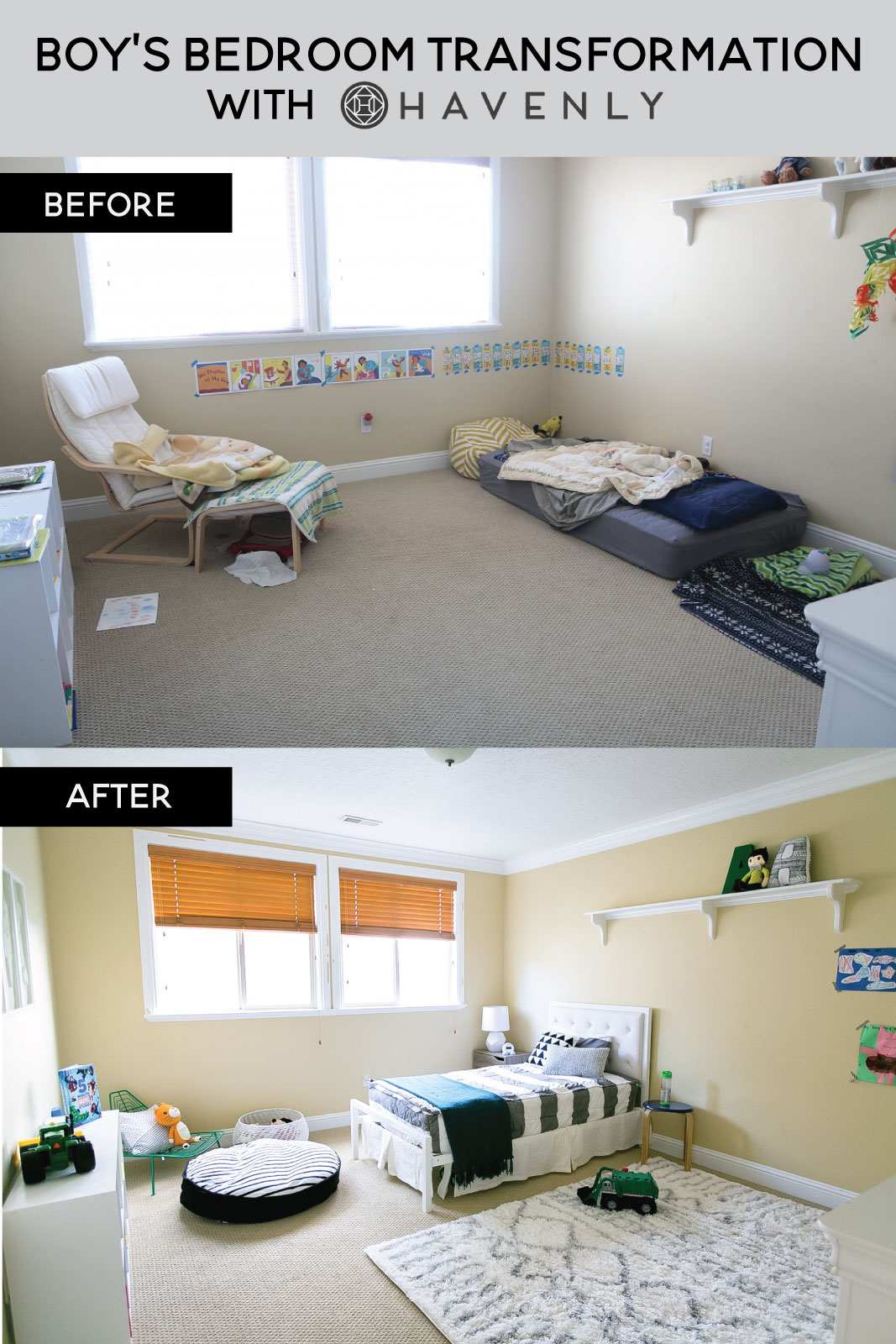 Photos by Summer Nicole Photo
I truly did enjoy using Havenly online interior design services for his big boy's bedroom transformation! I think that the prices are very reasonable, the service is great, and it really got me moving to update our house. I seriously want to use them for every room now until our house is done.
If you are interested in trying out Havenly design services for yourself, just for you, I have a special code SANDY for 20% off either design package that expires on 10/31!
Save
Save
Save