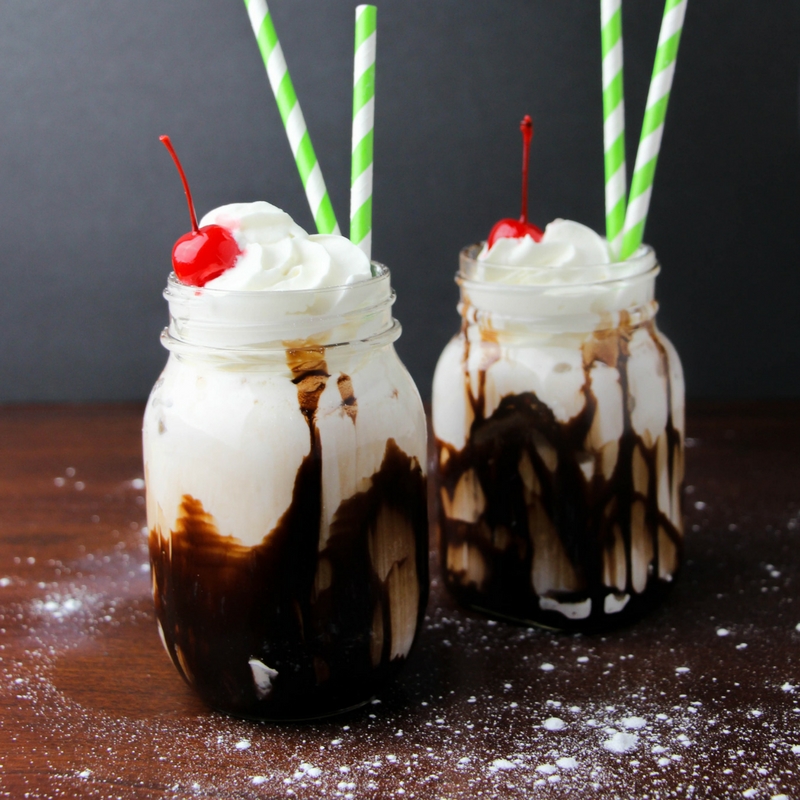 I am so excited to have Jennifer of Sugar, Spice & Glitter back here again with another AMAZING COCKTAIL, and just in time for St. Patrick's Day! Like I am pretty much ready to leave work right now and go make one or two of these St Patrick drinks!
Who says kids should have all of the fun on St. Patrick's Day?
This sundae-inspired Bailey's cocktail is a delicious option for those of us who don't want a hot coffee late in the day and are looking for something delicious and indulgent!
This decadent Bailey's cocktail is one big mash-up of dessert cocktails – with influences from White Russians, Chocotini's, and of course, a good ol'fashioned ice cream sundae all wrapped into one amazing cocktail.
This cocktail comes together quickly for an easy treat that can easily serve one or a crowd. The recipe below fills two mason jars which is a LOT – probably enough for 4 normal sized cocktails.
Ingredients:
2 oz vanilla vodka
2 oz Irish cream
1 oz butterscotch schnapps
1/2 cup coffee cream
2 teaspoons icing sugar (powdered sugar)
Chocolate sundae syrup
Whipped cream
Cherries
Lots of ice!
Directions:
Grab a couple of glasses and swirl a bit of chocolate syrup around the inside. Fill with ice and set aside.
Place 1 cup of ice in a cocktail shaker and add the icing sugar, coffee cream, and alcohol.
Cover and shake well for 1 minute. It will be a bit frothy when you open the cap.
Strain the cocktail into your glasses and then top as you would your favorite sundae.
Serve with cute straws and enjoy!
What about you? What are your favorite St Patrick drinks? I'd love to try them!
Save
Save