Thank you to NEAT Method Salt Lake City for your time and services in organization, all opinions expressed are 100% my own.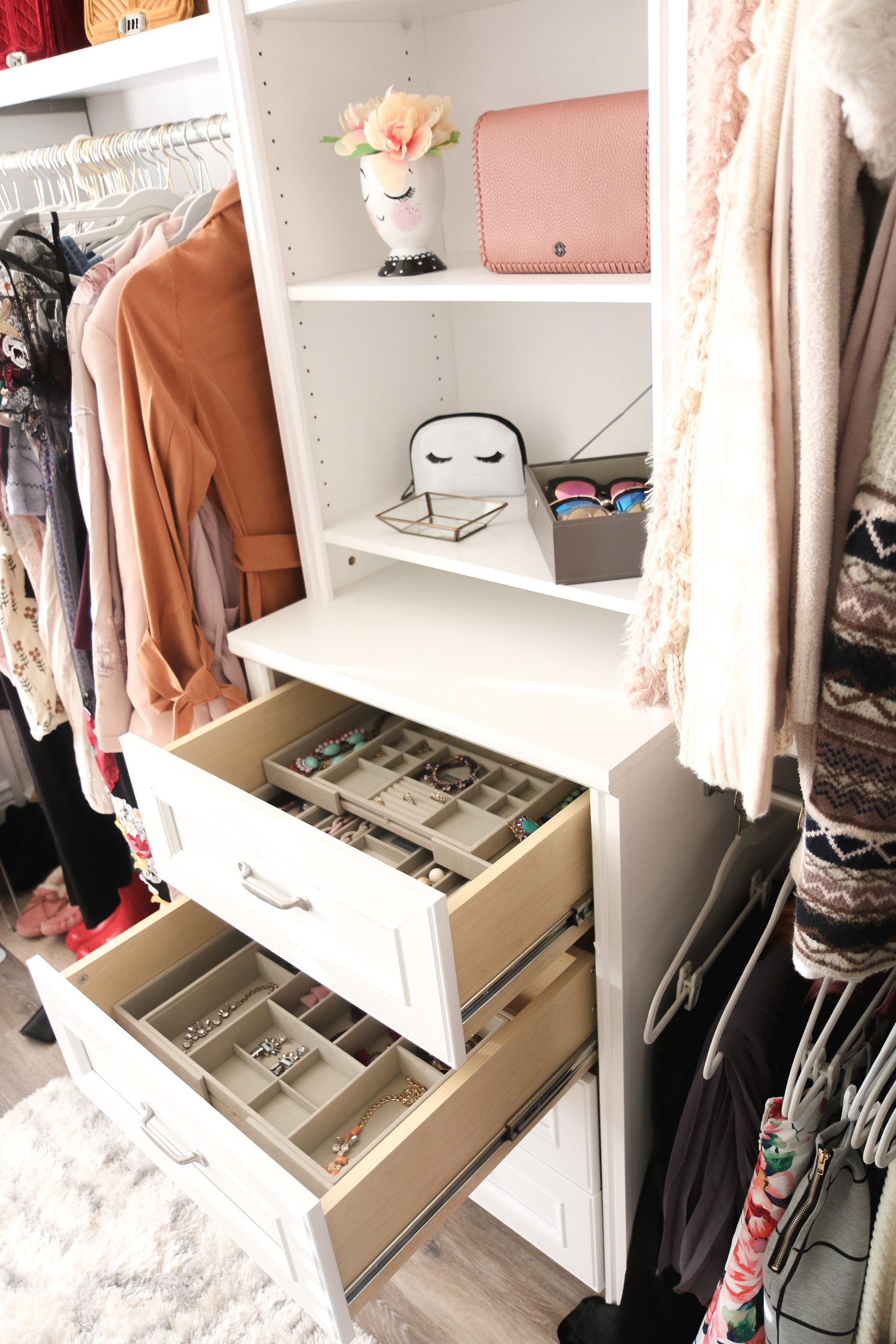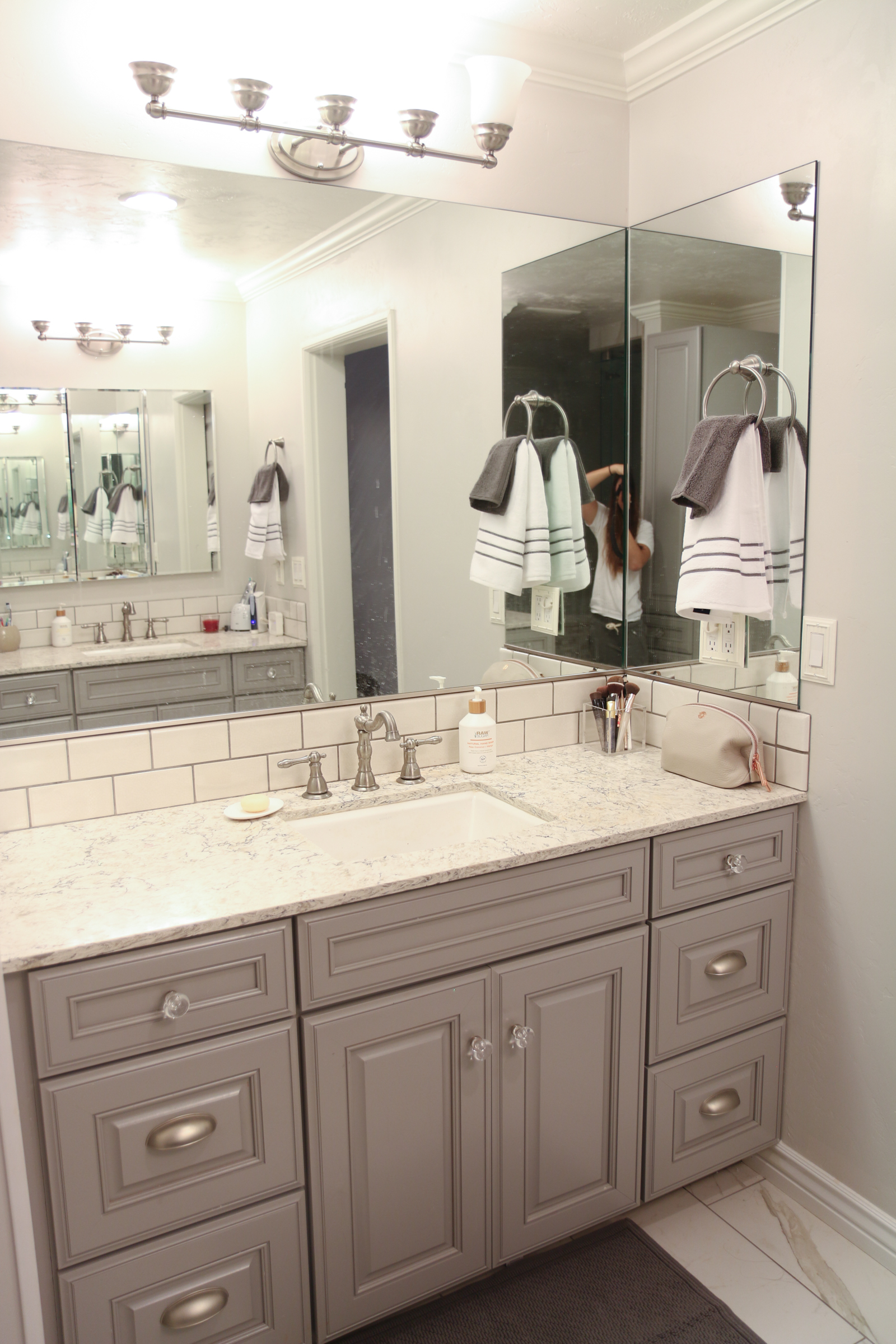 I am not a very organized person, there I said it. It may partly be due to the fact that I have too much stuff or that I have too much on my plate, or the fact that organizing and cleaning is not my forte. But all of that, and having kids that will just make a mess as soon as you clean it, are not working towards for my favor by any means. However, I've always heard that an organized home will help you be organized more in life, in your thoughts, in your work, and you will just be happier overall! I definitely thing that there are truths to that statement but again, never had the time to really make that a reality.
But here is where NEAT Method comes in. Chelsea, a professional organizer from the Salt Lake City market, contacted me recently and asked if she could come into my space and help me organize it. Say what!? Yes, there is a service for that and I immediately said yes! She arrived at my doorstep a few days later and I gave her a home tour of my humble (messy) abode. There was some discussion about which rooms a professional organizer could help organize, because I mean the whole house needs work, and we narrowed it down to my master bathroom and my jewelry station in my closet. The other runner up areas were Vivian's closet and the laundry room. If you can handle seeing a messy space… read on!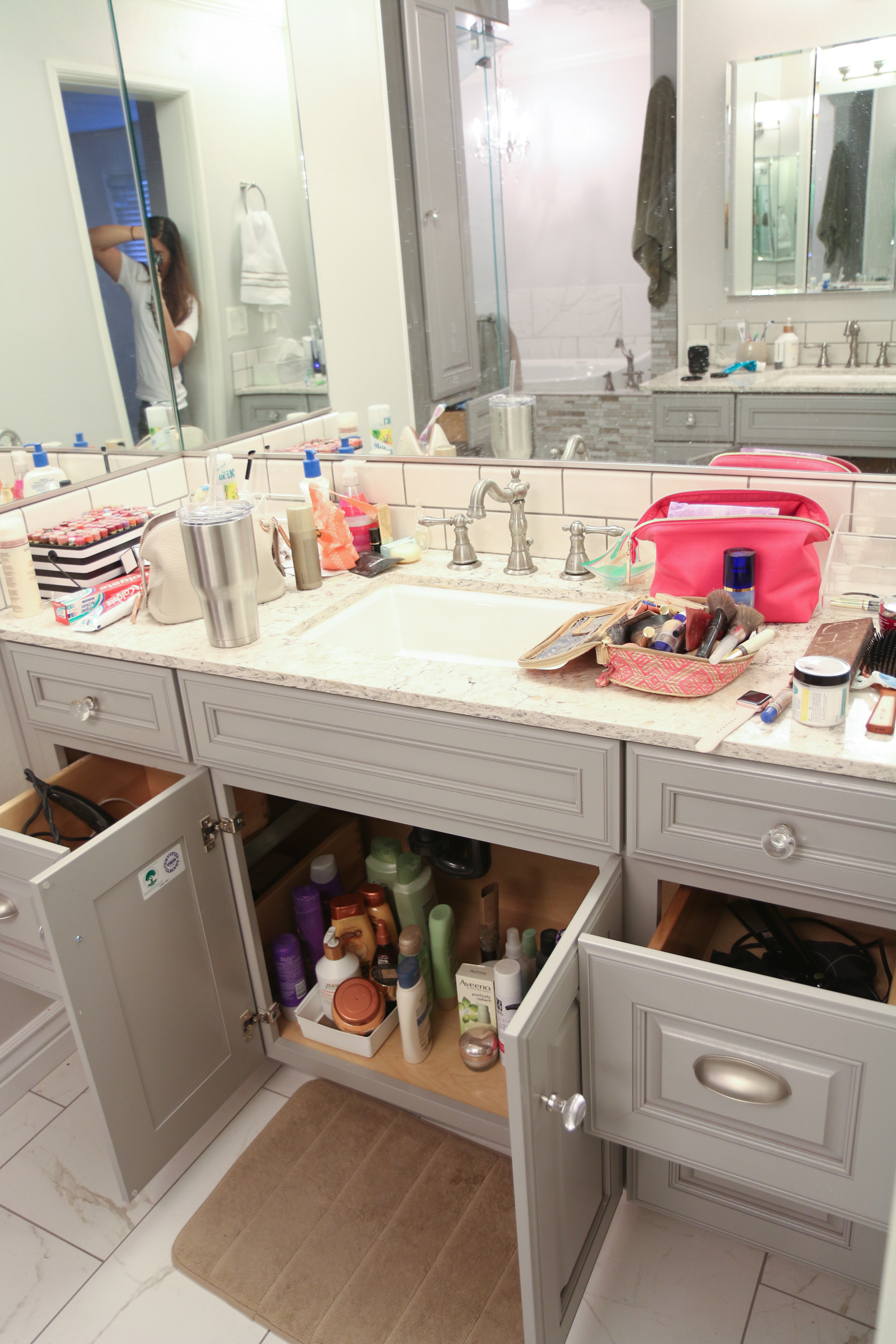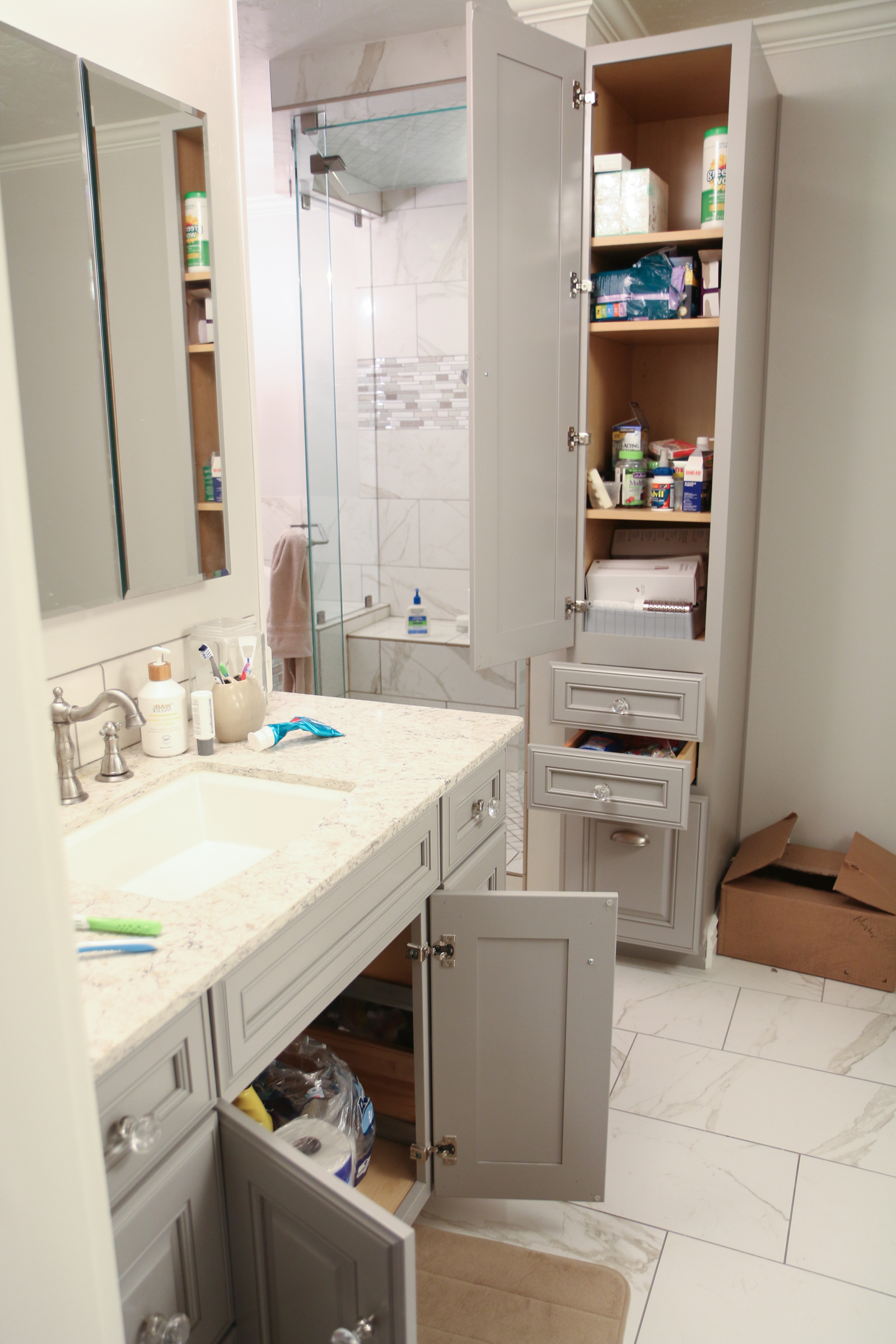 Yup, this is the BEFORE! Can you believe this is how I was getting ready each morning!? Makeup everywhere, jewelry all over, hair products scattered, nothing could be found easily. I'm like actually really embarrassed right now, haha!!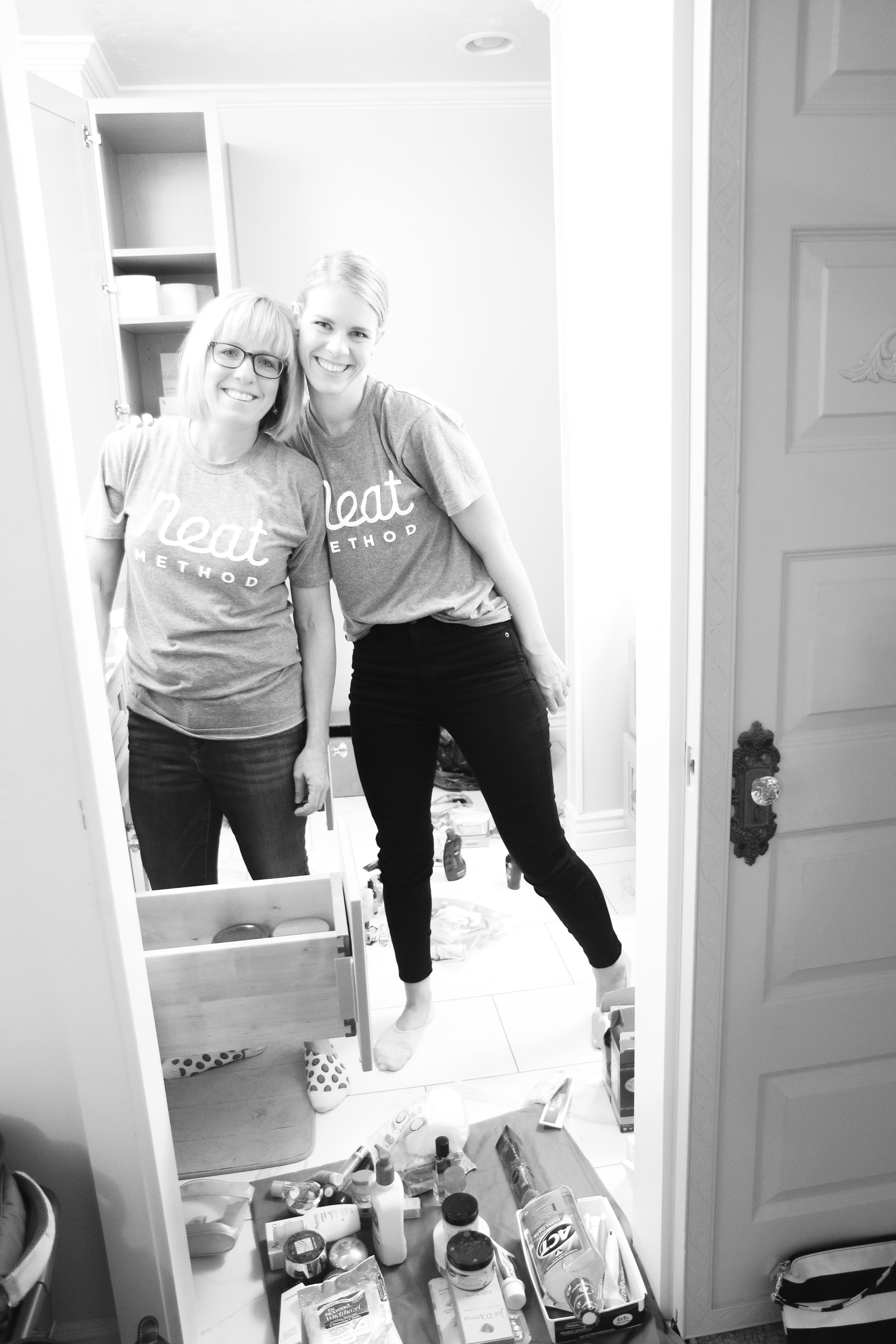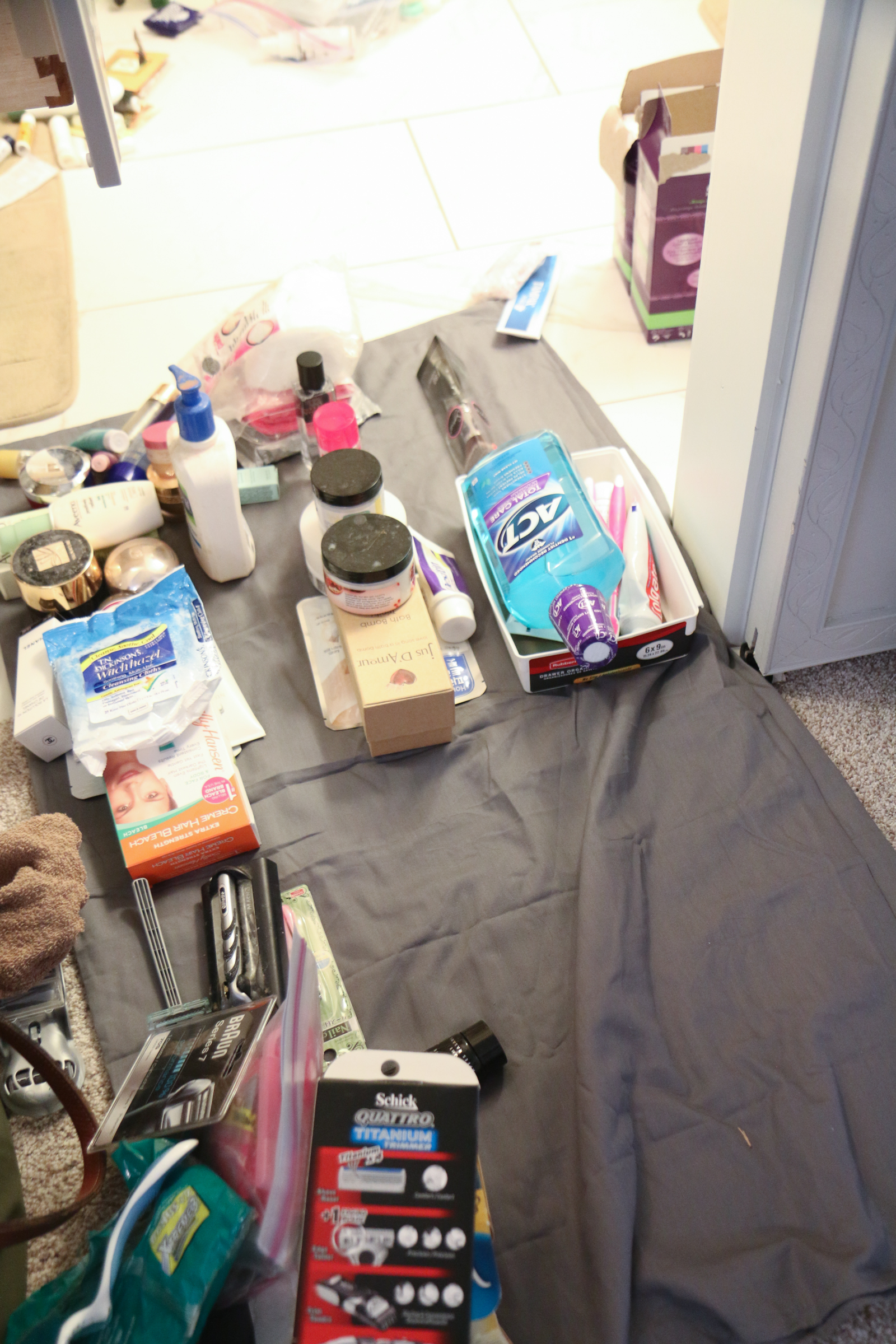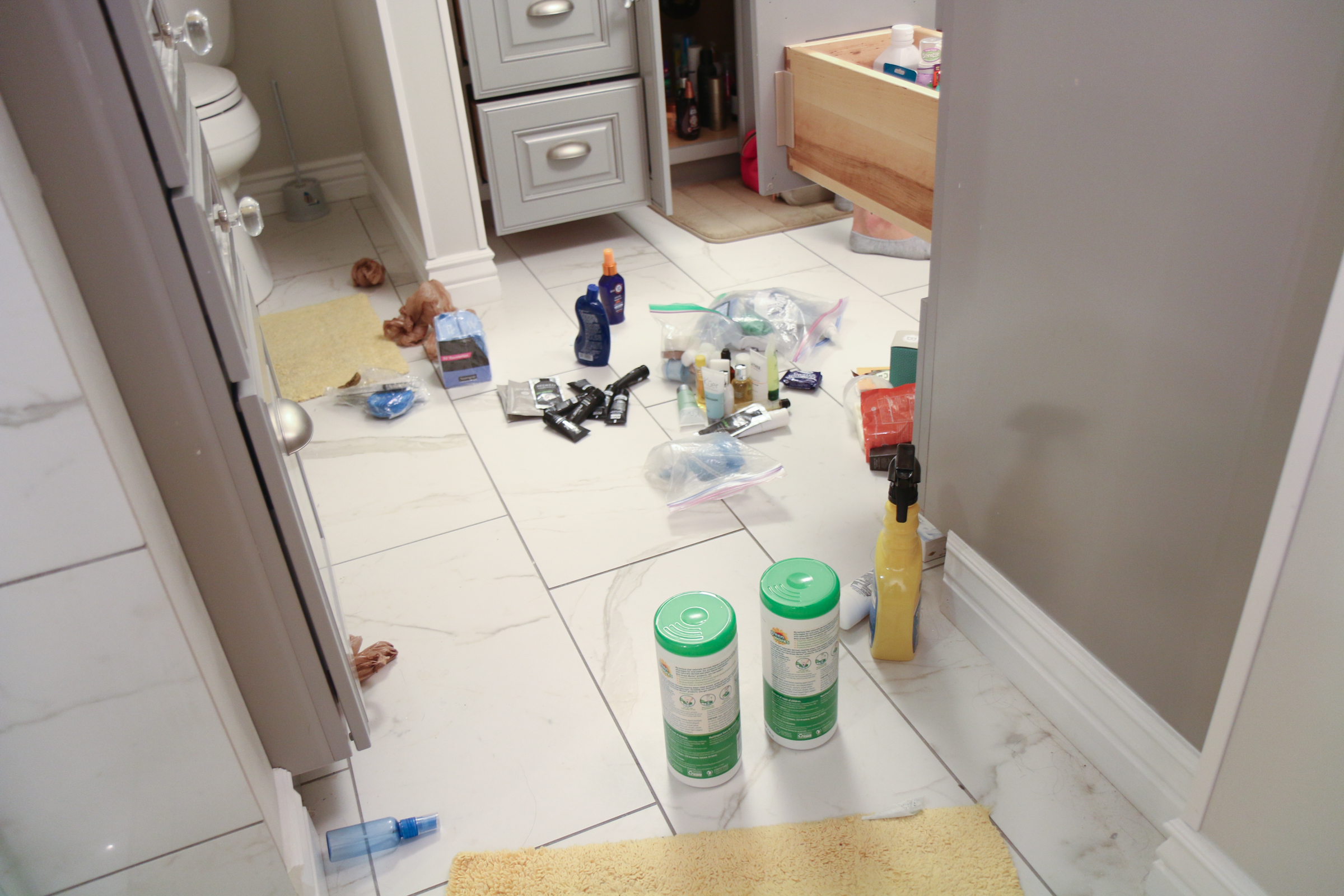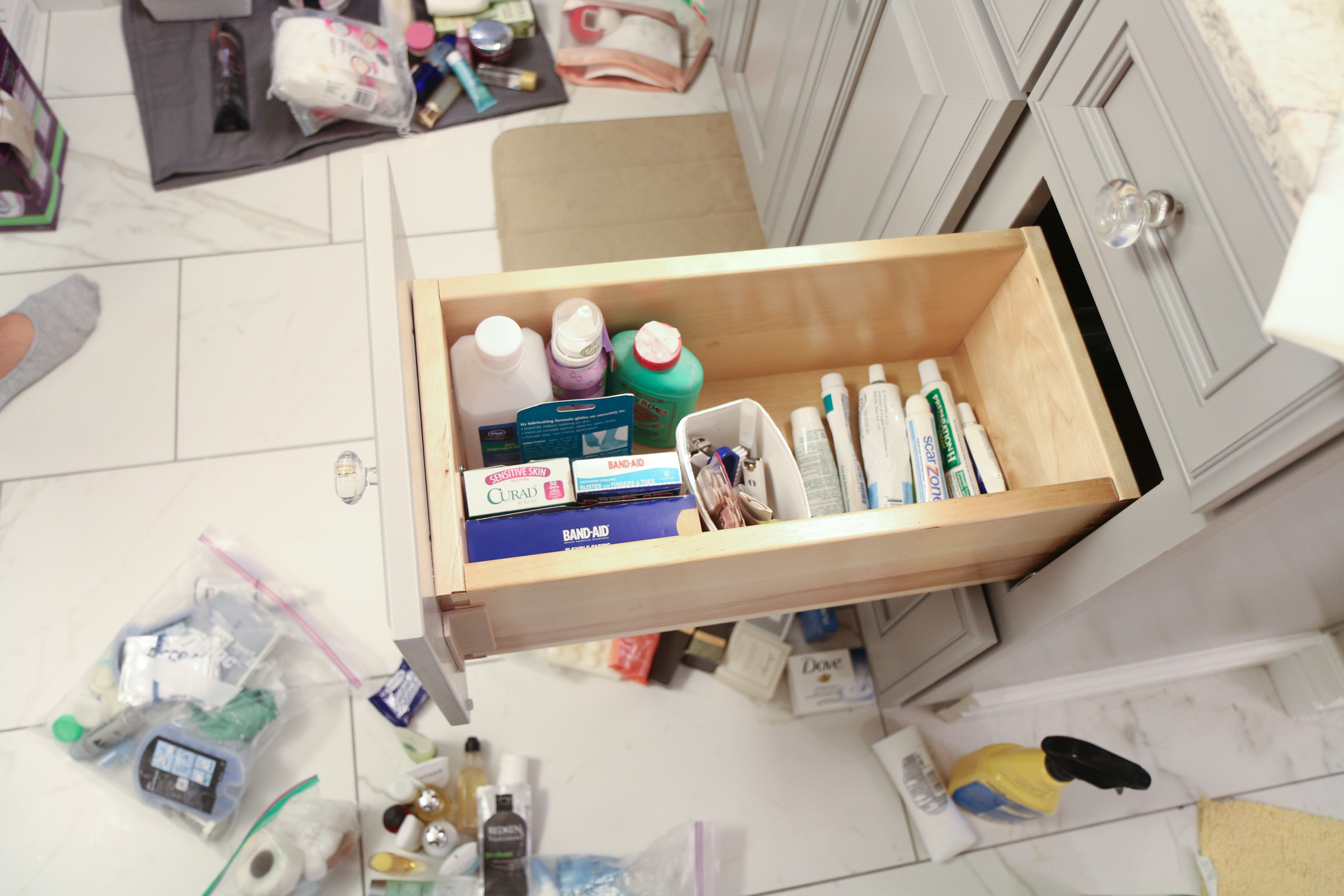 Apparently the first step for a professional organizer is taking everything out! And then assessing where it goes, both functionally and aesthetically. Chelsea described it like putting puzzle pieces together, but to me it looked more like a headache to figure out! But thank goodness I had the experts from NEAT Method by my side. They were seriously advocates for making my space neater and my life more organized. During this whole process, I was just sitting next door in my office doing work and they would only minimally come in to ask me questions here and there.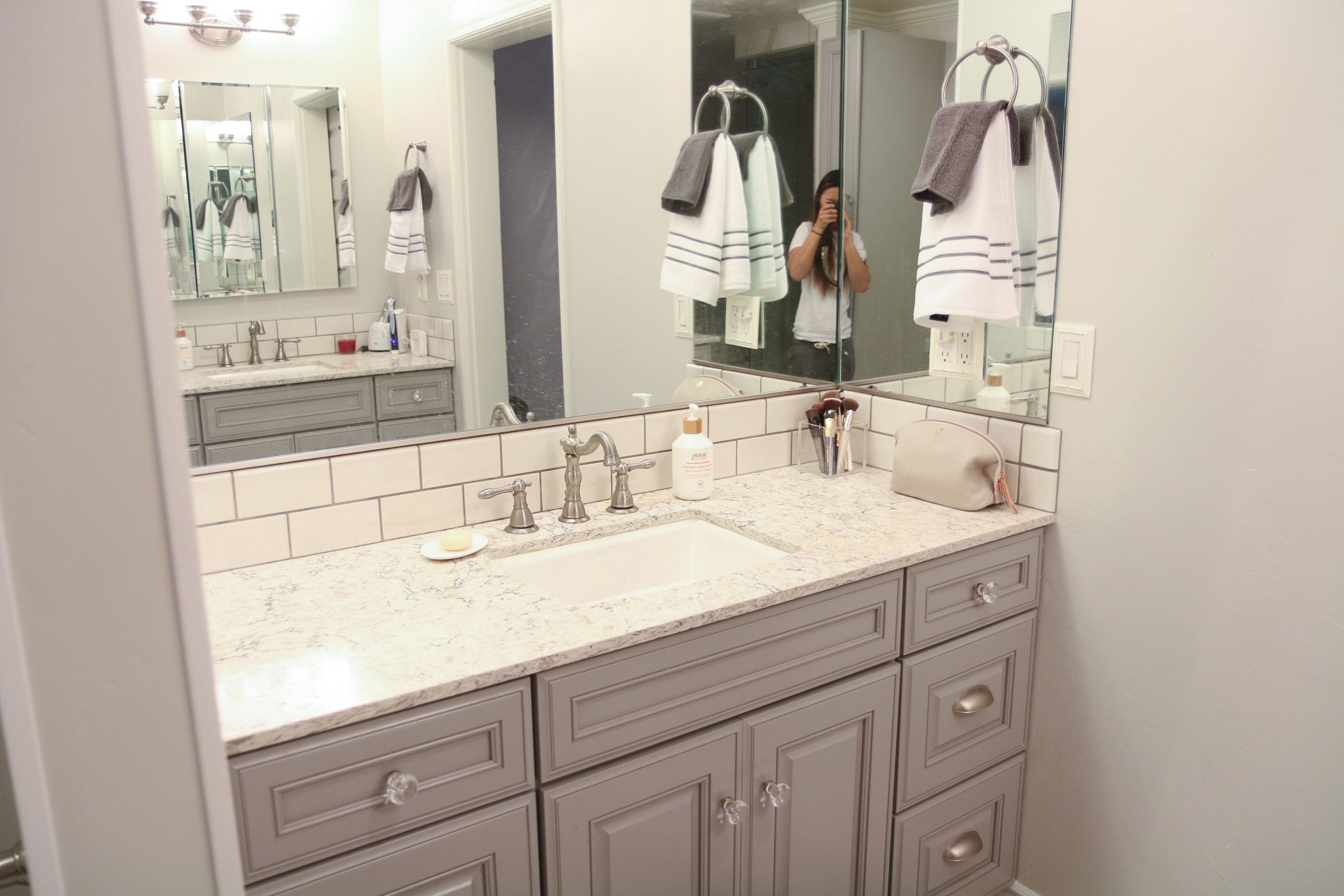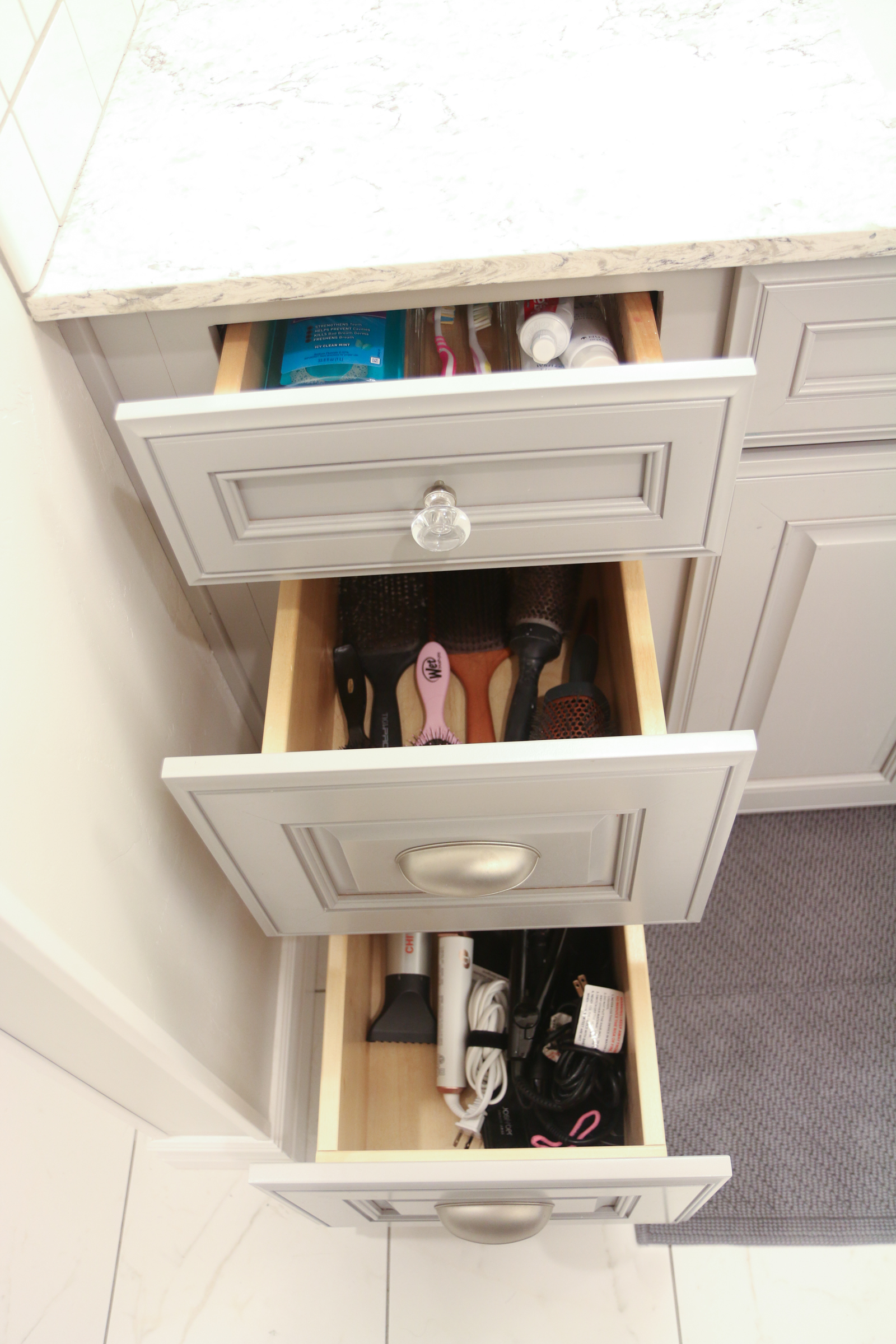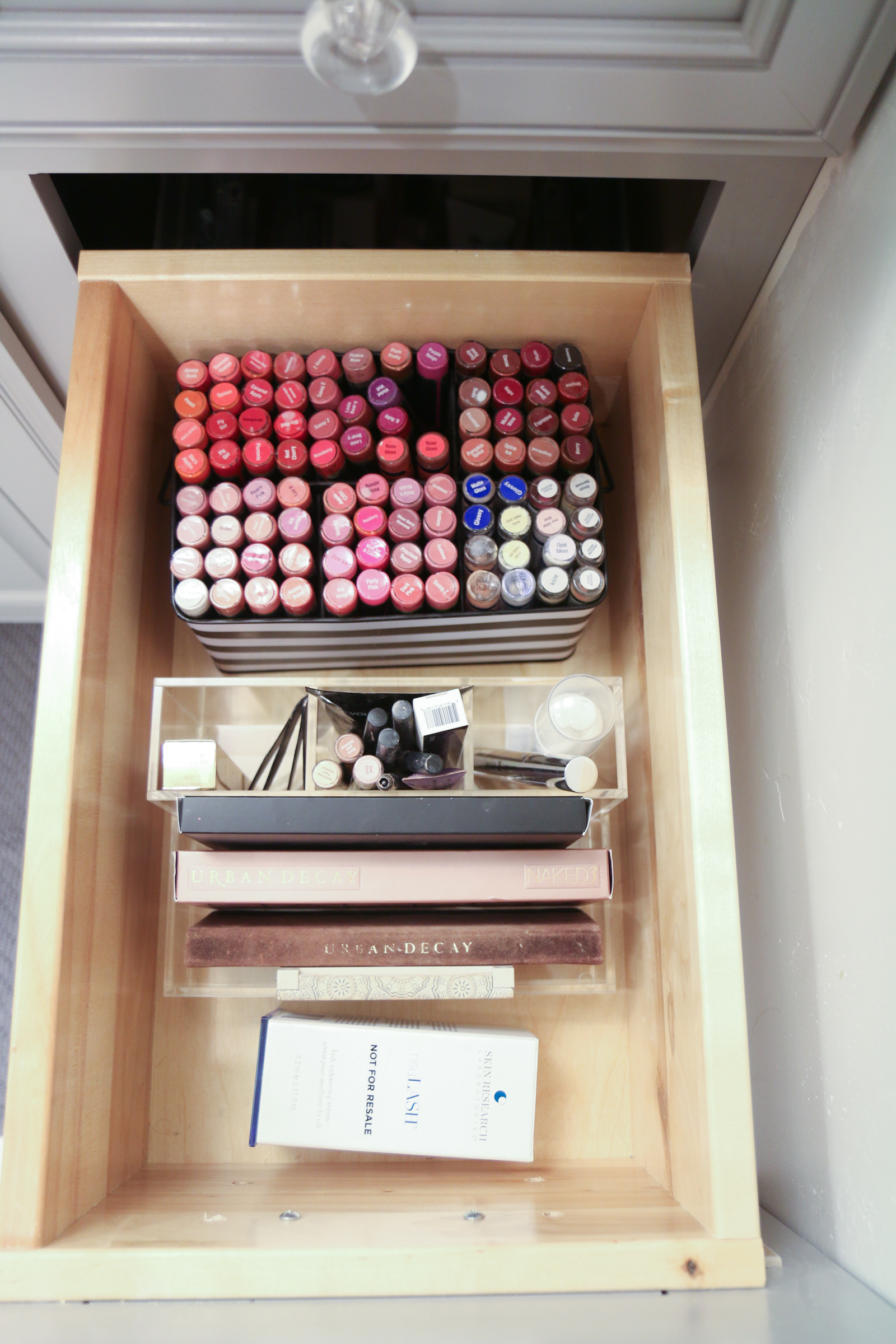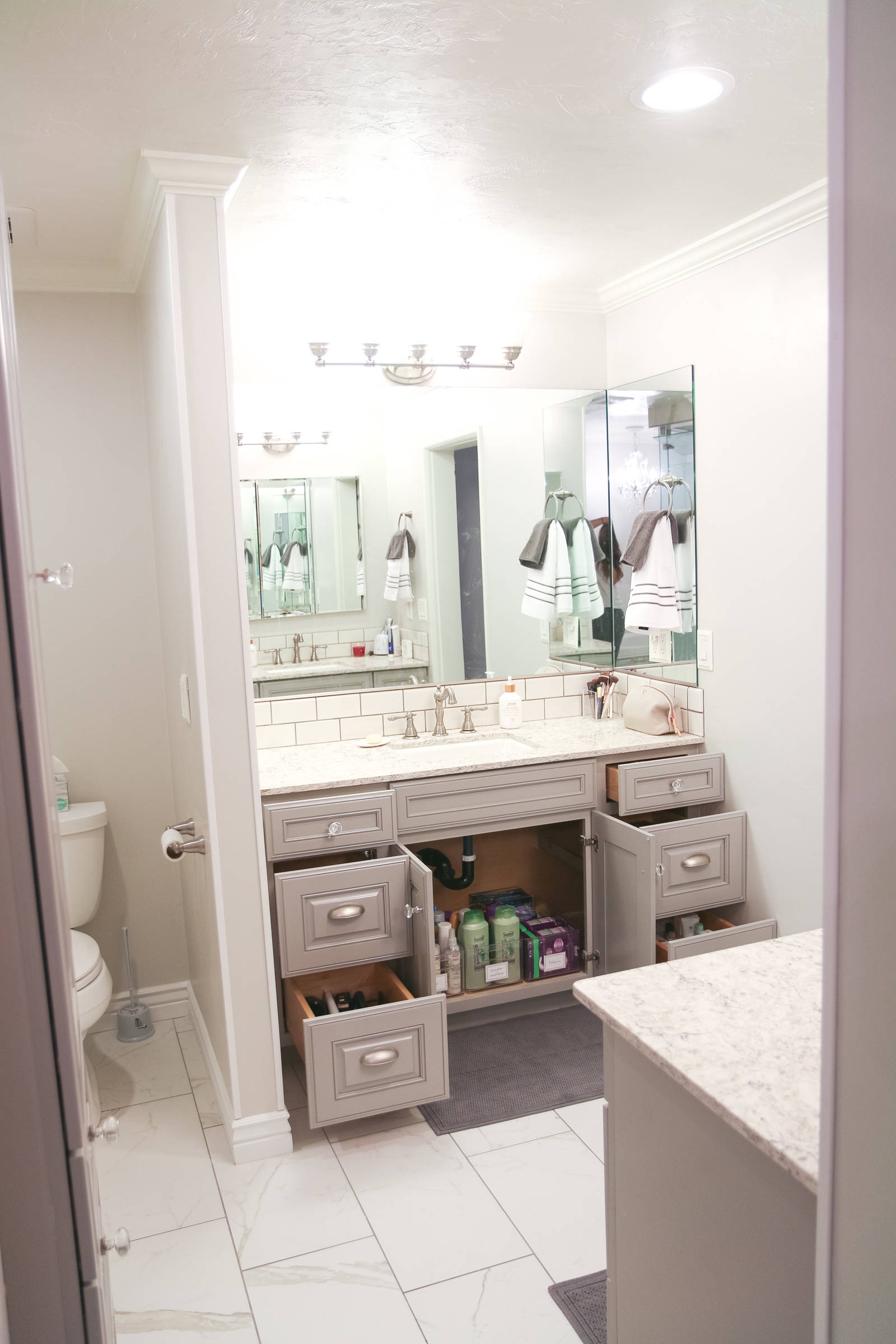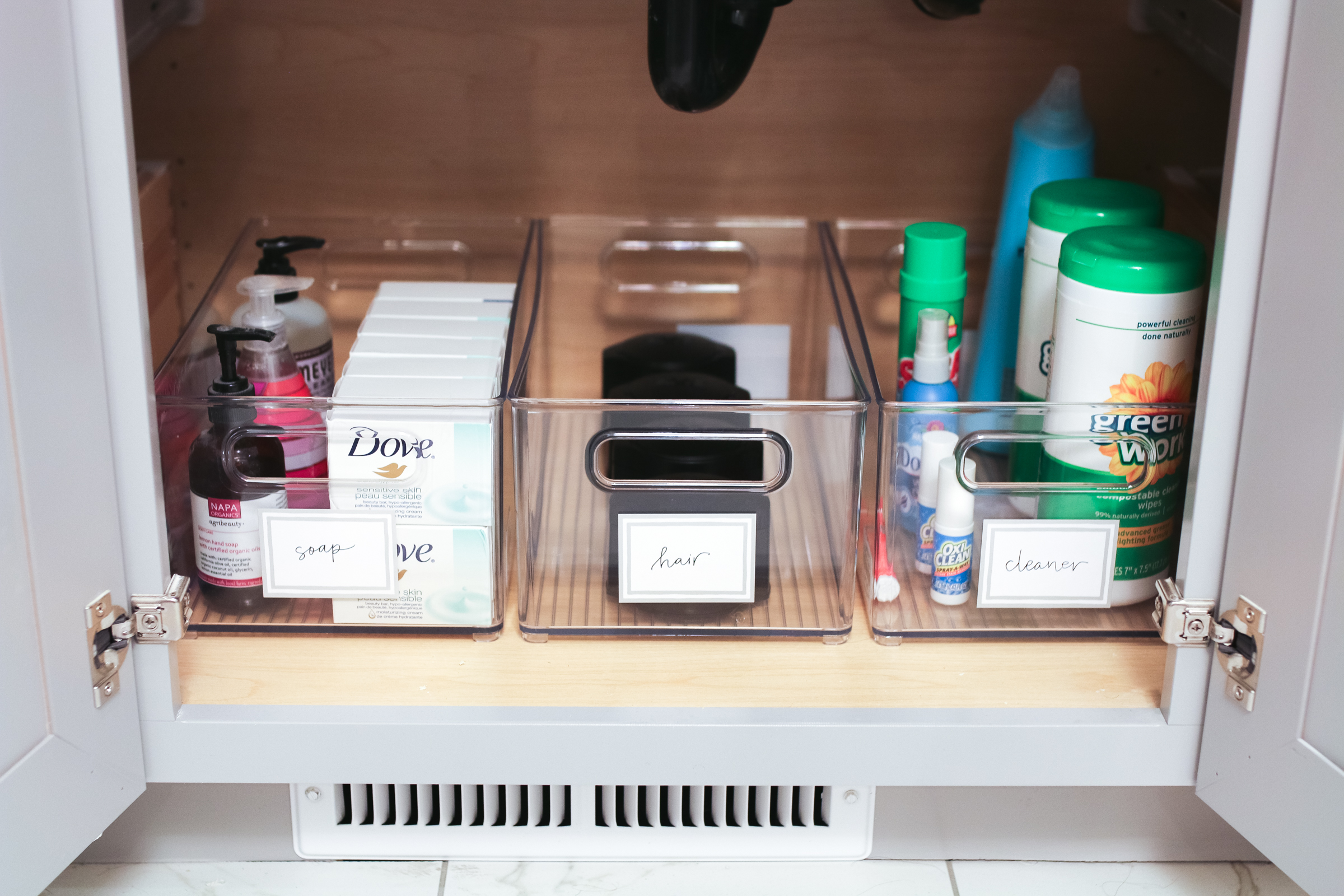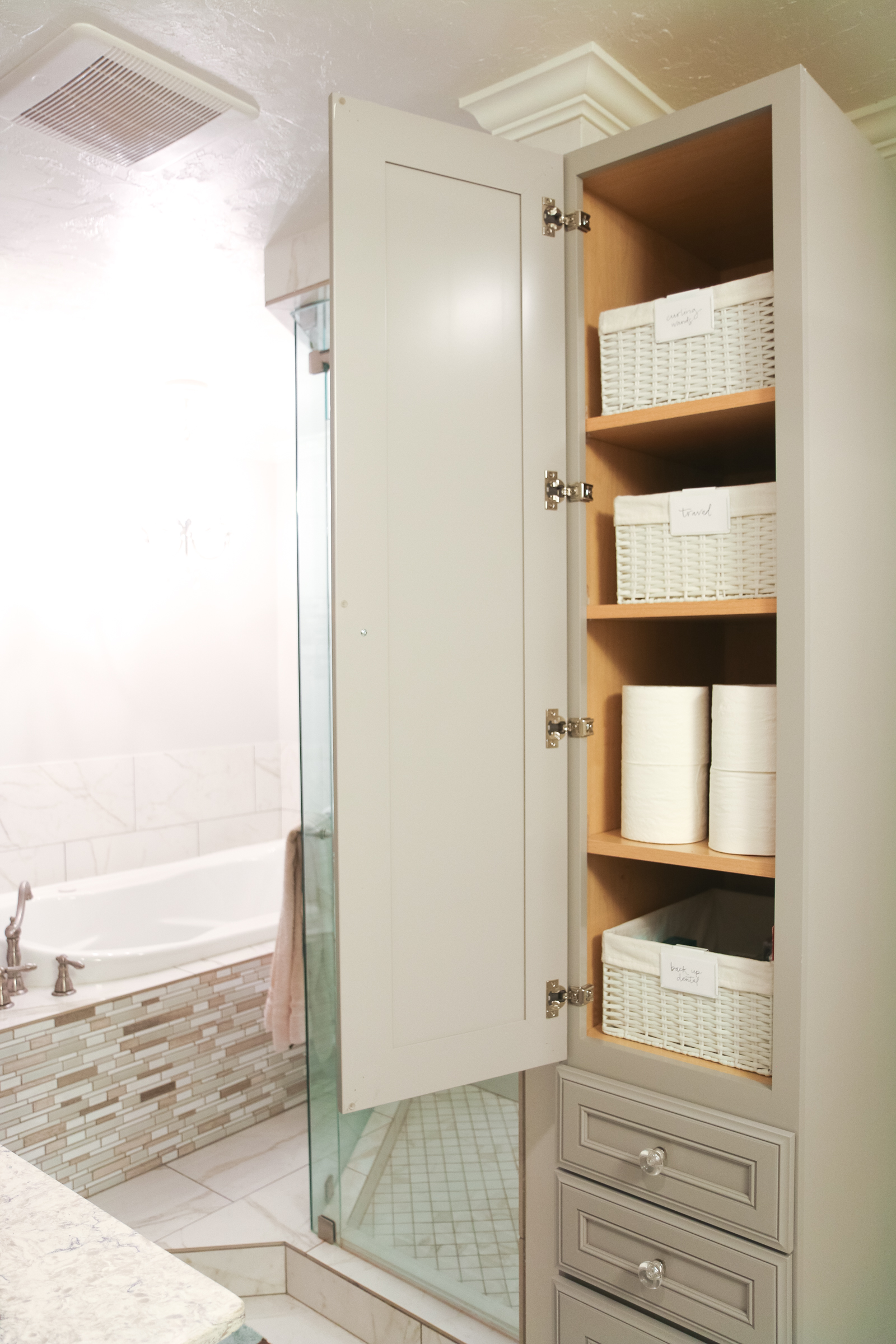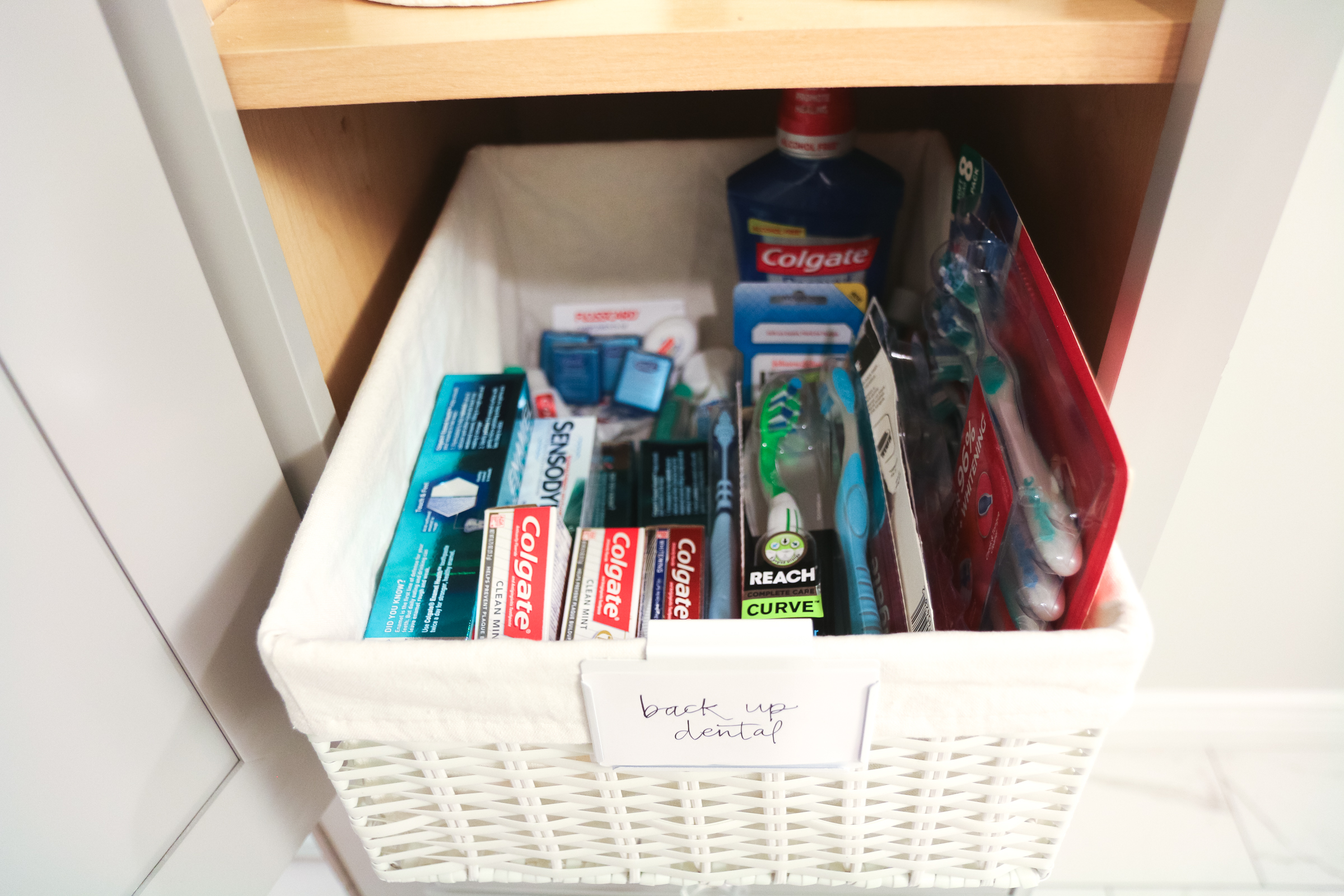 Shop acrylic organization:

Shop basket organization:

The whole process of taking things out, grouping them together and figuring out where they would go probably took from 9AM – 1PM. And then the girls went out to grab lunch and then start shopping at The Container Store for all the acrylics, baskets, bins, organization storage that was needed to complete the spaces. My professional organizer literally had to take measurements of all the drawers to ensure that they were buying the right stuff. And then a couple hours later they were back, and went straight back to work!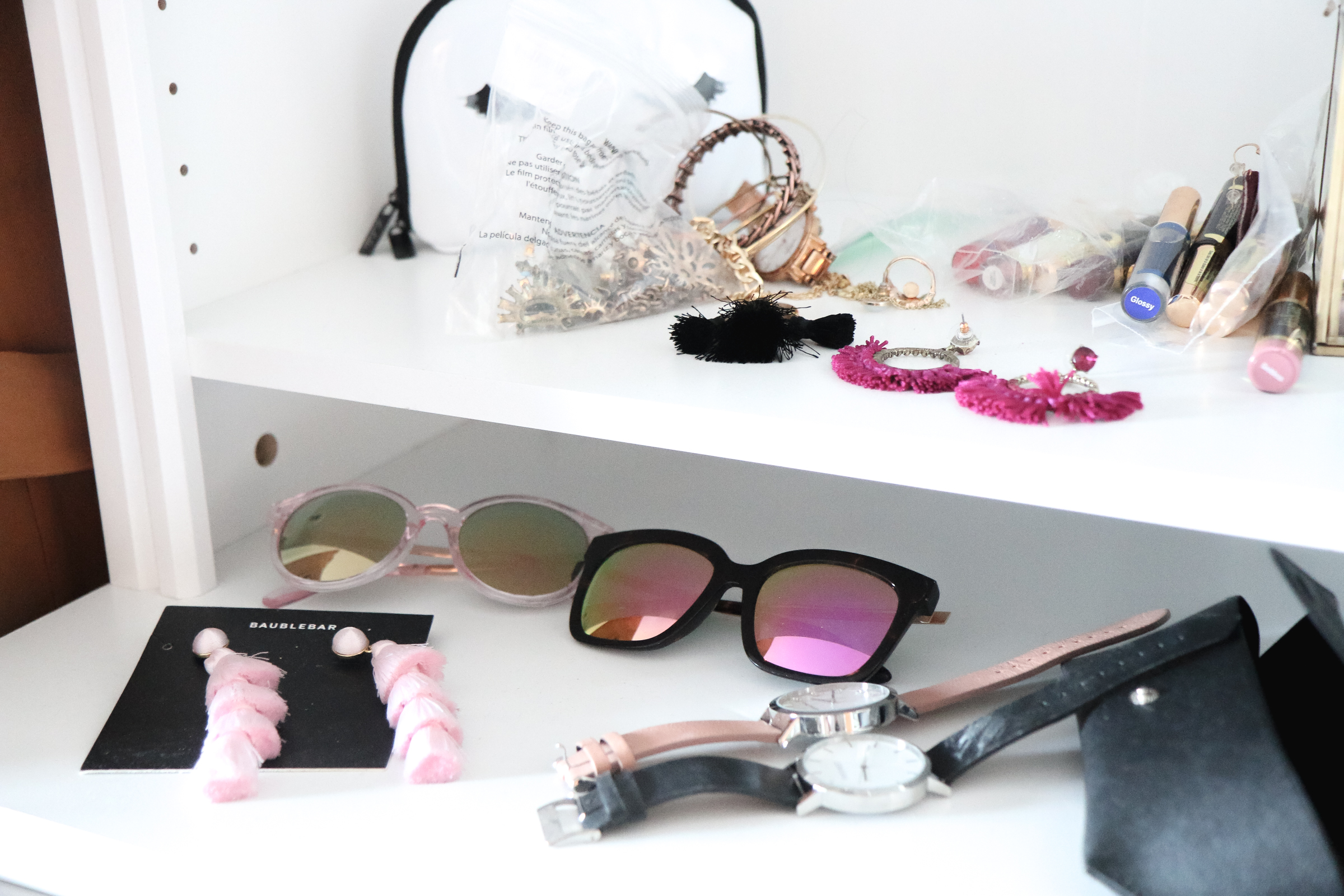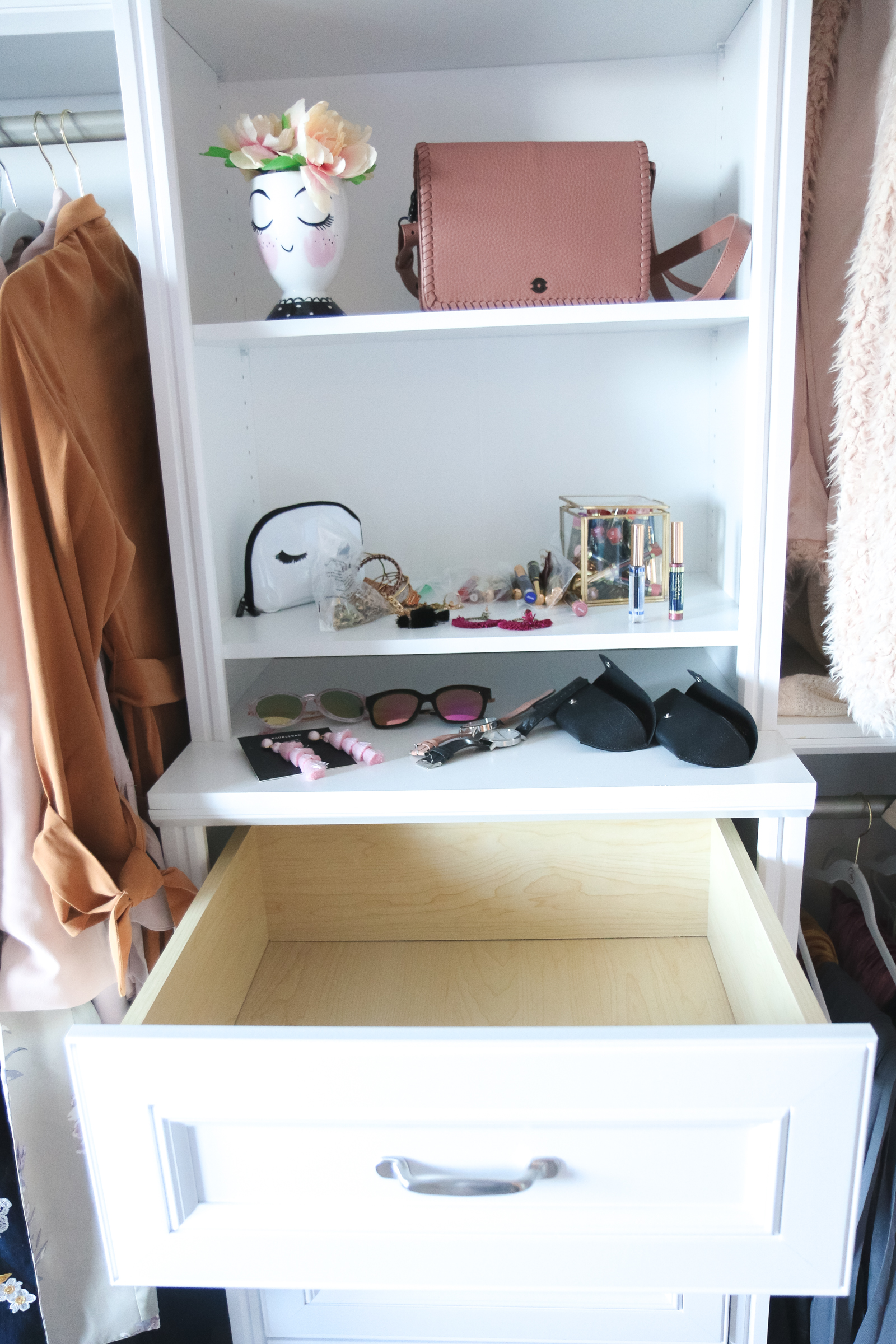 Here are some of the "befores" of my jewelry station within my new closet. Pretty much jewelry would land on top of the shelves and be sprawled out into the bathroom. I never could find the right earrings or necklaces at the right time, and my watches were everywhere. I needed some help with this space badly too, especially since I love wearing jewelry every day!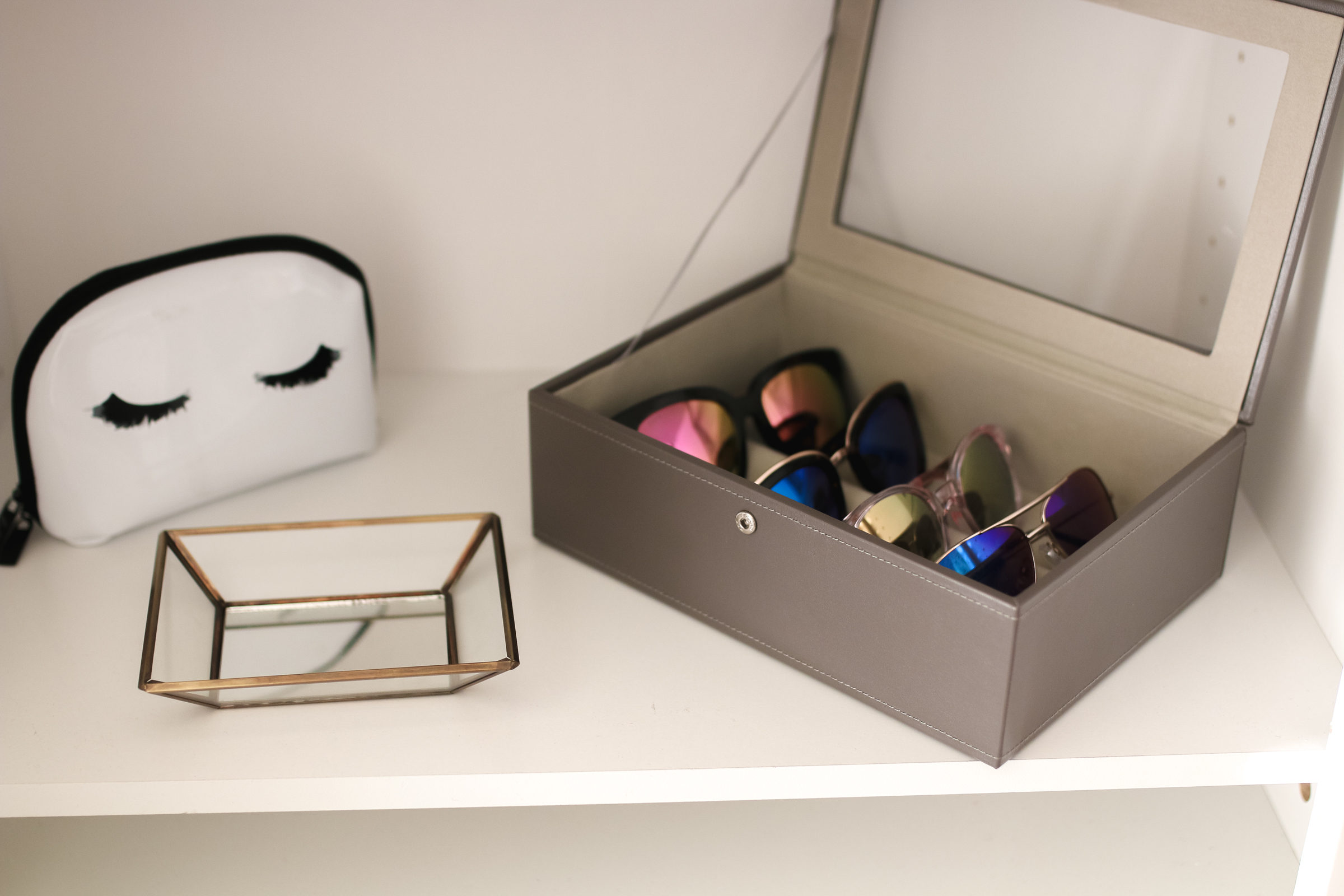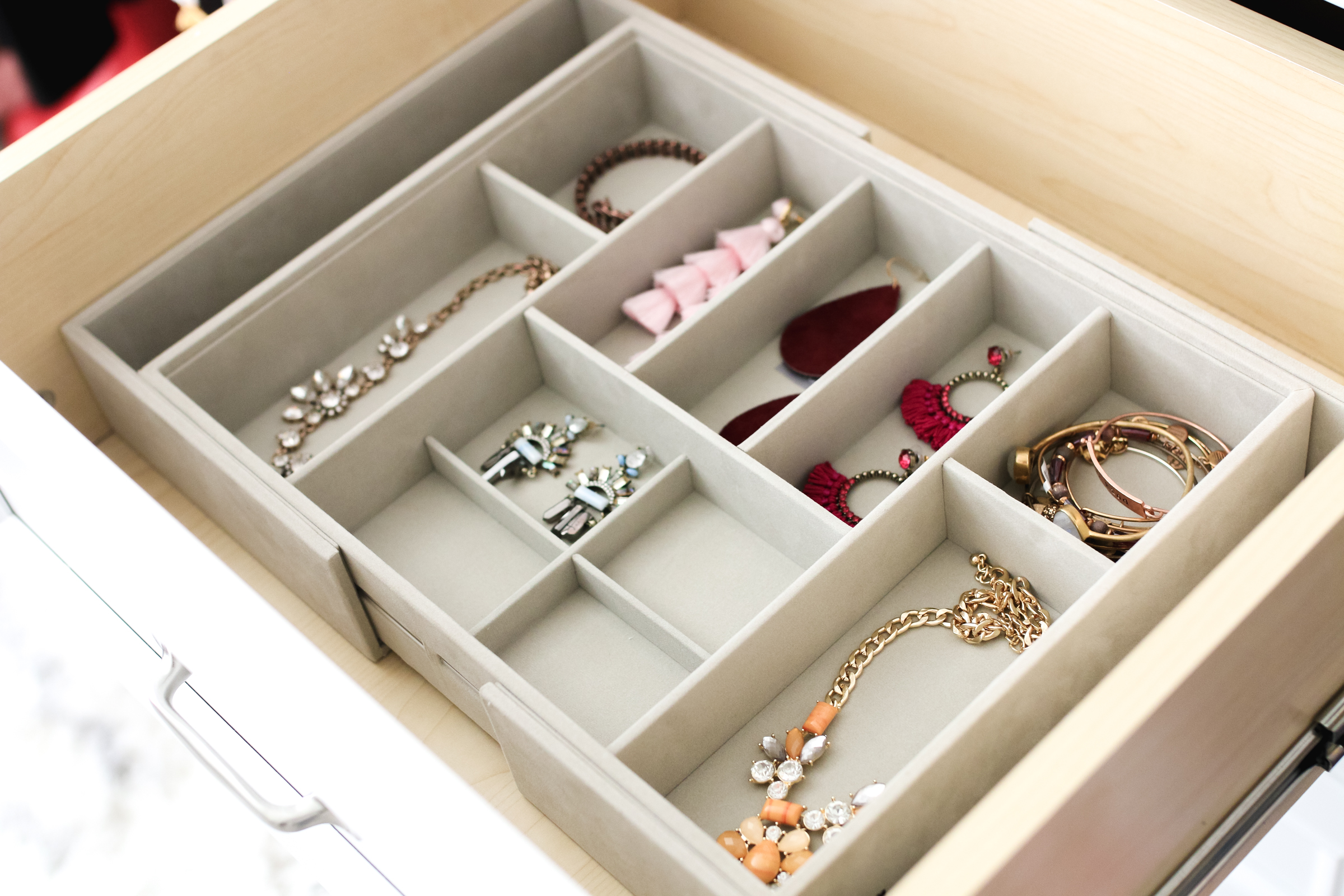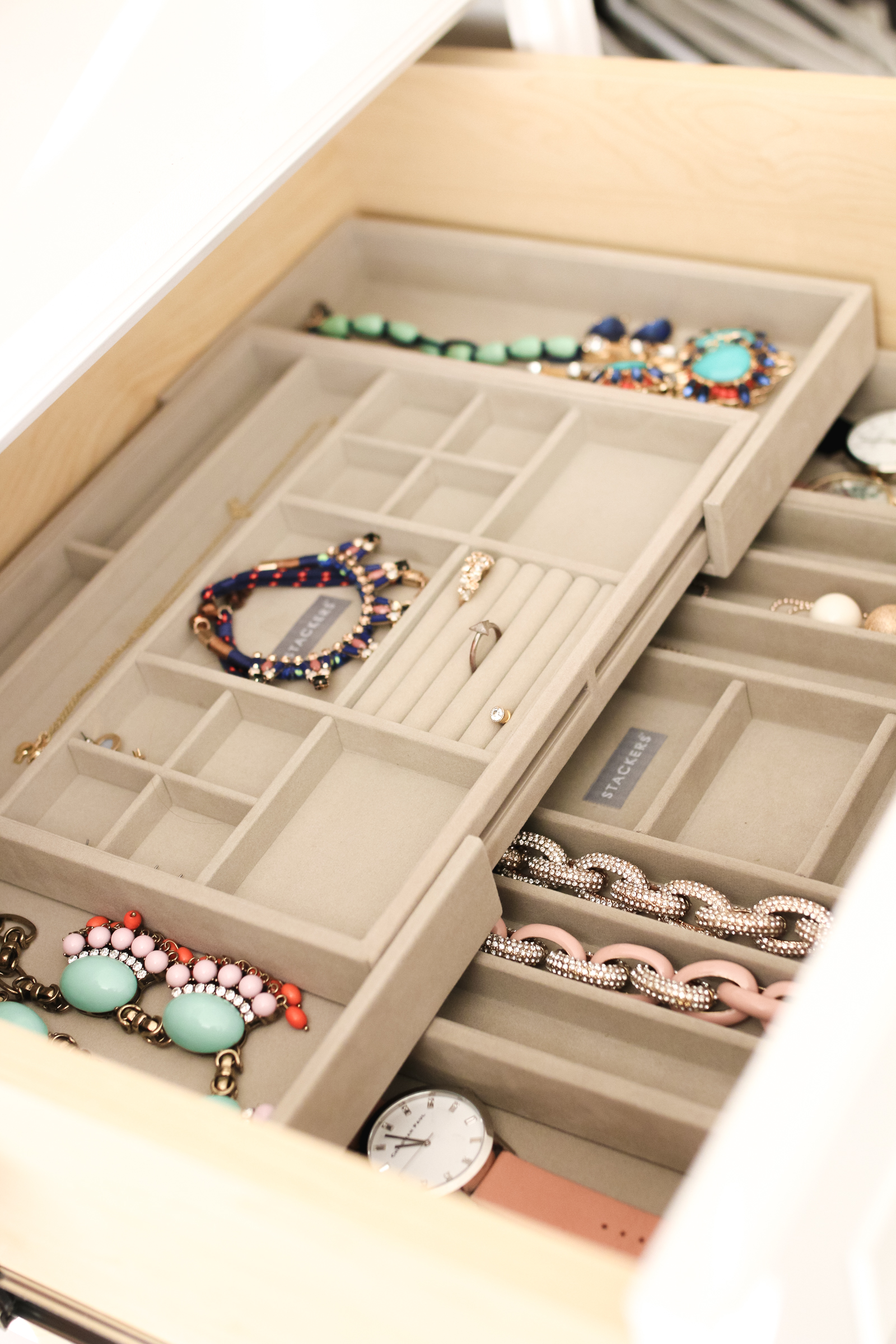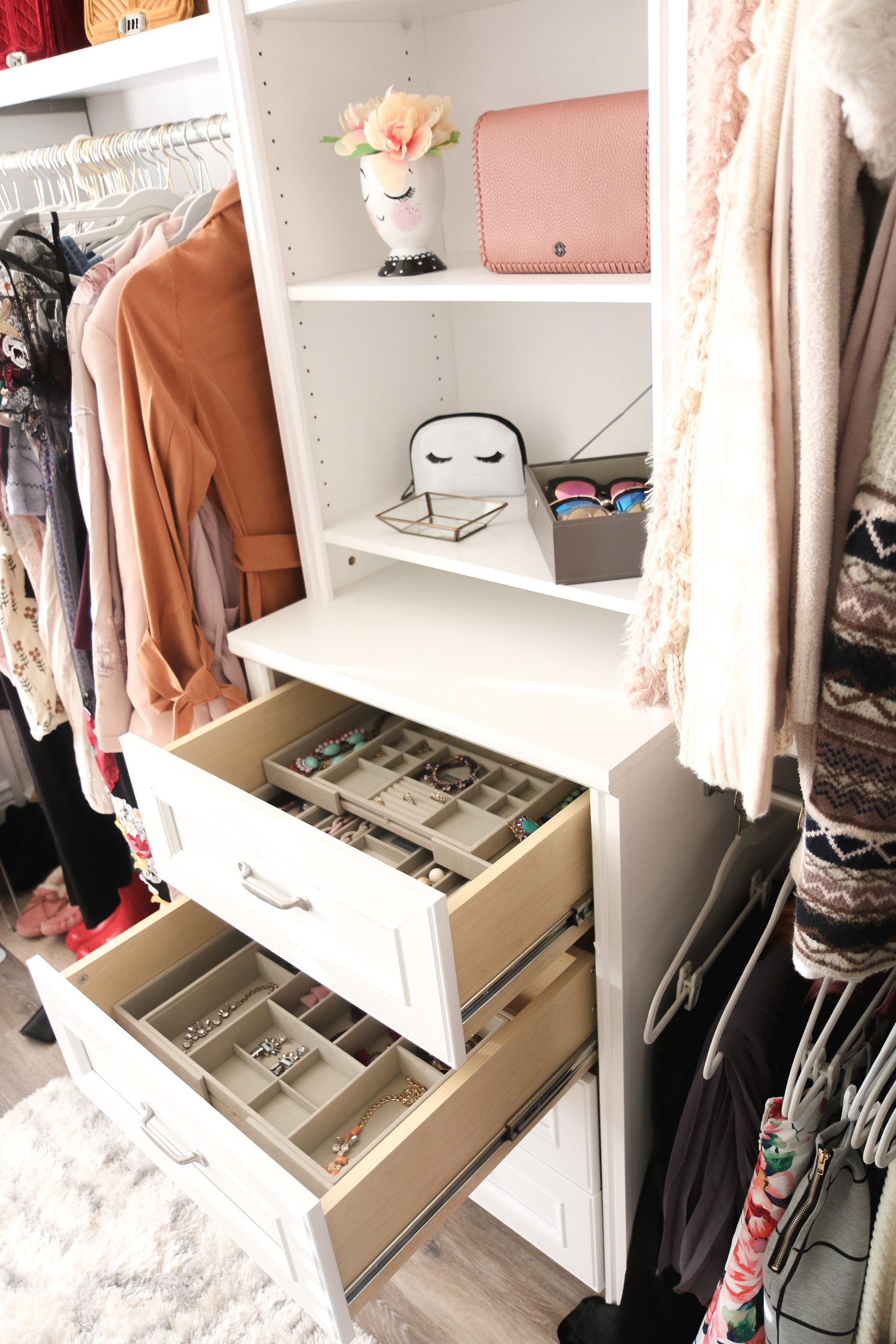 Shop jewelry organization:

And here is the "after" and I am SO happy with it! They left around 5PM that day after finishing our master bathroom and my jewelry station.The great thing about both of these spaces is that weeks after and they are still pretty much organized and clean. I was a little afraid that we would go back into old habits and it would become a mess again, and although parts of it may have a tiny bit, the overall organization is still in tact! With the NEAT Method, they give you 2 weeks to live with your new organized space and will come back and tweak anything if it's not working for you! That service is awesome because sometimes in theory an organization system works, but maybe the things you use the most are put in hard to reach places, etc. Their communication with me was great throughout the process, but sometimes you just have to use the space in daily life to realize how the things would be organized best.
And here are some tips I learned from Chelsea and the NEAT Method team along the way, that I wanted to pass along to you!
5 Tips From a Professional Organizer That Will Change Your Life
Get messy first, before getting organized. As mentioned above, when you are organizing, it is best to just take everything out and sort it out on the floor before putting things back in it's place. If you have a space that's as messy as mine, it's way harder to just shift things around while they are already in place vs. taking it all out and basically "starting over". I actually learned this tip too from my friend Jill of Hot Pink Style when she had helped me organize my clothes in my closet previously too!
Getting containers for organization is a great investment. To be honest, I think my biggest problem was not wanting to spend the money on organization products like baskets and trays, etc. to be organized. But since I've had it, I fully believe it is necessary! Compartmentalizing things is KEY in making sure they STAY that way.
Labeling will help you visualize and find things quicker. They implemented a few basket and label systems in my bathroom and I thought that this was again key to keeping things in their places. Especially in the hard to reach places or the items I don't reach for often like my curling wands and extra toothpaste, having labels will help finding them way easier.
Functionality over visual appeal. I definitely think that functionality is always the main goal in organization. Even if something may not look as aesthetically appealing, if it is useful in your daily life, that is far more important! Of course, always keeping visual appeal in mind can't hurt. A main goal was to keep things OFF the counter and in the drawers. Now that's definitely more visually appealing!
Don't be afraid to toss! I totally realized this with moving, but whenever you organize or declutter, it's also a great time to toss! And tossing things away really DOES feel so good! I mean we have so many beauty products, soaps, shampoos, etc. that we have picked up through the years that we clearly are just hoarding and do not use… that tossing is really the best option!
I will say that the investment in organization services is not cheap. There is the cost of the organization services per hour (it's usually 2 people that come at a time) and then the cost for the organization products. But let me tell you, after even just a few weeks of use with our new organized space, I can tell you that it's WORTH every penny. It is really a game changer in just every day tasks, I am able to find things easier, and be more efficient!
NEAT Method is offered in various cities and is continually expanding to more! You can check out their Locations to see if they offer services in your area!