This post is sponsored by Tru by Hilton, but all opinions expressed are 100% my own.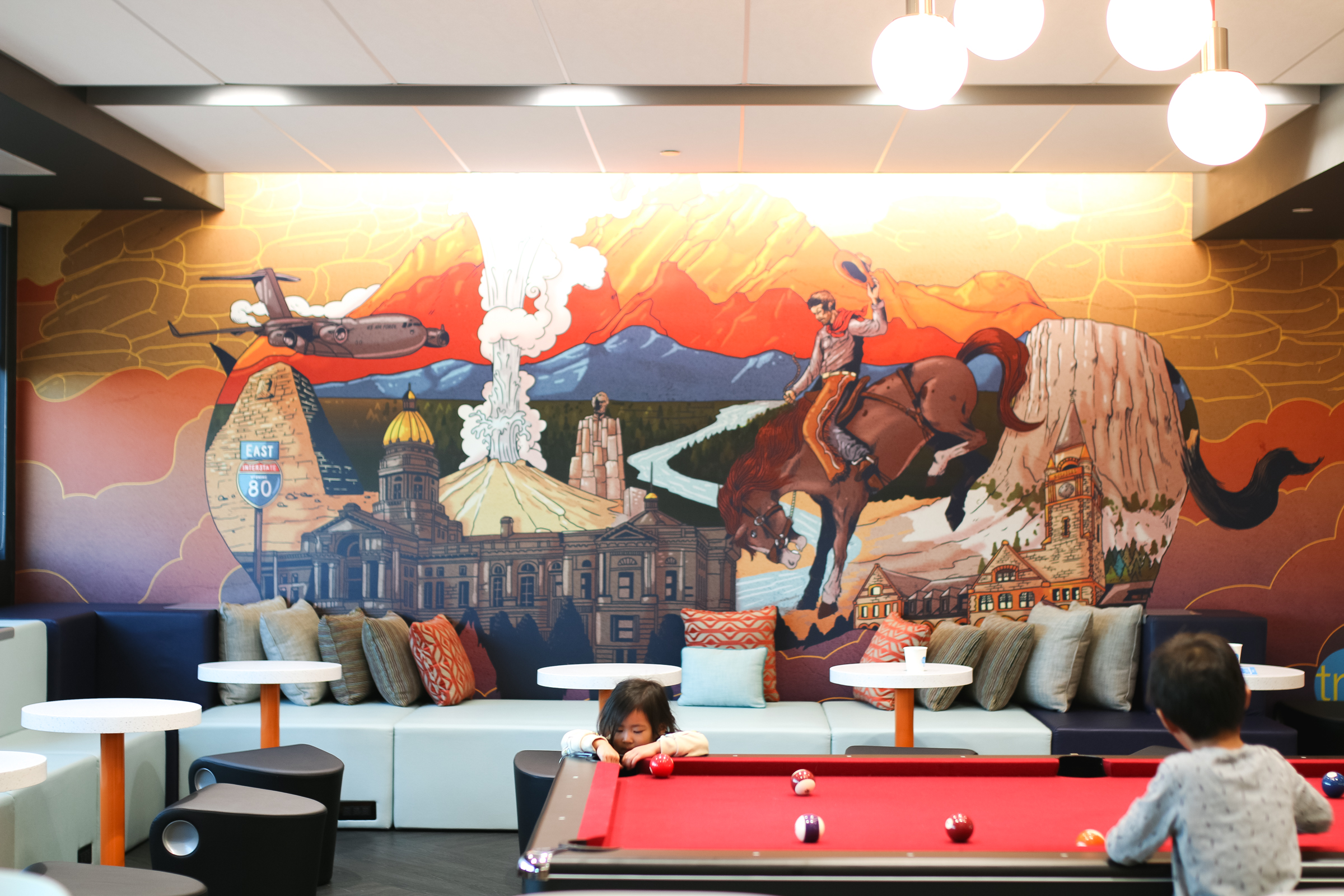 If you have followed along my social media a couple weeks ago, we recently took a family trip to check out the new Tru by Hilton hotel in Cheyenne, WY. I already knew that my kids loved staying in hotels, but let me tell you, they were OBSESSED with this one. And there are so many reasons why (which I will be sharing below)! We only stayed for 2 nights, but they seriously did not want to leave, and neither did we. Tru by Hilton is a truly unique hotel experience, think a college dorm meets resort, plus everything being totally Instagram-worthy.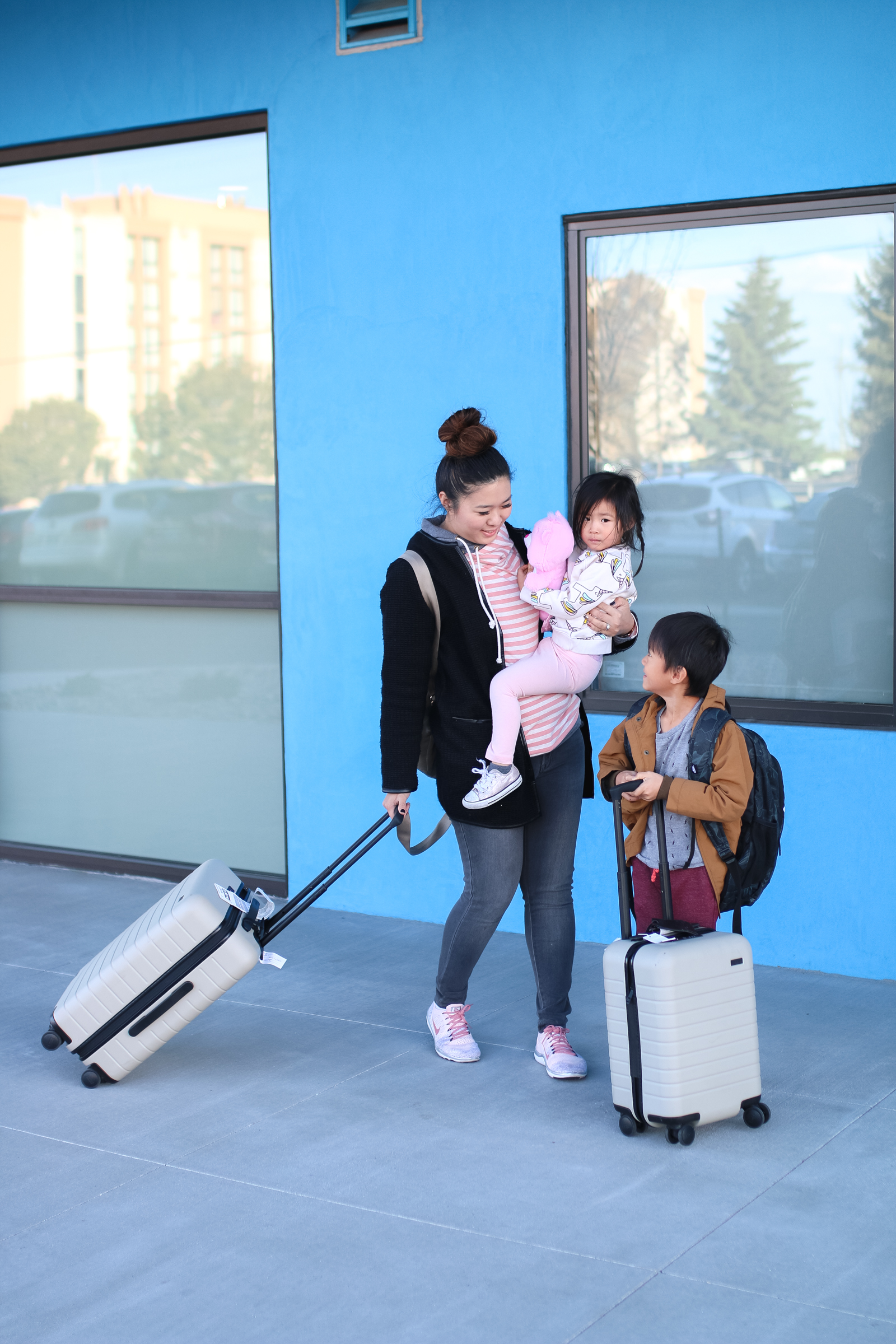 Upon first glance of the hotel, you see color, bright colors, and lots of it! That was what immediately caught my eye off the freeway in a sea of hotels. It looks fun before you even enter.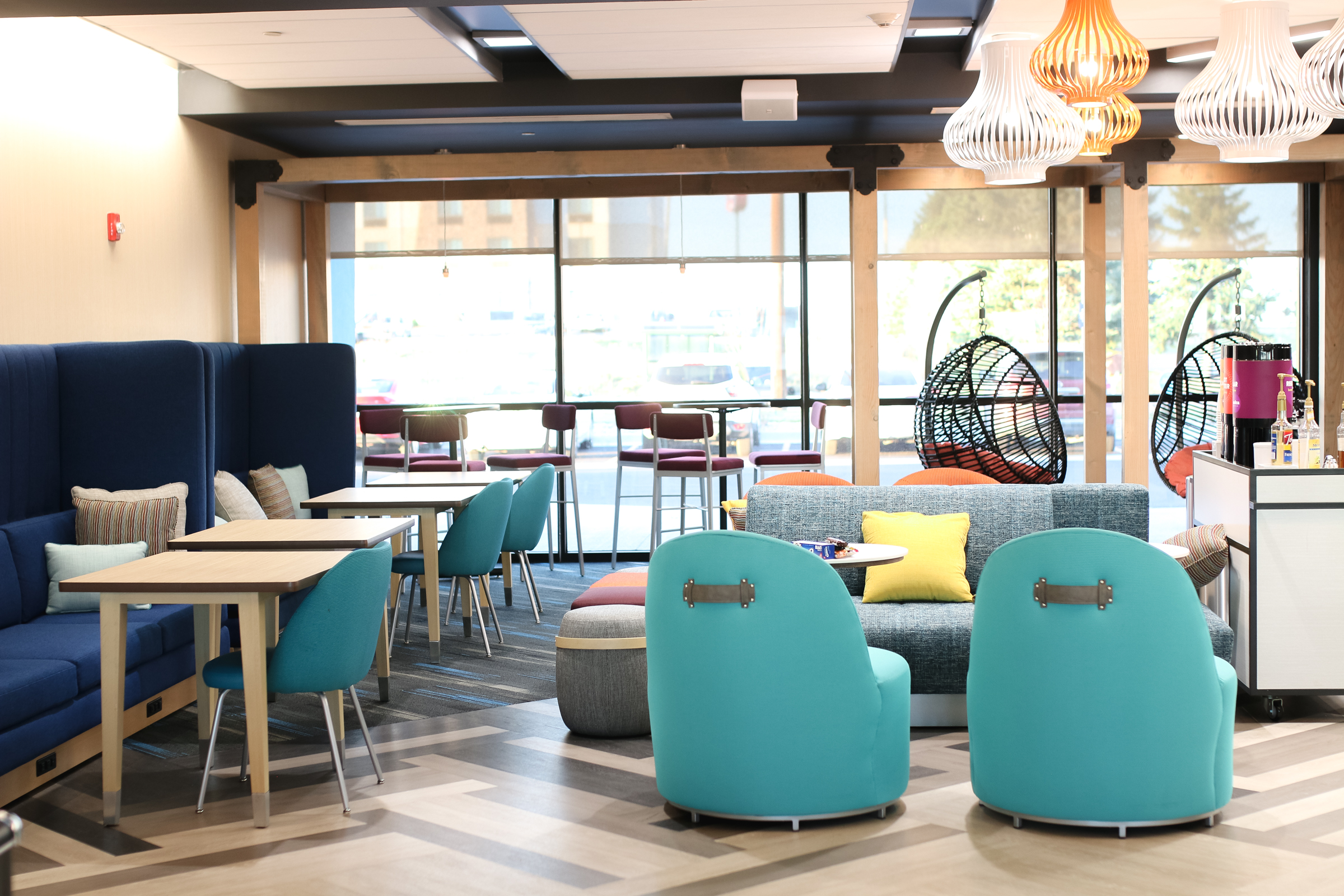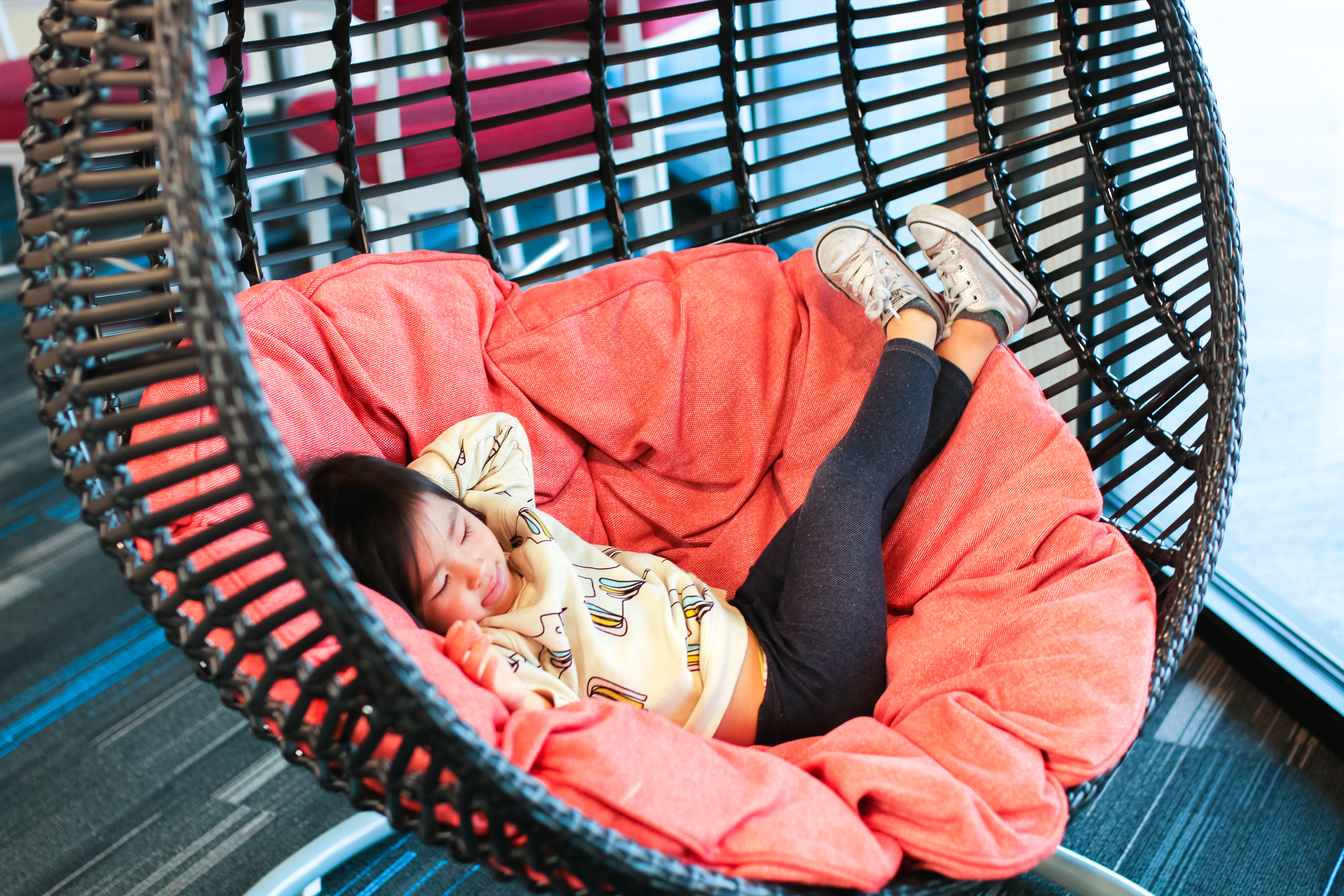 OK, this picture of Vivian lounging pretty much says it all, huh?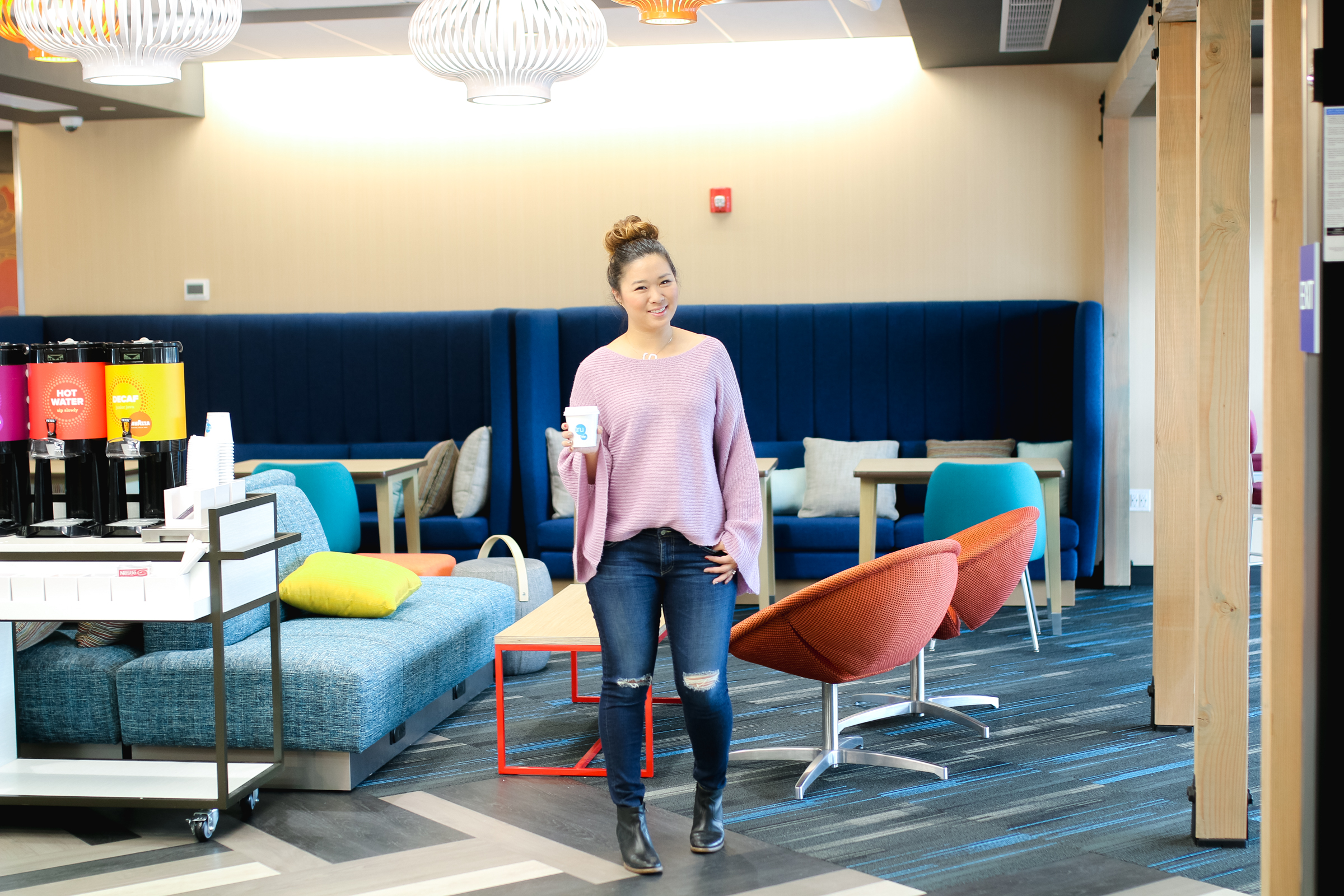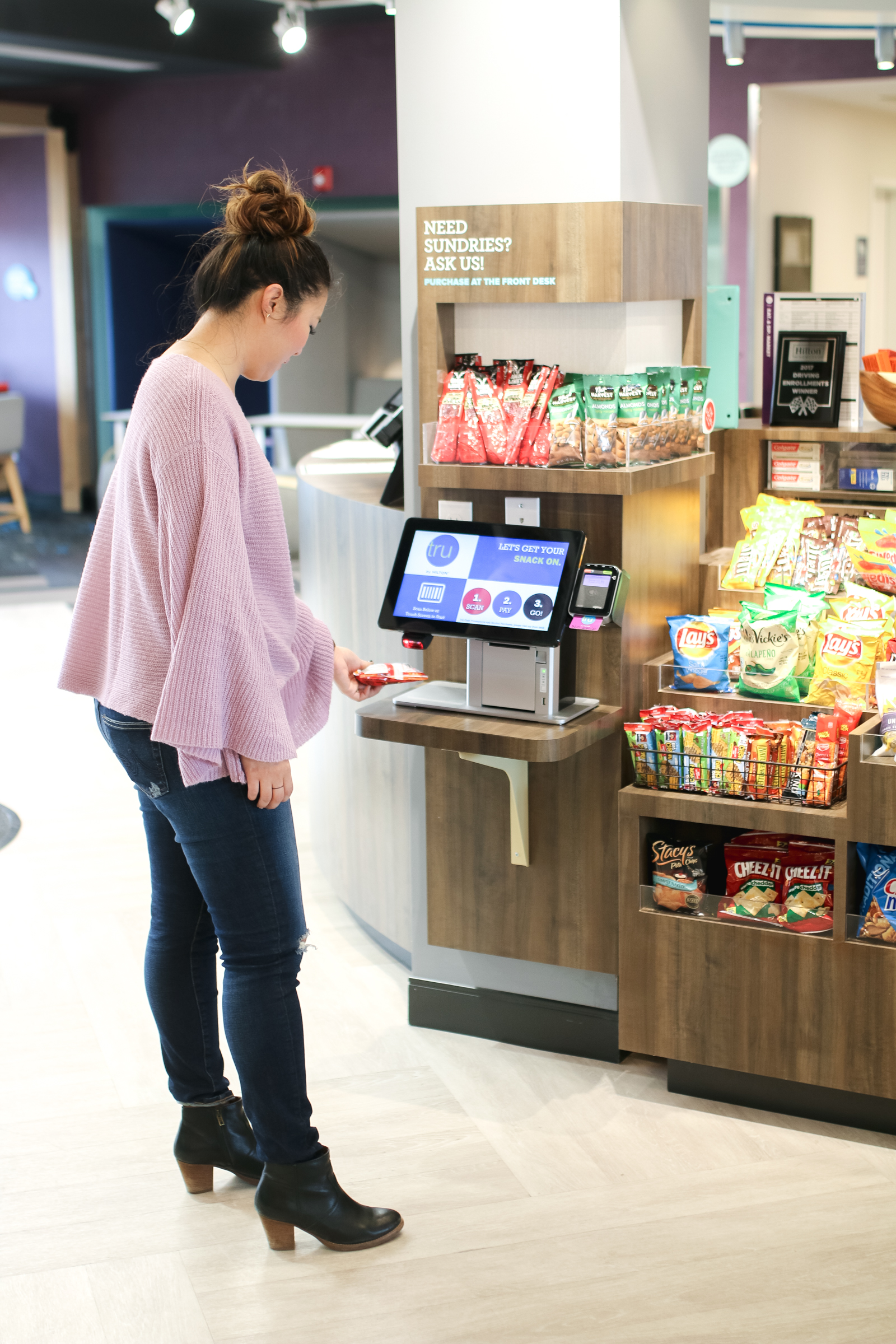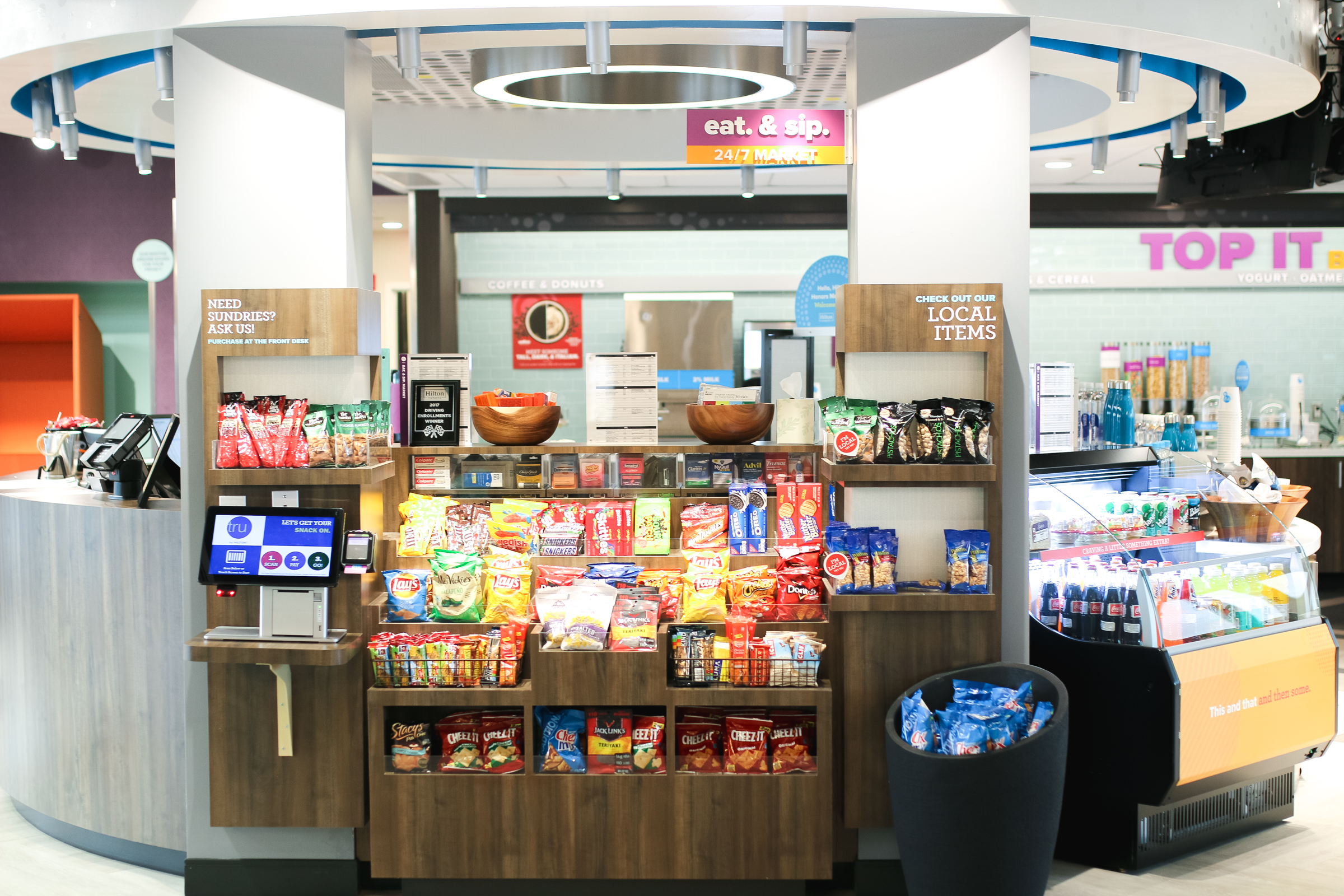 When you enter the lobby, the first thing you will notice is the color wall (first picture in this post). It's an amazing beautiful mural that represents the city you are in (Cheyenne, Wyoming is where we went) and there are lounge chairs all around it. The lobby literally has so many different pods or stations where you can work, lounge, eat, play and all of those things is exactly what we did. The lobby is truly the focal point of Tru by Hilton, as it is jam packed with activity. There is 24/7 coffee or hot chocolate, a 24/7 Eat. and Sip. Market that has an electronic checkout, a pool table, tons of board games, the cutest lounge chairs, tablets for staying connected, and more. We probably spent the majority of our time hanging out in the lobby!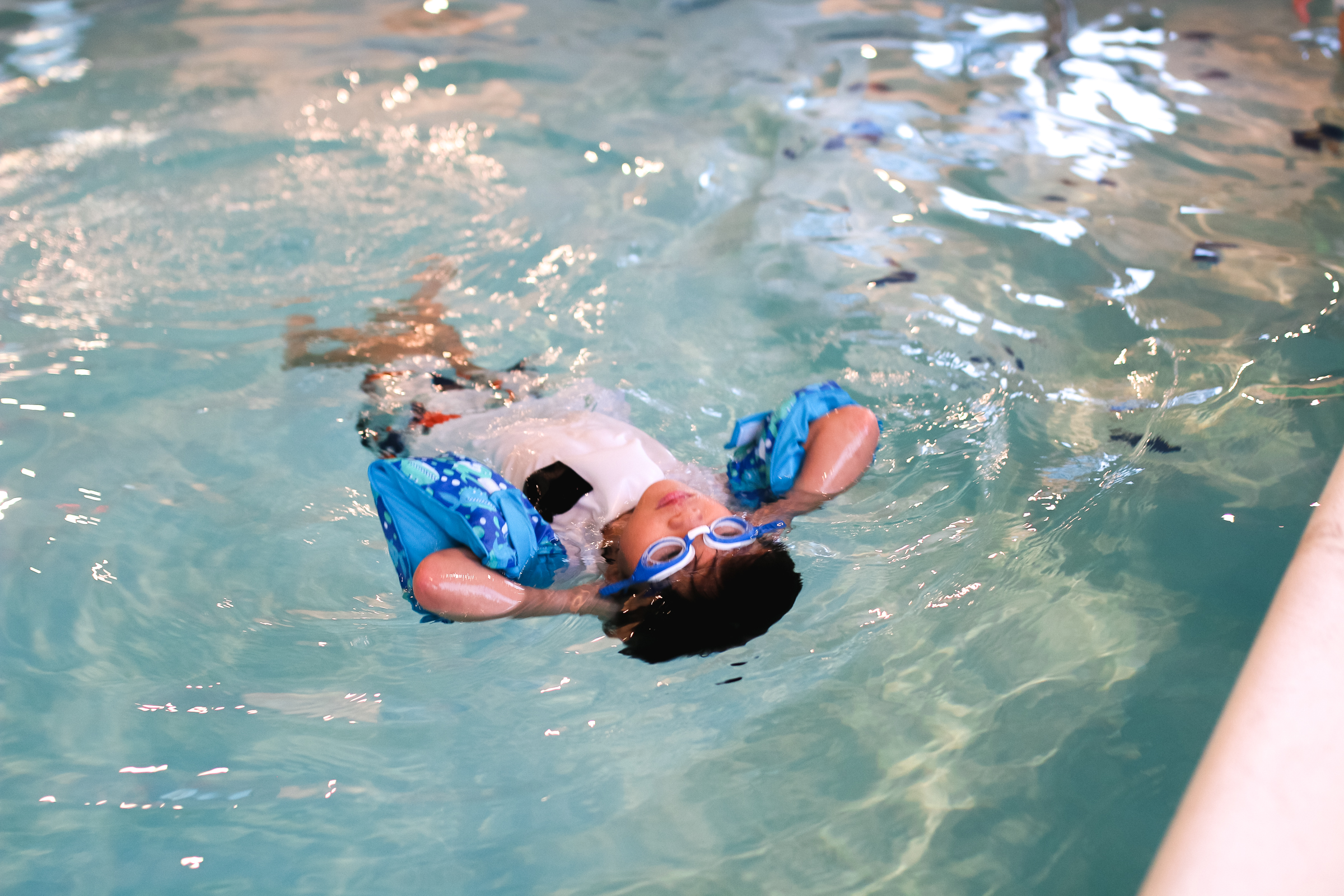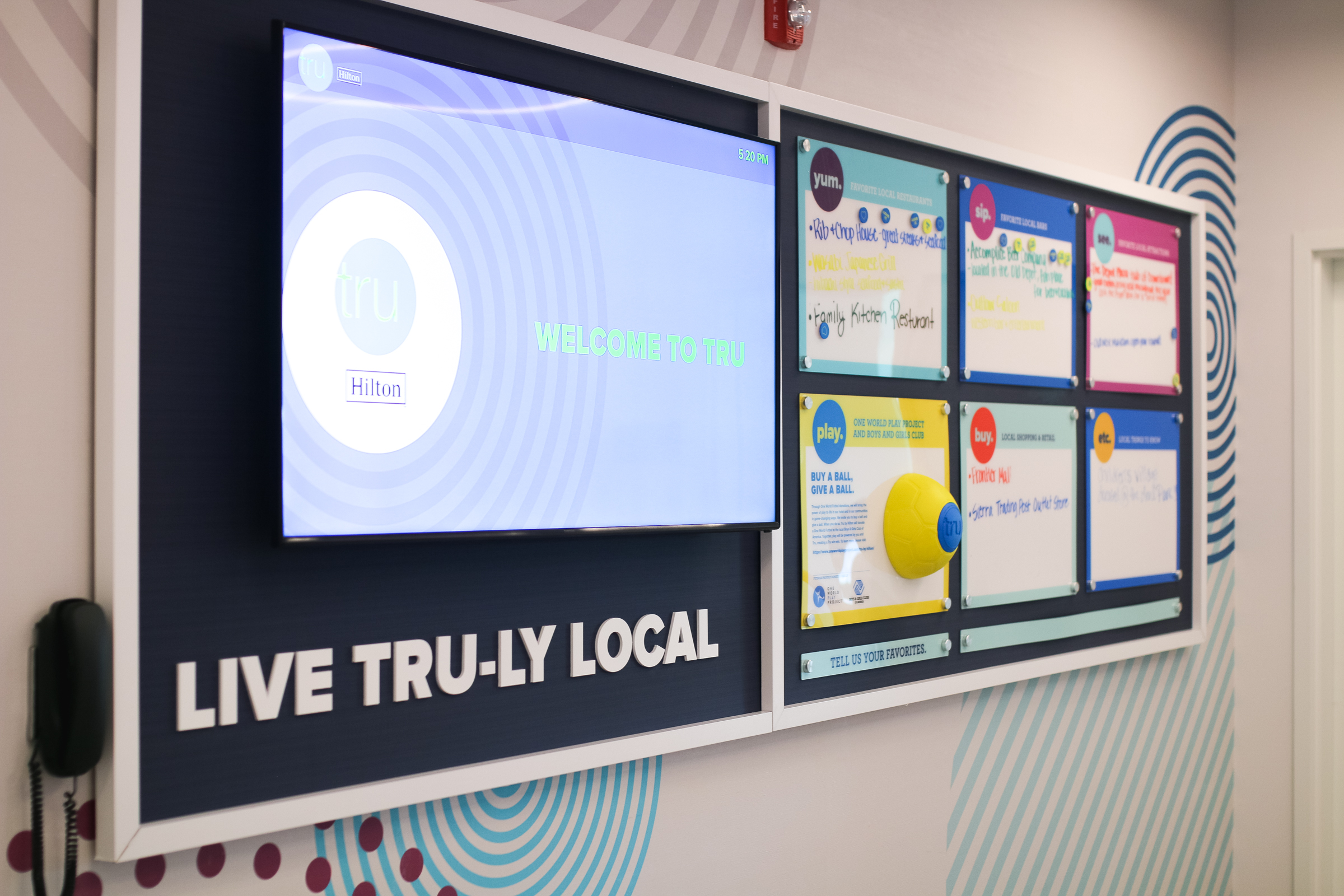 Tru by Hilton also has your basic hotel amenities like a work out center and pool, but they've got so much more. It's honestly a lot of "little things" that make you think, gosh, why didn't other hotels think of that? They have a water filling station in the lobby which is such a great idea. I can't tell you how many other hotels I go to that will provide you one water bottle in your room on the first day and that's it. If you want more water, you have to go to the front desk and ask or pay for it. So the fact that Tru by Hilton just had cups and water available anytime was awesome. And charging stations? I definitely can't even count on two hands how many they have just in the lobby. They know that in this day in age, almost everyone has a smart phone and needs to be able to charge it almost anywhere, instantly. I mean, at least that describes my life!
But probably the coolest thing is their Live Tru-ly Local wall. It's a place that offers restaurant recommendations, things to do around town, special events and is put together by hotel staff and locals that are in the know. I've got to be honest, we've never been to Cheyenne, Wyoming before, and I was a little worried about where we should go visit, but that wall totally helped! We were able to find a nice steak restaurant to eat at and we also took our kids to a fun little Children's Village.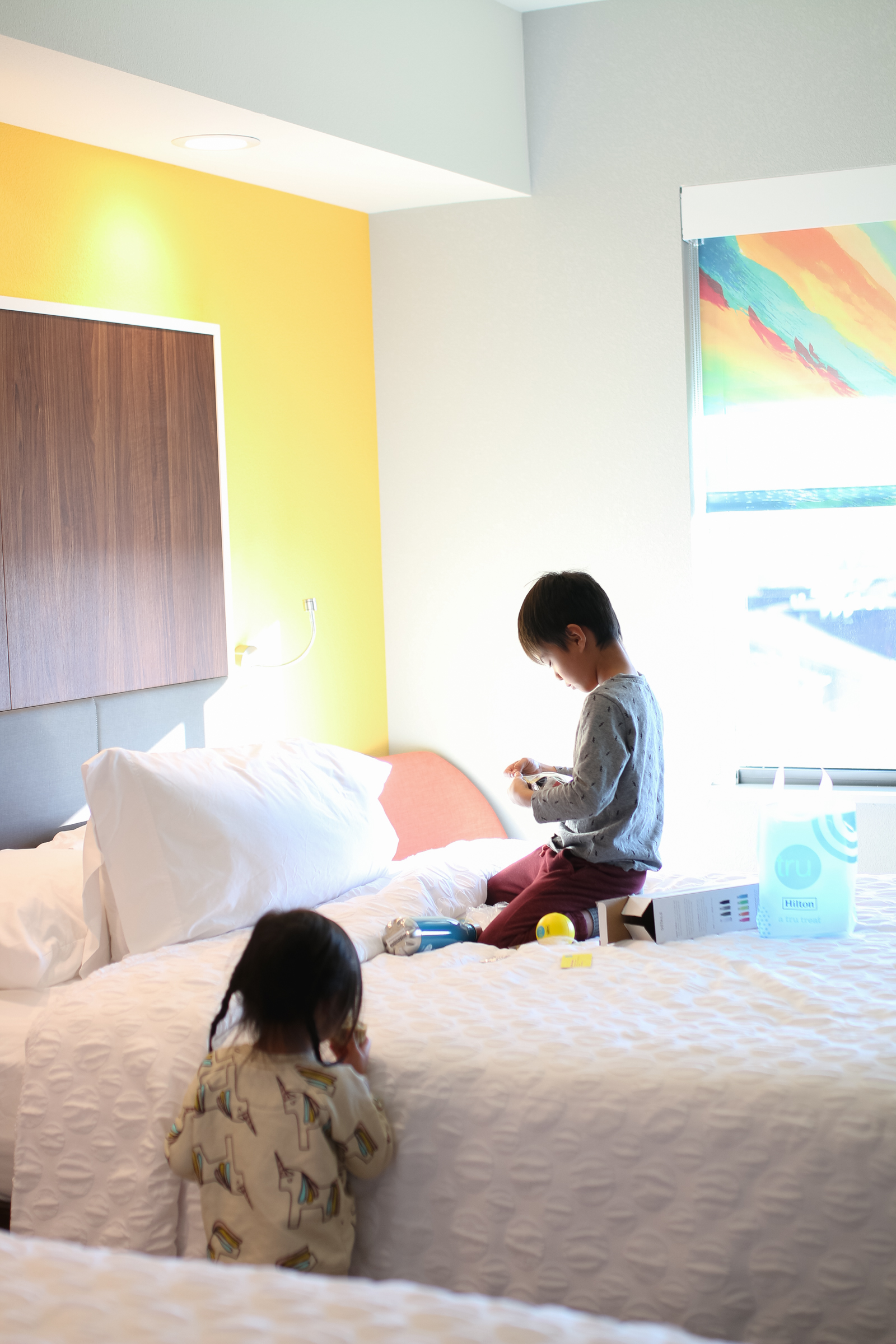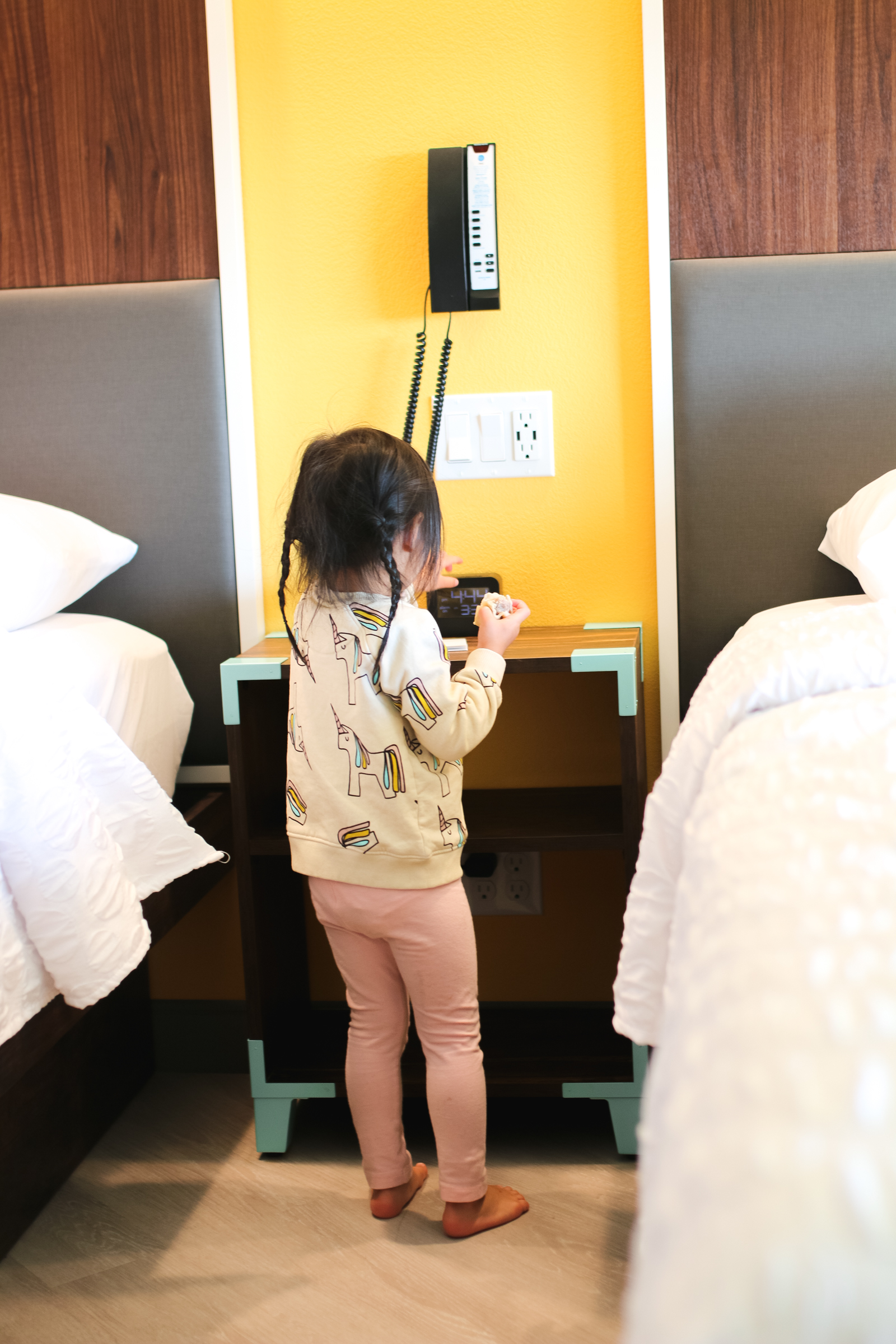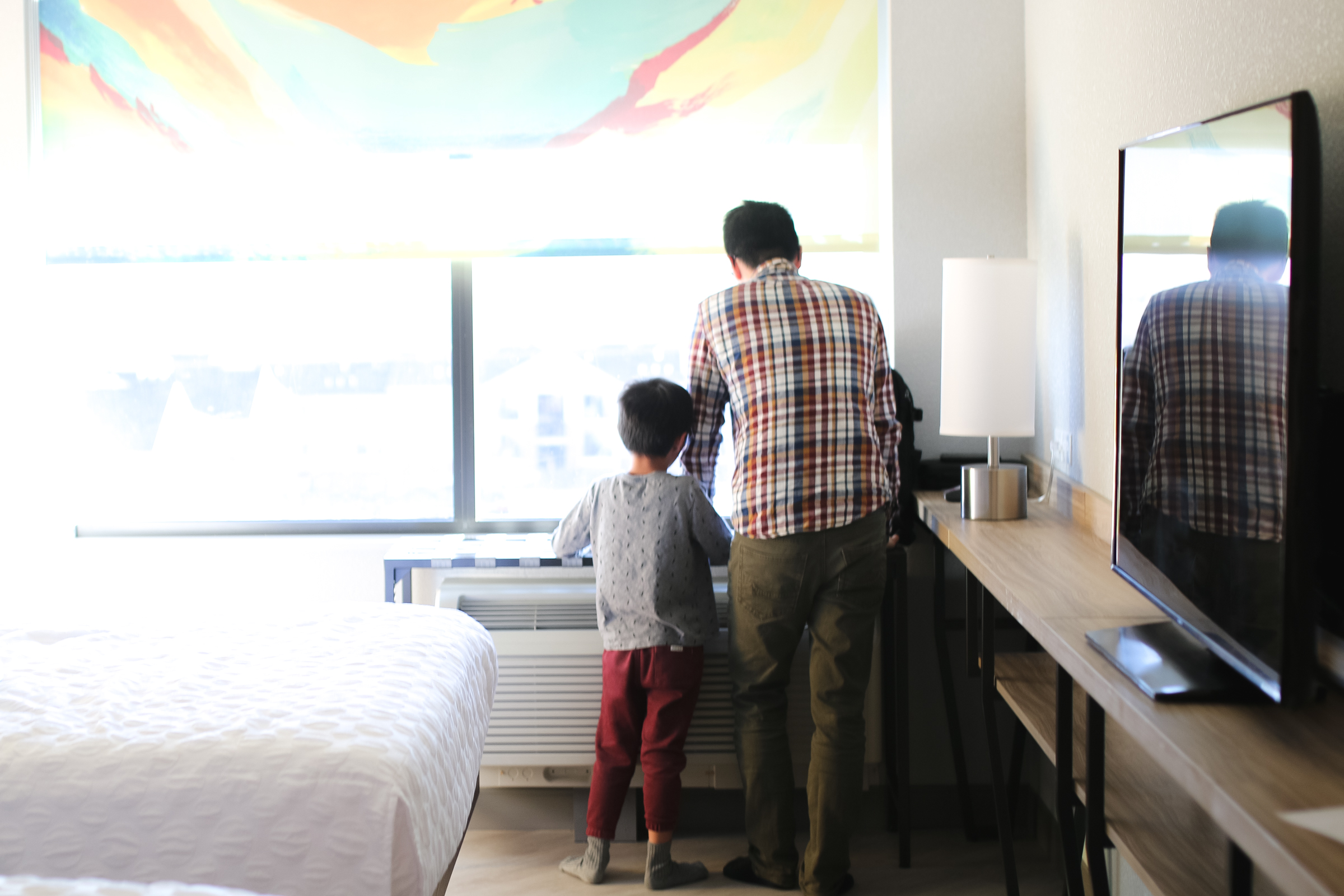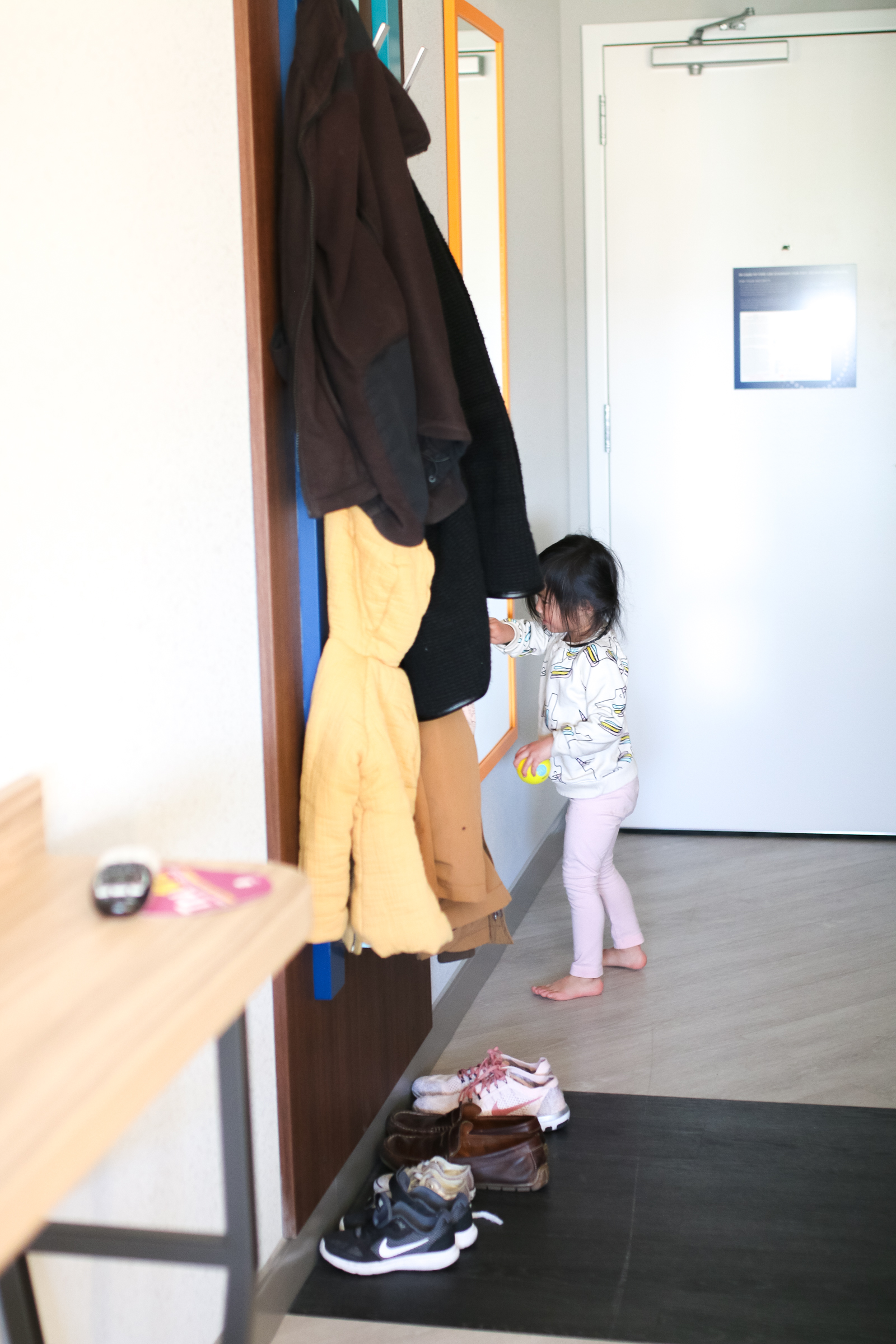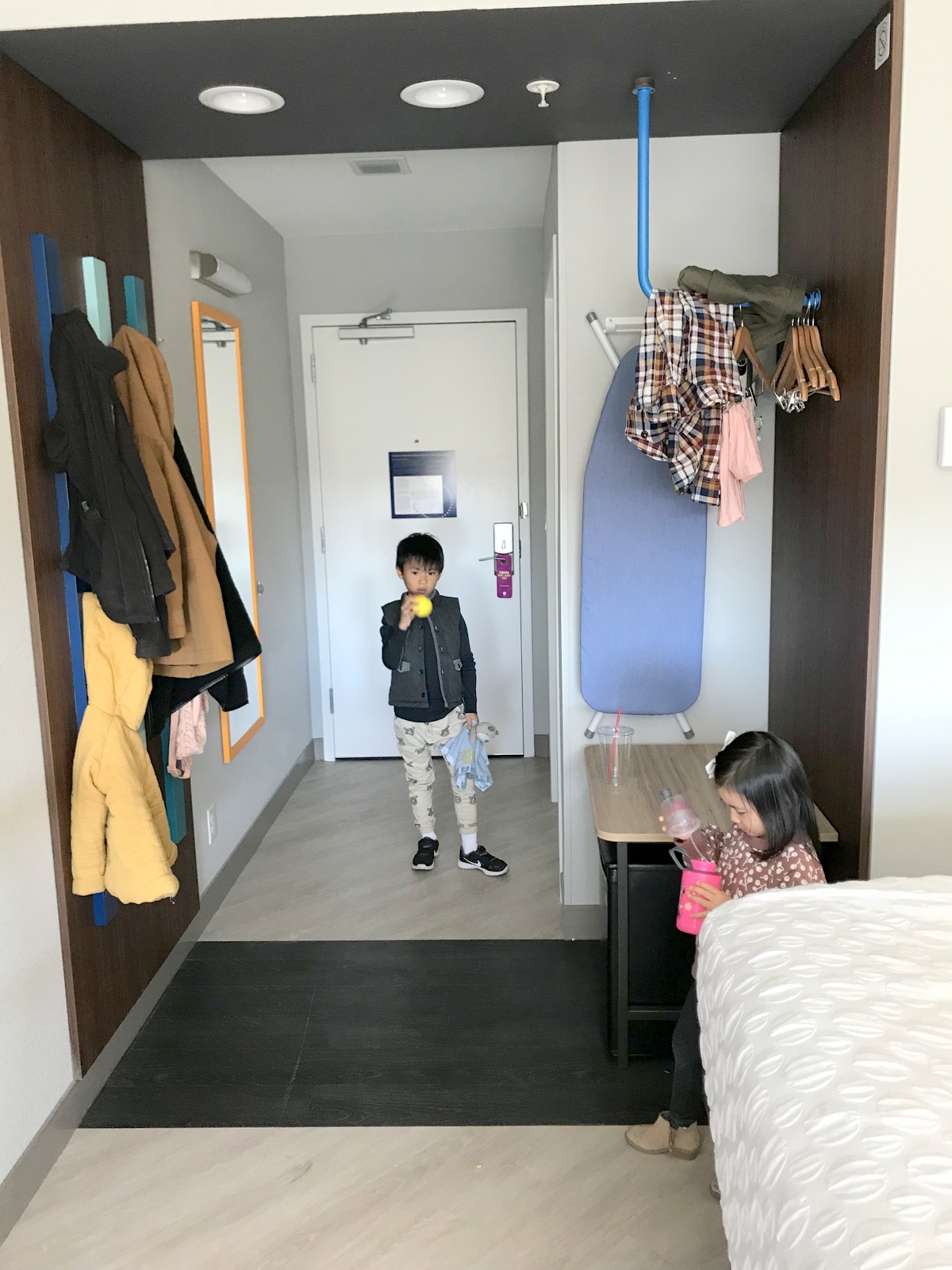 The hotel rooms are just like the rest of the place, they are colorful and functionally designed. We had a room with two queen beds, and although I wouldn't say the rooms were huge, they were actually very smart. The rooms had hooks as you enter for coats and bags, a mirror, a TV on a slim table against the wall, storage space under the bed for suitcases, and a chair. The rooms did not have a desk and chair like other hotel rooms I've stayed at, but their idea is that the lobby would be a community space where you can sit on your laptop if you need to down there. The guestrooms have a 55" TV with premium channel lineup, so finding a kid's channel was usually never a problem. 😉 And I can't forget to mention the bathrooms, they had soap and hair product dispensers directly on the wall (no running out of those small bottles), the lighting was bright and white (perfect for putting on makeup), and our room had a shower instead of a bathtub.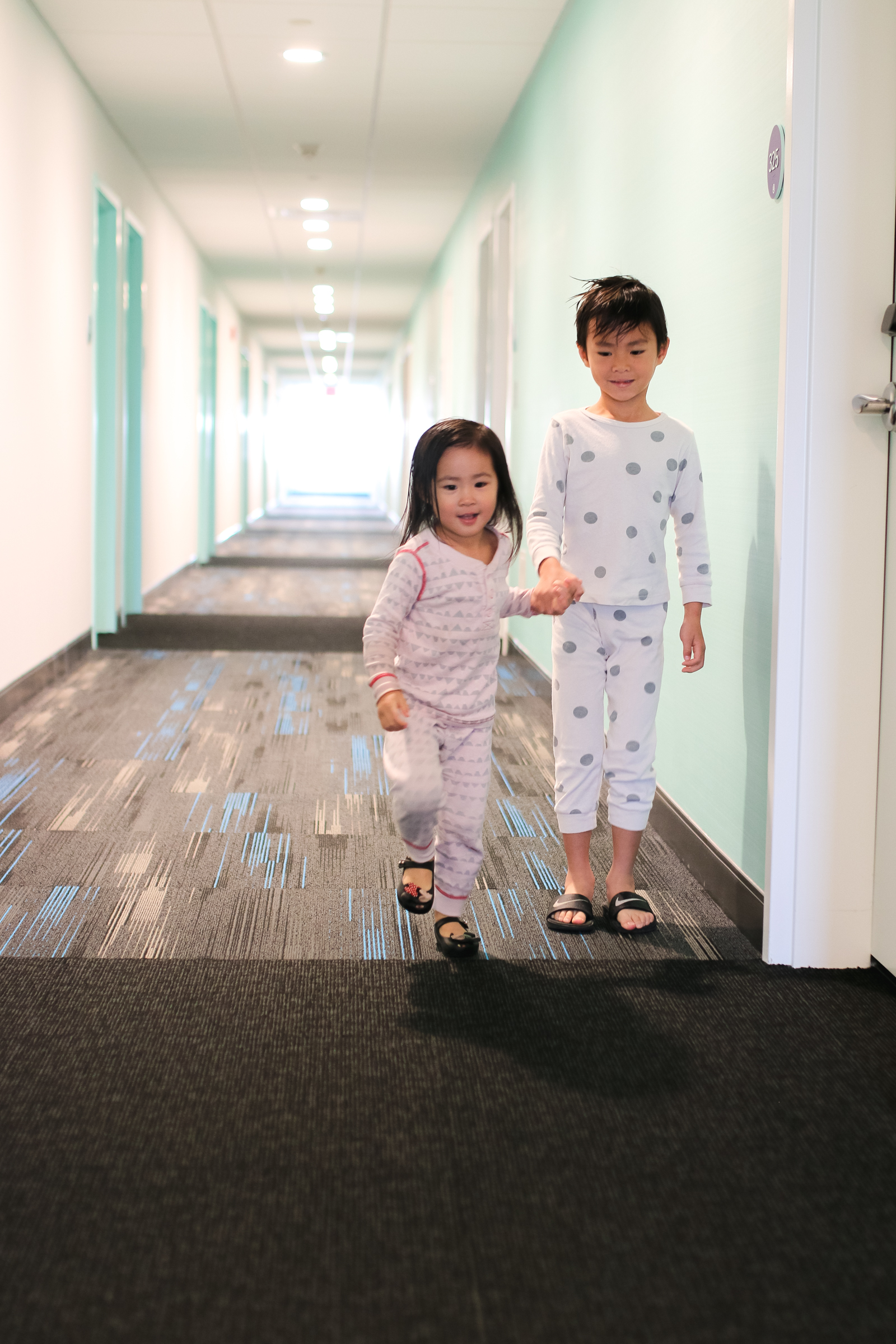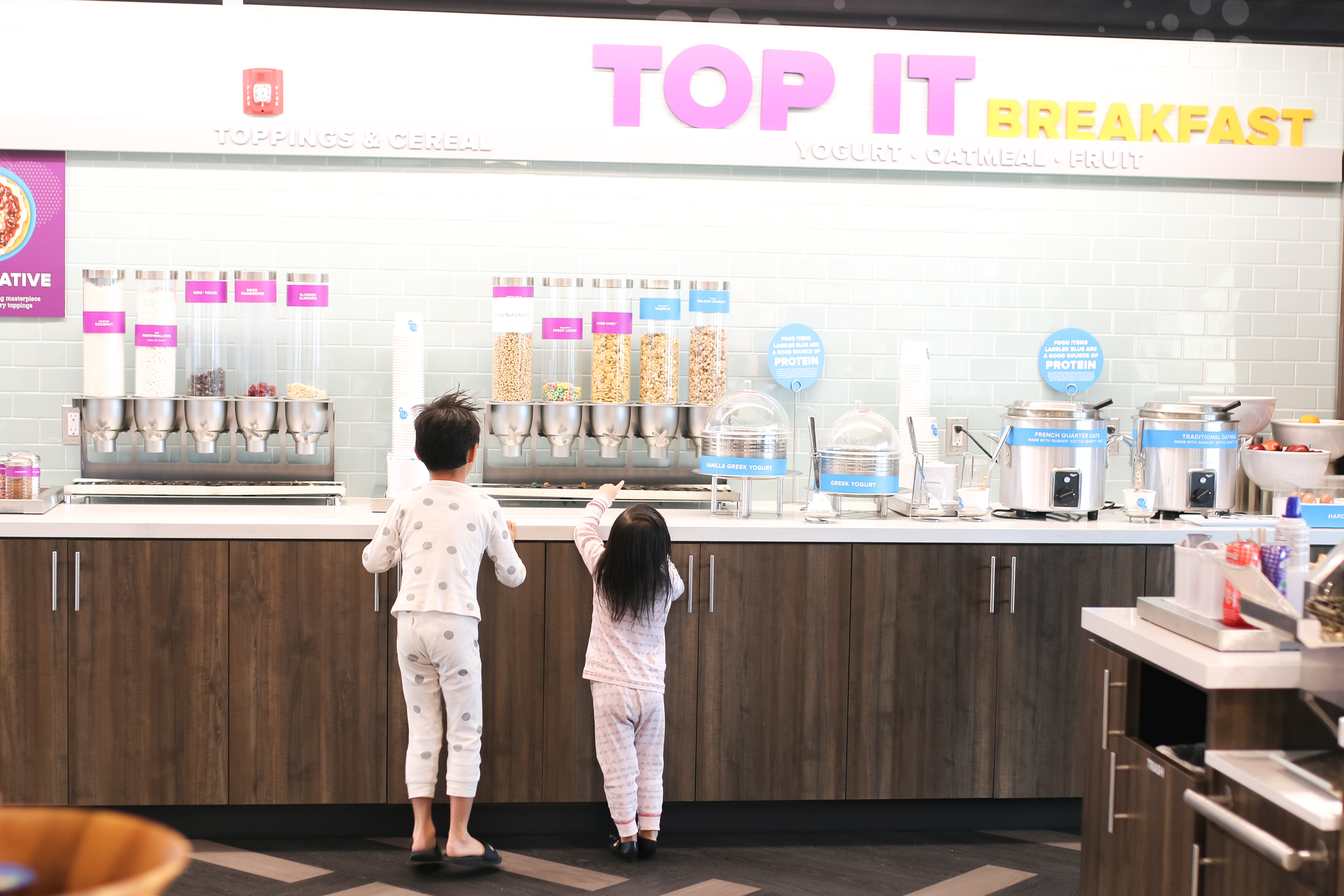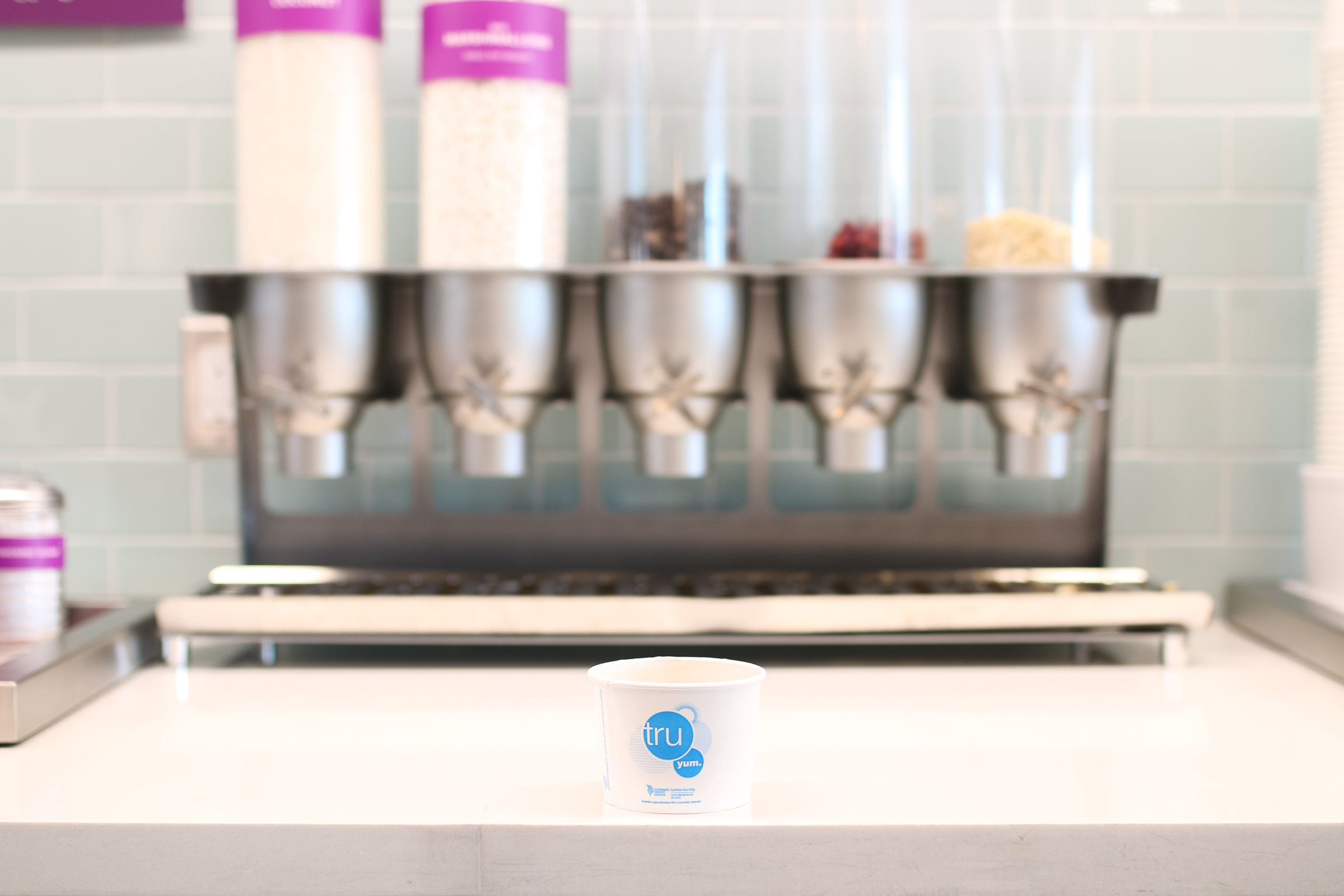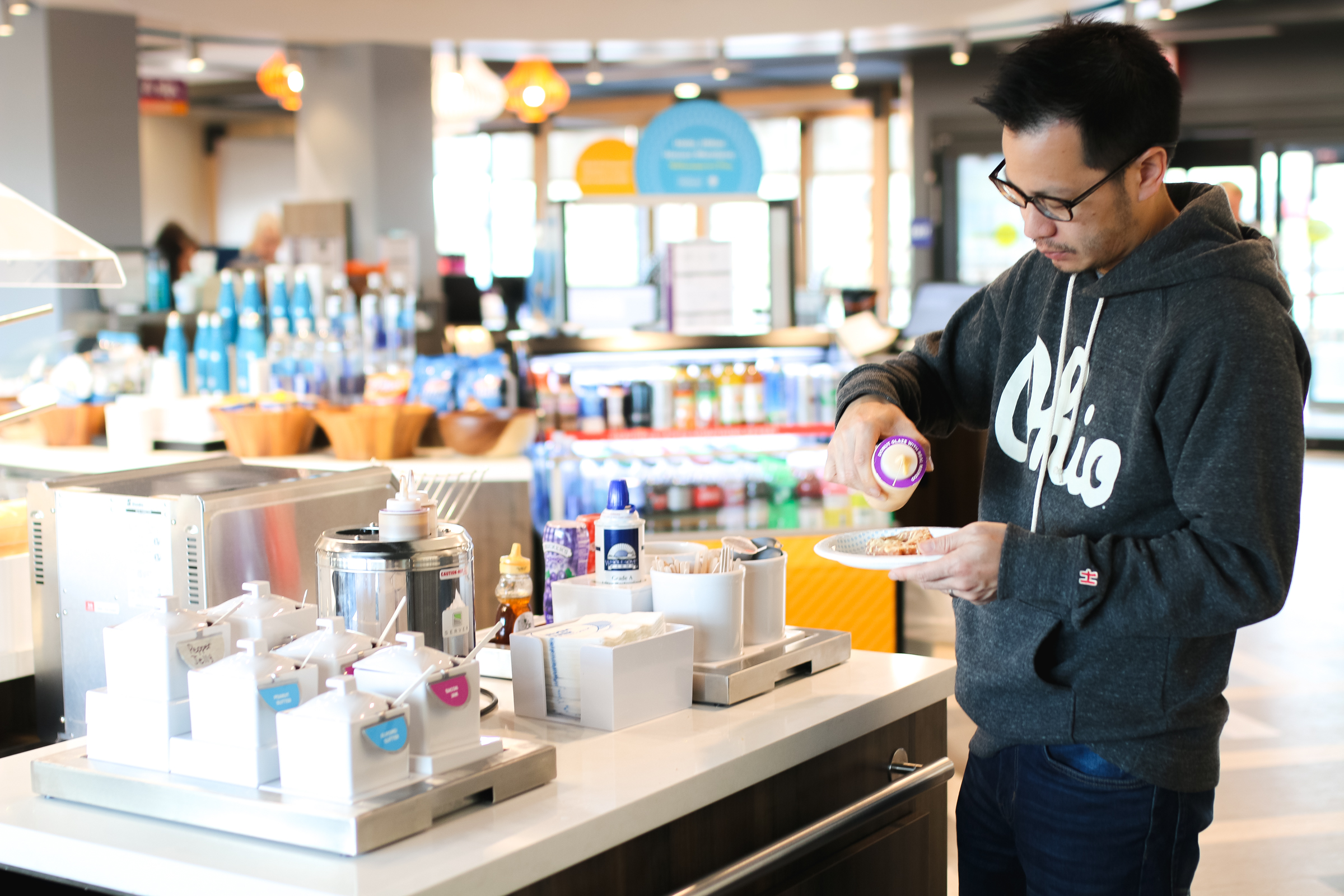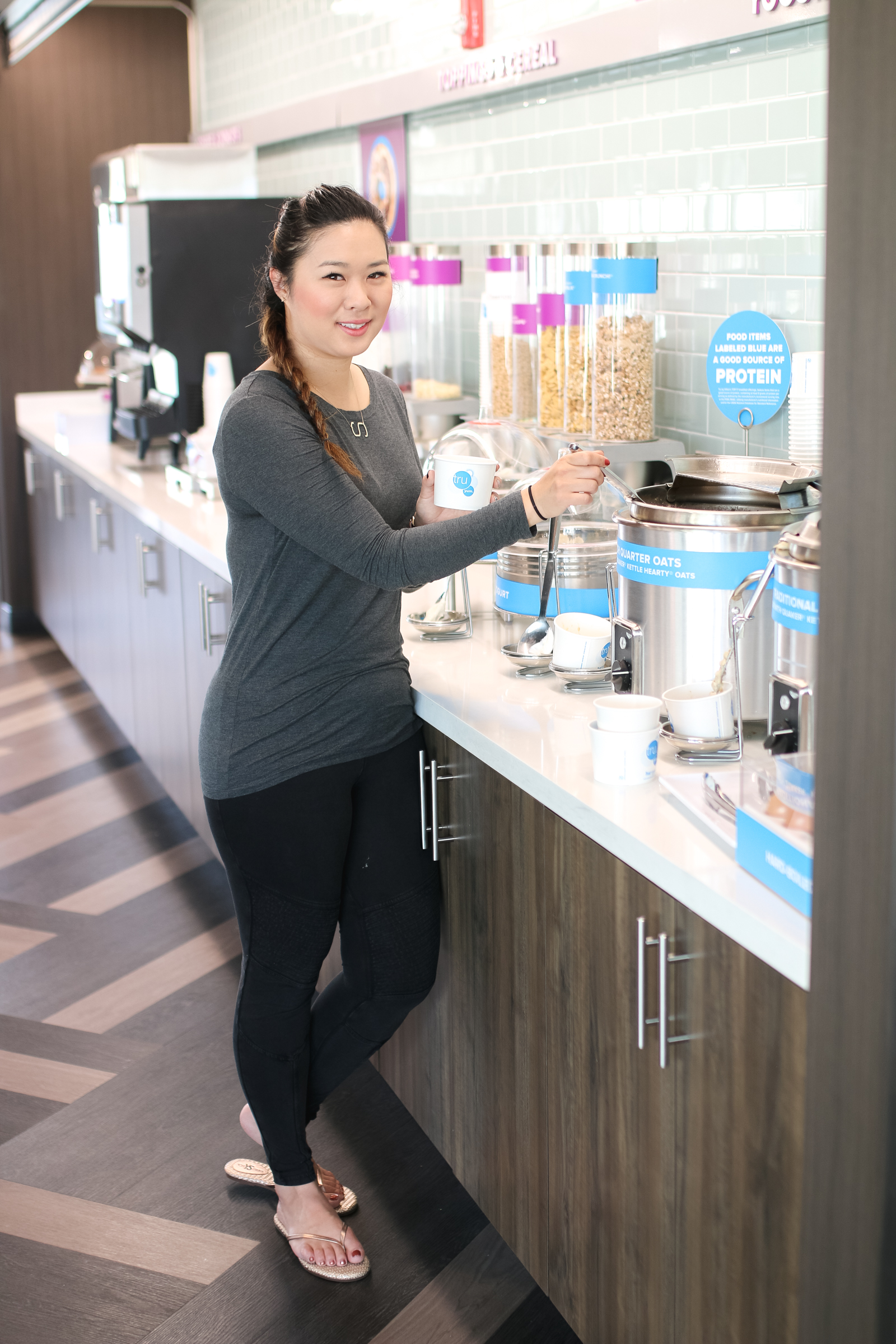 But probably one of our favorite features of the hotel was the free "Top It" breakfast in the mornings. From oatmeal, cereal, bagels with bacon jam, yogurt topped with mini marshmallows, to a variety of drink options, deciding what to eat for breakfast may have been the toughest decision of the weekend. 😉 I think we literally spent 2 hours at breakfast both mornings, my mom would be so proud.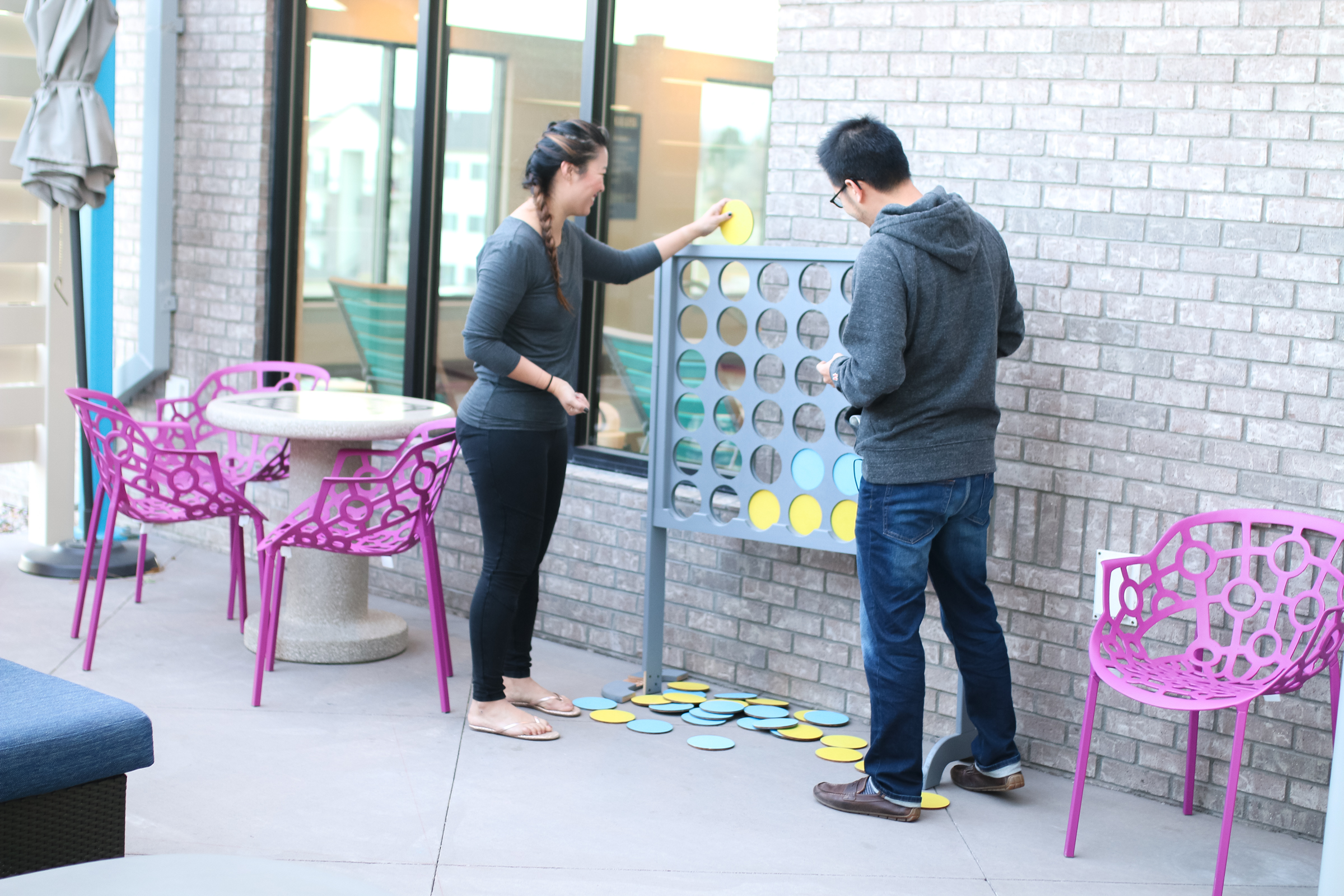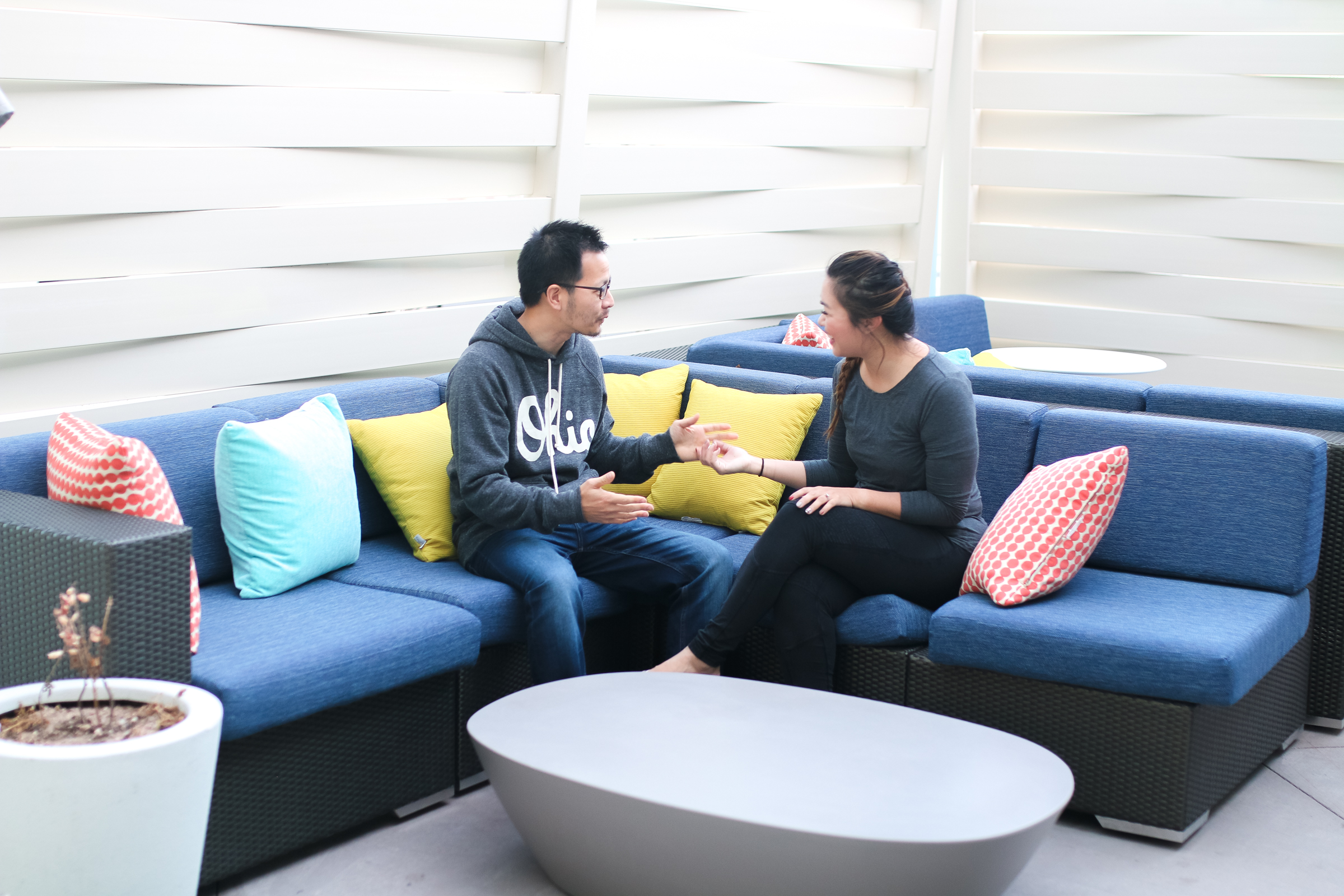 Whether you are on a family getaway, a couples trip, or a business trip, Tru by Hilton is really a great all around hotel that fits all those needs. As we were hanging out in the lobby, I even heard other guests give rave reviews and tell the front desk staff that they would be searching for other "Trus" when they travel – and I have to agree!