This post is sponsored by Stitch Fix, but all opinions expressed are 100% my own!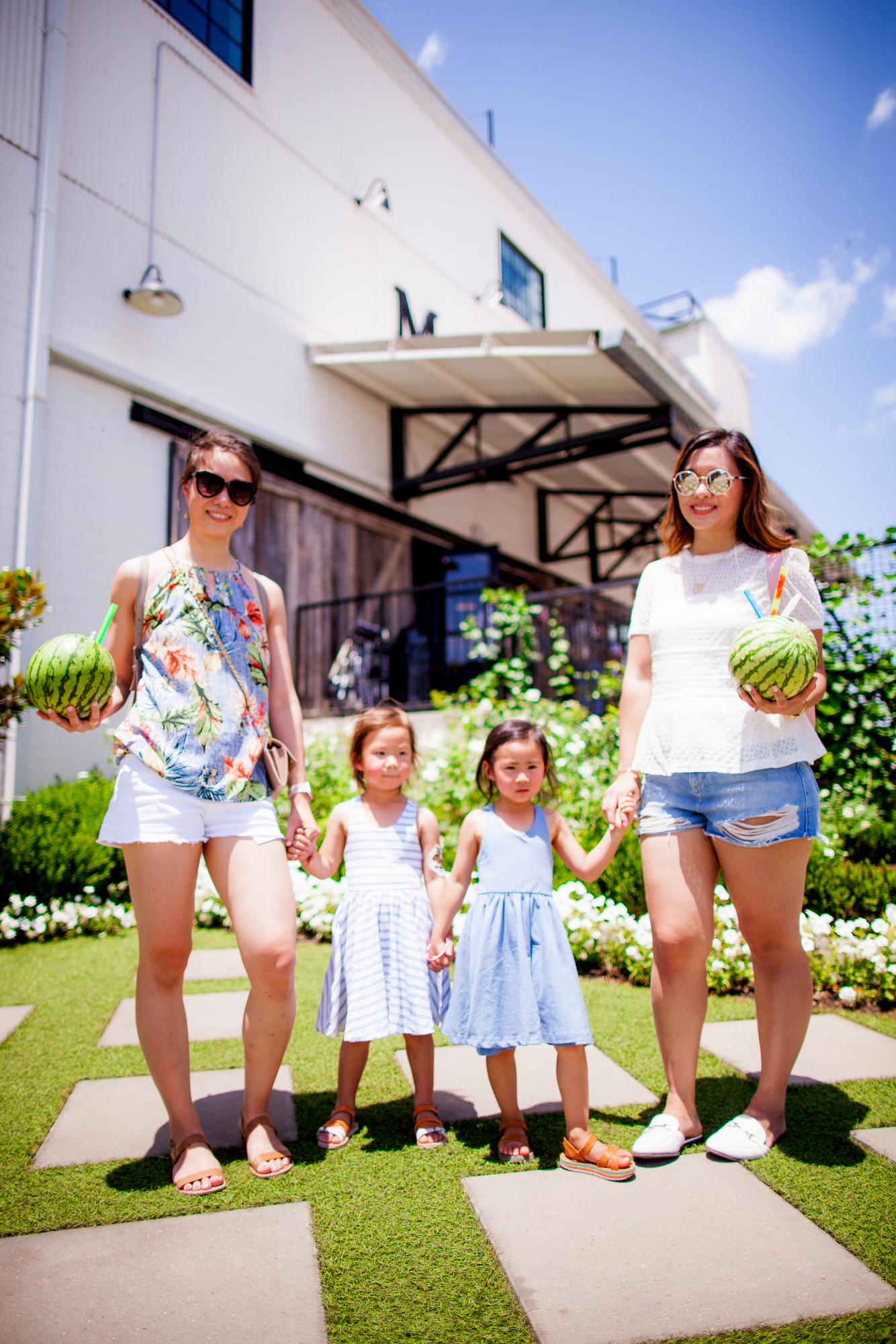 If you follow along with my Instagram stories / Instagram, you know that last weekend, I took a little Mommy and me trip to Dallas, TX! Vivian (my 3 year old daughter) and I met up with one of my long time friends and her 3 year old daughter and had a fun little adventure. I also got to meet my long time blogging bestie Kileen of Cute and Little, and the 3 of us moms and our 3 year old daughters got to hang out! The weather was SUPER hot, like 90-100 degrees with humidity the whole time we were there. And one of the best parts of the trip was that packing was made easy thanks for Stitch Fix. I filed out a Style Profile, gave them details on my sizing, where I was going, and things I like to wear and 10 items showed up on my doorstep a few days later! I ended up keeping 6 of the pieces and they were the basis for what I wore for the trip! I kept many of the tops they sent, some cute shorts and I actually already owned one of the sandals they sent too!!! Normal fixes are 5 items only, and it's only $20 to have a Fix curated by a personal Stylist, and whatever you keep that credit is applied towards the clothes! But make sure to read to the bottom to see why I got a 10 item fix and how you can too!!
On the first day, we visited an area in Dallas called Highland Park, that had a lot of upscale shopping centers and some cute tiles for backdrops! Because it was so hot and humid there, I paired this Stitch Fix off the shoulder top with some shorts and some casual sandals!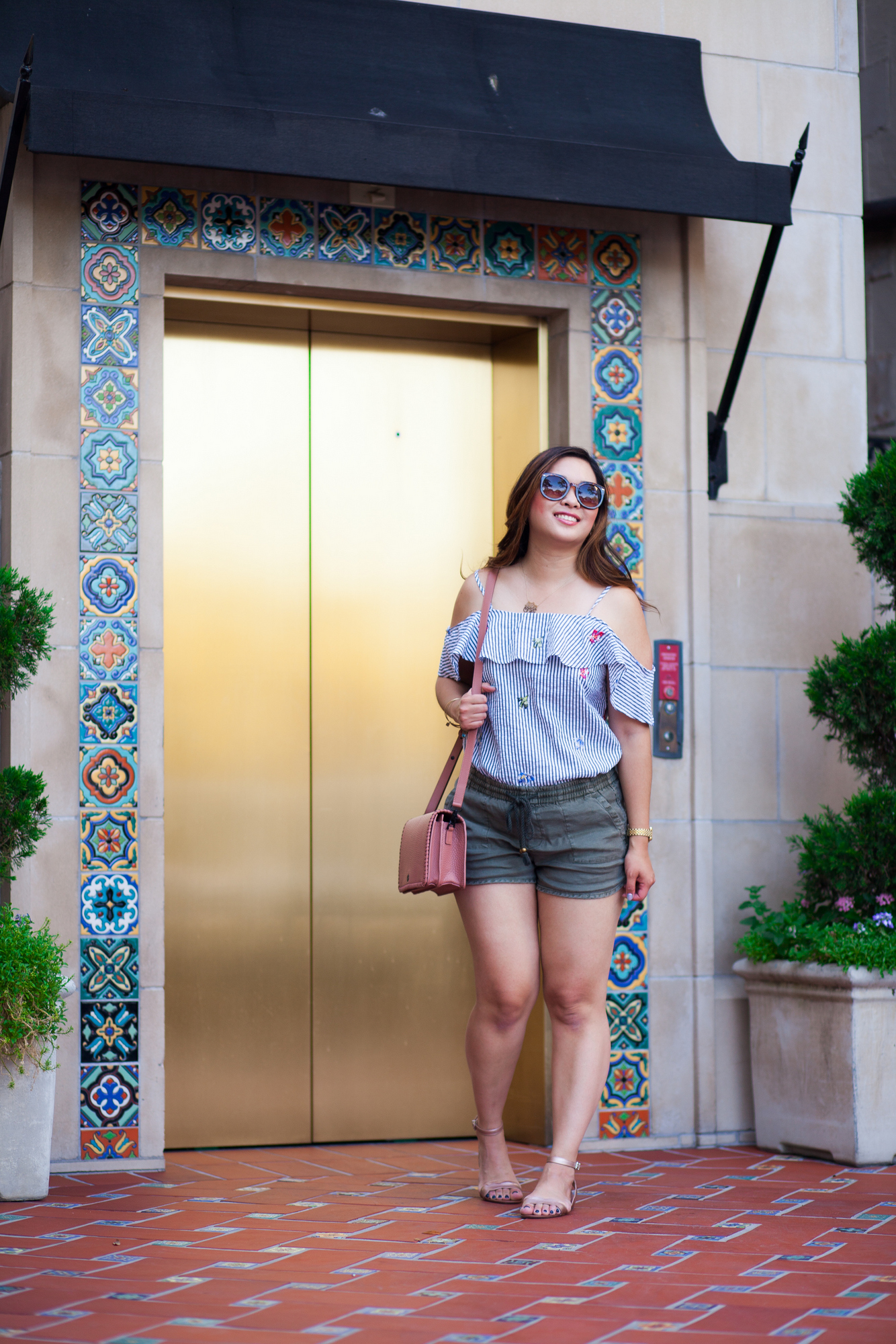 Collective Concepts – Eayers Embroidered Cold Shoulder Top – Blue M $58.00 – LOVE LOVE the cold shoulder detail, stripes and colors on this top! It's just a pretty top for Summer!
Level 99 – Laird Linen Short – Olive M $64.00 – I love the casualness to these shorts, the fact that they are loose, and I love the olive green color!
Sole Society – Odette Flat – 7.5 – This sandals are have the cutest little scallop detail and rose gold matches SO much!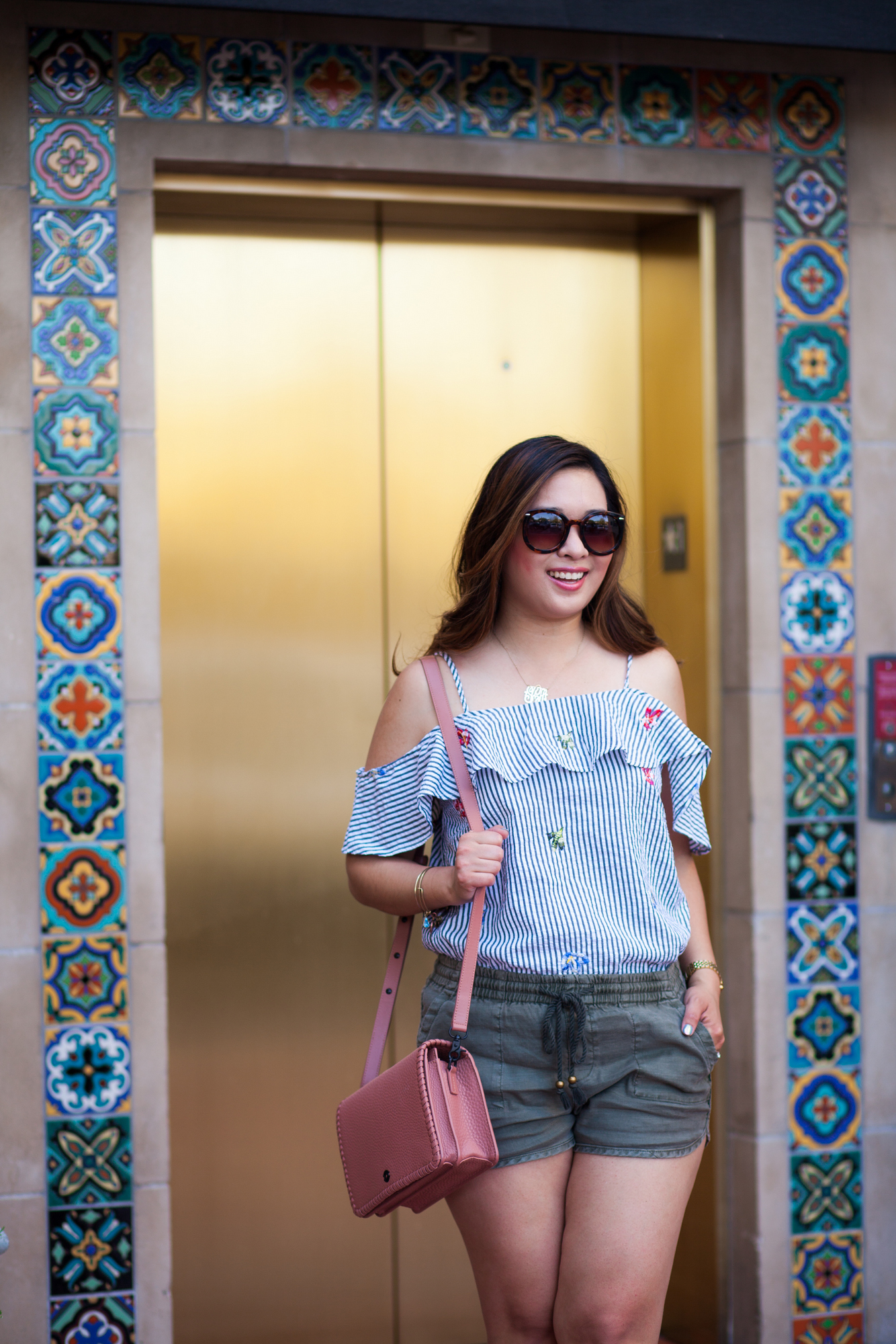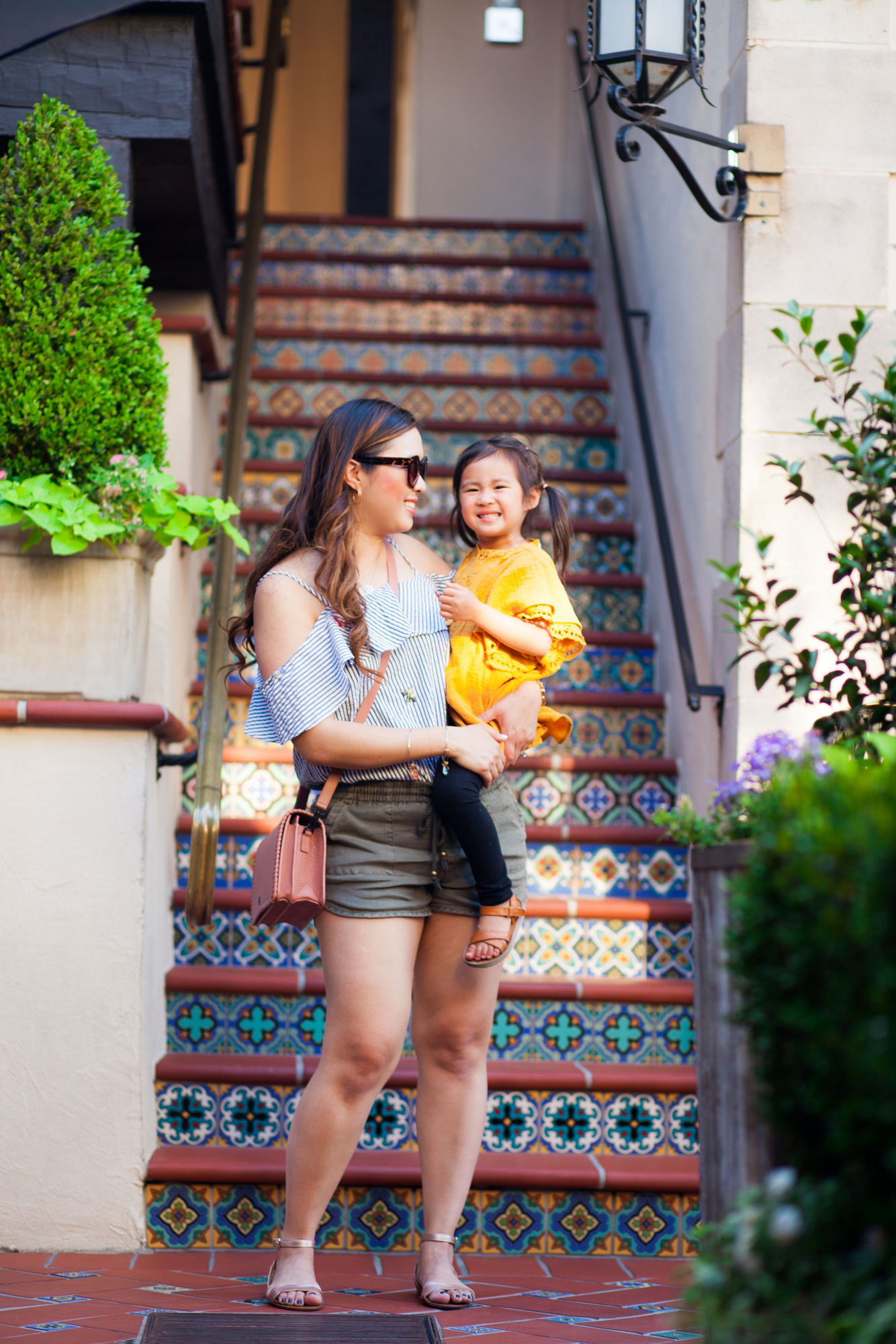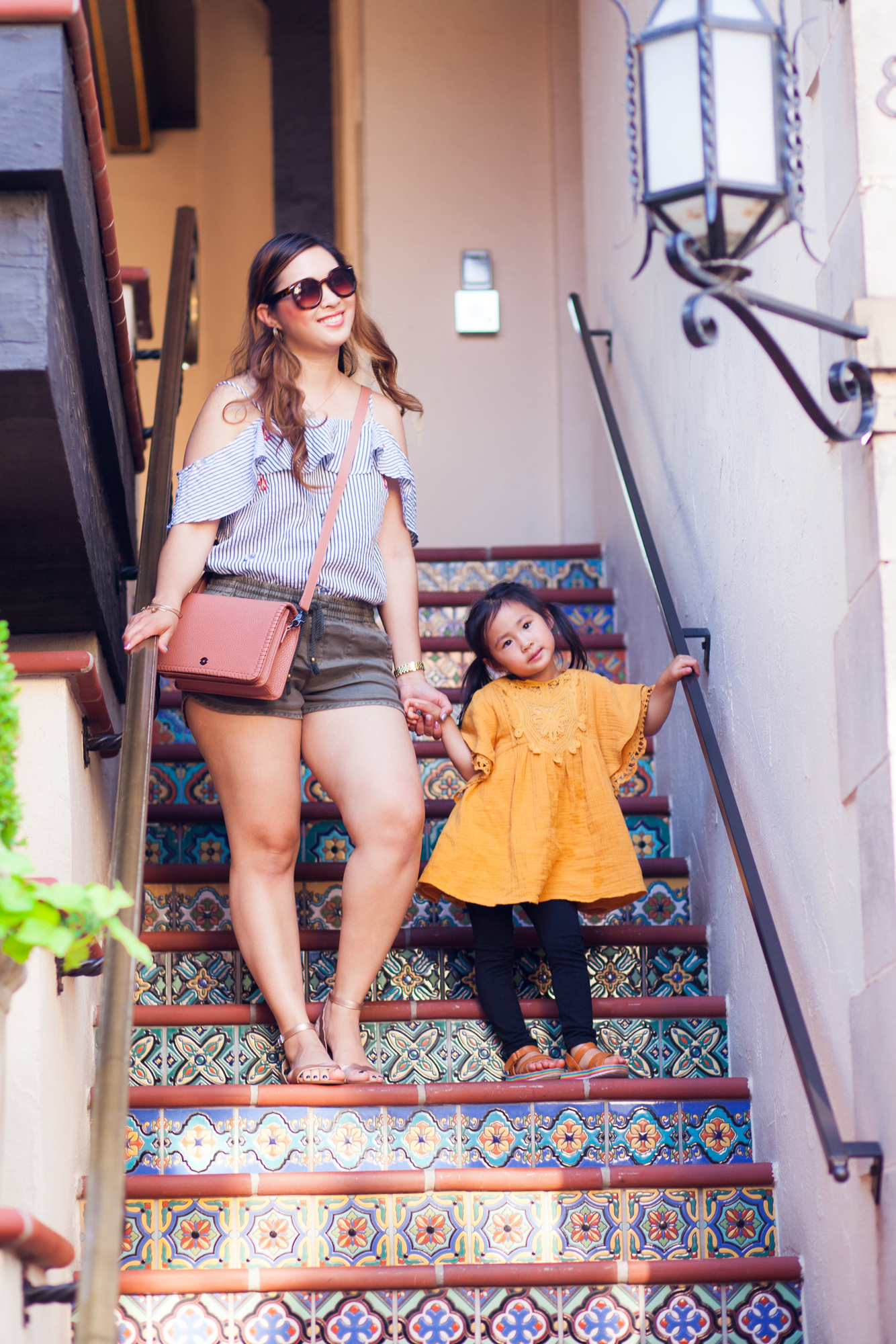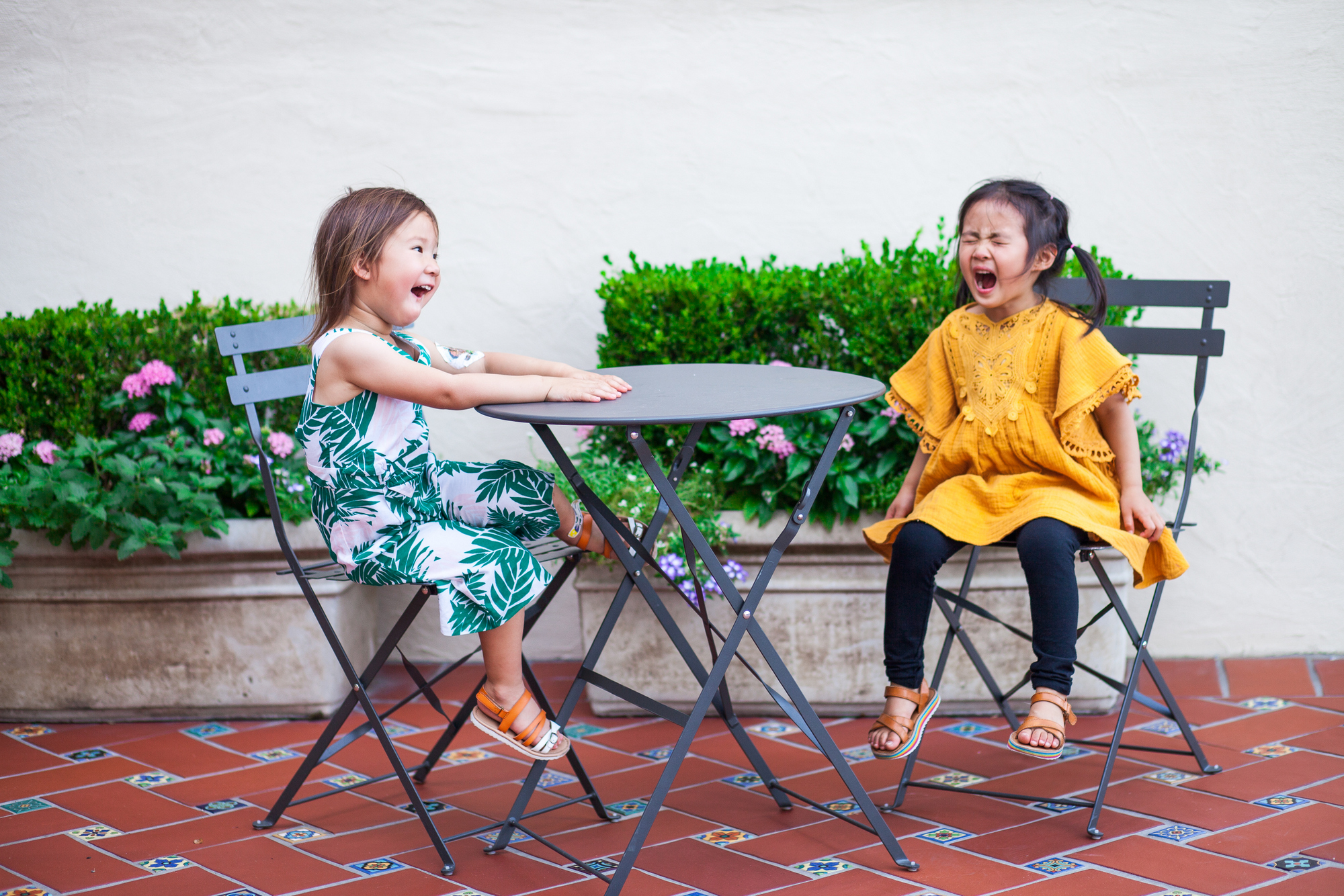 On the first night, we got a babysitter for the girls in the hotel, and the moms went out to dinner and a Target run! This olive green satin dress was perfect because it's flowy and gorgeous!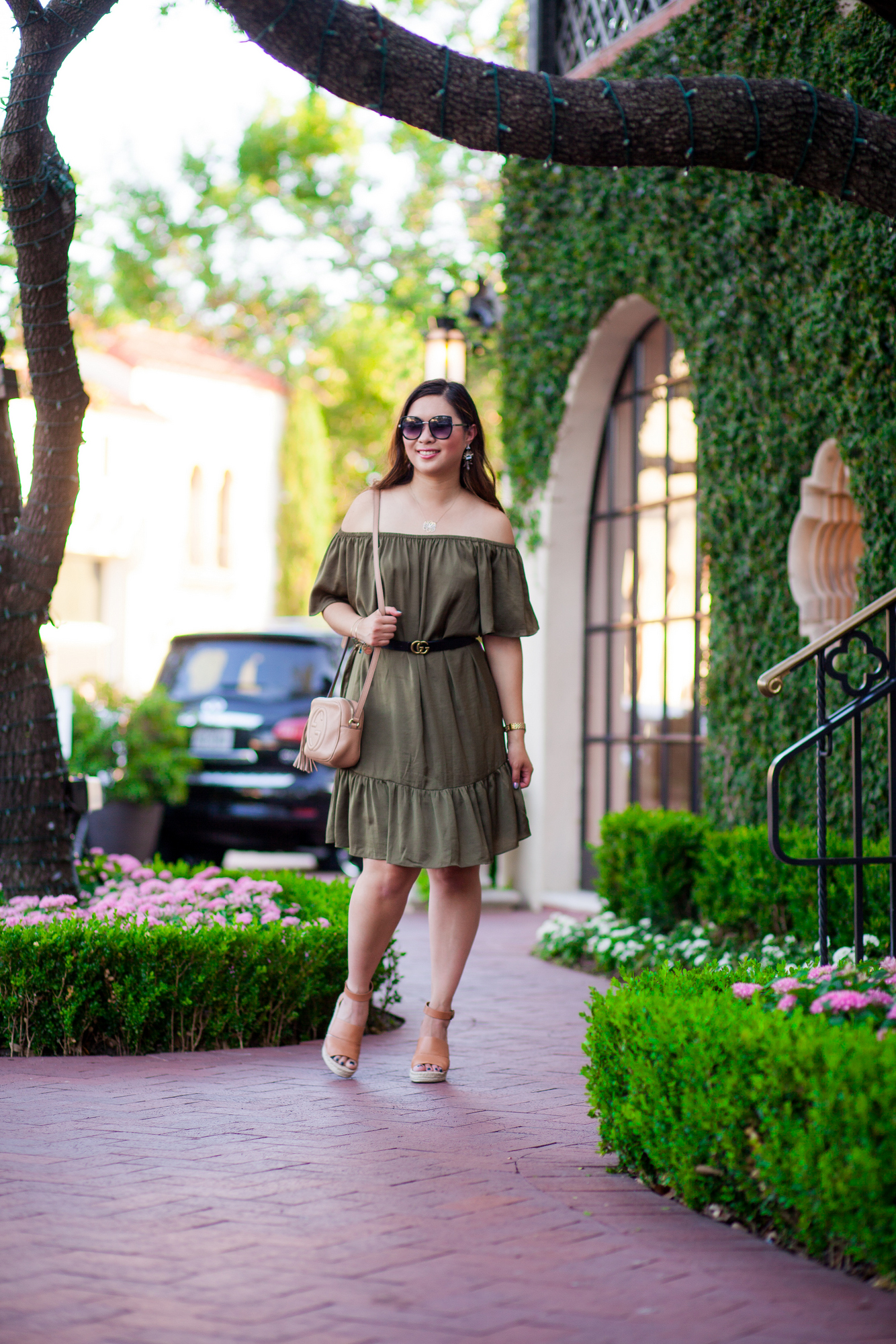 Goldray – Arabella Off the Shoulder Satin Dress – Olive M $74.00 – This dress was absolutely perfect for going out! It had a green tie but I swapped it with a black belt!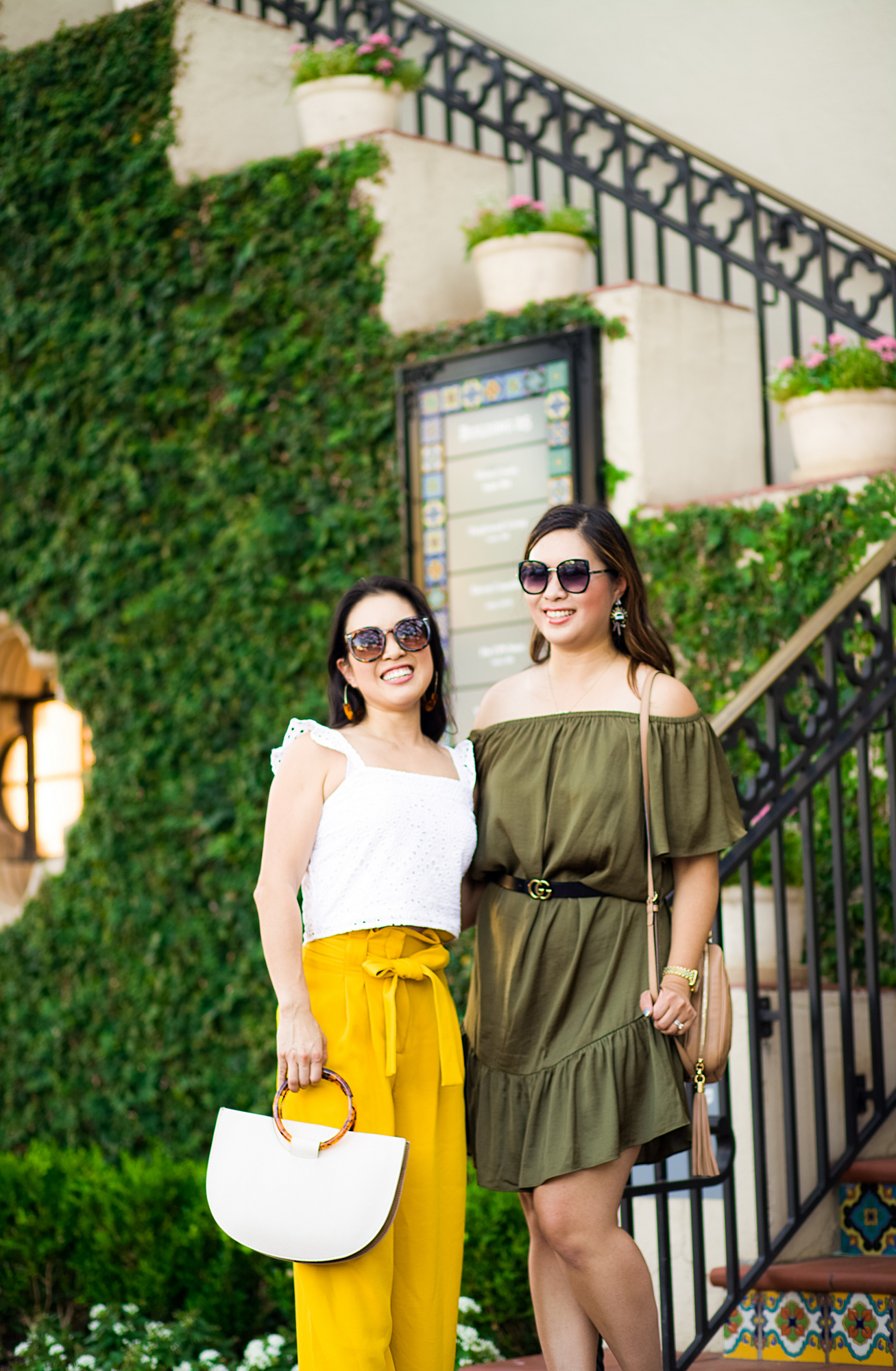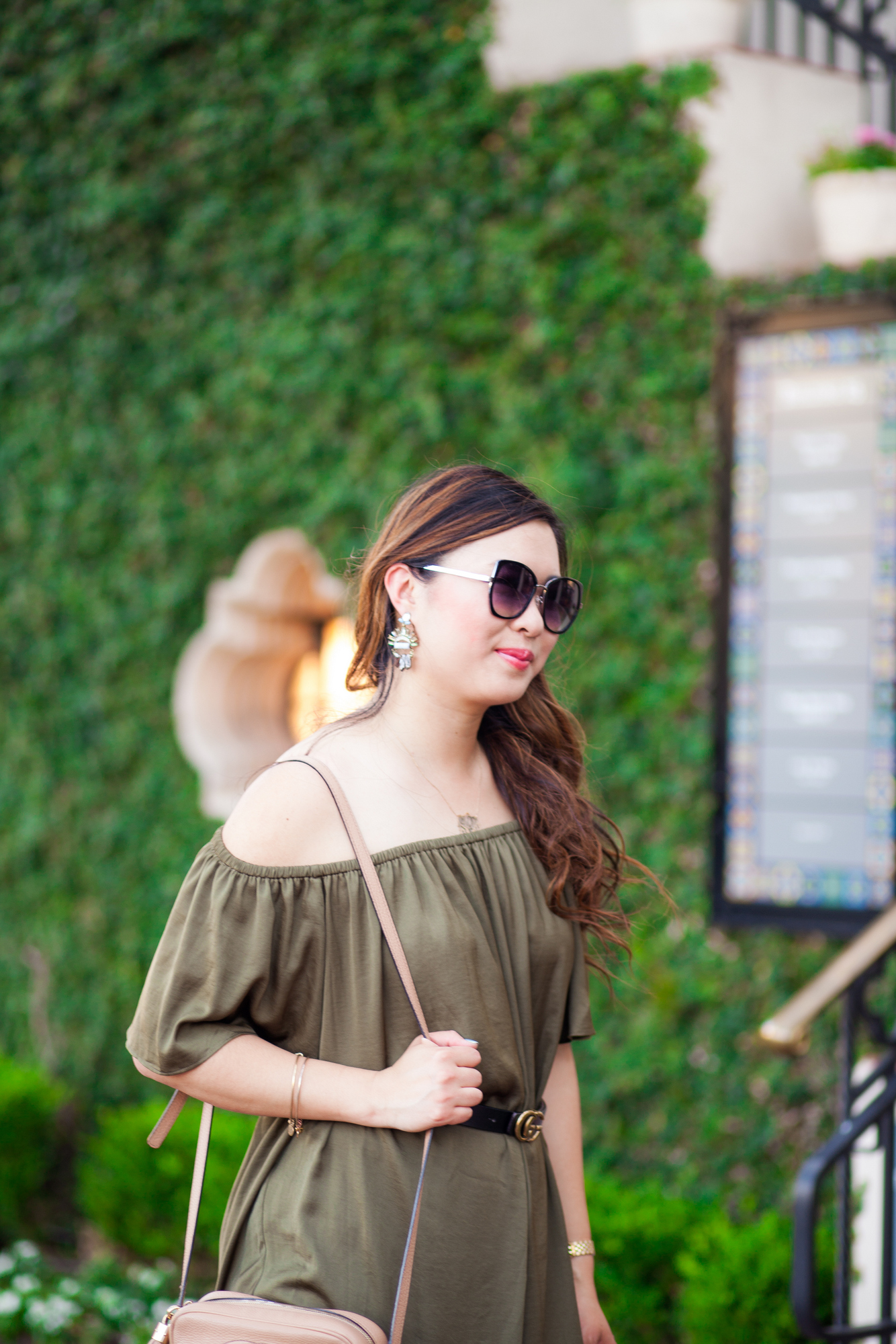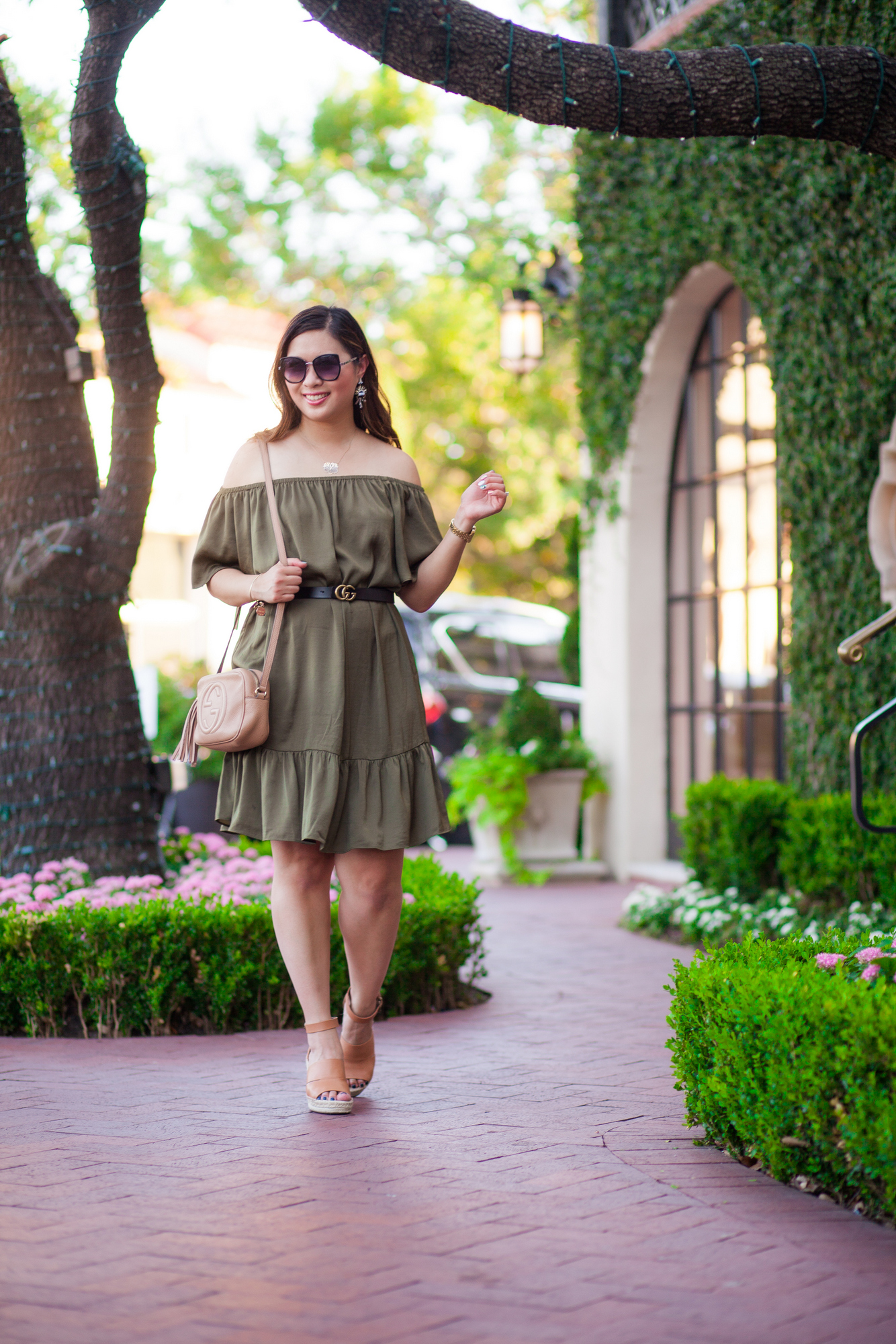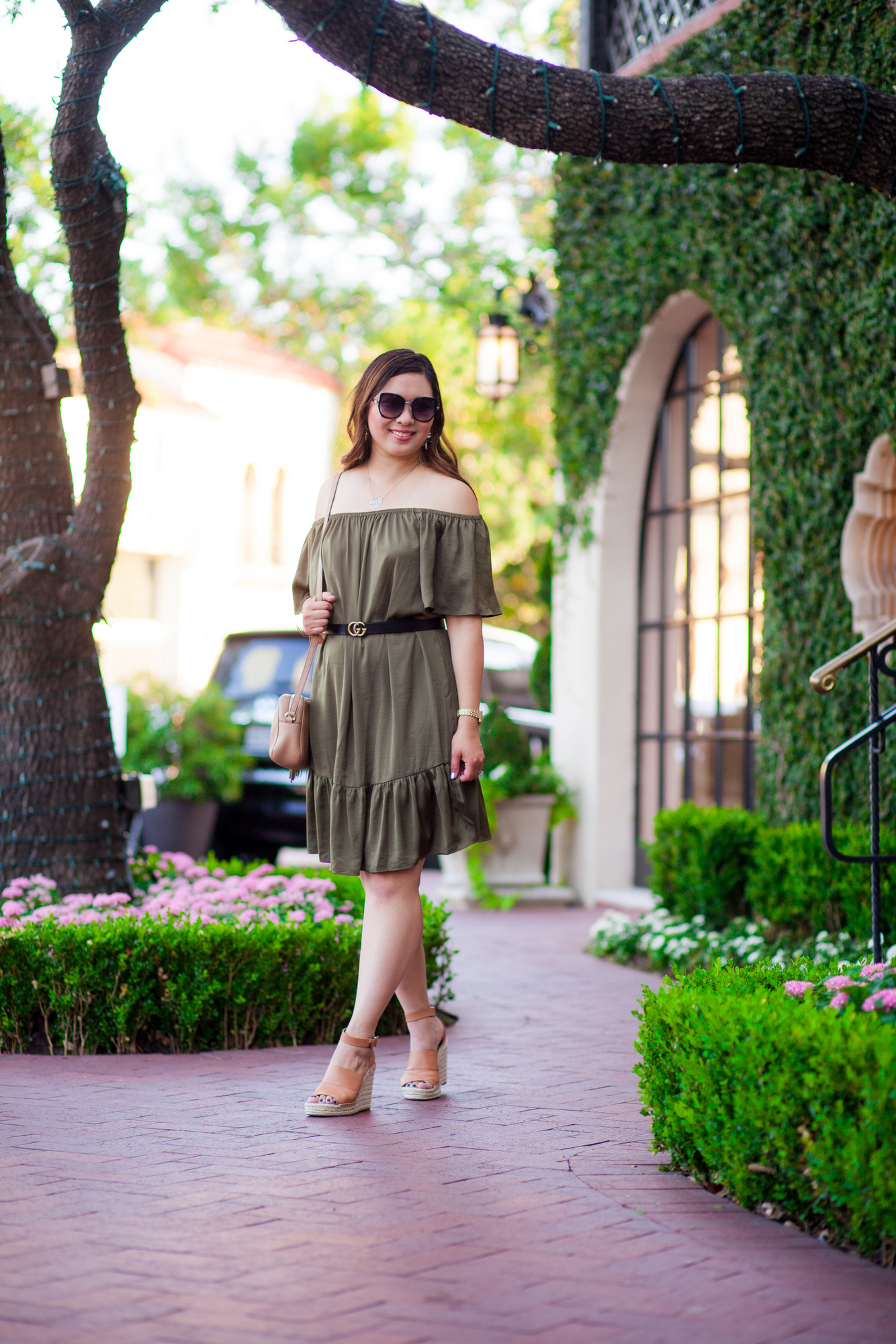 On Saturday, we decided to drive the 1.5 hours from Dallas, TX to Waco, TX to check out Chip and Joanna Gaines' Magnolia Market! The place was filled with the best food trucks (watermelon and sweet tea were my faves), a bakery, silos, a big field for playing, and LOTS of shopping!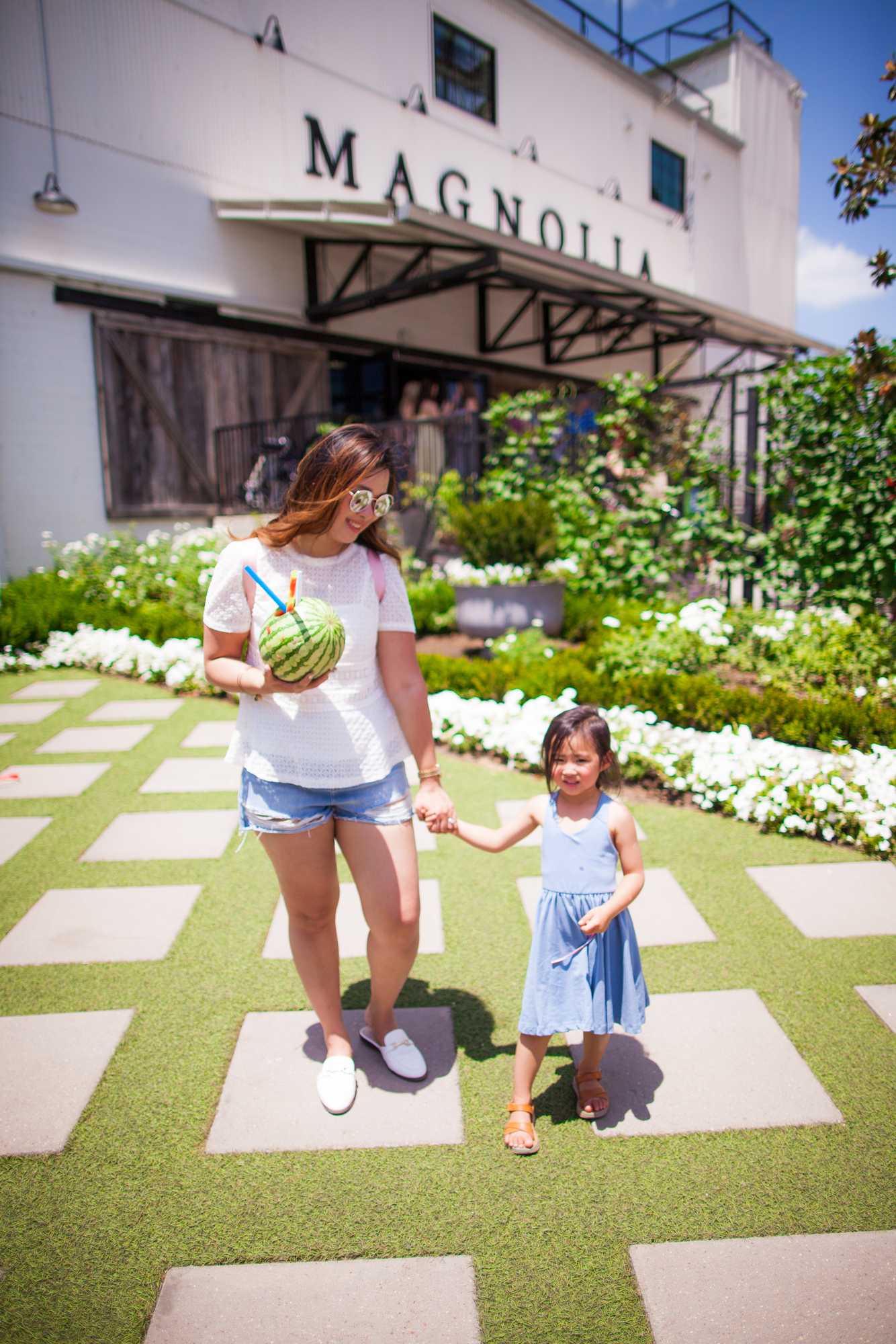 Hazel – Lessie Crochet Detail Blouse – White M $74.00 – This blouse can be dressed up or dressed down, that's the beauty of it! You all know I love white lace anything so this totally spoke to me!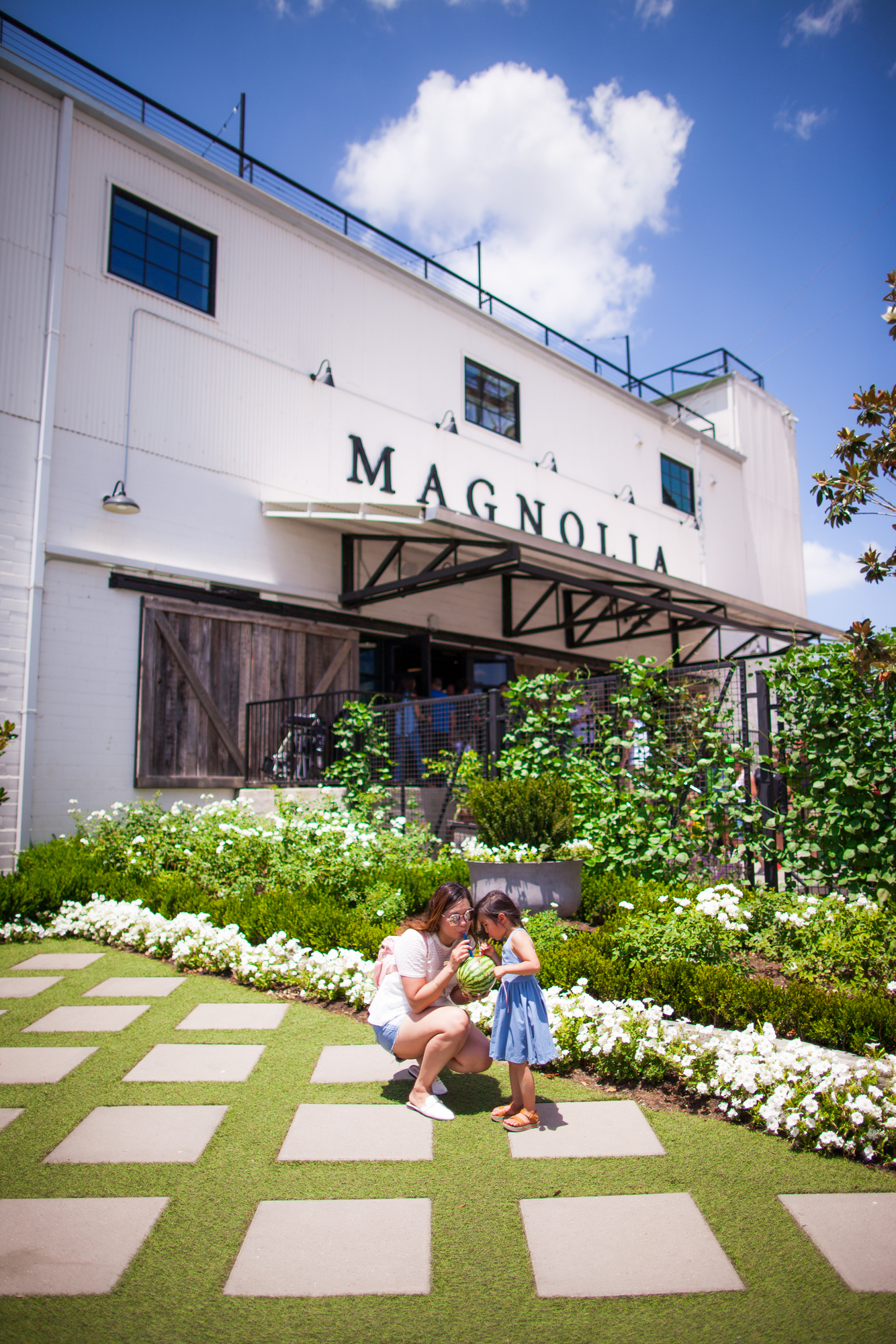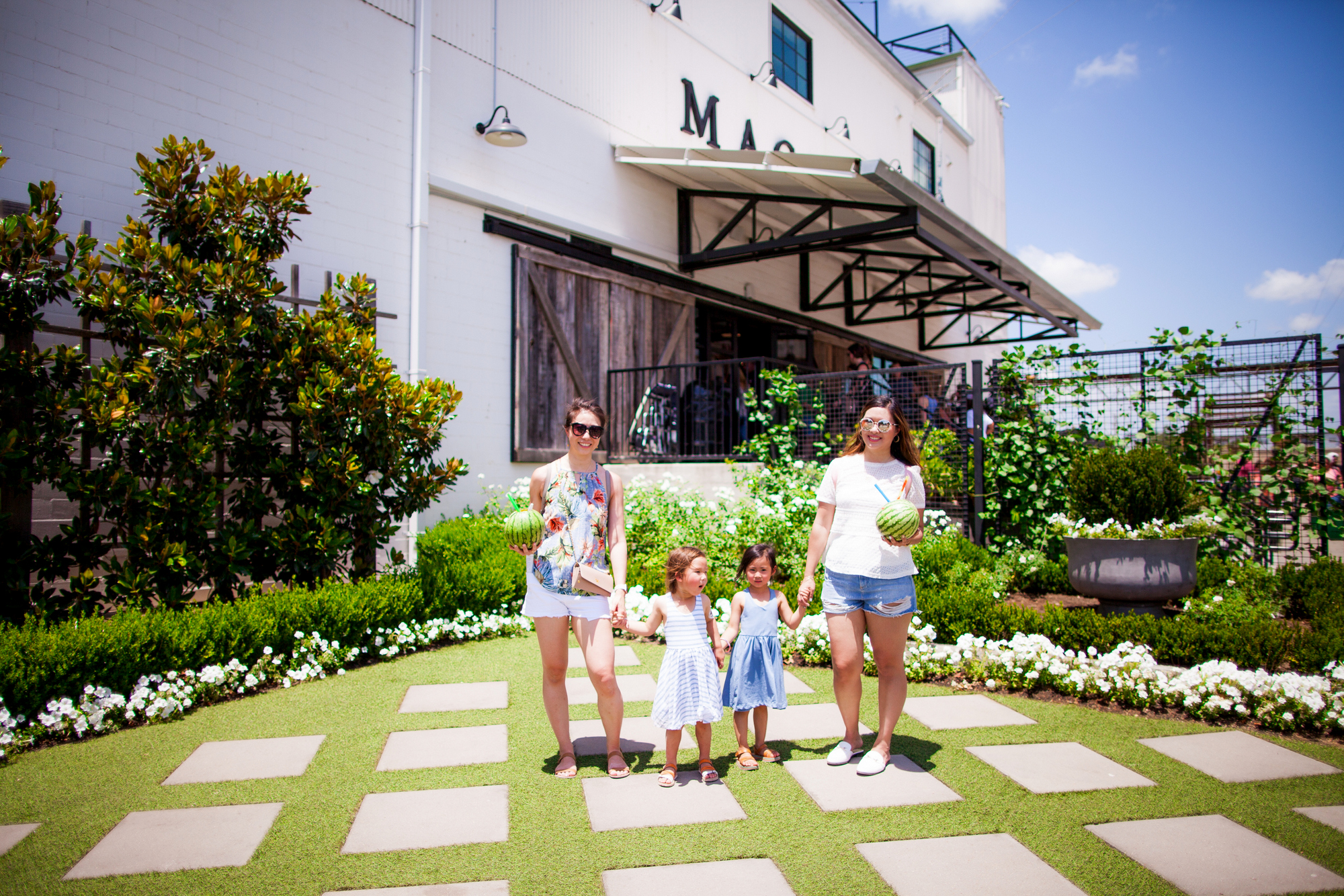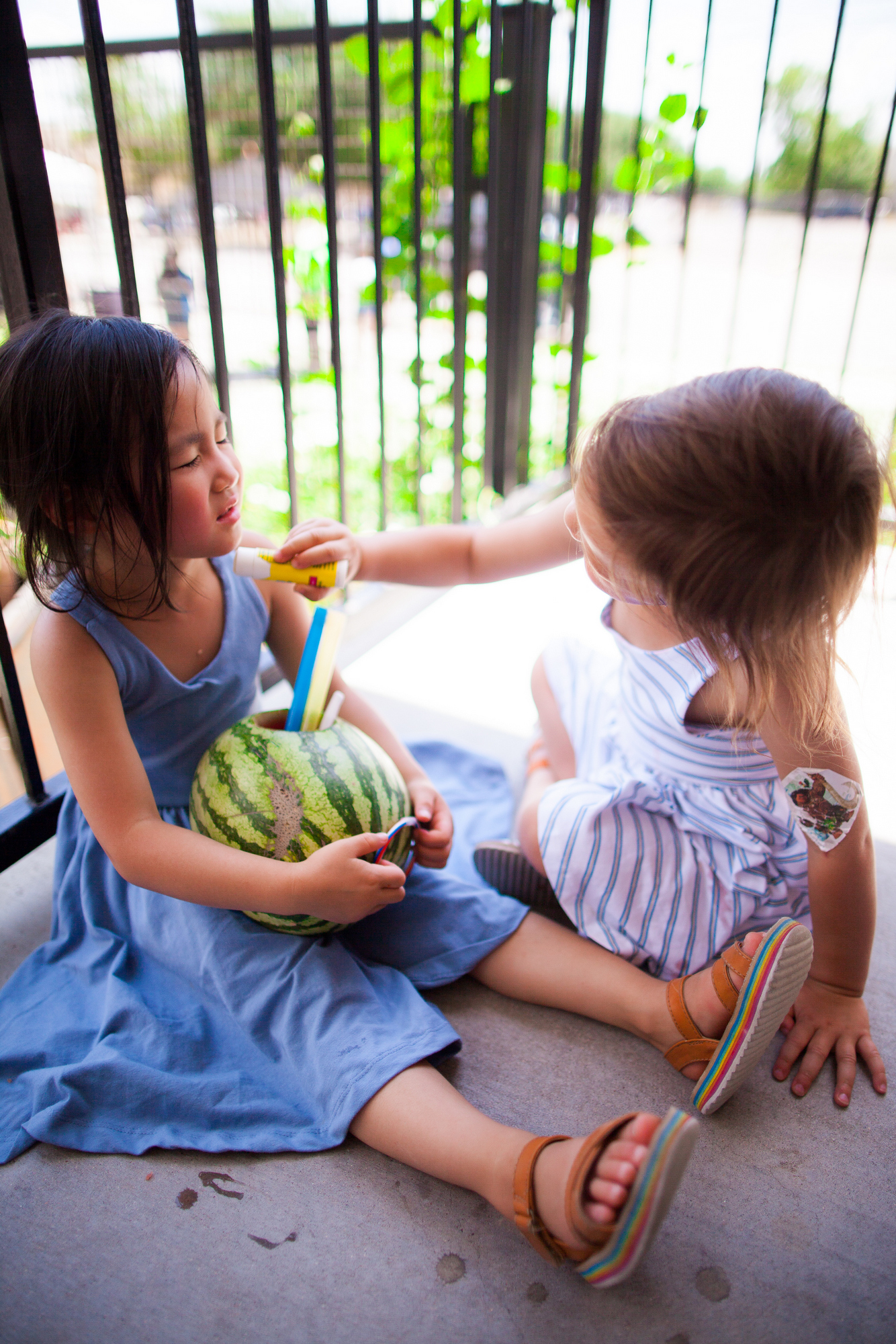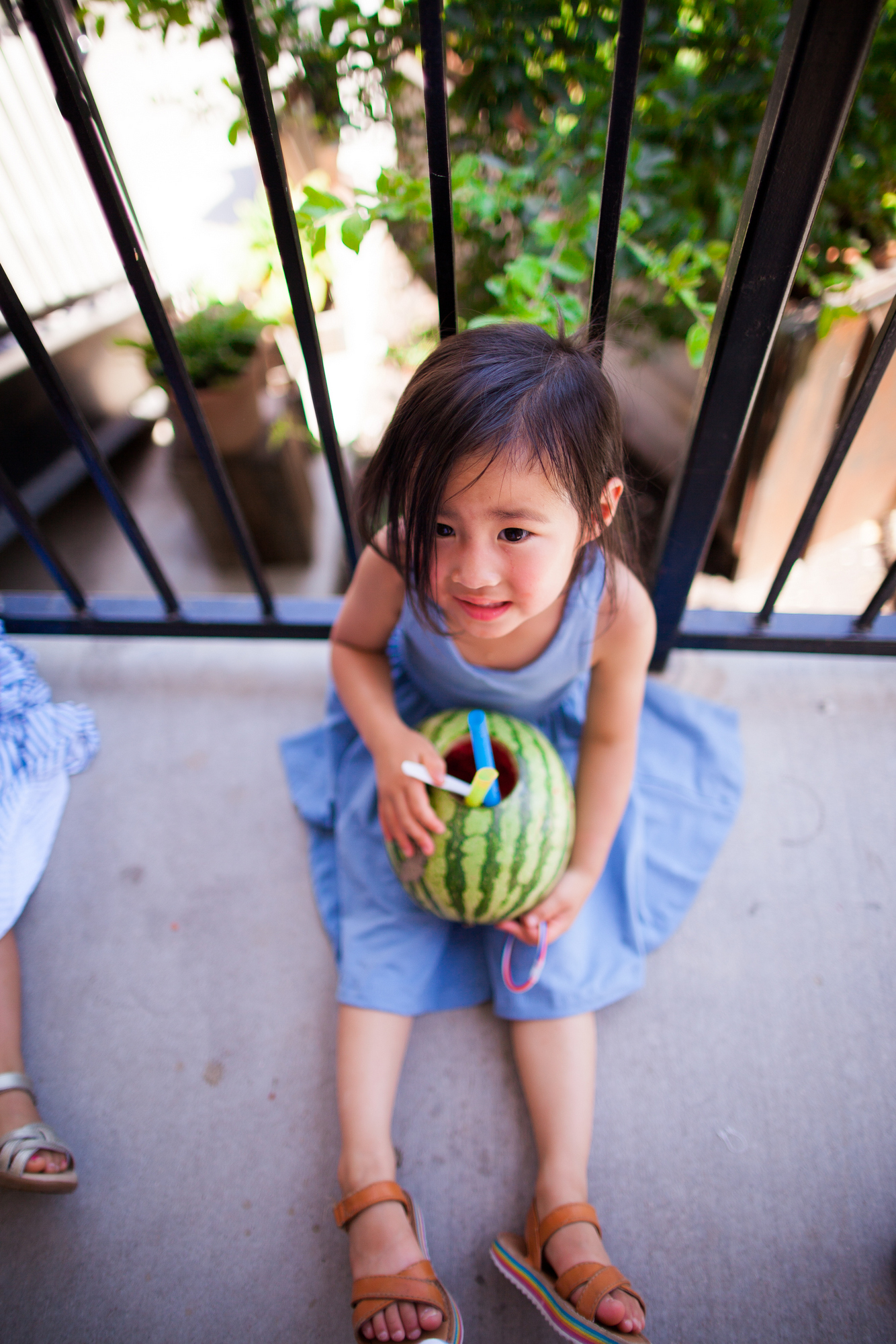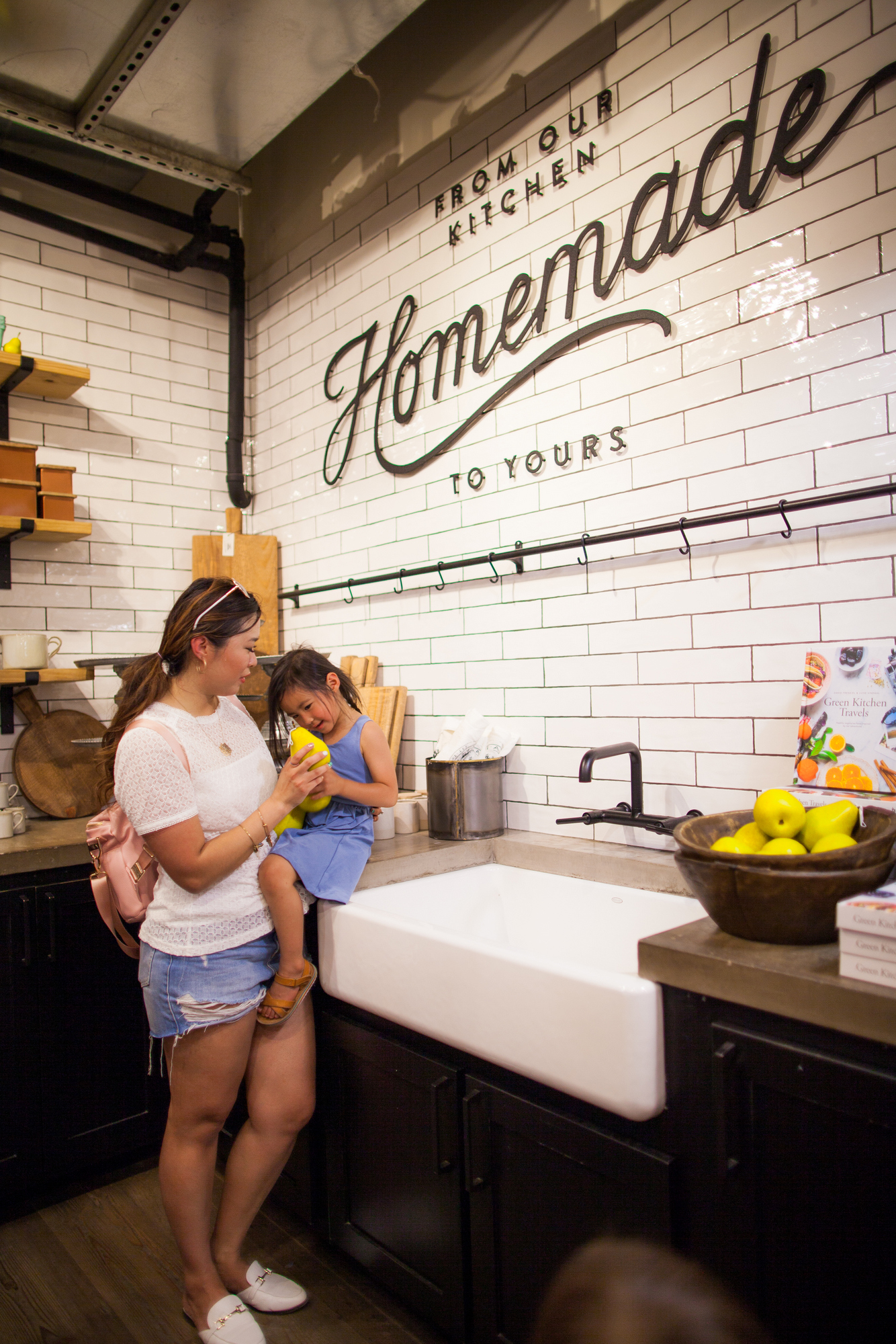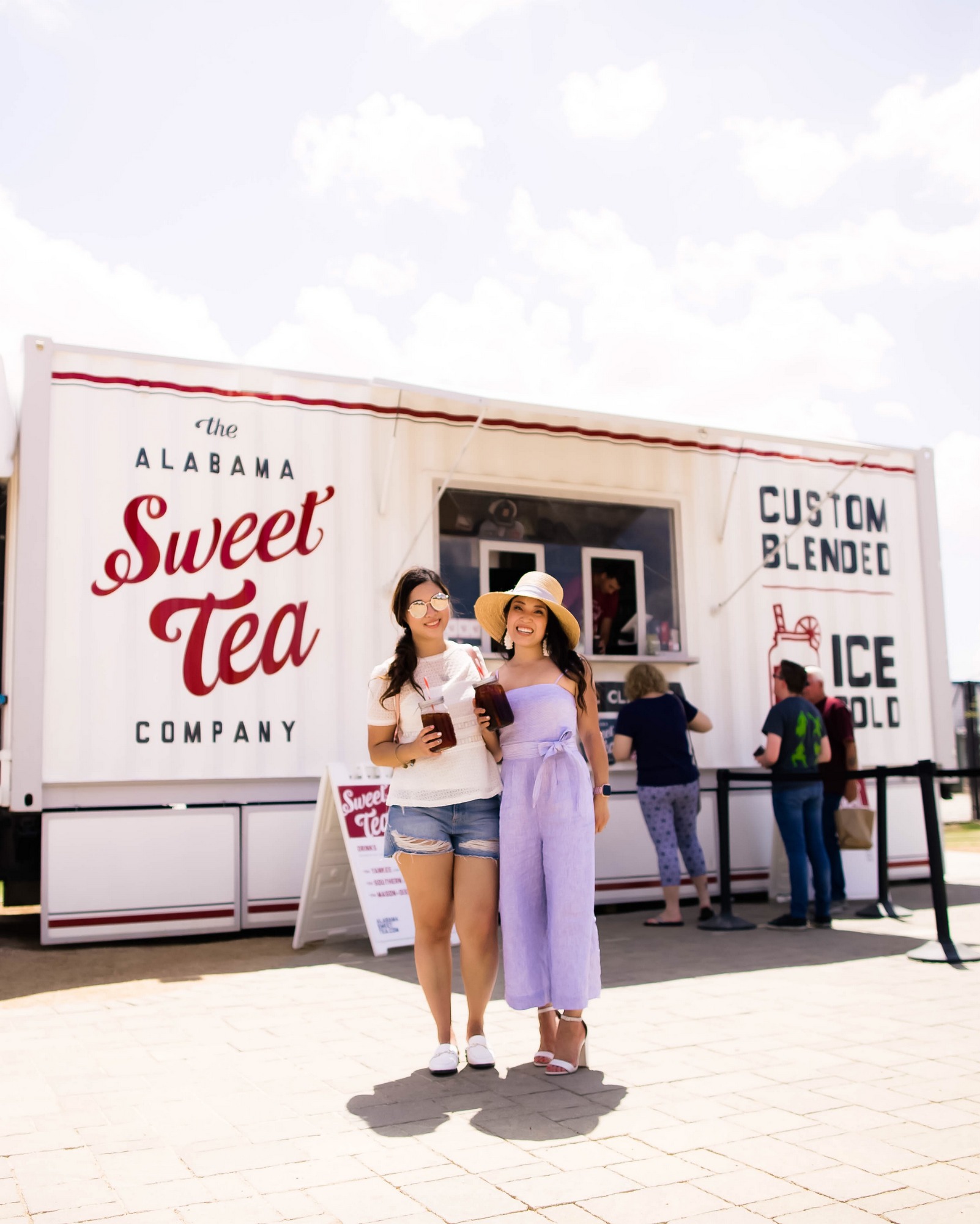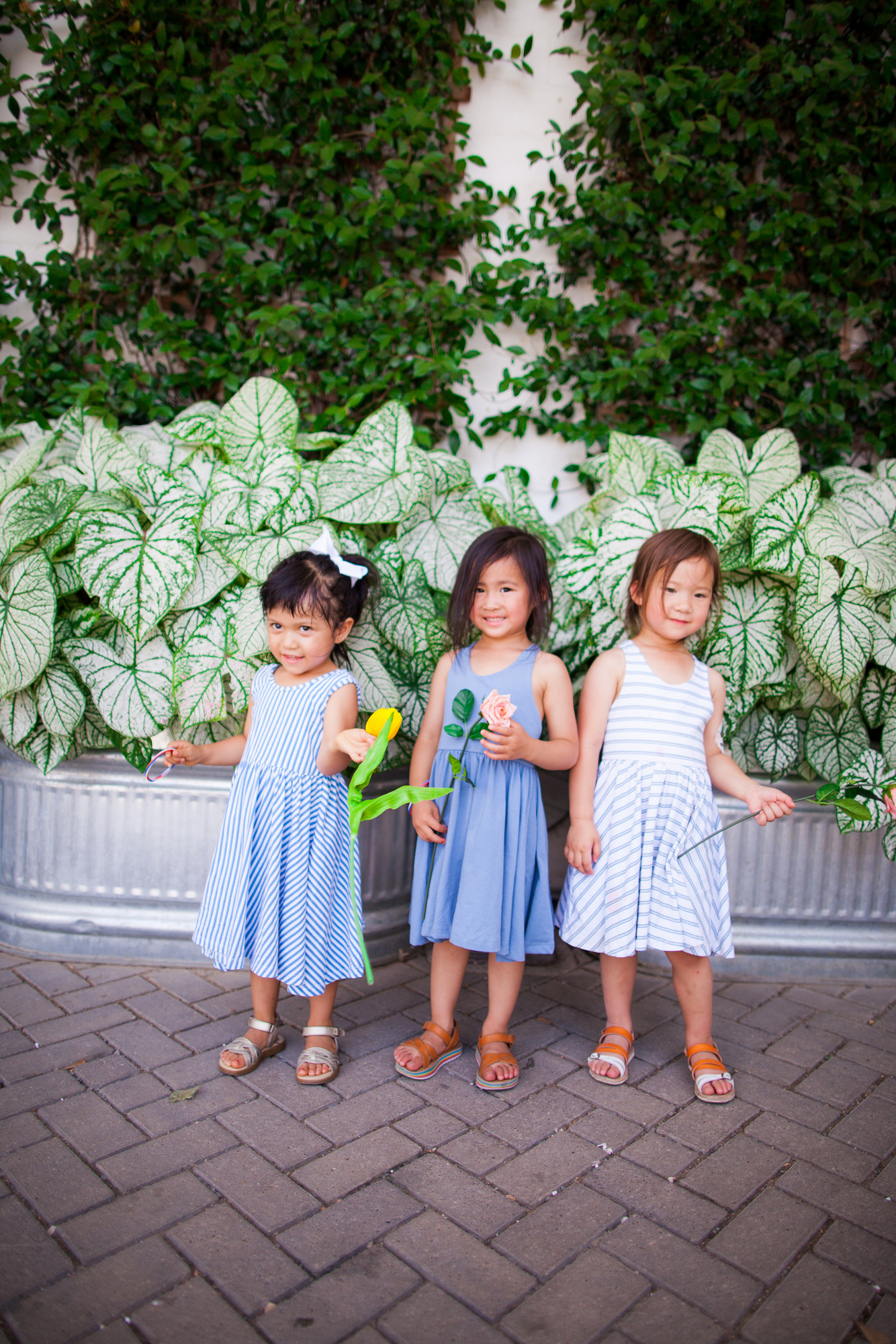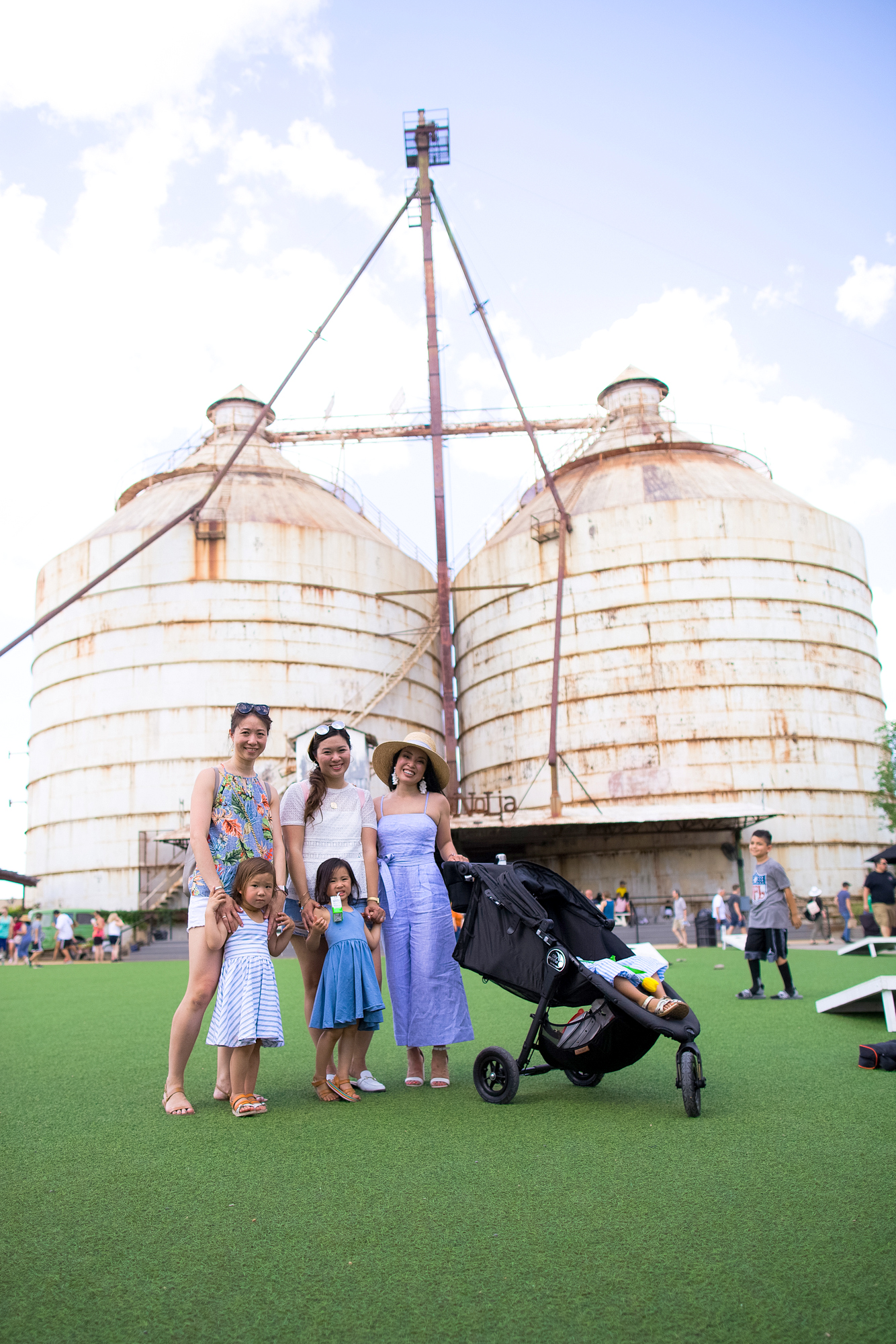 The trip was all too quick and on the last day we took it easy in the morning before heading to the airport!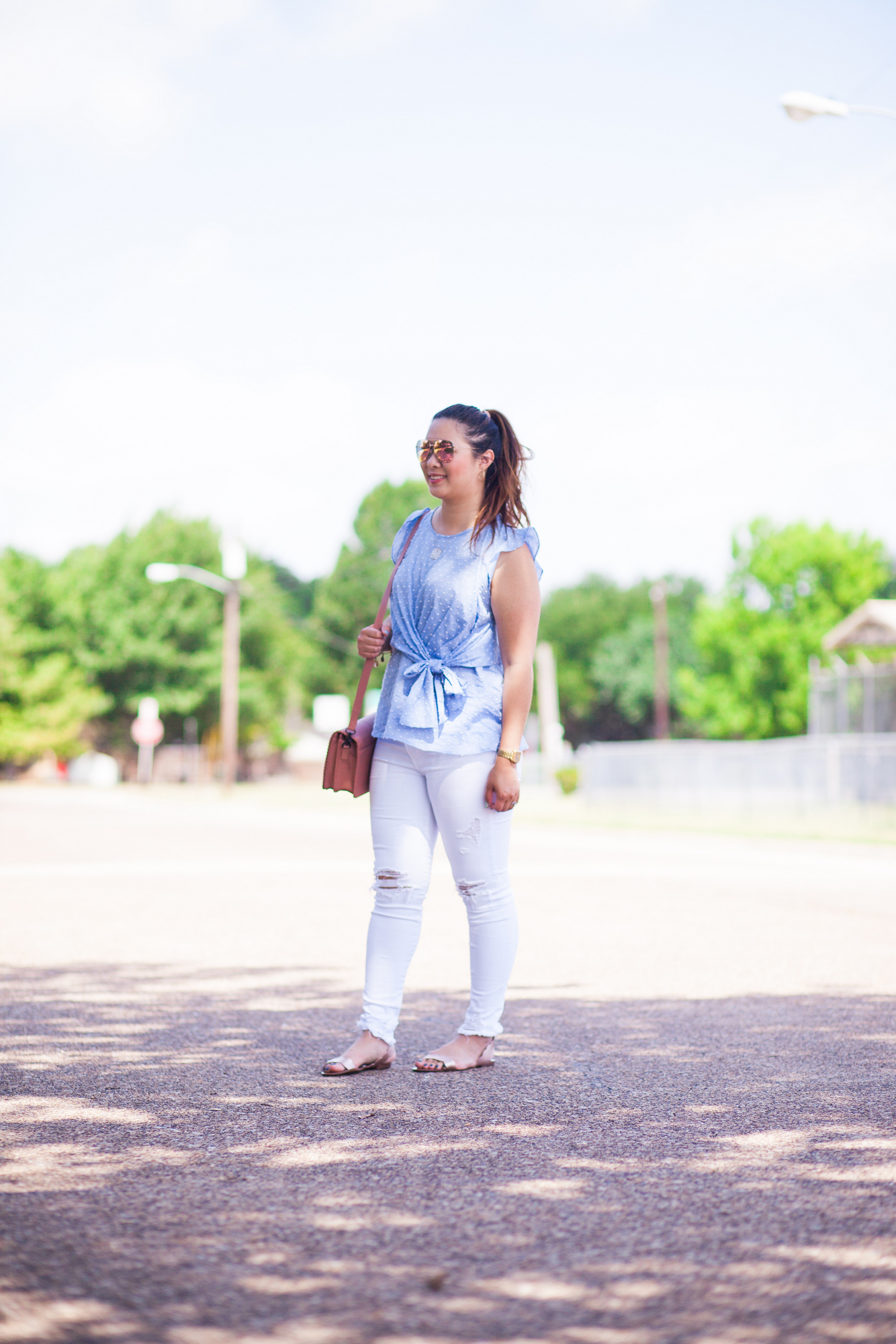 Collective Concepts – Etheridge Tie Detail Cotton Top – Light Blue M $54.00 – This was one of your favorites on Instagram stories! It's a loose top that is breathable and great for hot weather!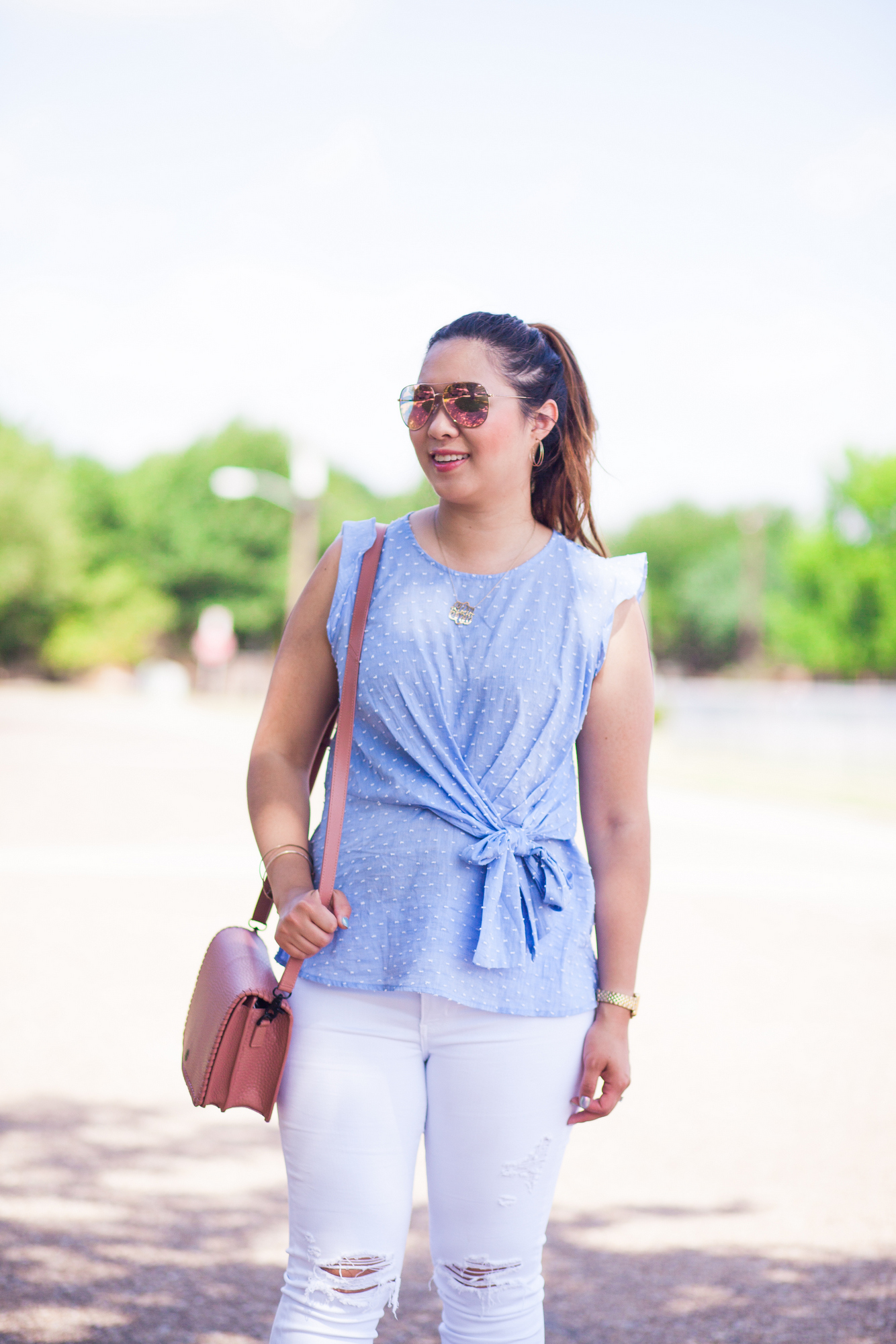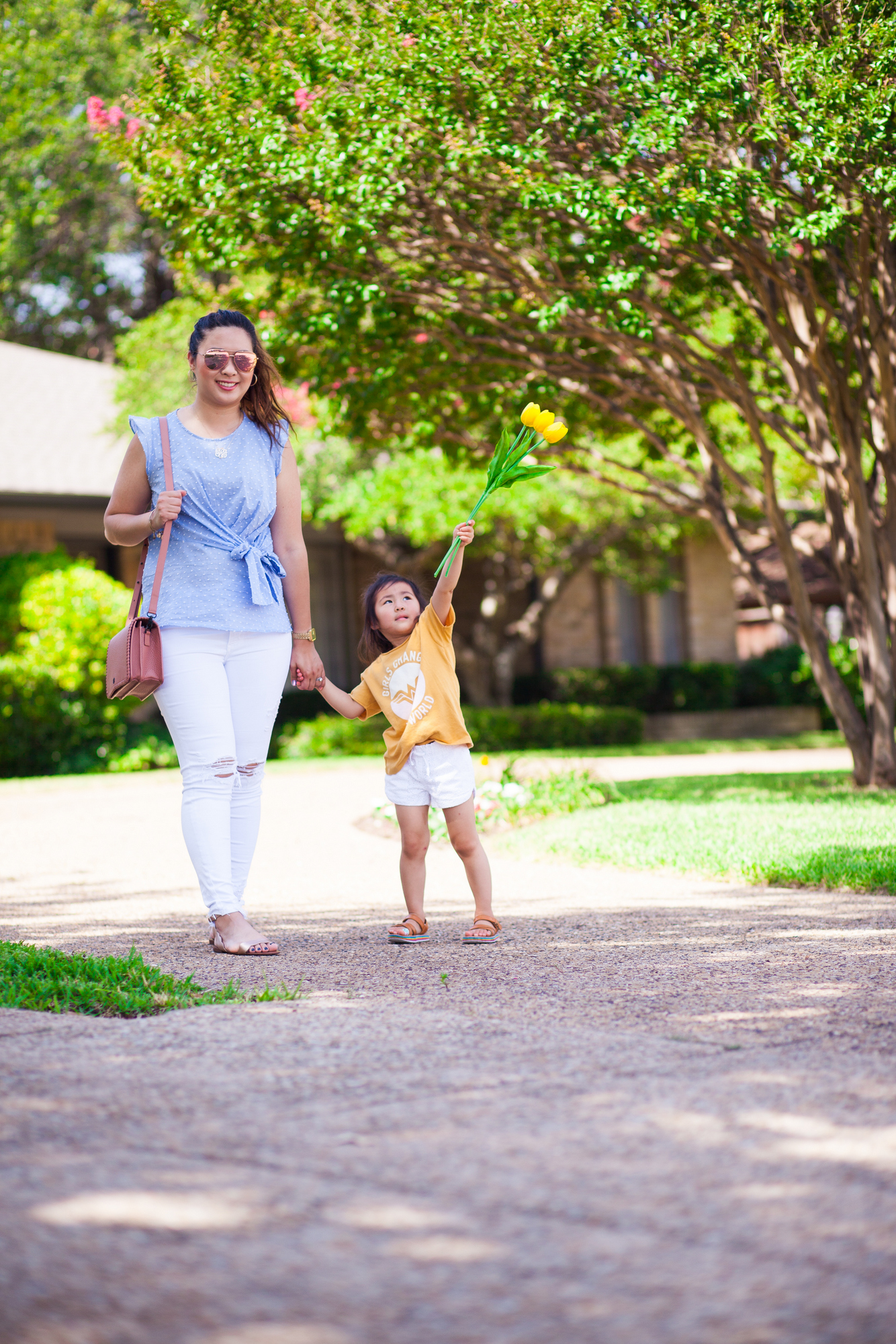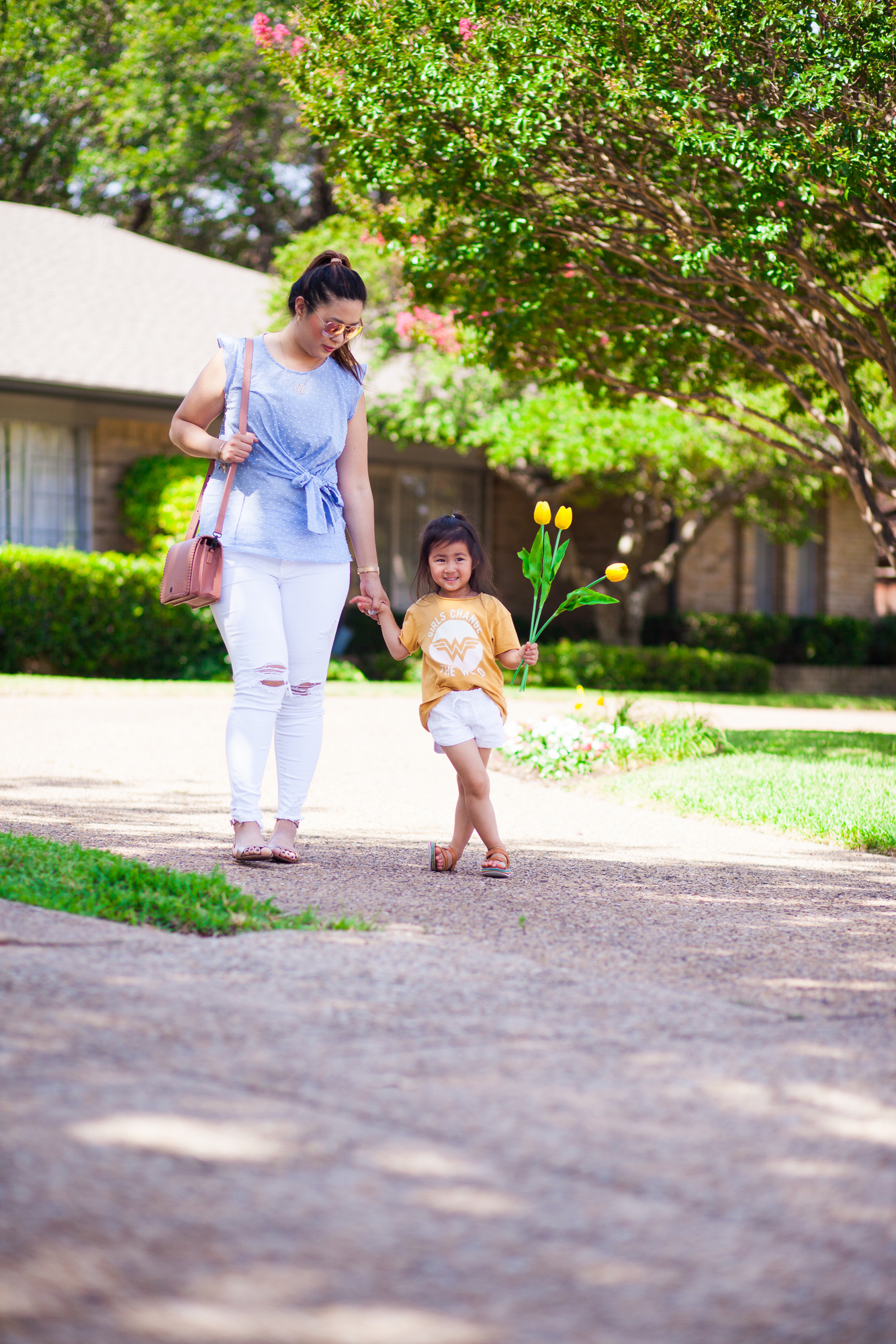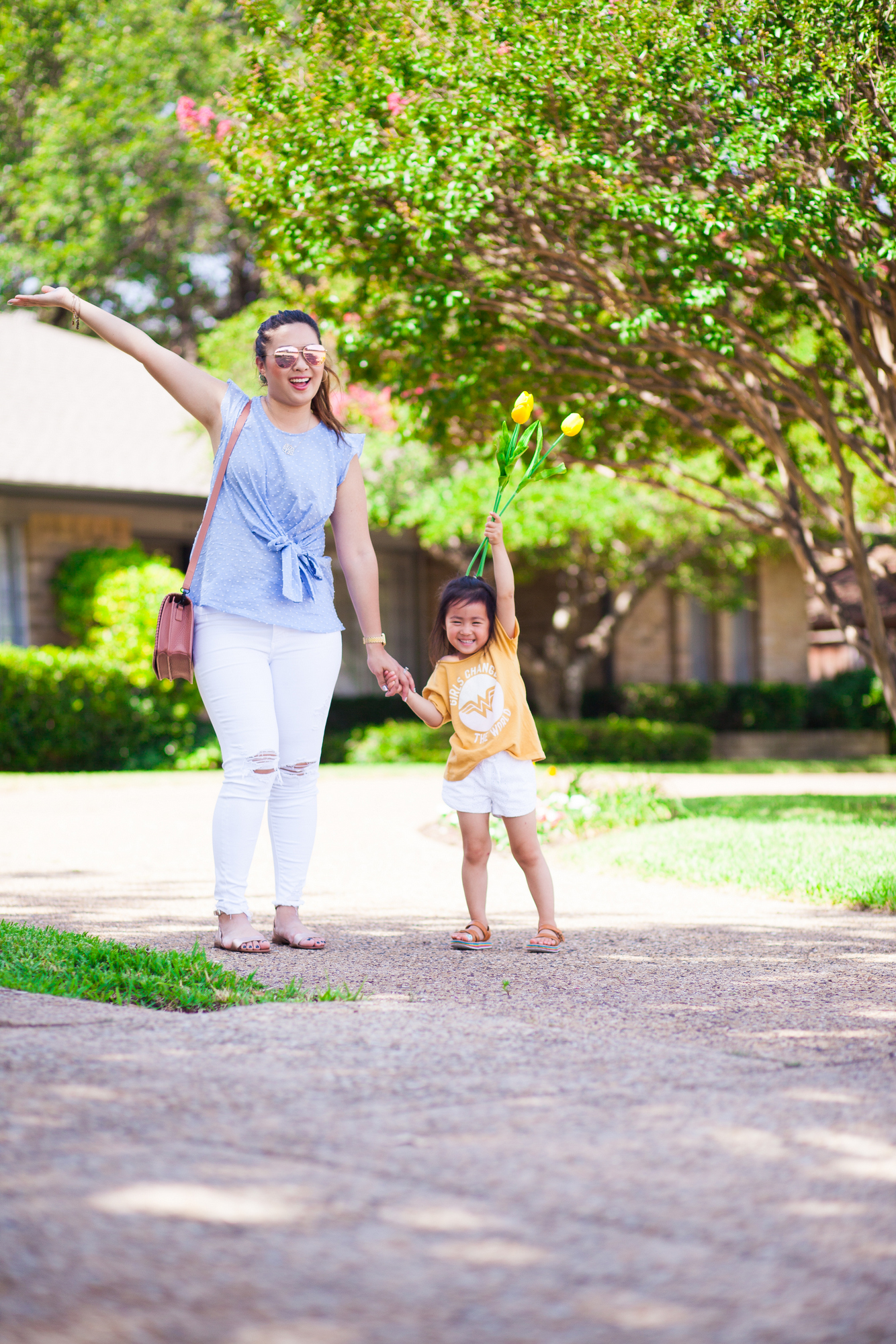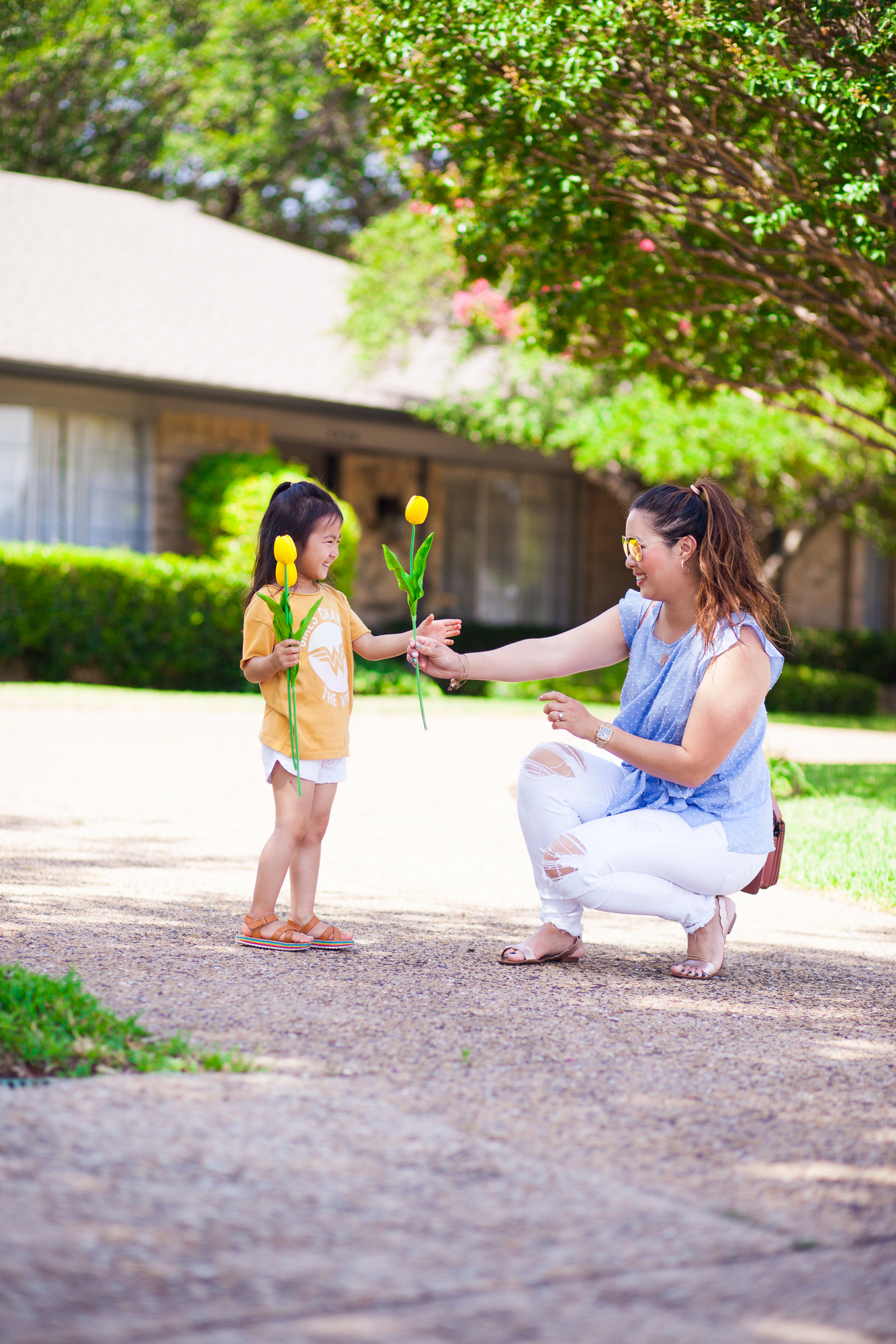 I must say, the trip was a whirlwind and traveling with littles is not easy, but watching them experience the world and being able to catch up with other mom friends was the best part! Also, being able to have stylish clothes sent to me from Stitch Fix that were perfect for a weekend in Dallas, TX was a real bonus! Using Stitch Fix to help you pack for an upcoming trip is a such a great idea! I love that with Stitch Fix you can create a Pinterest board as inspiration, tell your Stylist the exact vacation you are going on, or what activities you are doing on your trip, how much you want to pack, etc. and your Stylist will help you find a versatile wardrobe to pack for your a trip! Whether you are going to the beach, a barbeque, the city or the mountains, they have got you covered!
For the month of June, if you have a Stitch Fix delivered to your door step (if you have already scheduled a fix to arrive by June 30, you are good), you will be entered to be 1 or 10 winners of a trip to anywhere in the continental US (much like my Dallas trip)! But the best part, you will get sent a 10 item fix to wear for your travels! The trip must be redeemed within a year. See here for more specific details about the giveaway! I really hope that one of you is a winner!!! Good luck!!!