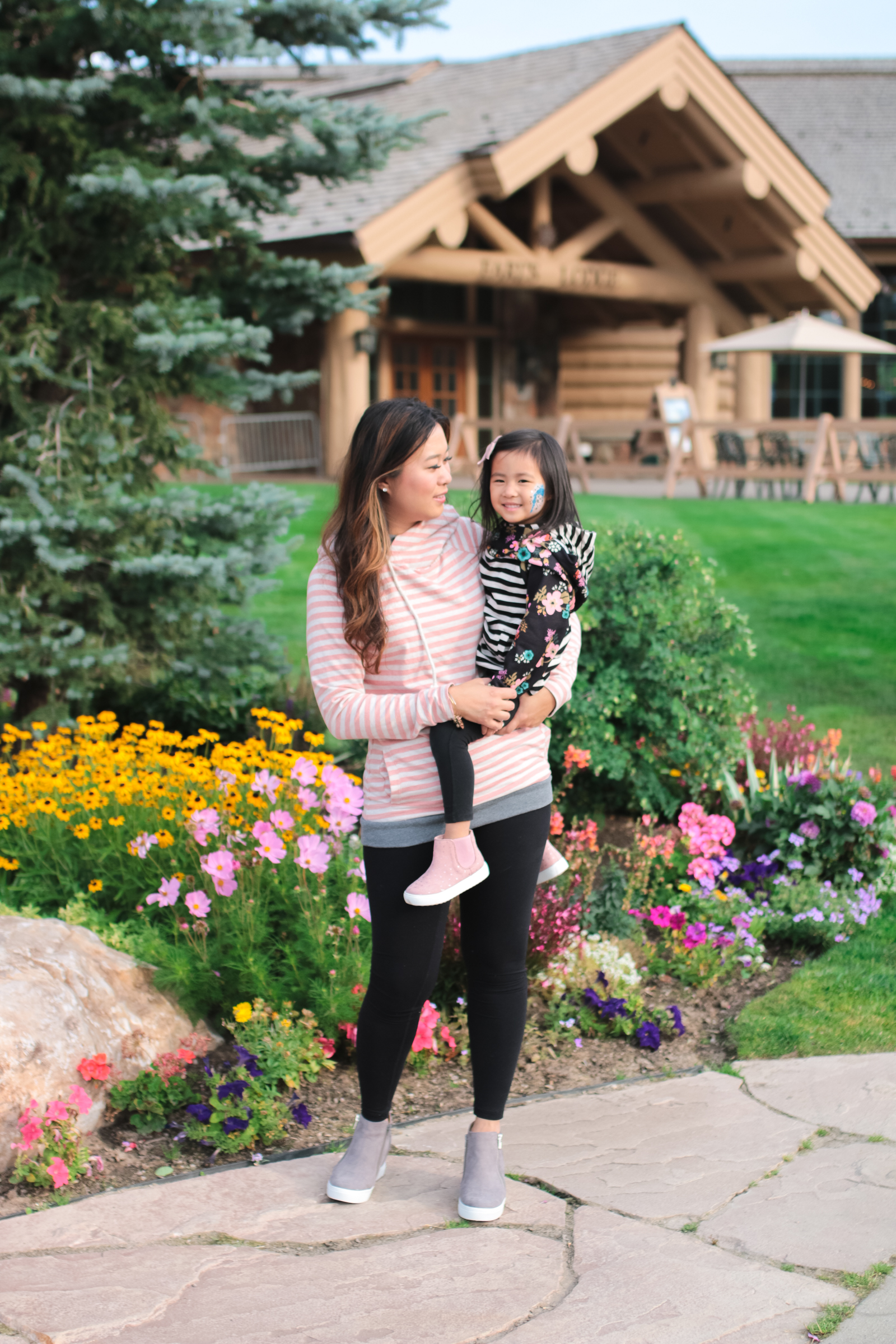 My outfit: DoubleHood Sweatshirt (wearing Medium) | Leggings | Wedge Sneakers
Vivian's outfit: DoubleHood Sweatshirt | Leggings | Sneakers
Y'all might think I am crazy for writing this post, but I'm going to do it anyways. I mean, do you really need help in styling a sweatshirt!? Probably not… just wear it with leggings, joggers, jeans, and you're good to go. BUT, this is my favorite (and a lot of your favorites) sweatshirt of ALL TIME, and IT'S ON SALE – so I just had to share!! NOW is the time to stock up for Fall, grab some as gifts, I've never met a person who didn't LOVE this sweatshirt!!! I own it in 5 colorways, and you know that's a sign of really LOVING something. If I was to write a Fall capsule wardrobe post (which I actually do plan to write soon), this would be in it. It's just the perfect sweatshirt for school pickup, watching a movie, shopping, going to dinner, lounging by the fireplace with a hot cocoa – probably the only time you wouldn't wear it is for girl's night out or date night. 😉 Oh and also, it comes in KIDS too!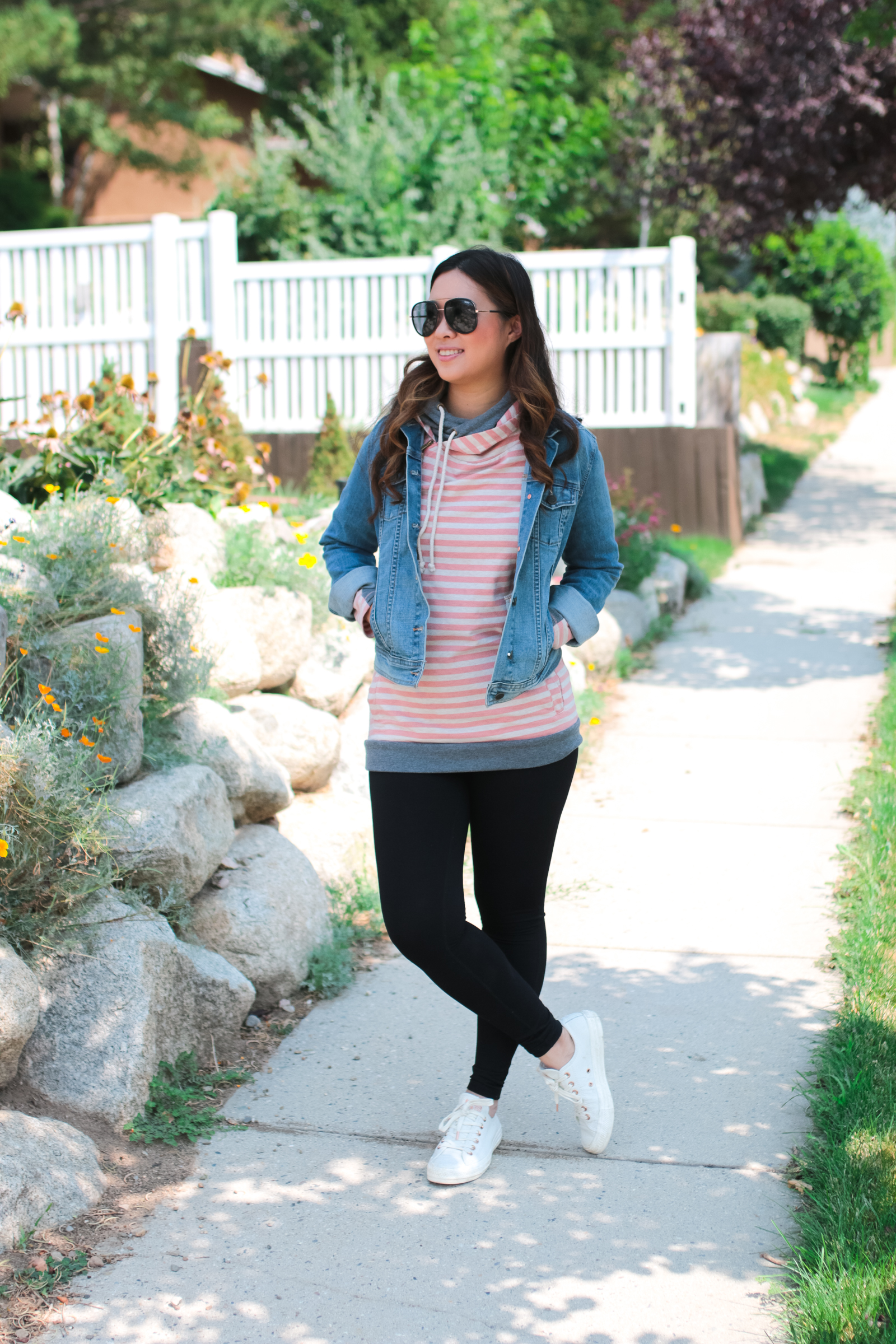 Sweatshirt | Leggings | Jacket | Sneakers | Sunglasses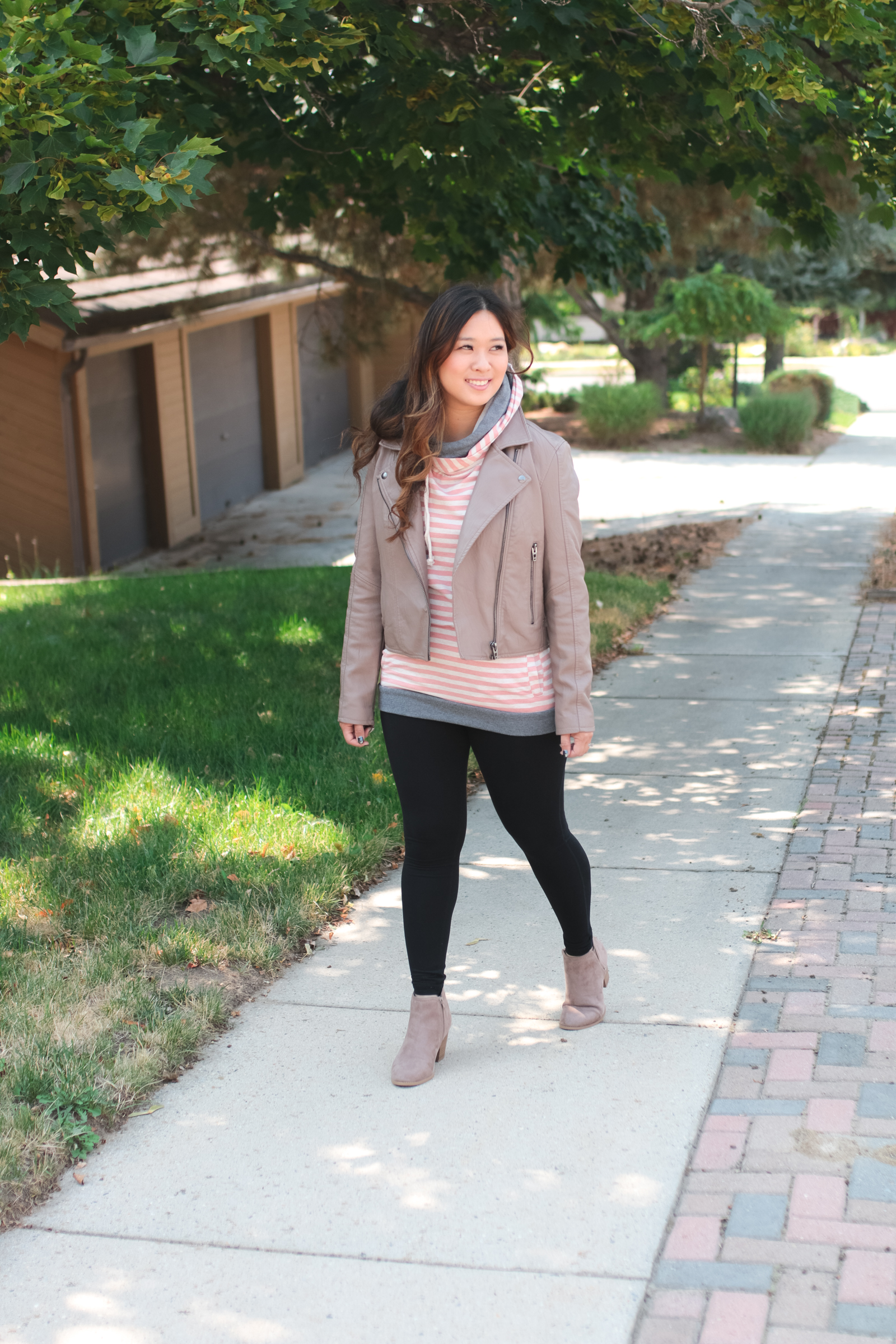 Sweatshirt | Leggings | Jacket | Booties
The DoubleHood Sweartshirt is seriously one of my top sellers and it's just SO good!! The sweatshirt has contrasting fabrics, a hoodie, pockets, thumb holes, and maybe the best part is that it is actually a flattering sweatshirt. It hugs your body in all the right places and can actually make you look like you have a waist – vs. being a straight down oversized sweatshirt. In terms of sizing, I am 5'4″ and usually wear a Small/Medium/6 on top and have the hoodie in both Medium or Large. There tend to be a few fabrics/materials that the hoodie is made out of, so just pay attention to what it says about the hoodie. But as always, if you want a longer or cozier look to wear with leggings and ensure your booty is covered, I would say size up.
TODAY, 8/28 from 10AM – Midnight MST, Mindy Mae's Market is running a HUGE SALE where all items are discounted up to 70%! They run sales once very few months so this is the best time to stock up on these hoodies if they are available in the pattern/color and size you want!!! Things tend to SELL OUT FAST during these sales!!! Especially with Fall and Winter around the corner, you will be living in these, I promise you!!! But not just the hoodies, they have tons of other cute items too and there is always FREE SHIPPING, YASSSSSSSS!!
Up to 70% off! All Sales Final! Sale launches August 28th at 10am MST and will run until August 28th at 11:59pm MST.
The first 2,500 orders will receive an email with THREE cute quote printables from Oak Lettering Co.
Shipping is ALWAYS free so if you have your eye on something, check out immediately and go back for more!
Shop all DoubleHood Sweatshirts! My fave designs below!