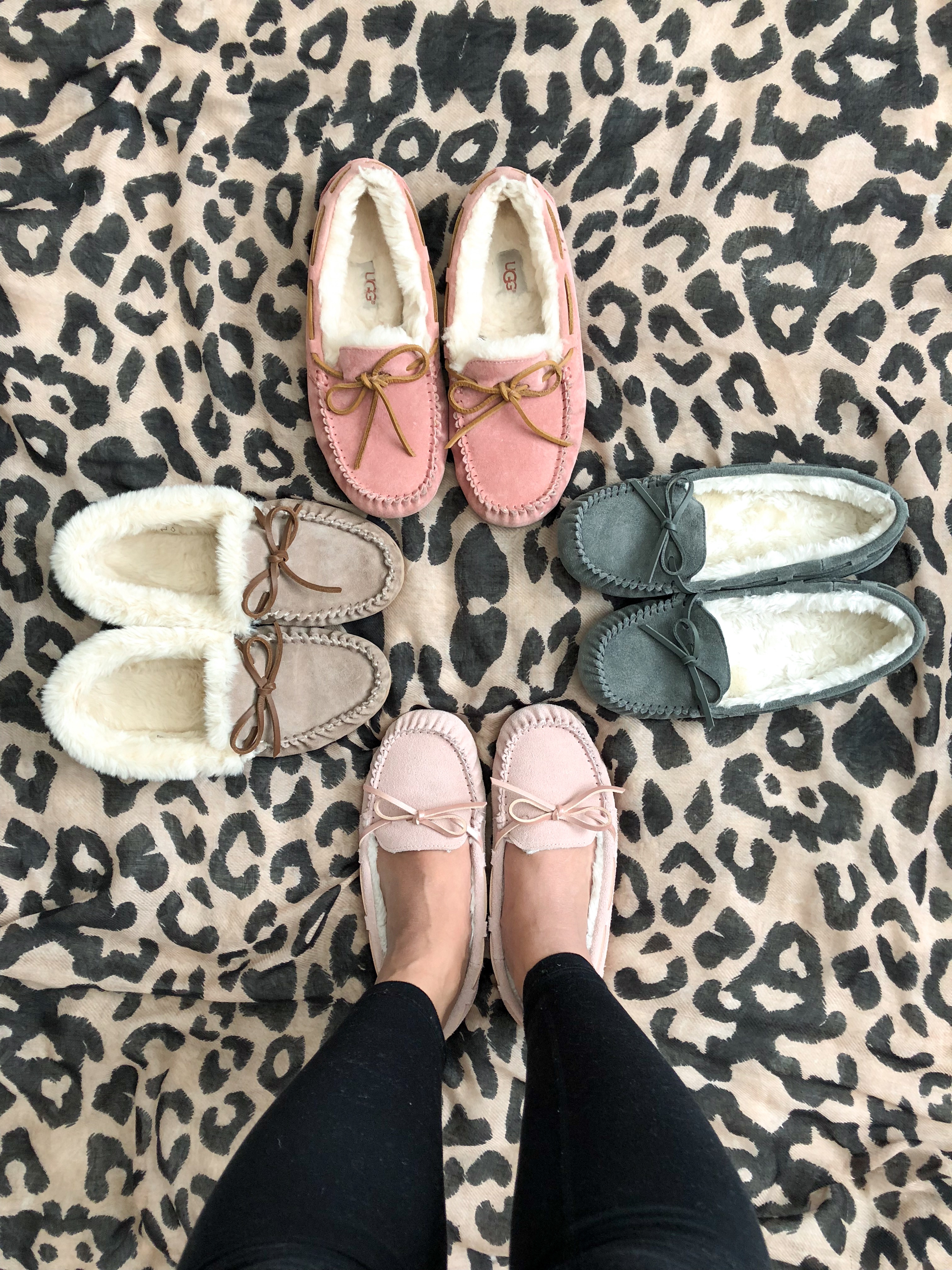 It's that time again (almost) for hot cocoa and snuggling up by the fireplace, which means it's also time to bust out your coziest moccasin slippers to keep your feet warm! I own 3 different pairs (1 of them I have in 2 colors) and wanted to do a review for you guys in case you were wondering which pair to get!! These moccasin slippers make the BEST holiday gifts and it's time to stock up on them now!!
Make sure to catch my Instagram stories to see video close ups of the slippers!!
1. Target Chia Suede Slippers – Gilligan & O'Malley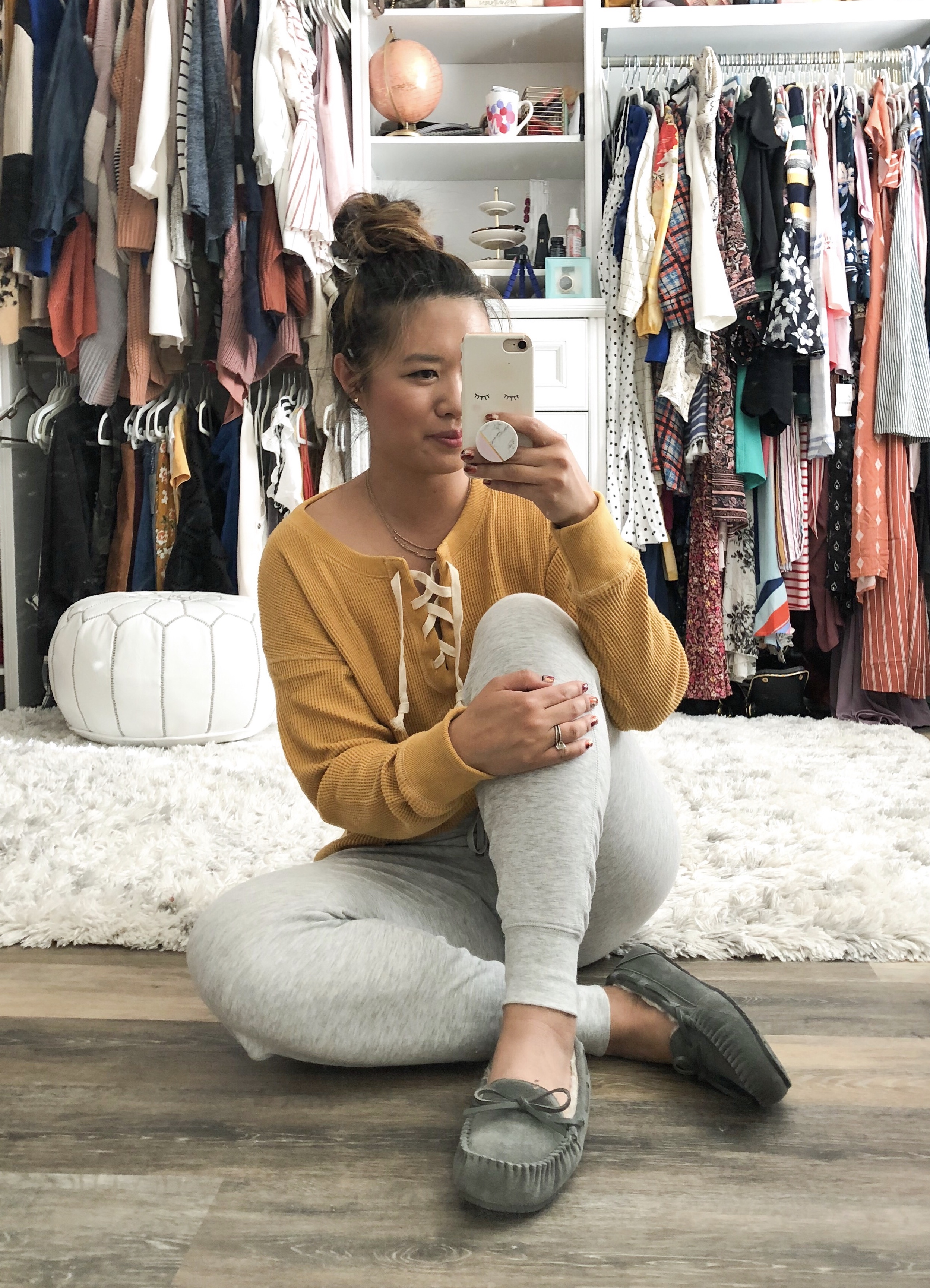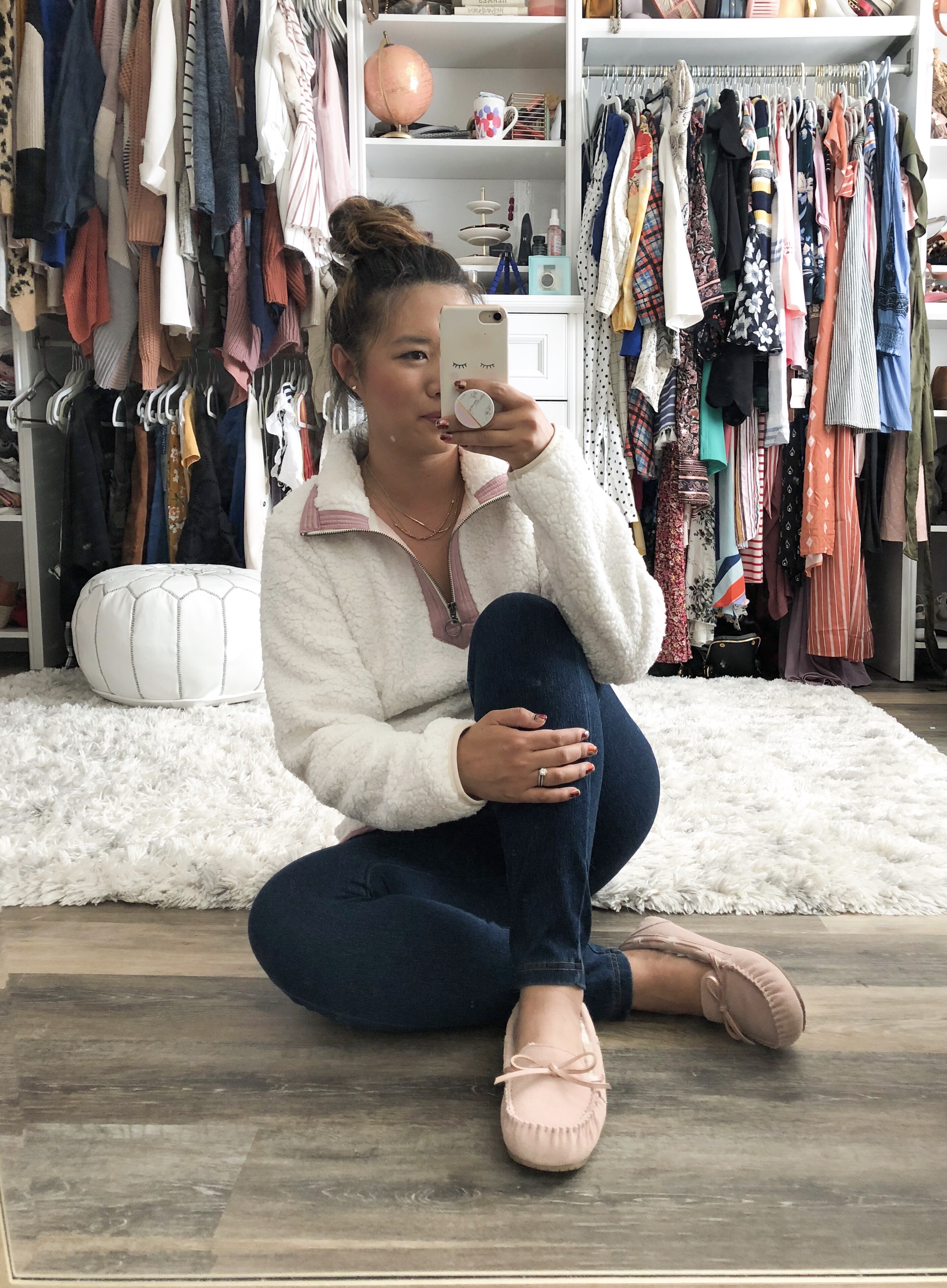 These Target slippers are ones that I keep seeing all over Instagram. At a price point of under $20, 5 color options (Chestnut, Black, Gray, Blush, SIlver), these slippers will keep your feet warm and cozy throughout the winter months. Personally I own the Gray and Blush (these ones are most popular), but am loving the Chestnut as well! The inside faux fur is SUPER soft, the softest of them all. These come in only whole sizes and if you are a half size, I would suggest sizing down if you plan to wear without socks and sizing up if you plan to wear with socks. I am a 7.5 – 8 and got a size 7. I tried on the size 8 and just felt like it was slipping off my feet. This shoe is pretty lightweight as well. I can't speak for the long lasting durability of these since I just got hem in recently, but so far they are holding up well.
2. J.Crew Factory Suede Shearling Slippers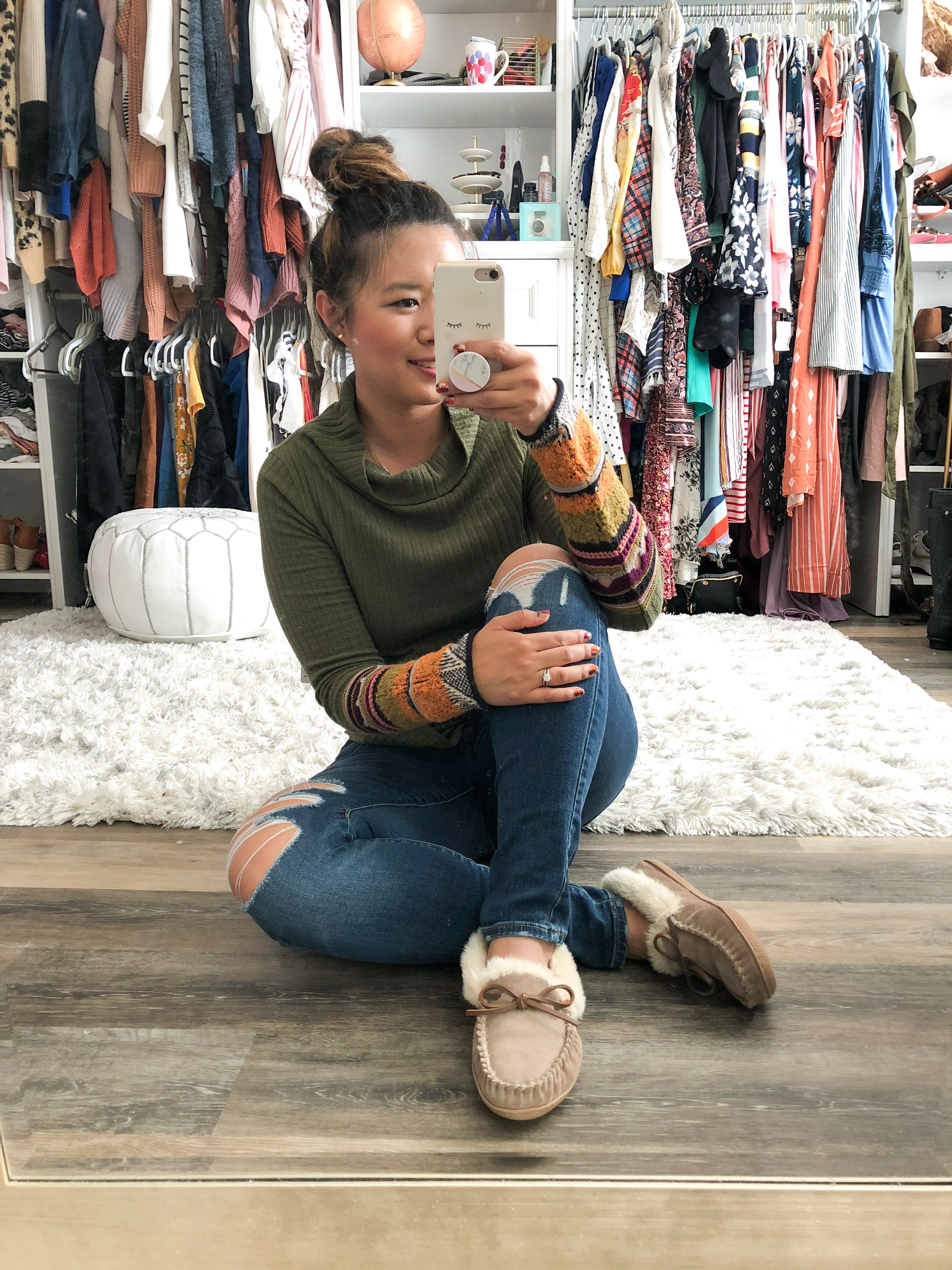 These J.Crew Factory slippers I've had for a year or so now and they have a little bit of a different look than the others since the faux fur comes up to the outside (vs. mostly being within the slipper). The fur is incredibly soft and these shoes are super cozy. I own the Ash color and I love this color because it is a wonderful neutral. This shoe also comes in a Dark Nutmeg (much like the Chestnut from Target) and a Navy. At a price of $34.50, I definitely think they are worth it. Currently there is a 40% off sale with code QUICK) that brings them down to around $20 which makes it a great time to snag them! These also come in whole sizes and I got them in a size 7 and they are a good fit.
3. UGG Dakota Moccasin Slippers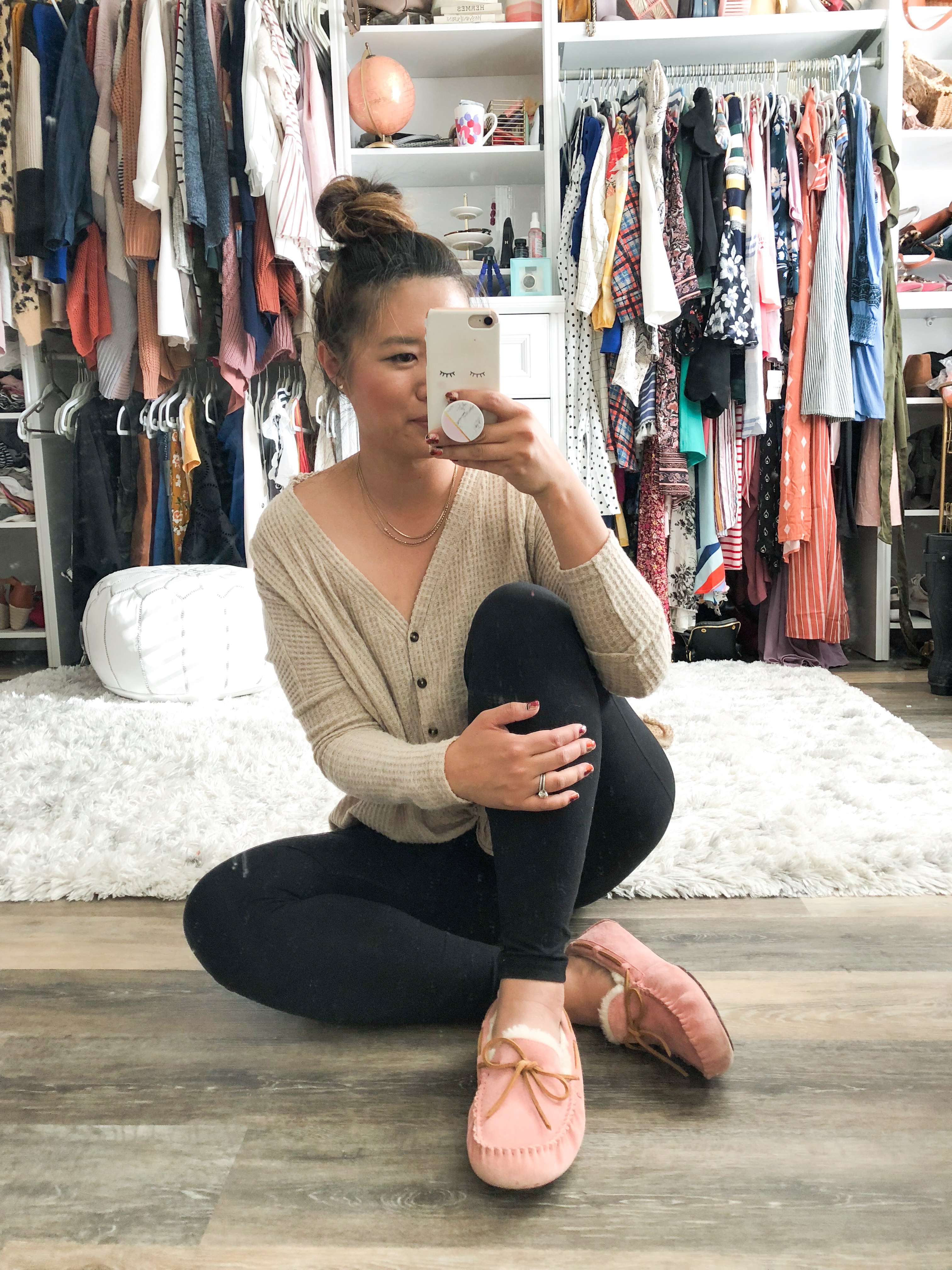 The UGG slippers were the very first ones I have owned and I have had them for years. The ones I own are Chemise Pink and while this color is hard to find, they make them in SO many different colors, there is sure to be one that you like. These come in around $100, are a heavier slipper, have some traction on the bottom, and the lining is actually made of wool. The wool makes it not as soft as the other two pairs, but I think it will actually keep your feet warmer than the others. The construction is extremely sturdy and it's a well made slipper. These also come in whole sizes and I am wearing as size 7. I have to say that the 7 is a bit tight for me, but the 8 was too big. I really wish they had a 7.5 because that would be perfect for me!
Do you own any of these or a different pair? Let me know in the comments!!