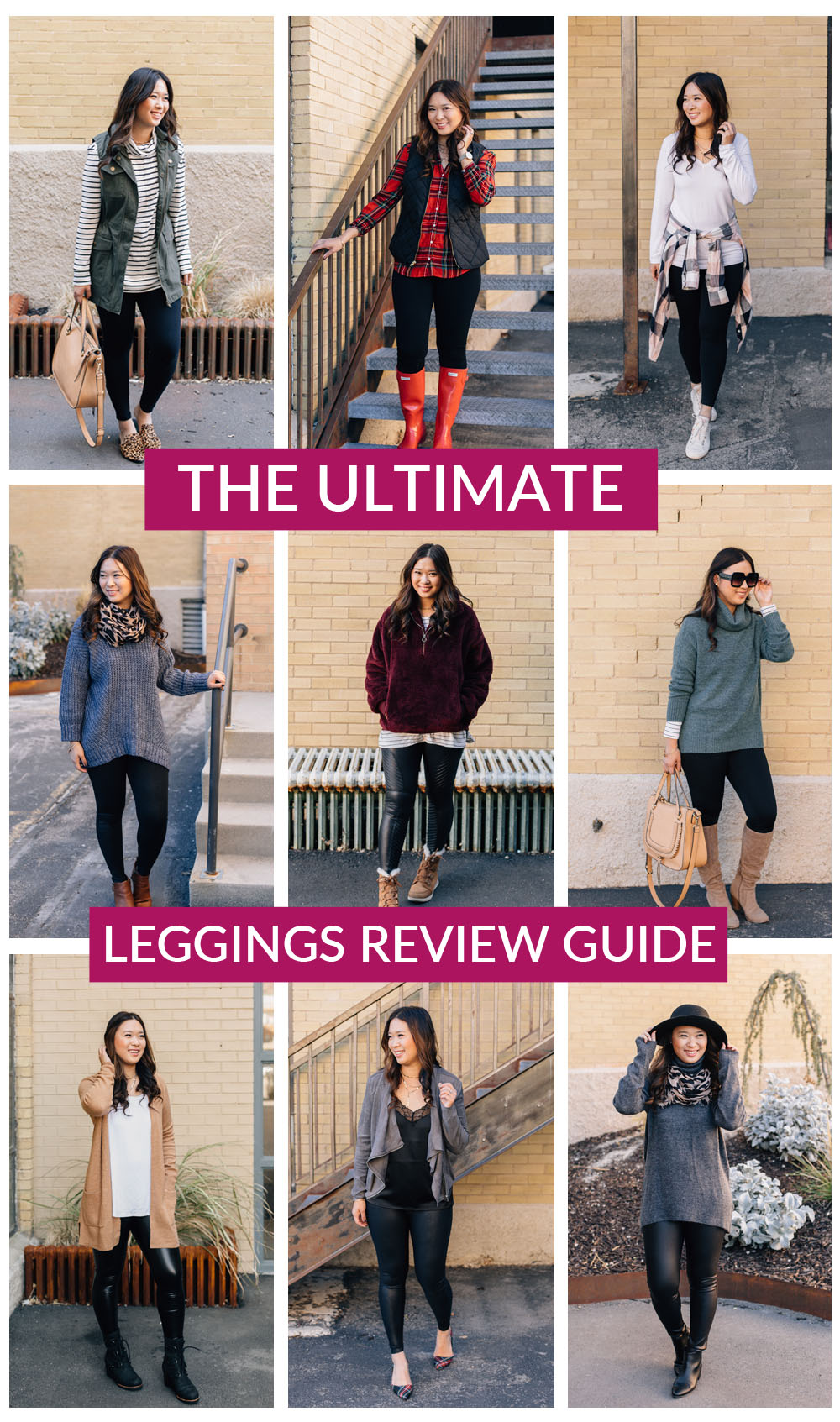 I've had this idea for a post for awhile now and I am so happy it's finally becoming a reality. Call me a black legging collector, because yes, I own a LOT of pairs of them. I have a pear shaped body, definitely was blessed in the booty department, and not the thinnest legs. But all things black pants or leggings are slimming, so that's why I stick by them! I am 5'4″ for reference, a size Small/Medium on top and 28/29 on bottom. In most leggings and bottoms, I wear size Medium.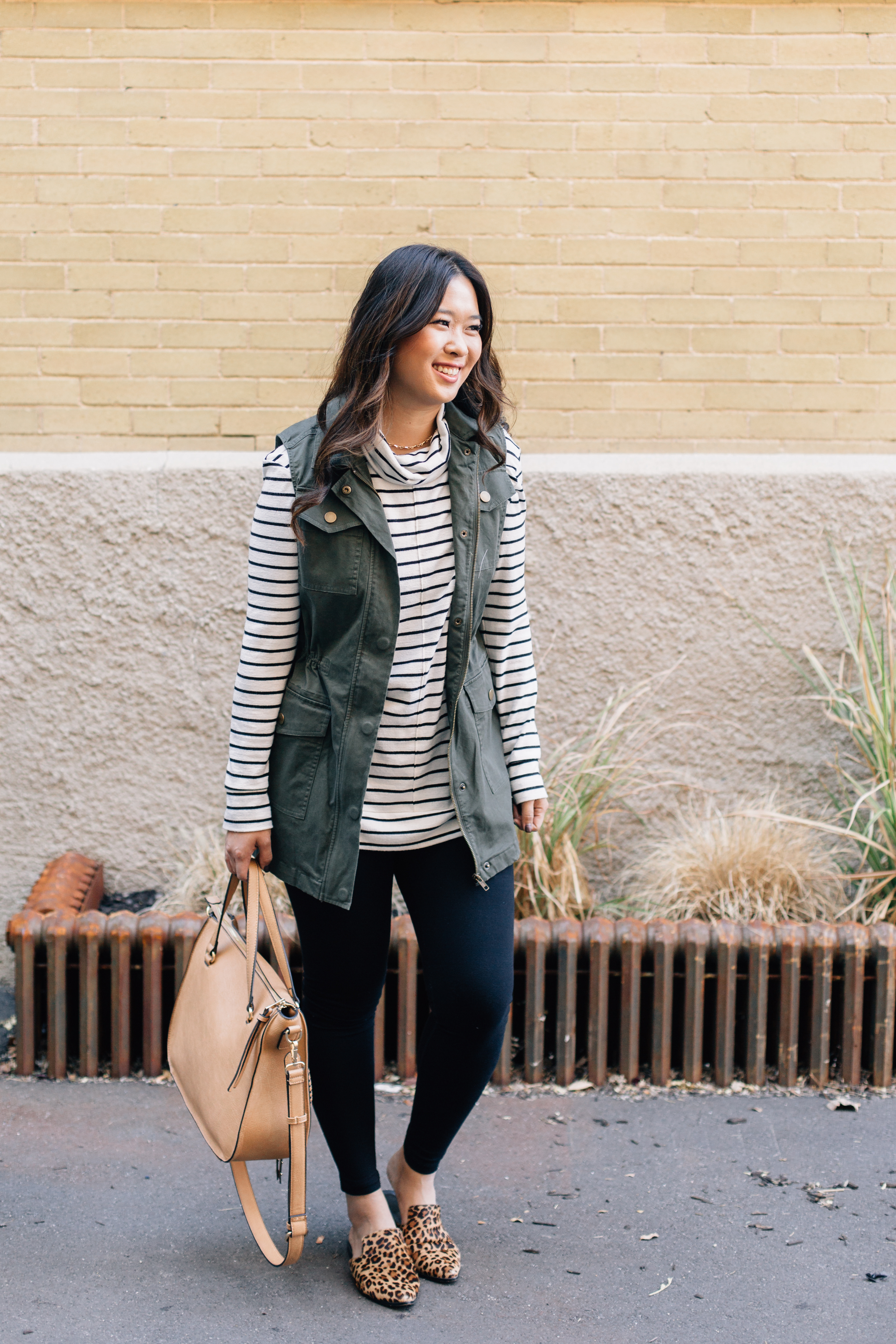 Striped Top | Vest | Leggings (Small) | Mule | Bag

1. Zella Leggings – These were probably my very first pair of black leggings that I purchased a few years ago at the Nordstrom sale. I actually two pairs of them because I loved them so much. These are high waisted, made of a nice soft material, don't fade and have tons of amazing reviews. The price point is right around the $50-60 mark which is mid-priced compared to the all of the leggings I will be reviewing in this post. These are a great workout legging as well as an every day legging for me (as I barely work out).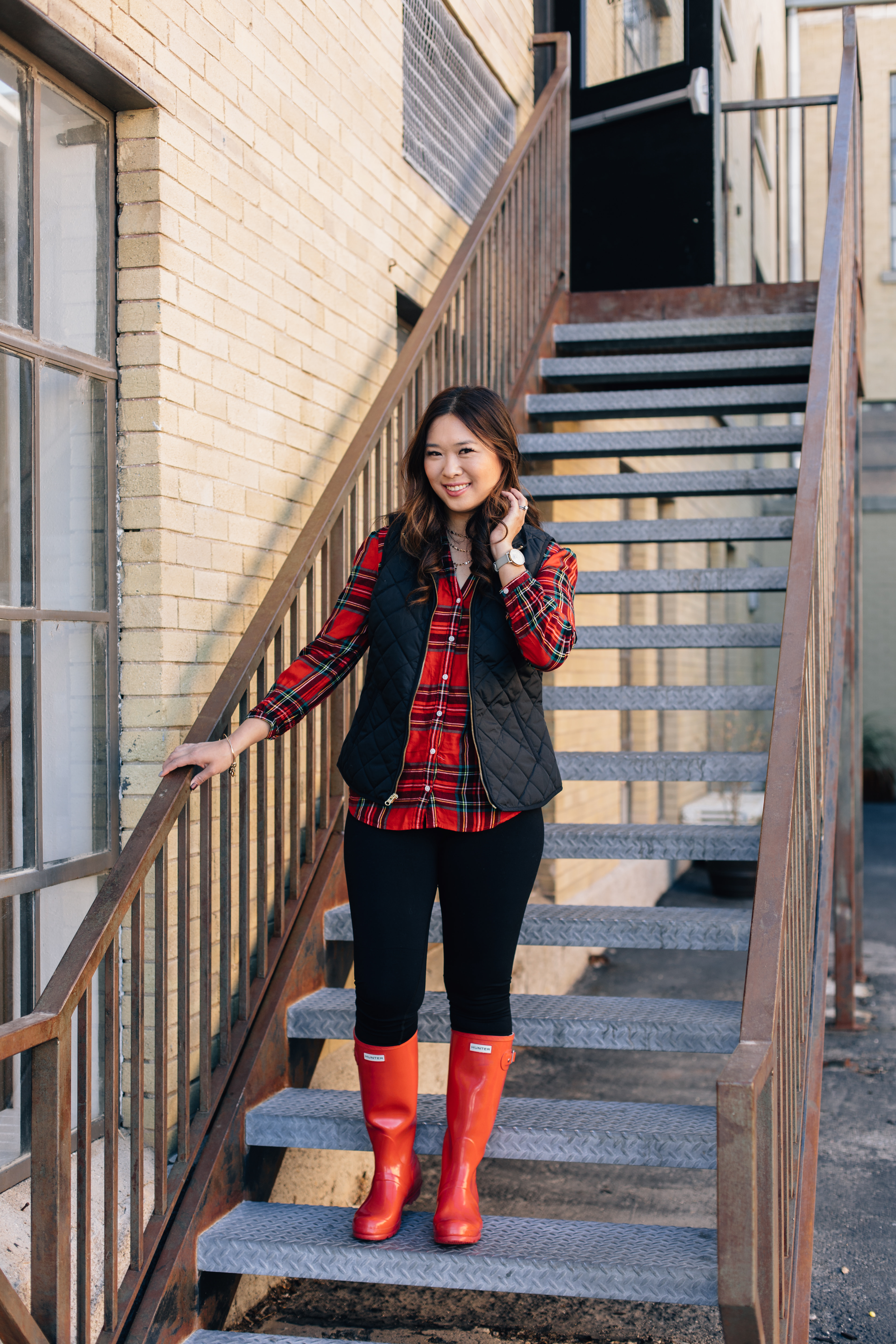 Plaid Top | Vest | Leggings (Medium) | Boots | Necklace

2. 90 Degree By Reflex High Waist Power Flex Legging – If you look at the price and the amount of amazing reviews, it's the type of thing where you just HAVE to try them out. I recently picked these up and I have to say, am super impressed. These definitely rival Zella leggings, and although I will say that Zella's fabric is a TAD softer than these, these are still great. I do think that these do a better job at NOT collecting lint on them as the Zella ones do and these have an inside pocket which is great! These are also high waisted which will help in holding any problem tummy areas in. It does a decent job of sucking you in, which is always a bonus. But the price on these, is pretty unbeatable sitting under $25. These come in a TON of color options and sell out and restock often!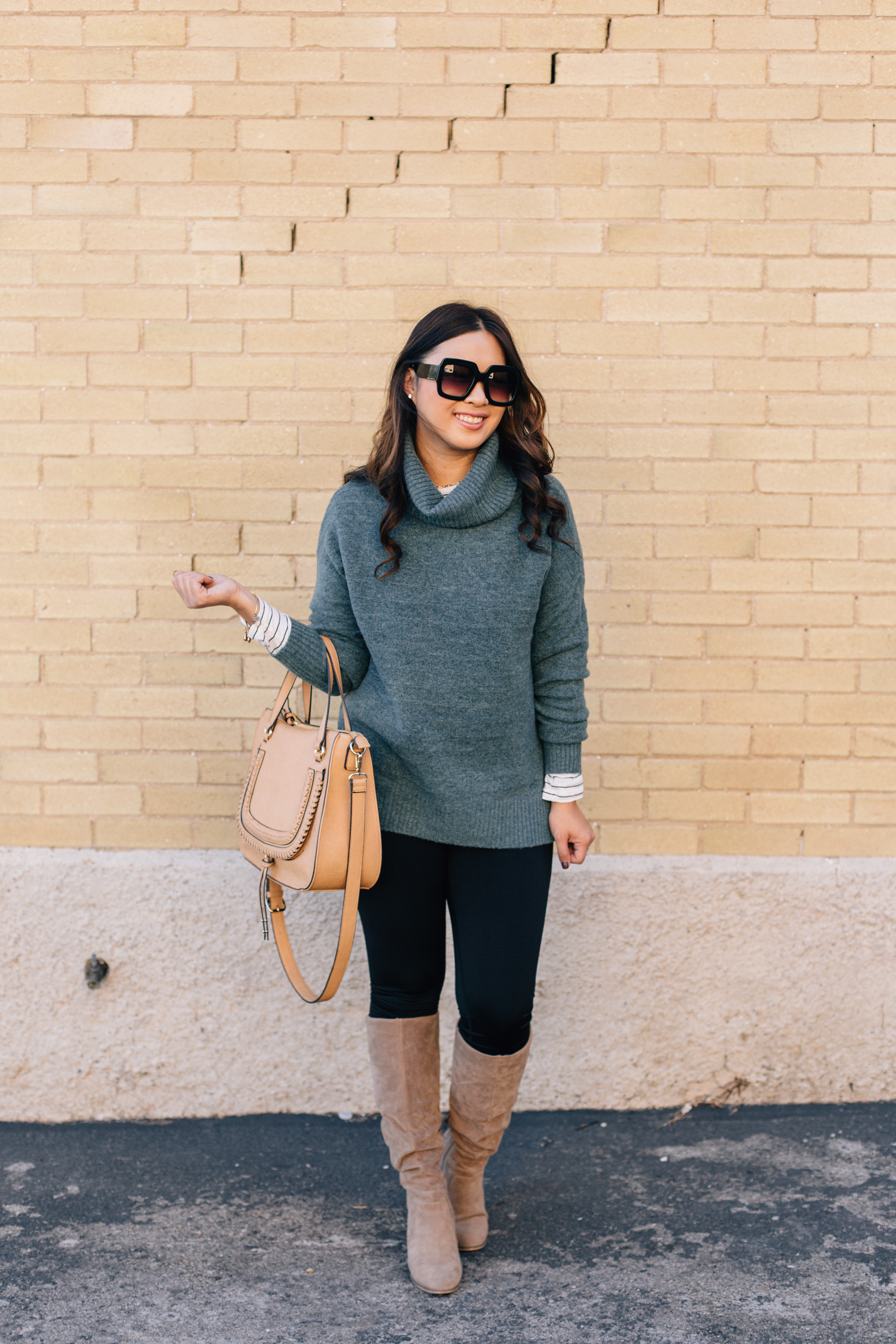 Striped Top | Turtleneck | Leggings (Medium) | Boots | Bag | Sunglasses

3. 90 Degree By Reflex High Waist Tummy Control Fleece Lined Leggings – These leggings are pretty much the same as above, but they are fleece lined and so cozy inside! Although only a light layer of fleece, I can definitely feel the ability to block out cold in these better than the others. Because they are meant to still be a workout legging, I can see why it is not a thick lined fleece, because then it probably wouldn't be super breathable.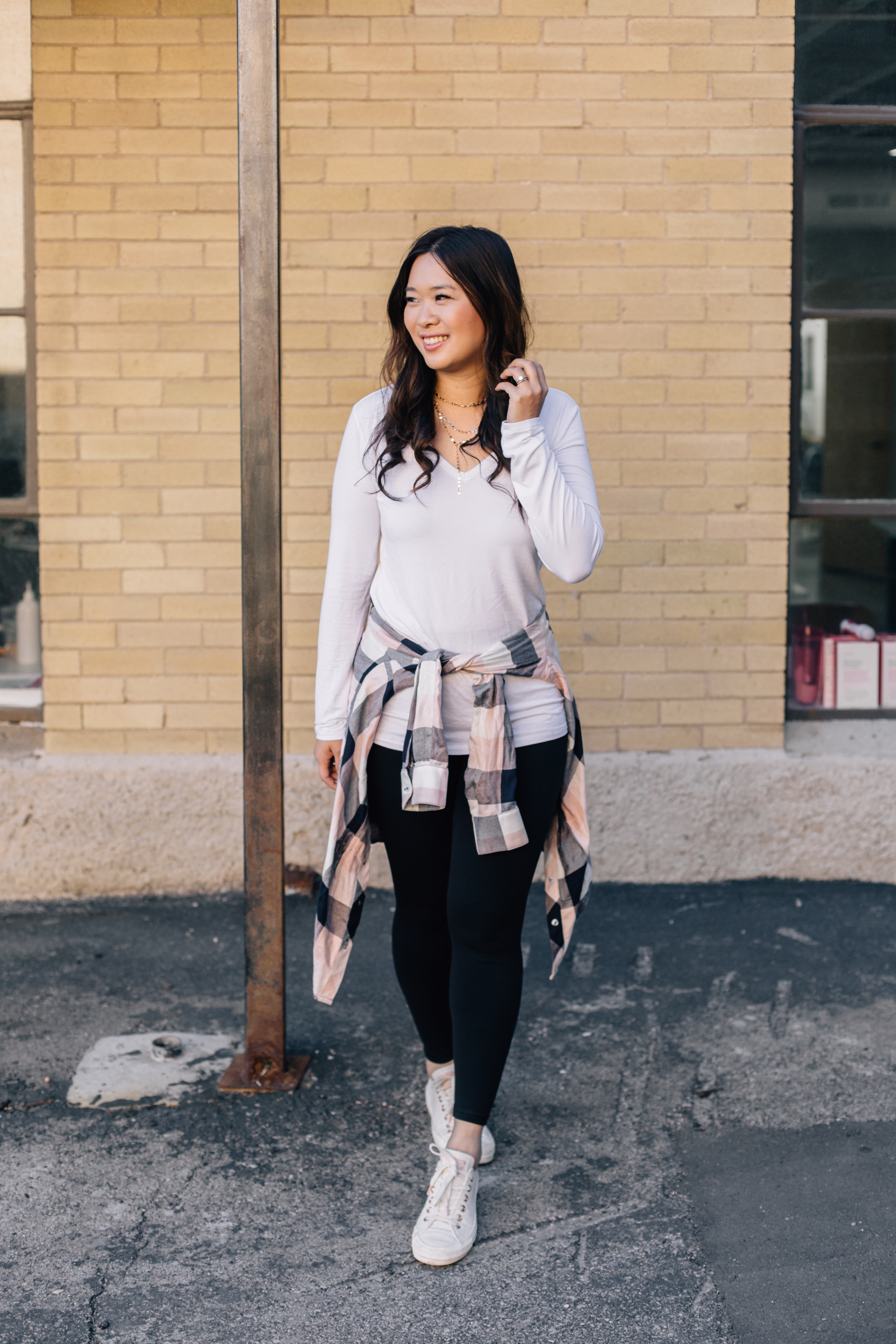 Tee | Plaid Button Down | Leggings (Medium) | Shoes

4. Aerie Play Real Me High Waisted 7/8 Legging – These leggings are probably the thinnest and most weightless of the bunch. It almost feels like you aren't wearing any pants, they are so lightweight! I've heard that these ones are a Lululemon dupe, which means I had to try them out. These are pretty affordable sitting around $27-$40 depending on if there is a sale. I love the 7/8 length as it hit right at my ankle. The only slight negative about these is they definitely don't keep you warm, so may be best in warmer weather.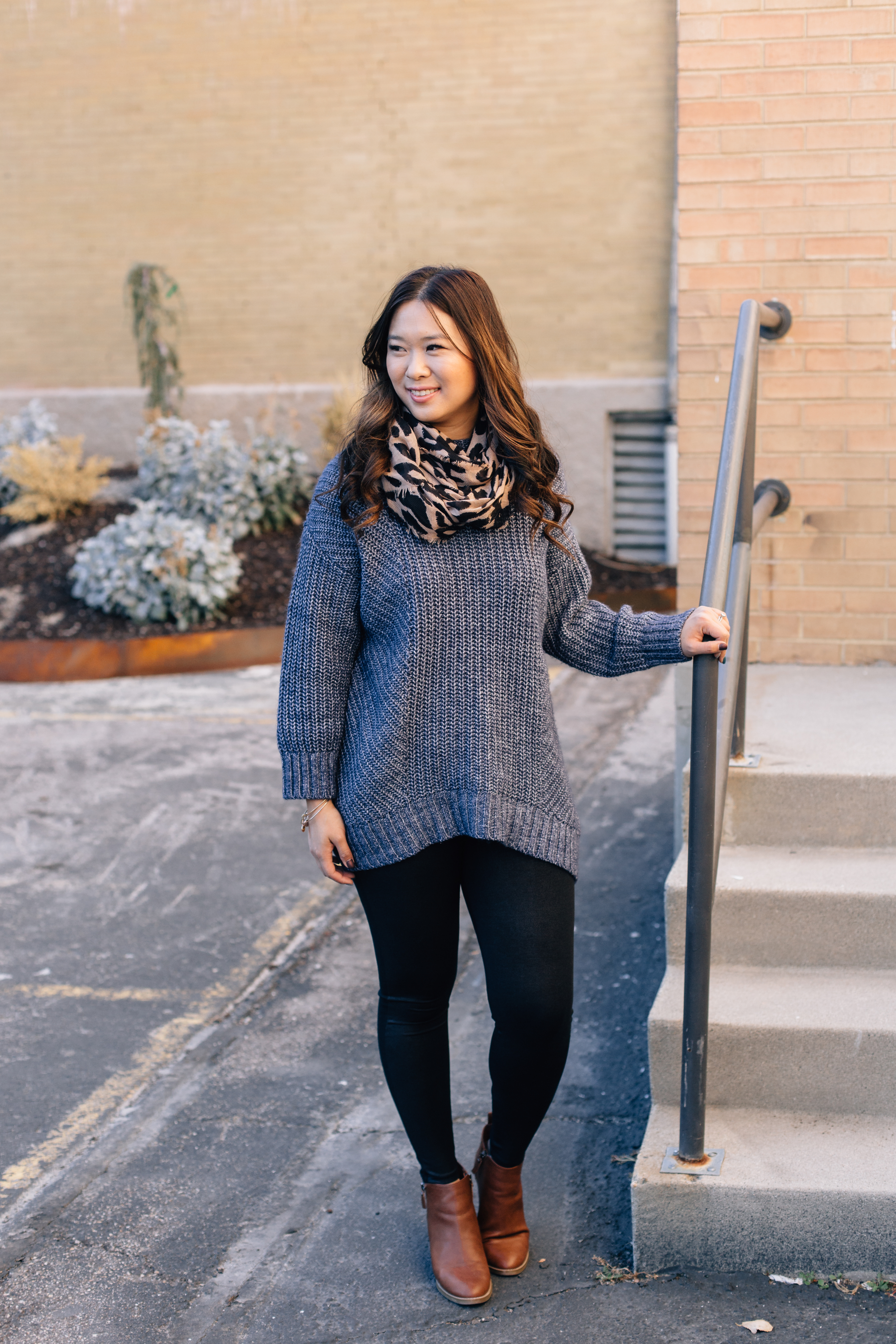 Sweater | Scarf | Leggings (Medium) | Boots

5. ASSETS by Spanx Faux Leather Front Legging – Moving on into the more faux leather looking leggings, this first one has a slight faux leather effect only on the front. The back is a normal legging. These leggings are pretty thin and do an OK job at holding you in. I do like that it gives you a subtle leather look without being too obvious.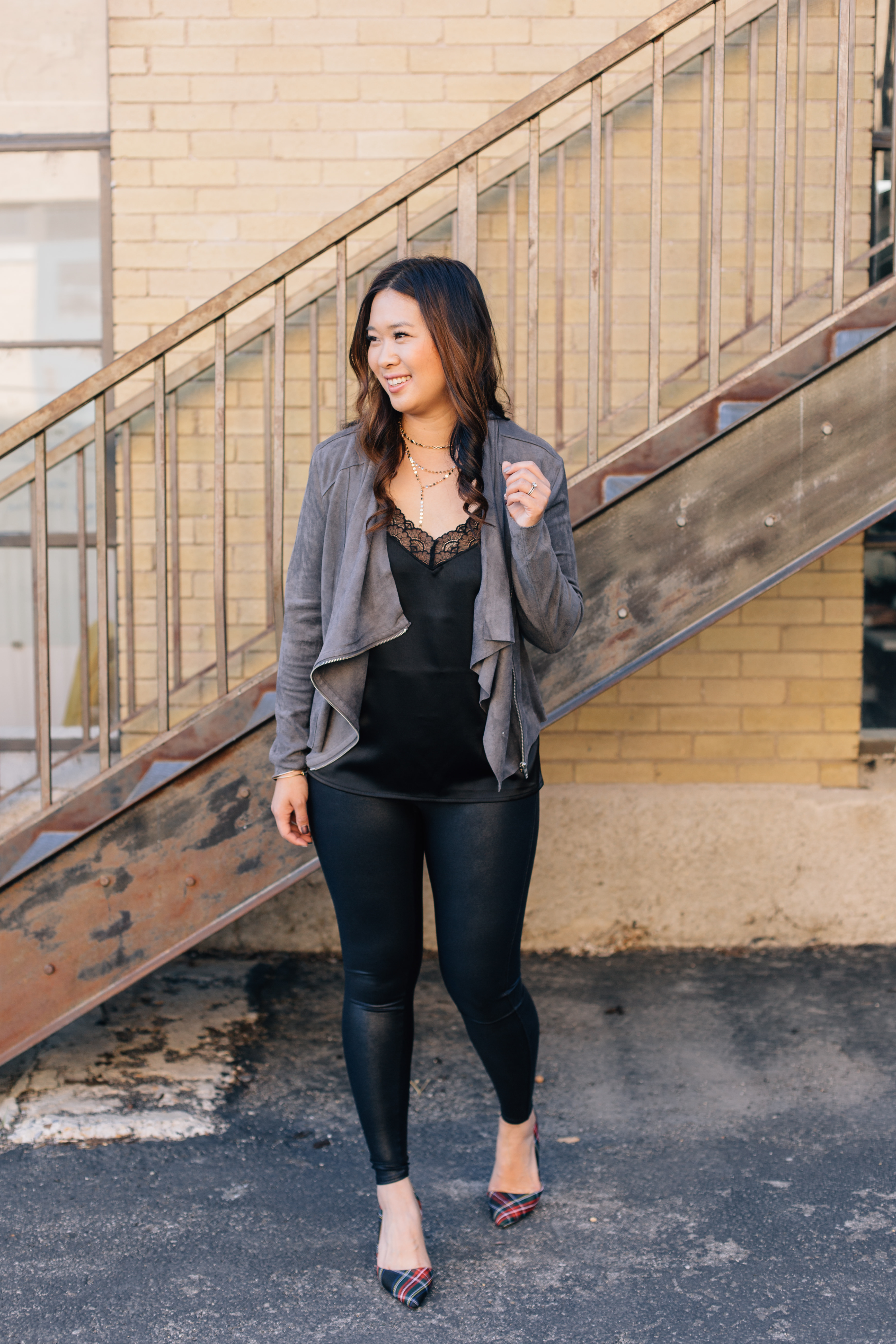 Cami | Jacket | Leggings (Medium) | Shoes | Necklace

6. SPANX Faux Leather Leggings – This is HOLY GRAIL faux leather legging that every other legging gets compared to and let me tell you… after trying on all of these leggings, these are still my TOP favorites for so many reasons. First, they have a high waisted band that sucks you in and does a good job of it. The amount of shine on the legging is just perfect. It's got a sheen, but is not too shiny. The price point of this one is $98, which is pricey, but I truly believe they are worth it. They RARELY go on sale, but when you do find one, I would jump on it! The great thing about these leggings is that they can be dressed down or up!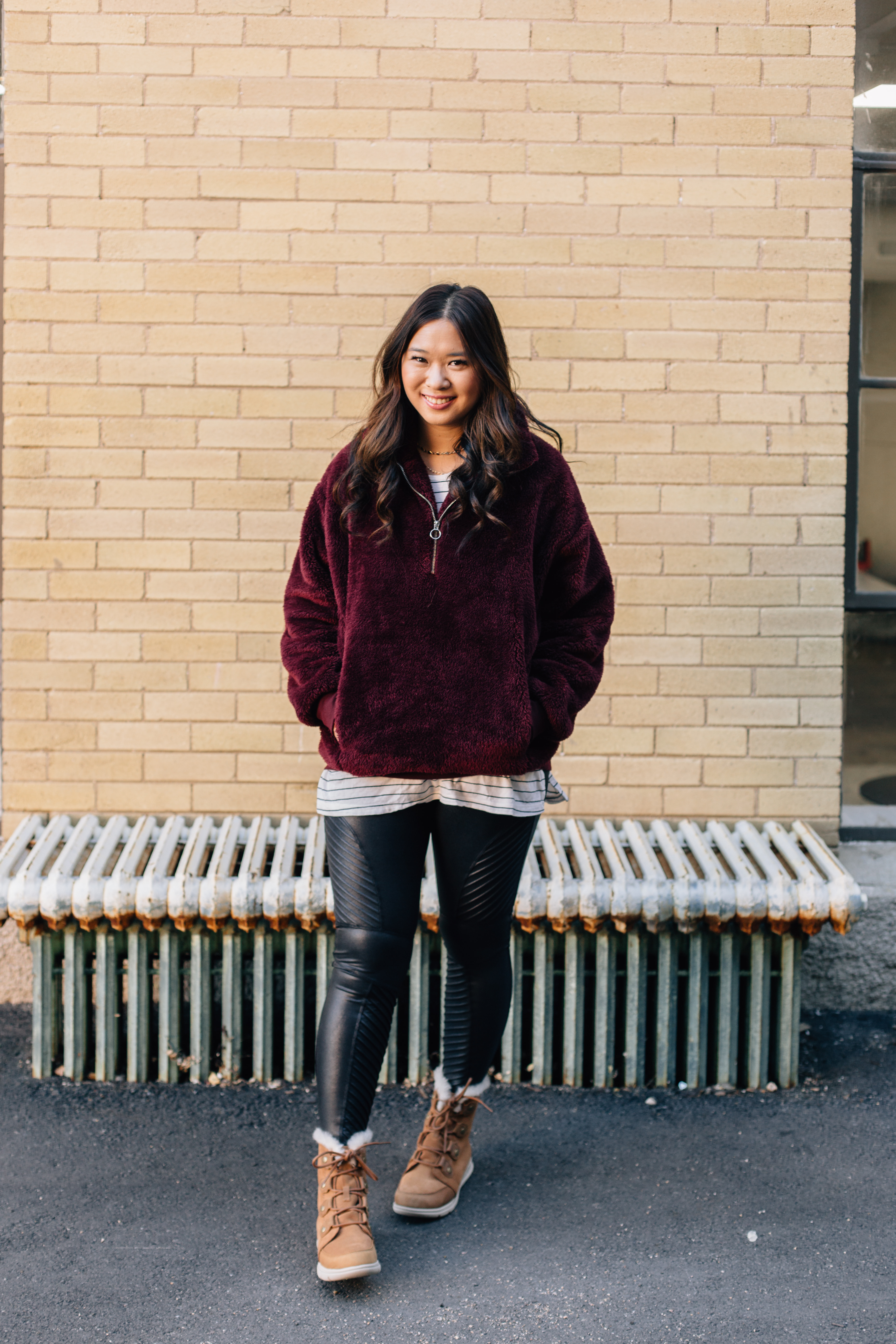 Striped Tee | Pullover | Leggings (Medium) | Boots

7. SPANX Faux Leather Moto Legging – These are super similar to the SPANX above, but they do have these moto lines on the sides of the leg. They do a great job holding you in, are a little bit more pricey, sitting at $110, but give you this more edgy look. Personally, I like these, but I don't find myself reaching for them as often as some of the other pairs of leggings.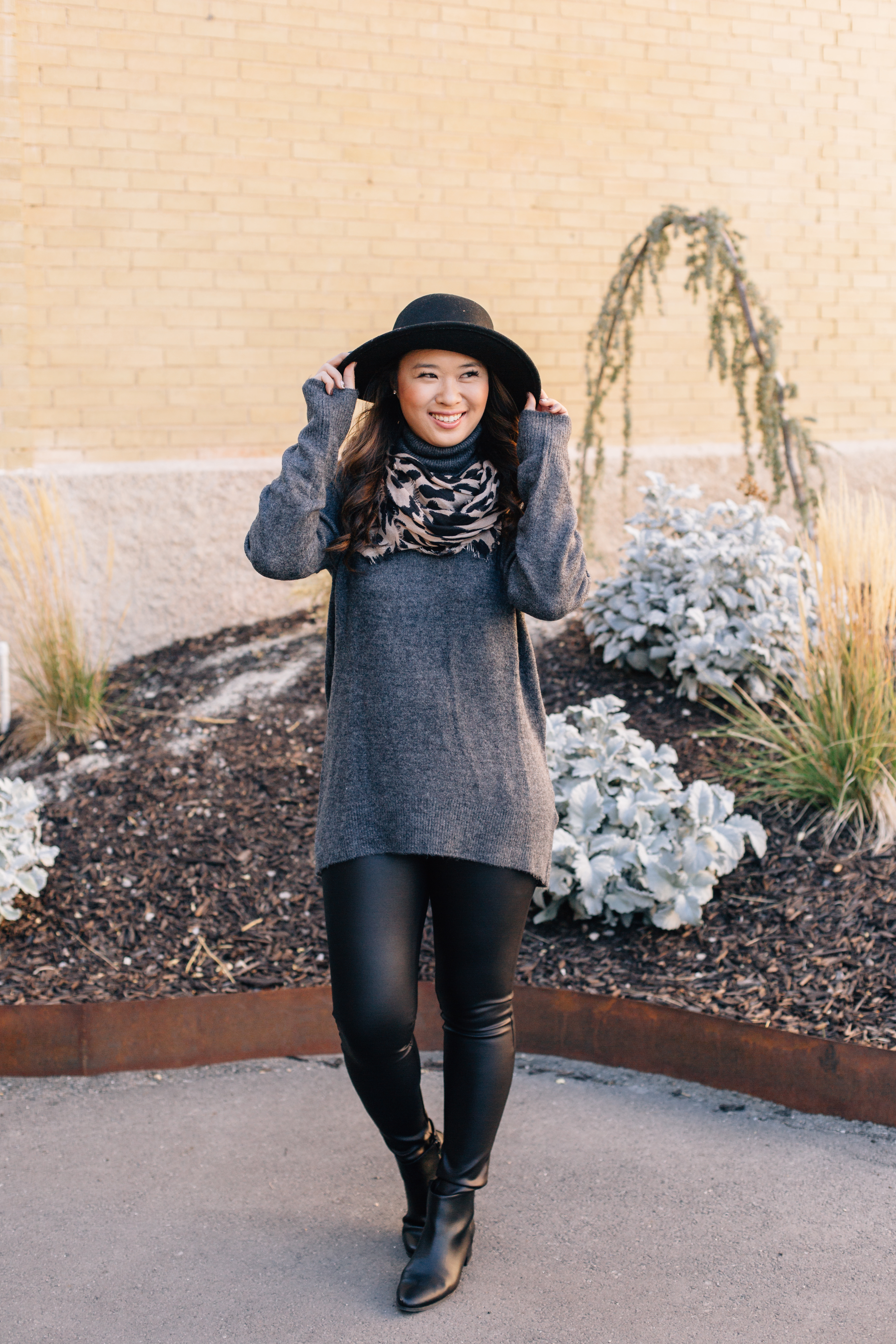 Sweater | Scarf | Leggings (Medium) | Boots | Hat

8. Express Faux Leather Leggings – I've got to say, I am a huge fan of the matte look that these leggings give off. They are a little thicker than SPANX, great quality and super comfy. These are a mid-rise fit so they don't quick suck you in like some of the higher rise pairs though.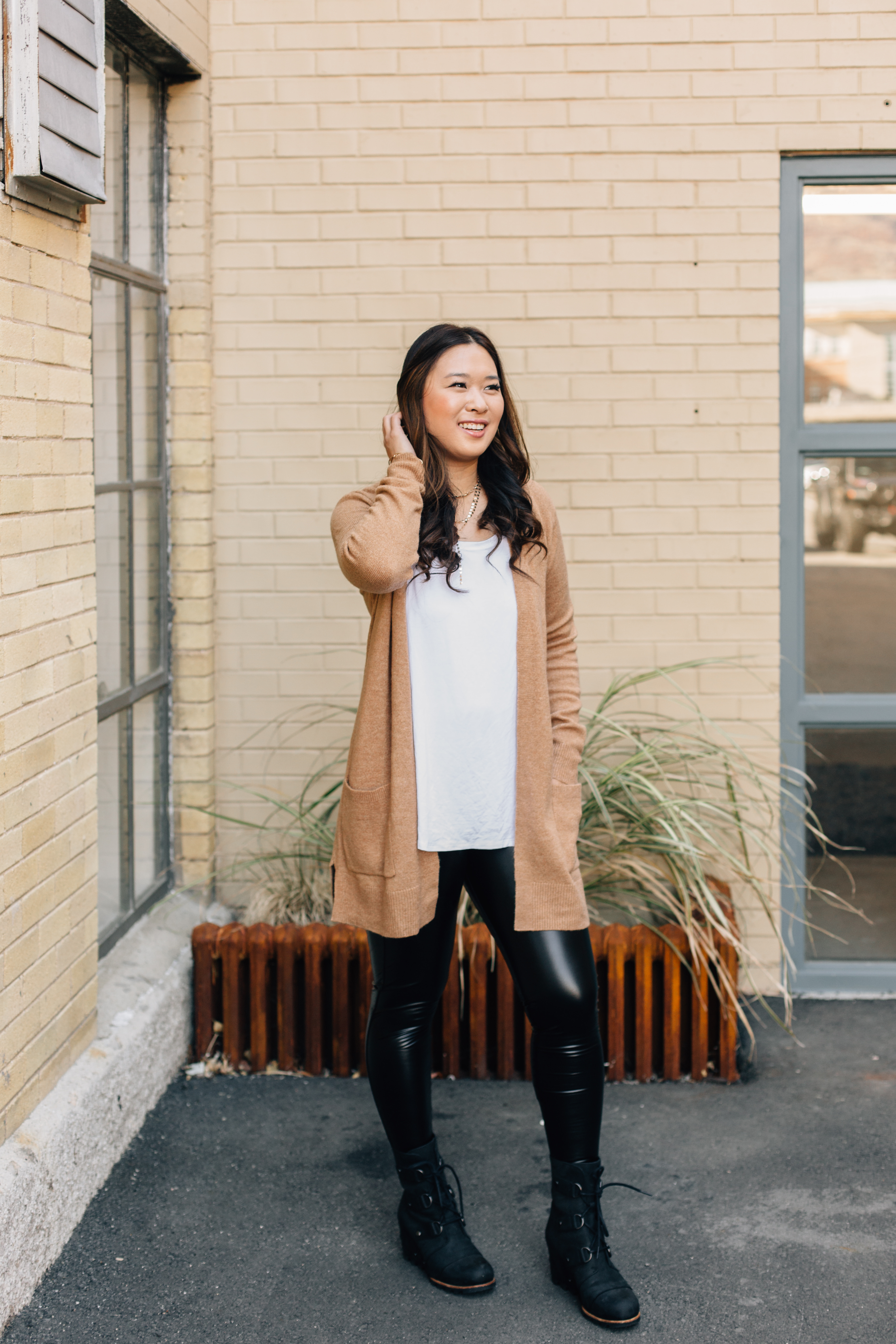 Tank Top | Cardigan | Leggings (Medium) | Boots

9. Tagoo Women's Stretchy Faux Leather Legging Pants – If you are looking for a high shine faux leather legging, these would be it. I saw these as a dupe for the SPANX but I think they miss the mark in a few areas. They do a decent job at sucking you in, but they are NOT very breathable which I wasn't a fan of. Also, the shine is just very shiny and probably too much so for my every day. I would reserve these more as a going out legging, but honestly, I may not be keeping these.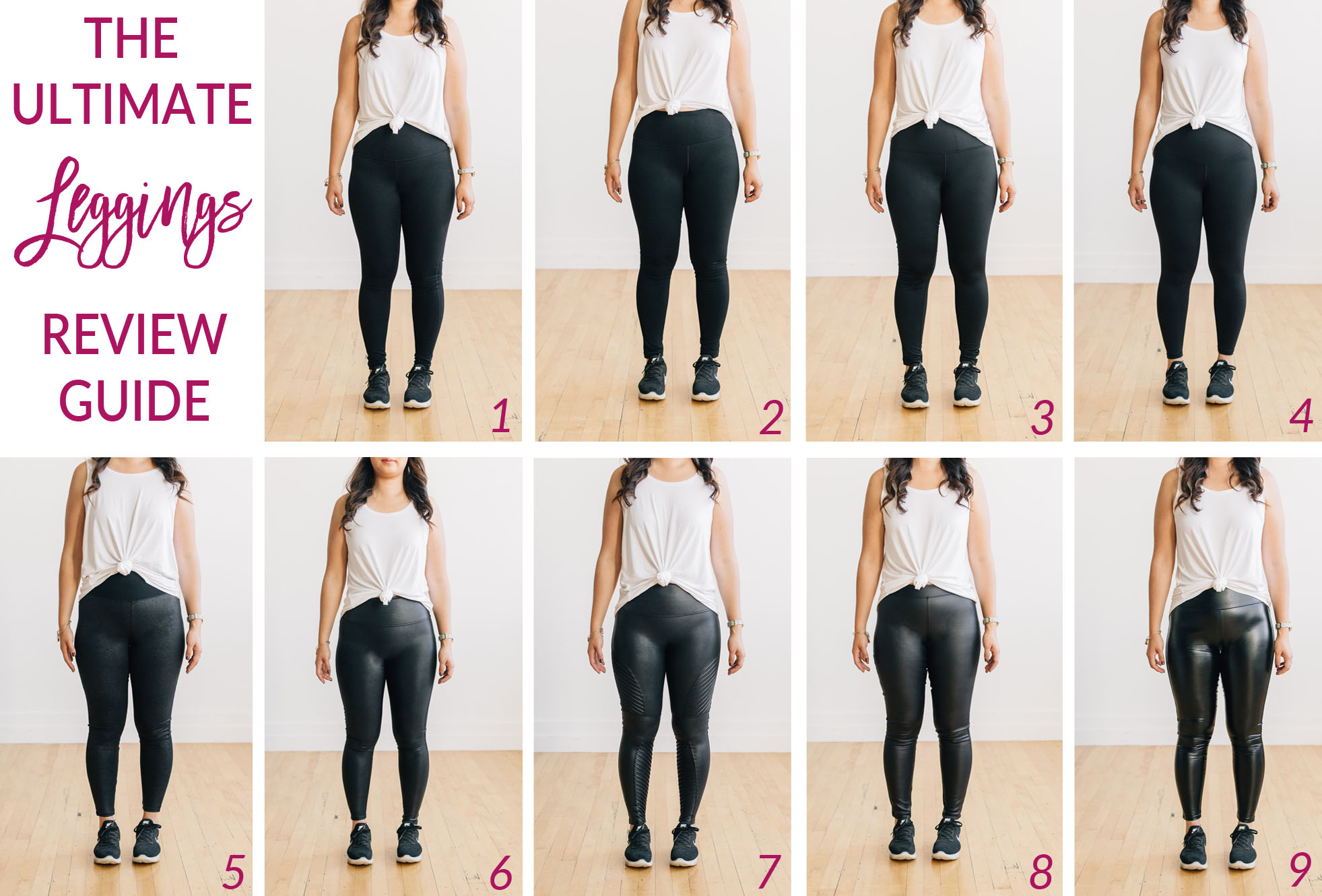 Overall, all things considered, if I had to pick one casual legging and one faux leather legging by two choices would be 2. 90 Degree By Reflex High Waist Power Flex Legging and 6. SPANX Faux Leather Leggings. Have you tried out any of these leggings before? What are your favorite pairs of black leggings?