This is one of the most requested post in the past few weeks and I am so happy and honored that you asked me to help inspire your family outfits for those holiday photos. It is prime time to try to get these pictures done in time so those holiday cards are ready to be sent out to family and friends. I decided to keep it more traditional with the red and green and plaid theme. The pattern and colors always make for some gorgeous photos outdoors during this time of the year and it just feels festive (Check out my All Things Plaid post). If you feel like these colors are too bold for you, check out my fall family outfit ideas post for more neutral colors that I think will still work for holiday family pictures (there are no rules on what colors should be worn for holiday family pictures!) Everyone knows my love runs deep for Old Navy so almost every single piece is from Old Navy making it affordable. Don't forget that the Friends and Family Sale is going on now! 50% off with the code CARD if you're a cardmember. If you are NOT a cardmember, you can text the word VIP to 653689.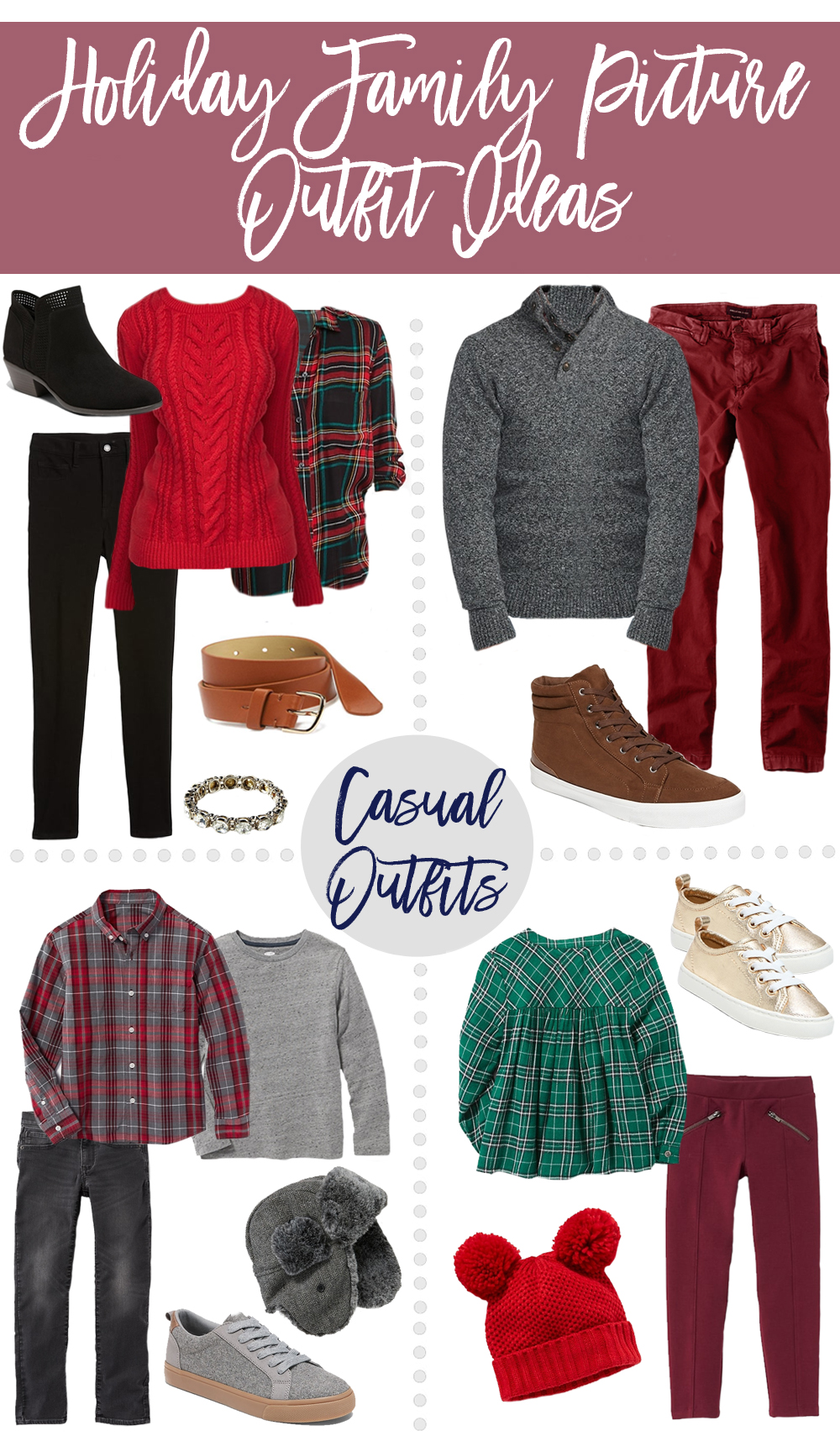 \
– WOMEN –
Shirt: Plaid Relaxed Twill Shirt (Black Multi Plaid)
Sweater: Cable Knit Sweater (Robbie Red)
Jeans: Black Jeggings
Belt: Faux Leather Belt
Bracelet: Crystal Bracelet
Shoes: Booties

– MEN –
Sweater: Button Mock Neck Sweater (Dark Charcoal Grey)
Pants: Slim Ultimate Built-In Flex Khaki (A Little Rust)
Shoes: Mid-top Faux Suede Sneakers (Brown)

– GIRL –
Top: Plaid Button Down
Pants: Pointe Knit Stevie Pants (Amber Red)
Hat: Double Pom Beanie
Shoes: Metallic Lace Up Sneakers

– BOY –
Button Down: Plaid Classic Shirt (Ash Gordon)
Long Sleeve: Crew Neck Tee (Gray)
Jeans: Karate 24/7 Flex Max Jeans
Hat: Flannel Trapper Hat (Herringbone)
Shoes: Flannel Felt Sneakers (Gray)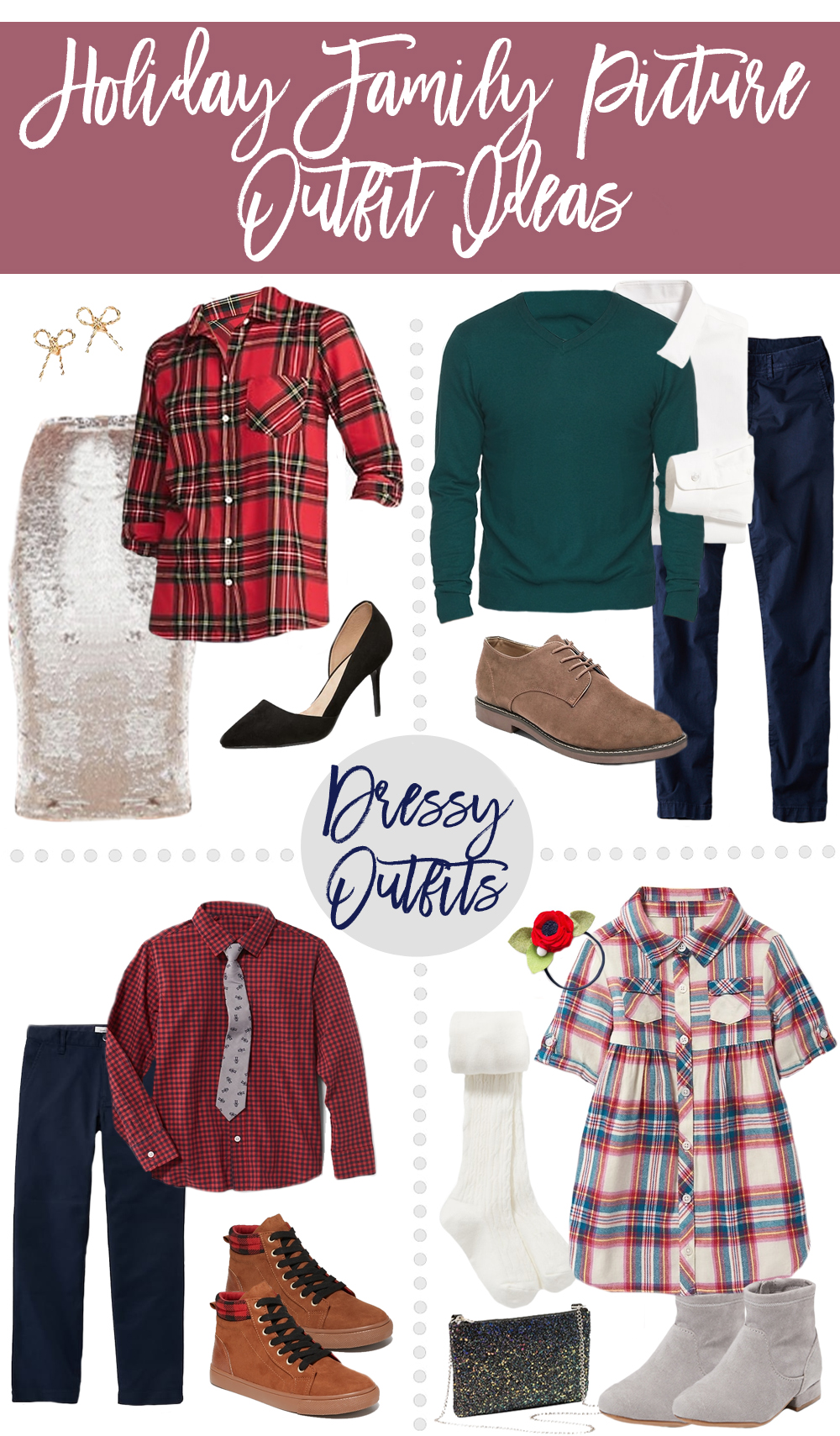 – WOMEN –
Shirt: Relaxed Plaid Twill Shirt (Red Tartan)
Skirt: Sequin Midi Skirt in Gold
Shoes: Black Pumps
Earrings: Gold Bow Studs

– MEN –
Sweater: V-Neck Sweater (Shades of Jade)
Shirt: Slim Fit Non-Iron Shirt (White Dobby)
Pants: Slim Ultimate Flex Khakis (Classic Navy)
Shoes: Sueded Bucks (Taupe)

– GIRL –
Dress: Plaid Flannel Shirt Dress (Cream Plaid)
Tights: Cable Knit Tights (Sea Salt)
Purse: Glitter Zip Tote
Shoes: Faux Suede Sock Boots (Gray)
Bow: Christmas Felt Flower

– BOY –
Button Down: Built In Flex Shirt with Tie (Red Gingham)
Jeans: Skinny Pants (Black)
Shoes: Faux Suede High Tops (Tan)

Remember that this is just a guideline. If you are feeling overly stressed, your kids will feel it and may not react well to the situation. Another tip is to let your kids try on their outfits beforehand. You do not want them to be uncomfortable because that will translate in their posture and facial expressions. Be joyful and merry. 'Tis the season!