It's FINALLY here!! The Ultimate Women's Holiday Gift Guide is meant to be guide while you are shopping for your Mom, Grandma, Sister-in-law, Mother-in-law, Daughter, friend or any women you are shopping for. That being said, I split this guide up into 3 price point collages. MANY of the items I personally recommend or they have great reviews!! Hope you find his helpful while shopping! As always, if you follow me over on Instagram, I will share when any of these items go on sale!!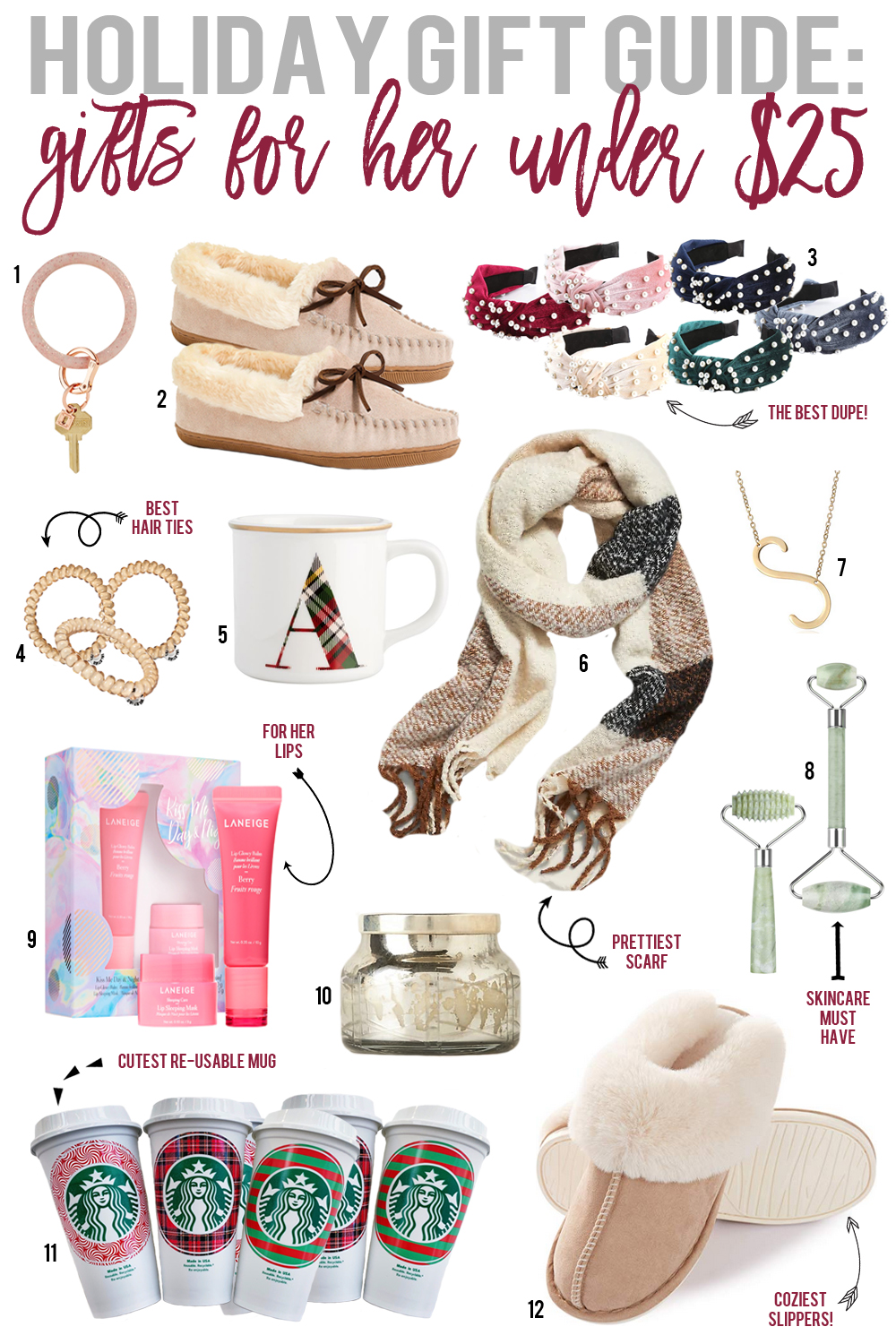 Key Ring – If you have followed me for awhile, you know I love my key ring! It makes my life so much easier!
Moccasins – Love these moccasins (I even wear them out of the house sometimes)! I did a review of different moccasins here.
Headbands – Vivian loves to steal these headbands from me! They're the cutest and you get 6 for under $15 so plenty to go around and share!
Hair Ties – The best hair ties! They don't leave a crease in your hair and it keeps it's shape after you take you out!
Mug – Who doesn't need another cute festive mug??
Scarf – My favorite scarf so far this season! So soft and cozy!
Necklace – One of my favorite necklaces! It's affordable and love the personalization with the letter.
Facial Roller – This jade roller keeps the wrinkles away and helps improve the absorption of facial products.
Lip Set – This lip set is the best! You can use the balm during the day and the sleeping mask at night to keep your lips hydrated all day long!
Candle – One of the most popular candles! You can't go wrong with this as a gift!
Starbucks Cup – I love my reusable Starbucks cup! There are so many cute designs to choose from! You also save $0.10 at Starbucks when you use your own cup! Use INSTA10 for 10% off!
Slippers – These are the coziest house slippers I have!