Hey friends!! I'm finally back with the first Amazon Fashion haul of 2020!! Well, there is some fashion, but also some jewelry, accessories, beauty and random finds at the bottom too! I am going to start incorporating more lifestyle and non-fashion items in my hauls going forward this year – hope that's OK with y'all!! All items in BOLD can be found on Amazon, but I've also linked the rest of the outfit details, sizing, etc.! If you have any questions, you can always leave a comment on @sandyalamode over on Instagram!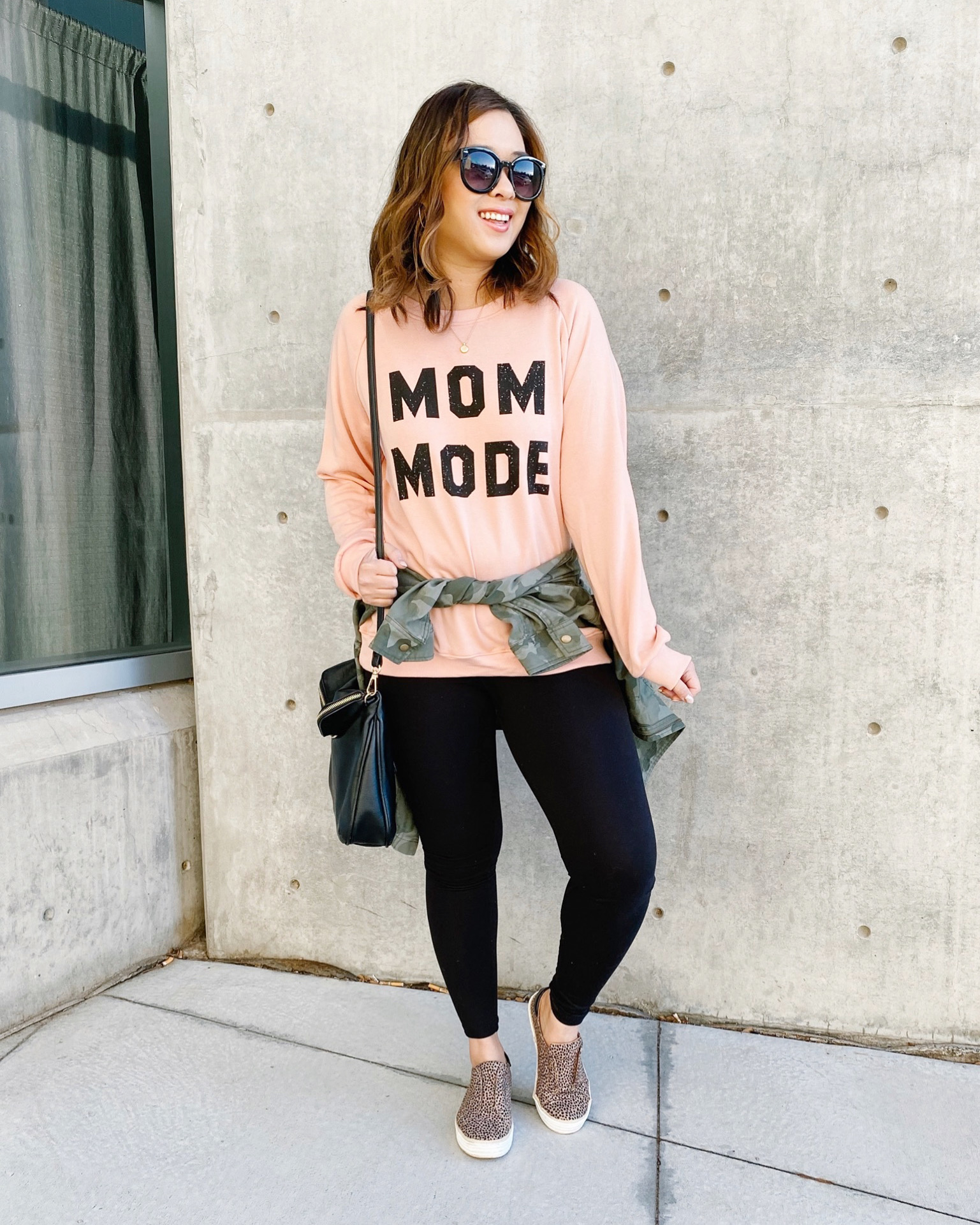 Mom Mode Sweatshirt (L) // This sweatshirt is SO comfy, cute and perfect for "Mommin". It comes in a few colors. I sized up for a looser fit!
Sunglasses // These are one of my fave Amazon sunnies, super affordable and looks great!
Camo Jacket (S) // Leggings (S – Linked similar here) // Sneakers (size down) // Bag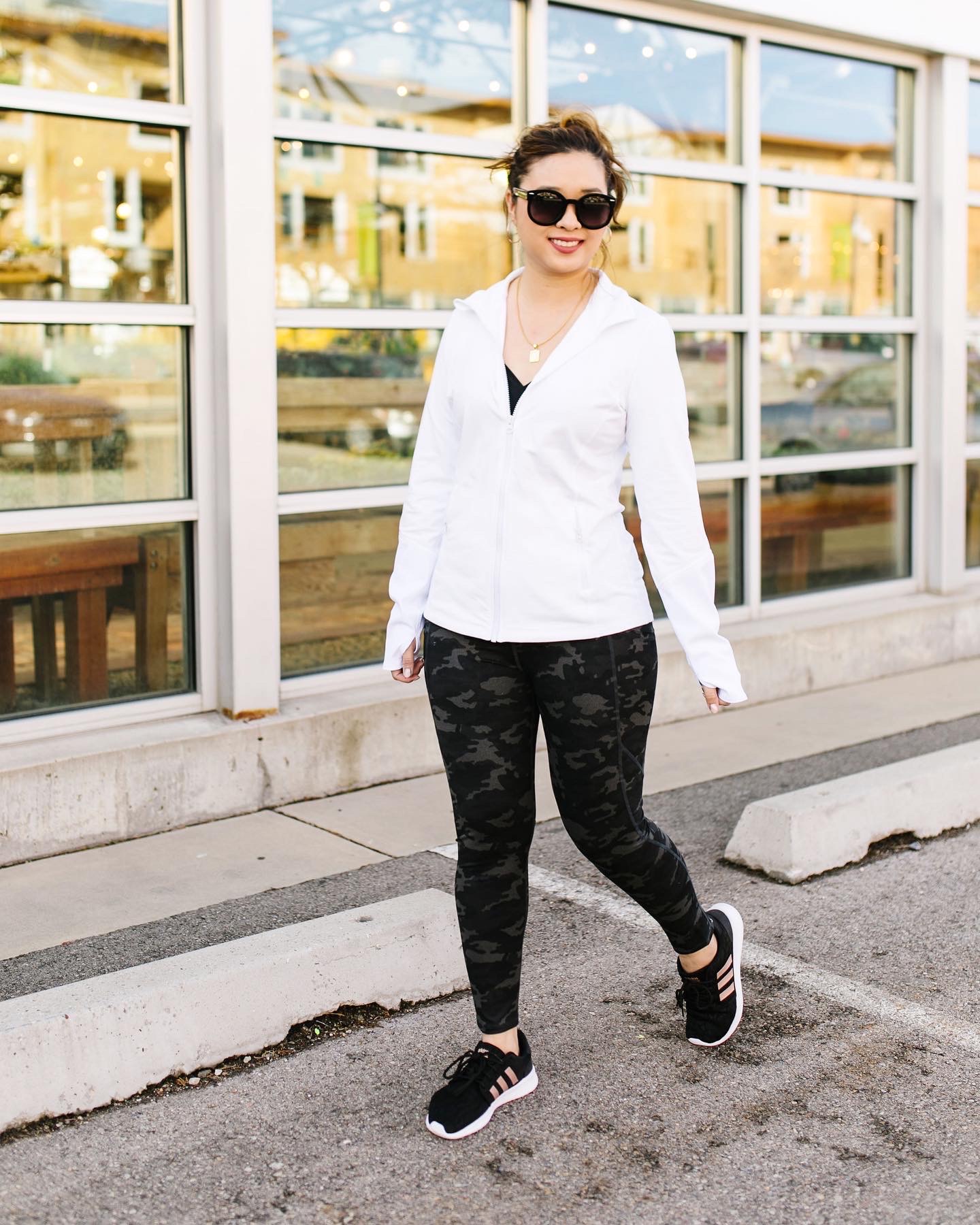 Sports Bra (size up one band size) // My bar has a clasp and a mesh detail that I love. Great support!
Athletic Jacket (L) // This is a Lulu dupe and such great quality! size up!!
Camo Leggings (M) // These are a 7/8 length and comes in a lot of colors and prints! So comfy and great for workouts!
Adidas Sneakers (size down) // Some of my fave athletic sneakers!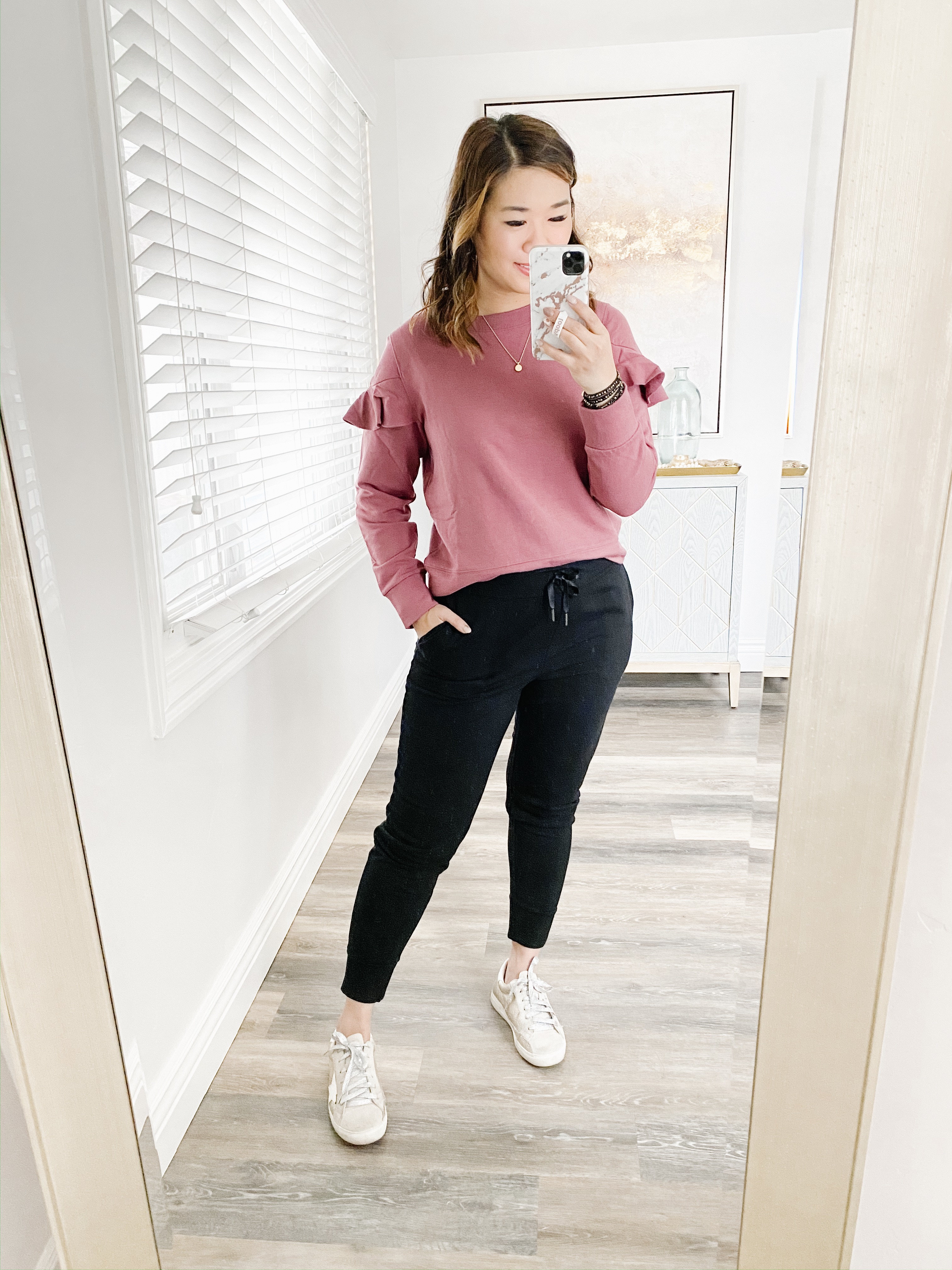 Ruffle Sweatshirt (M) // This cute sweatshirt is great for athleisure or casual outfits. Size up for a more relaxed fit!
Joggers (M) // These joggers have a fleece inside and are super comfy! They are like the infamous Butter Pants but have a cuff at the bottom!
Sneakers // These Golden Goose dupe sneakers are some of my go-tos and match almost any outfit where I want to wear sneakers!!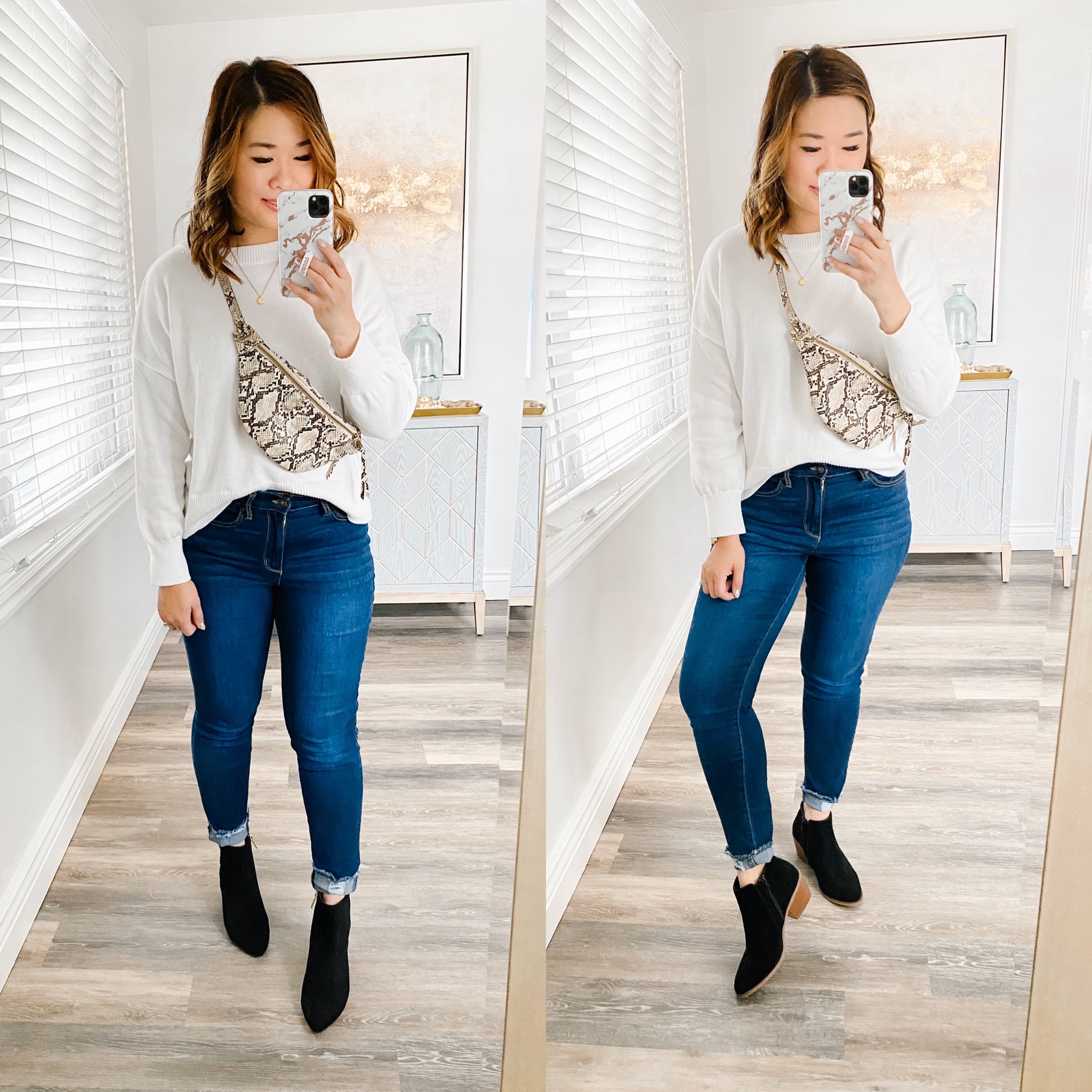 White Sweater (S) // This sweater is a classic, comes in a few colors and I just love a good neutral!
Belt Bag // This bag can be worn on your hips or around your front like I am hear! I love the print!
Booties (Left) // These booties are a great shape but have a narrow shaft a litlte bit.
Booties (Right) // These are a more affordable low ankle suede booties!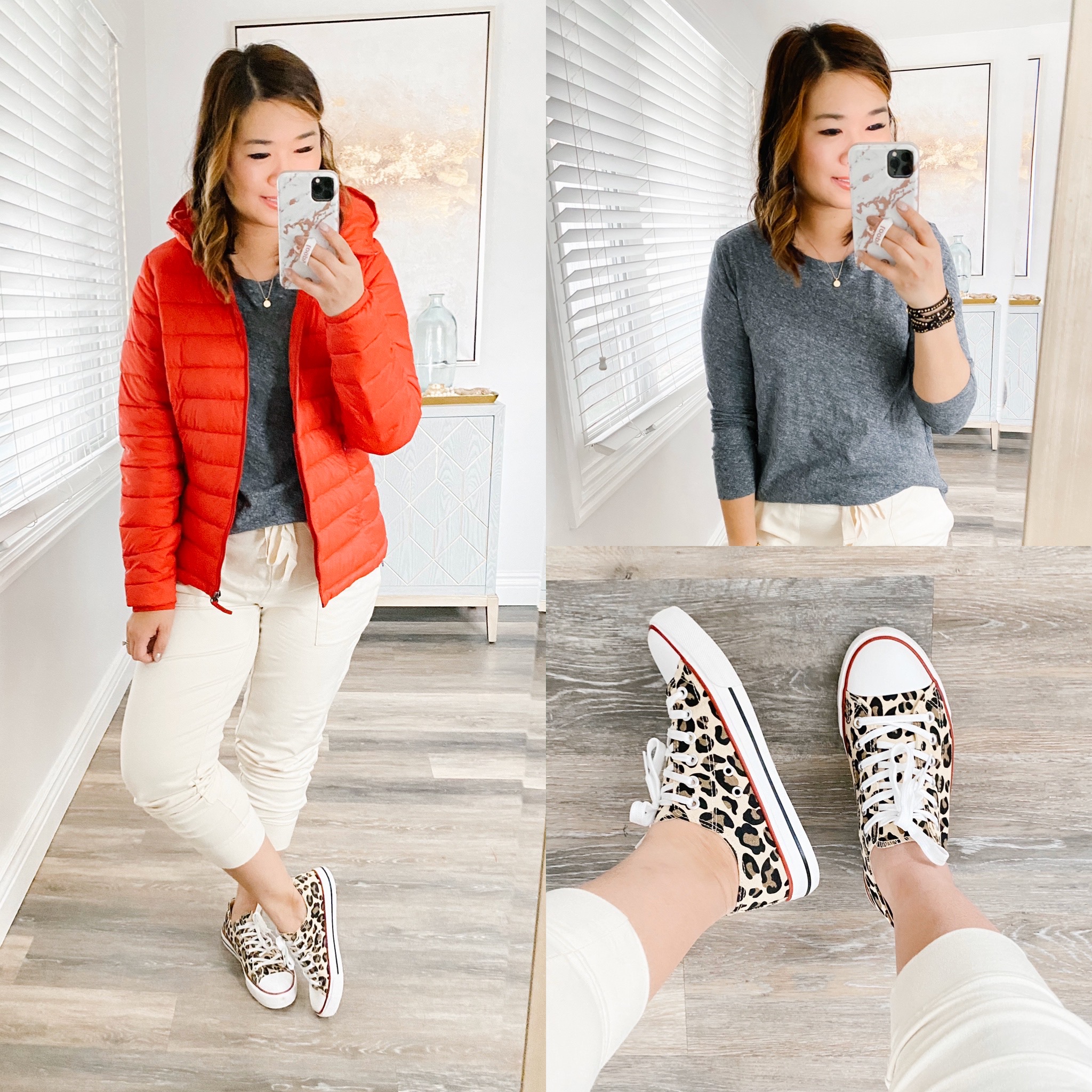 Grey Tee (M) // This is a classic tee and comes in a lot of colors.
Joggers (M) // I like this color of jogger especially going into Spring, I would size down though.
Packable Puffer Jacket (M) // This was a popular one when I shared it! It's got AMAZING reviews, comes in a few colors and is packable!
Leopard Sneakers (TTS, size down if in between) // These are a Converse dupe and a great price!
Necklace // Bracelet (linked similar)
The Amazon Coat (S) / I have this coat in green and it is so warm that I got it in beige too! Perfect for cold Utah winters!
$4 Sunglasses // Y'all can't get enough of these $4 sunglasses, they take a bit to ship but are WORTH IT! I would have spent like $30 on them because they are great quality and I love the shape!
Sweatshirt (M) // Jeans (6 Short) // Sneakers // Bag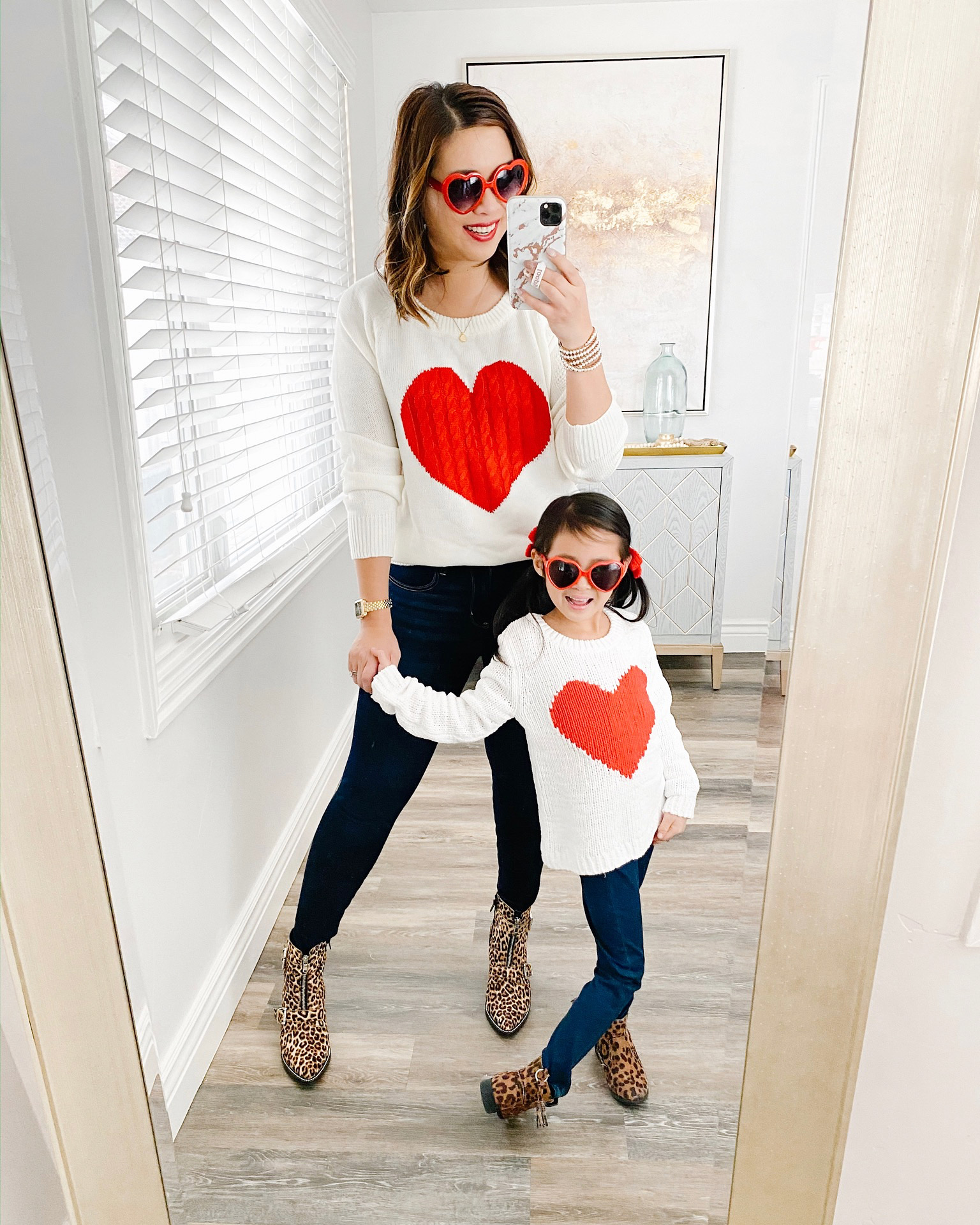 On me
Heart Sweater (M) // This is perfect for Valentine's Day!! Comes in a few colors!
Heart Sunglasses // How fun are these!?
On Vivian
Heart Sunglasses // But everything is cuter in mini form, right!?
Heart Sweater // Jeans // Booties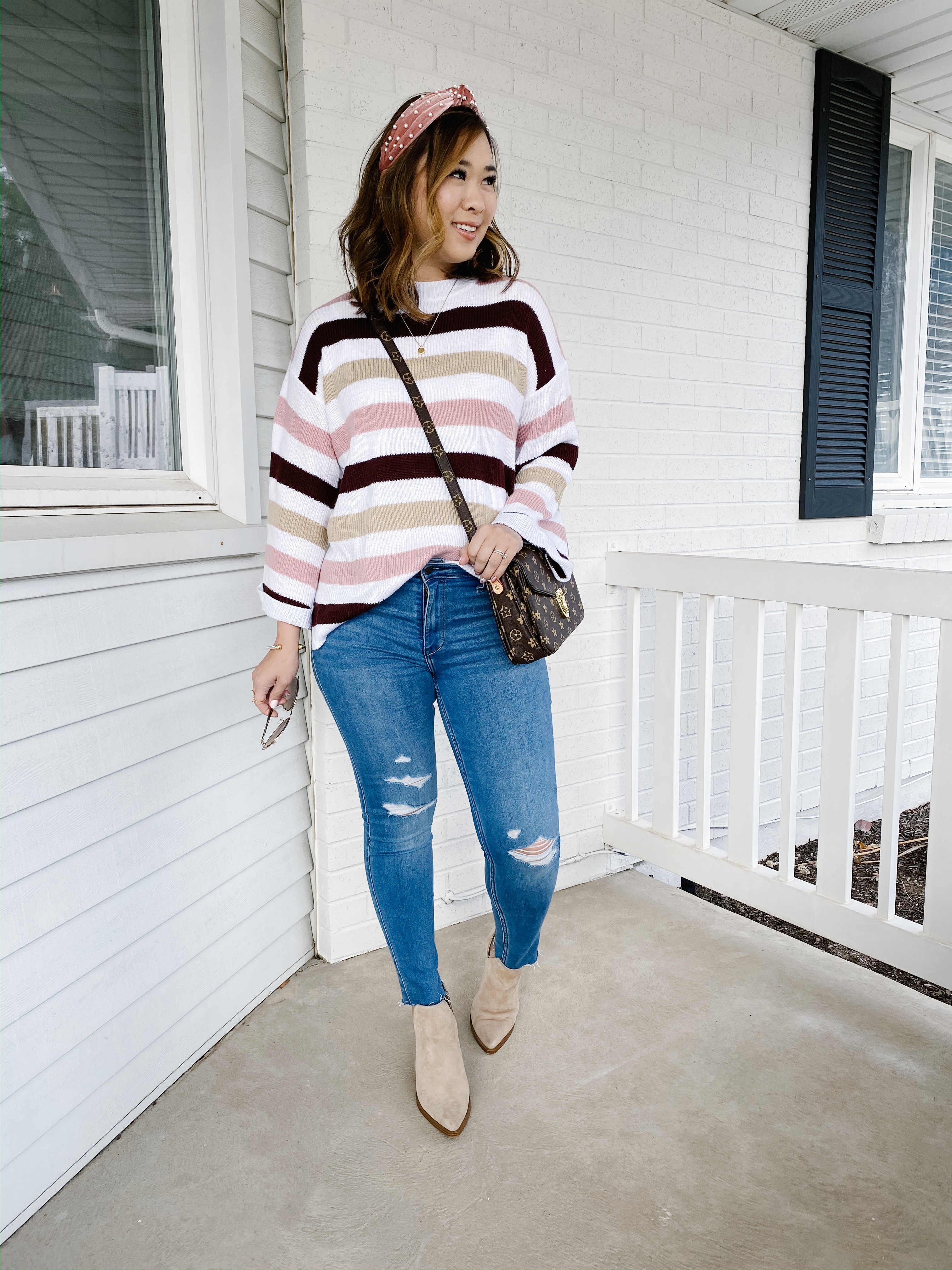 Sweater (S) // Love the colors on this cute sweater! Comes in other colorways too!
Bag // This is a designer dupe and I just love the colors and it's pretty spacious too!!
Headband // Comes in a 6 pack for $14.99 and is such a great find!! Doesn't hurt my head either!
Jeans (29S) // Booties (size up half)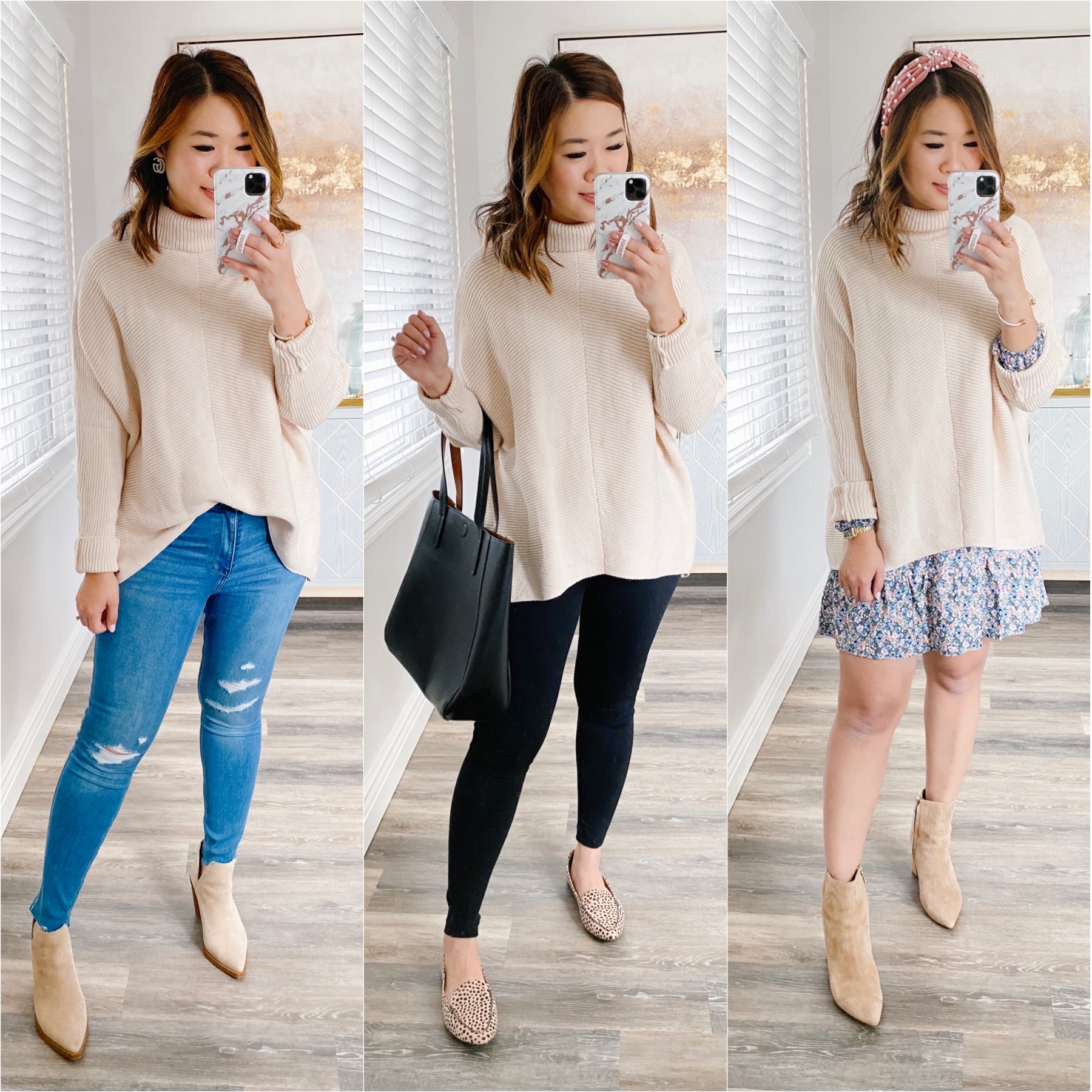 Sweater (S) // This sweater is a great Free People dupe and it's super soft! I want it in more colors!! Bonus: It's tunic length which means it works with leggings!
Middle – Leggings (M) // Loafers // Bag
Right – Dress (S) // Booties // Headband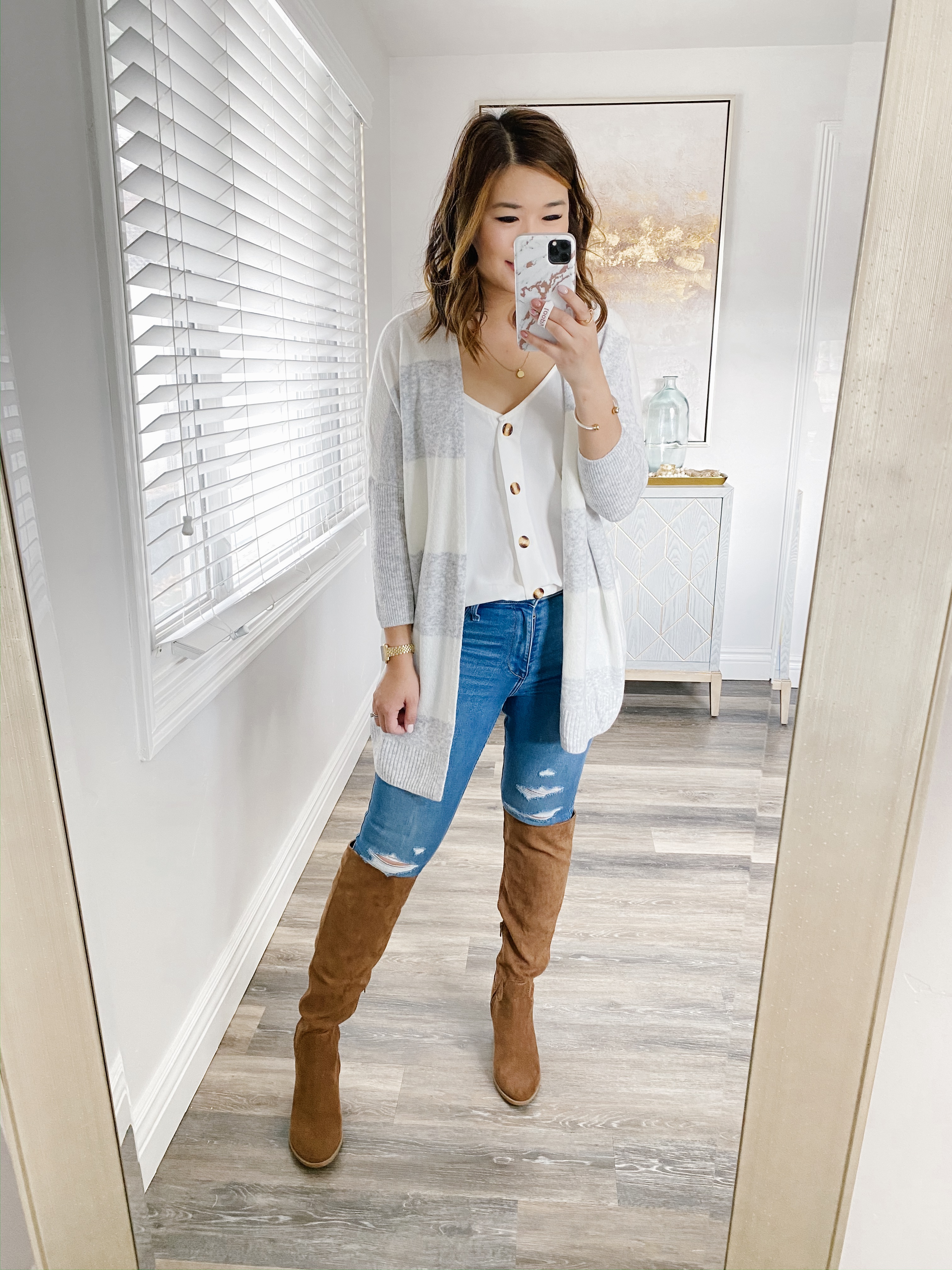 Cami (S) // This cami was part of my Summer Capsule Wardrobe and I will wear it all year round!
Cardigan (S) // This cardigan is SO soft and gorgeous, comes in solid colors too!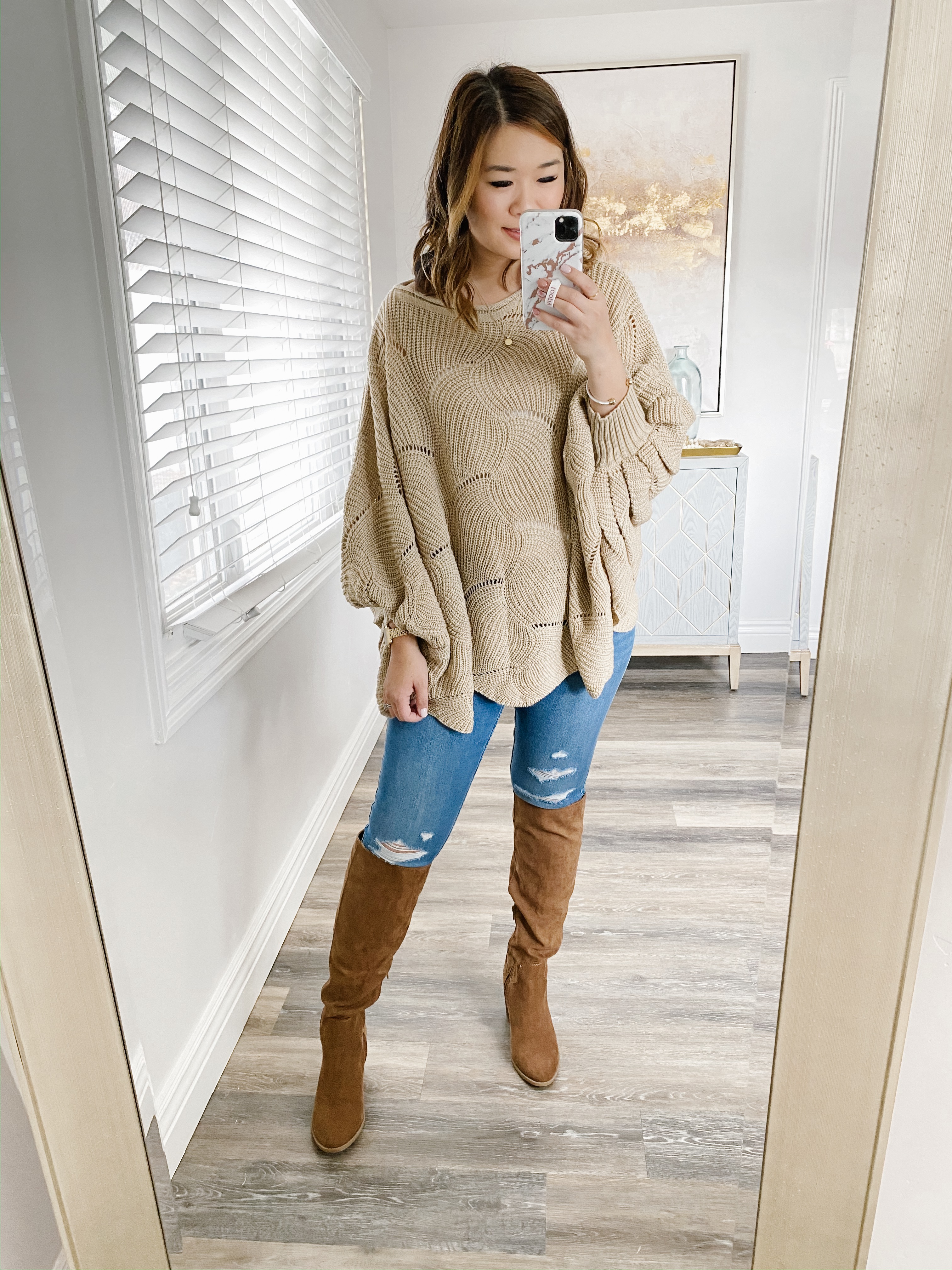 Sweater (S) // The detail of it initially caught my eye, but I will be returning. I don't LOVE it and think it's not as flattering as I had hoped!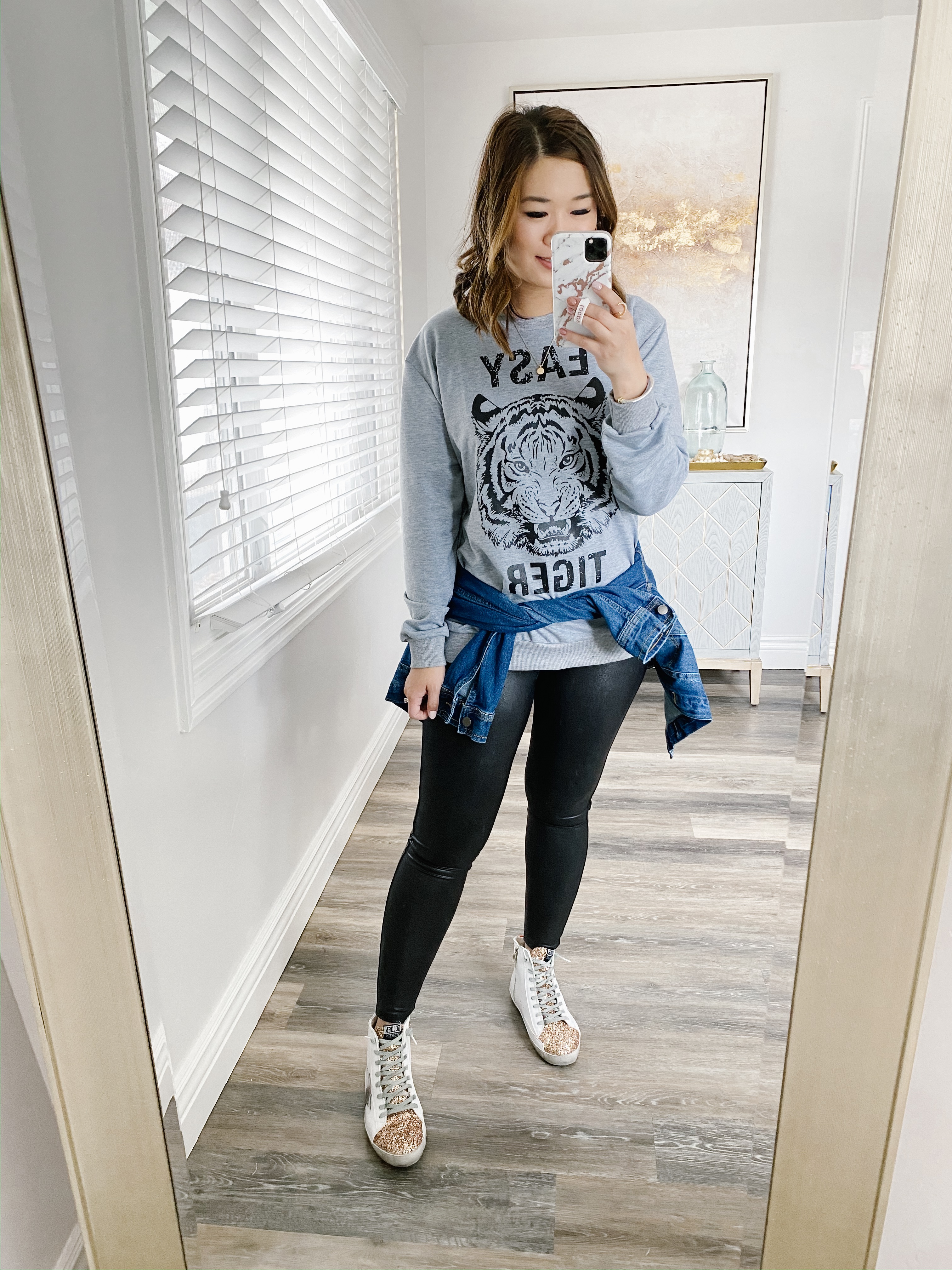 Easy Tiger Sweatshirt (L) // Graphic tees with tigers on them were all the rage this Summer, and they aren't going away! You can wear them into Winter and Spring with this sweatshirt here!
Star Hi-Tops // Found these Golden Goose dupes that are comfy and cute! LOVE the gold color and the star!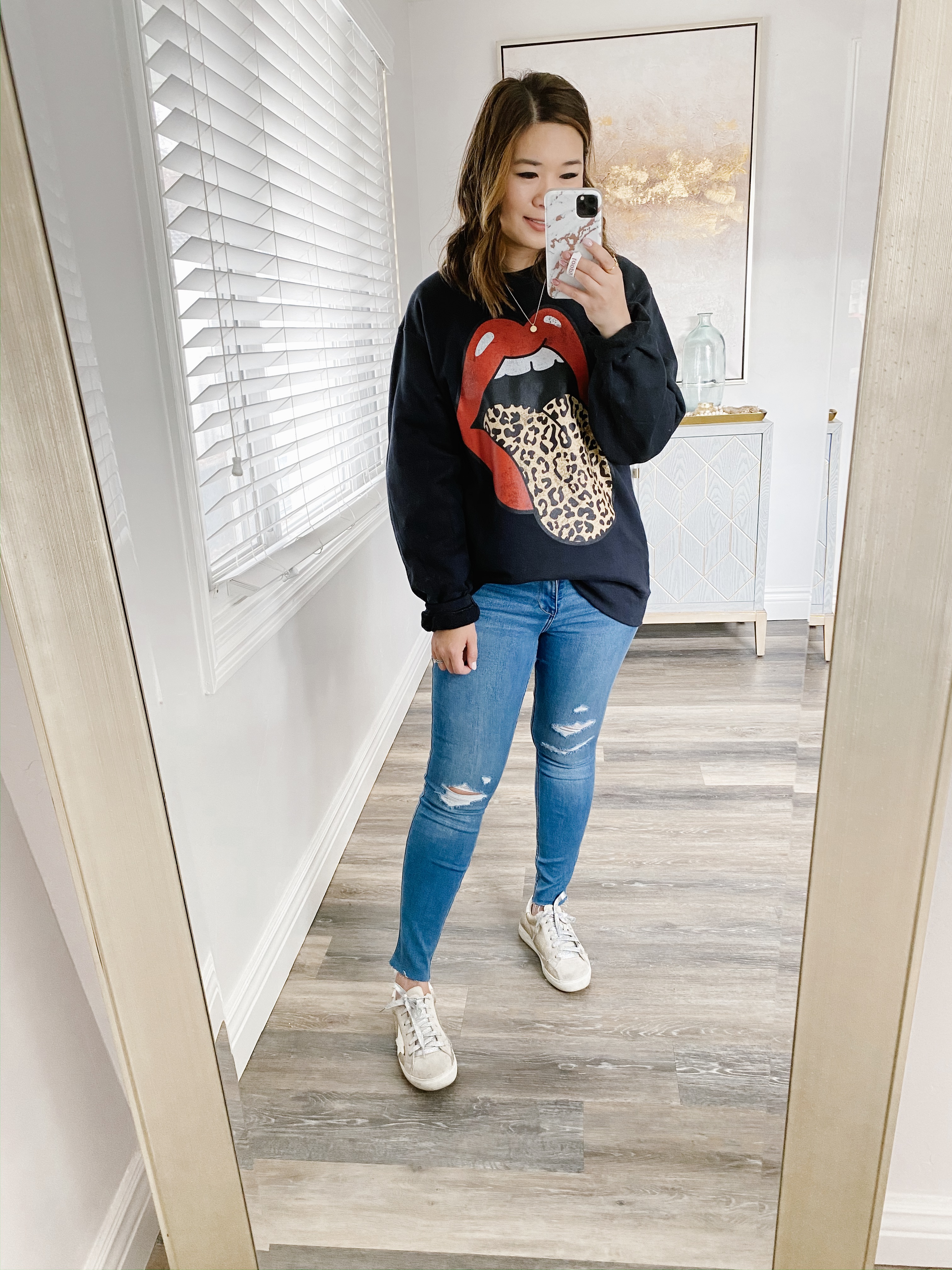 Sweatshirt (Unisex L) // These sweatshirts are amazingly soft and comfy! I size up in them and they come in several colors!!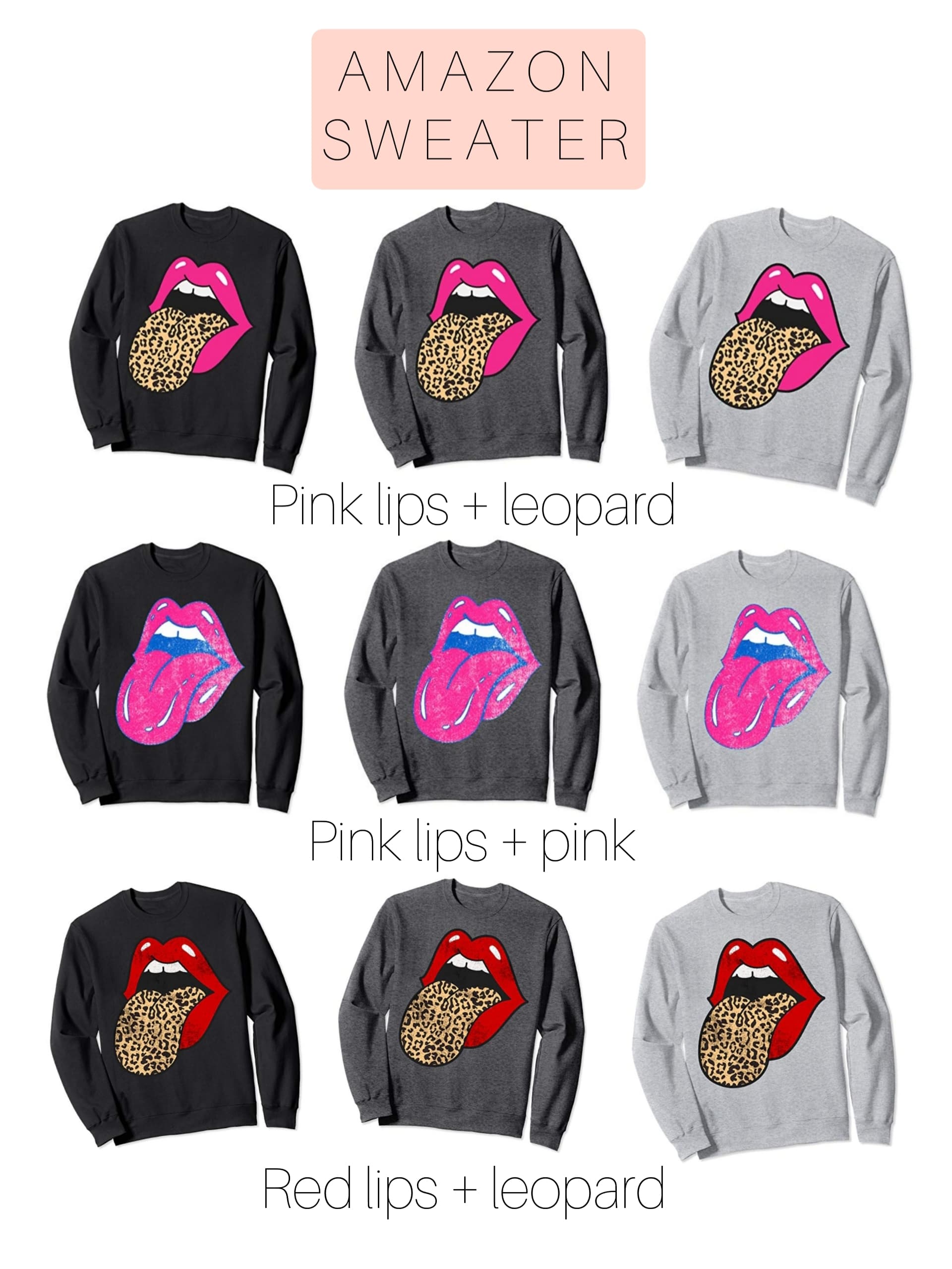 Pink lips + leopard // Pink lips + pink // Red lips + leopard // Red lips + camo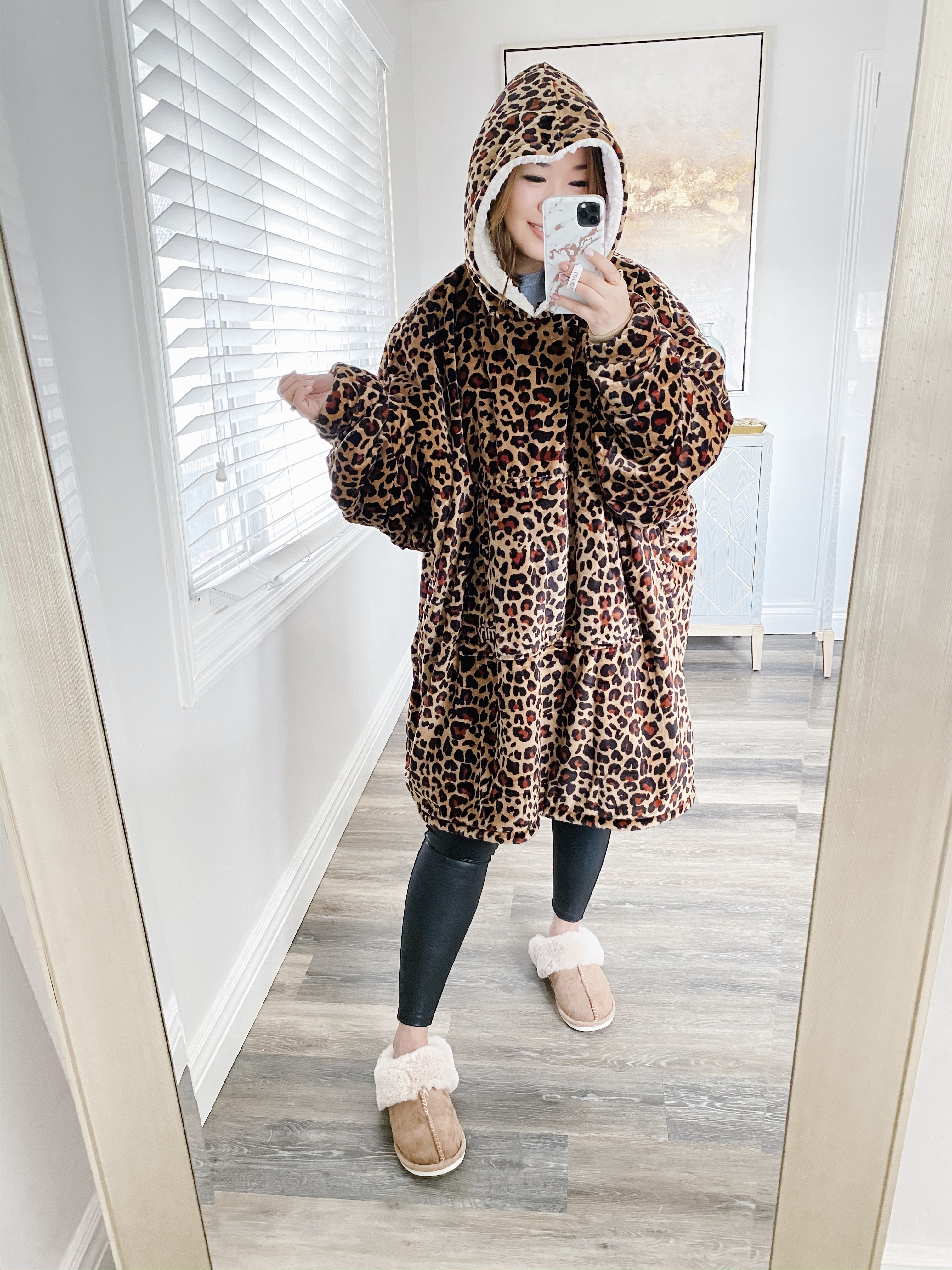 Comfy // I know, I know what you are thinking. Sandy, are you foreals!? But hear me out. This thing my look silly, but it's got an amazing sherpa inside and is SOOO warm! It comes in one size only and a lot of colors and kids sizes too.
Slippers // My fave Amazon slippers! So easy to slip on and comfy!! I am 7.5-8 and wear Medium.
Faux Leather Leggings (Petite Large)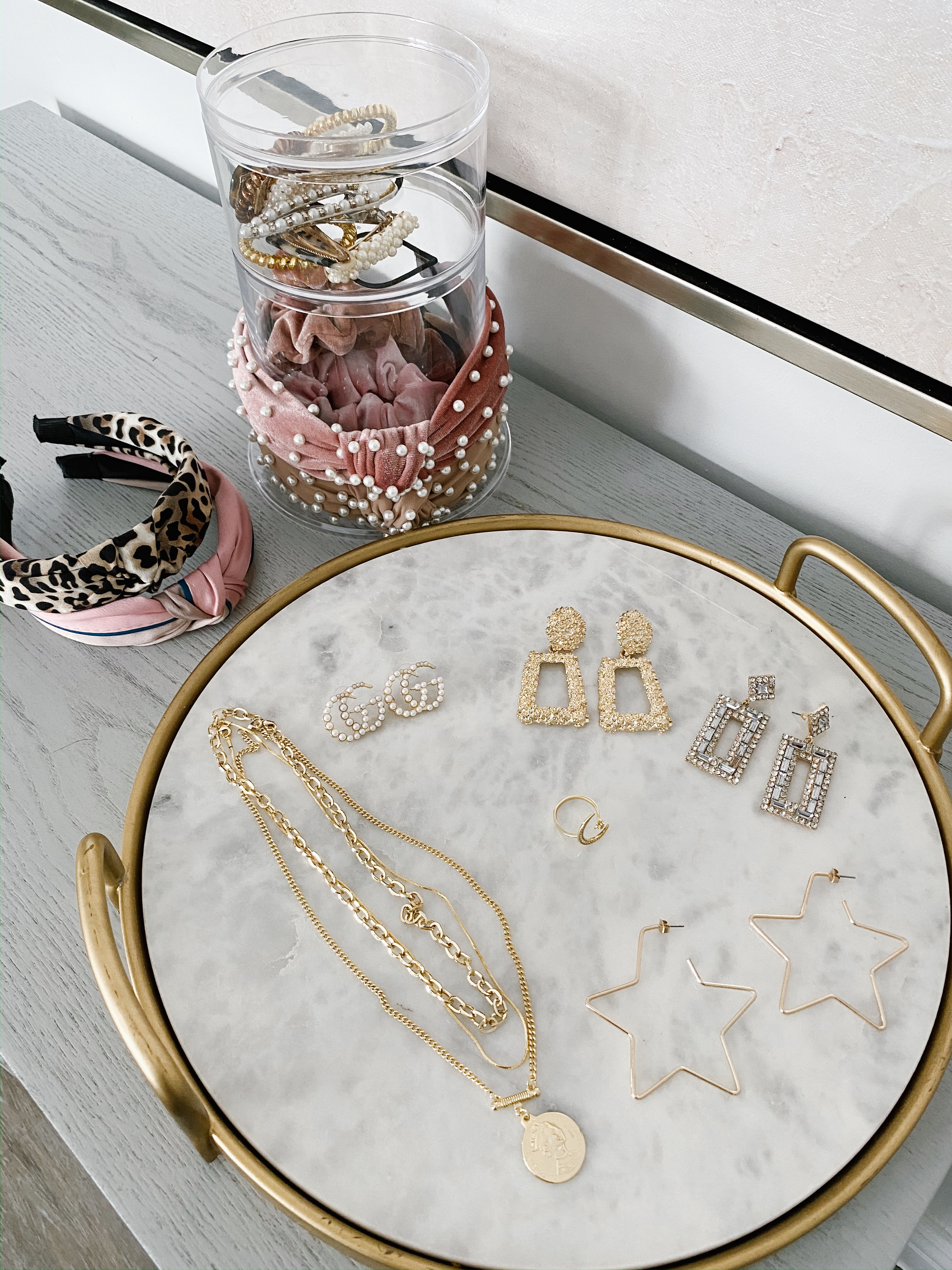 Clear Stackable Accessory Holder // Pearl Headbands // Multi-Stripe Headbands // Leopard Headbands // Pearl Clips // Scrunchies
Coin Necklace Set // GG Earrings // Moon & Star Ring // Gold Earrings // Diamond Crystal Earrings // Star Earrings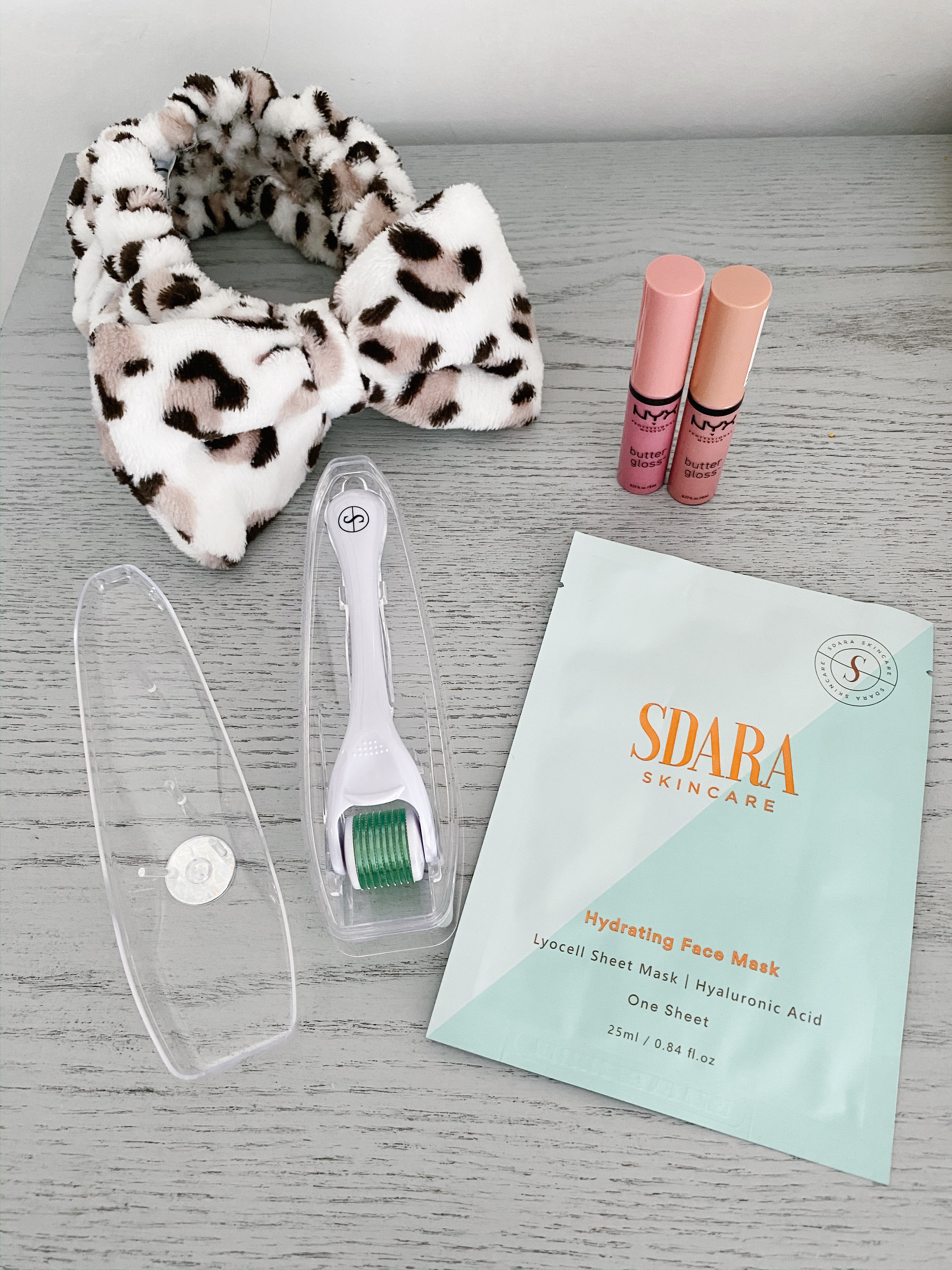 Leopard Makeup Headband // This is the perfect little headband to wear when applying your nighttime skincare routine and doing your makeup in the morning! It's SO soft and will keep your hair out of your face!
Sdara Microneedle Derma Roller // Perfect to use if you have acne scars or want to improve your skin's appearance but don't want to spend the money on microneedling. This one has little needles in it. Also want to get this pink Jade Roller too!

Sdara Face Mask // Because who doesn't love a good face mask for girl's night!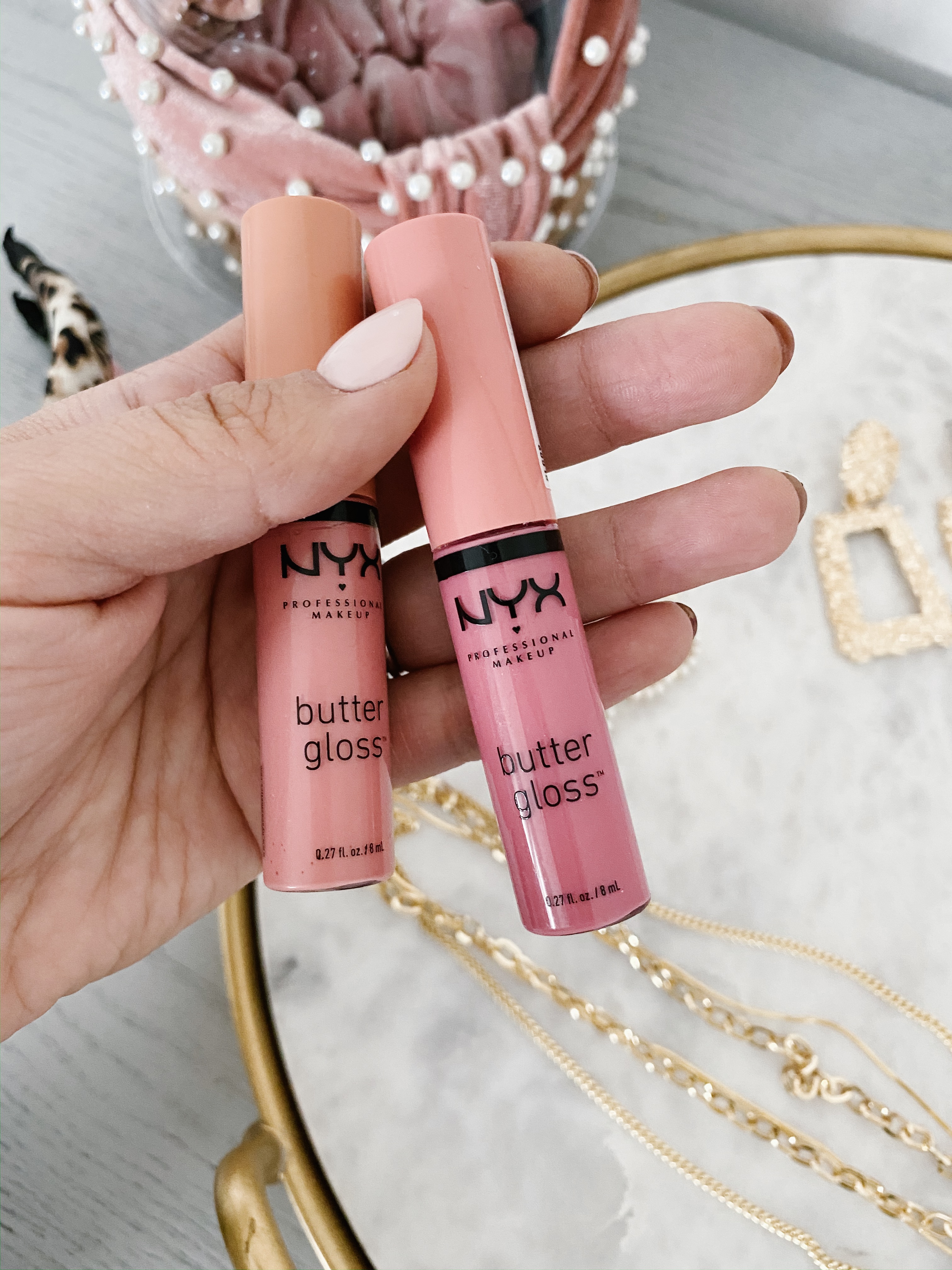 NYX Butter Gloss: Creme Brulee // Vanilla Cream Pie
These glosses are under $5, but Amazon has some colors marked down to like $2-3, say what!? I stock them in my car, purses, everywhere I can!
Other colors I love: Tiramisu, Angel Food Cake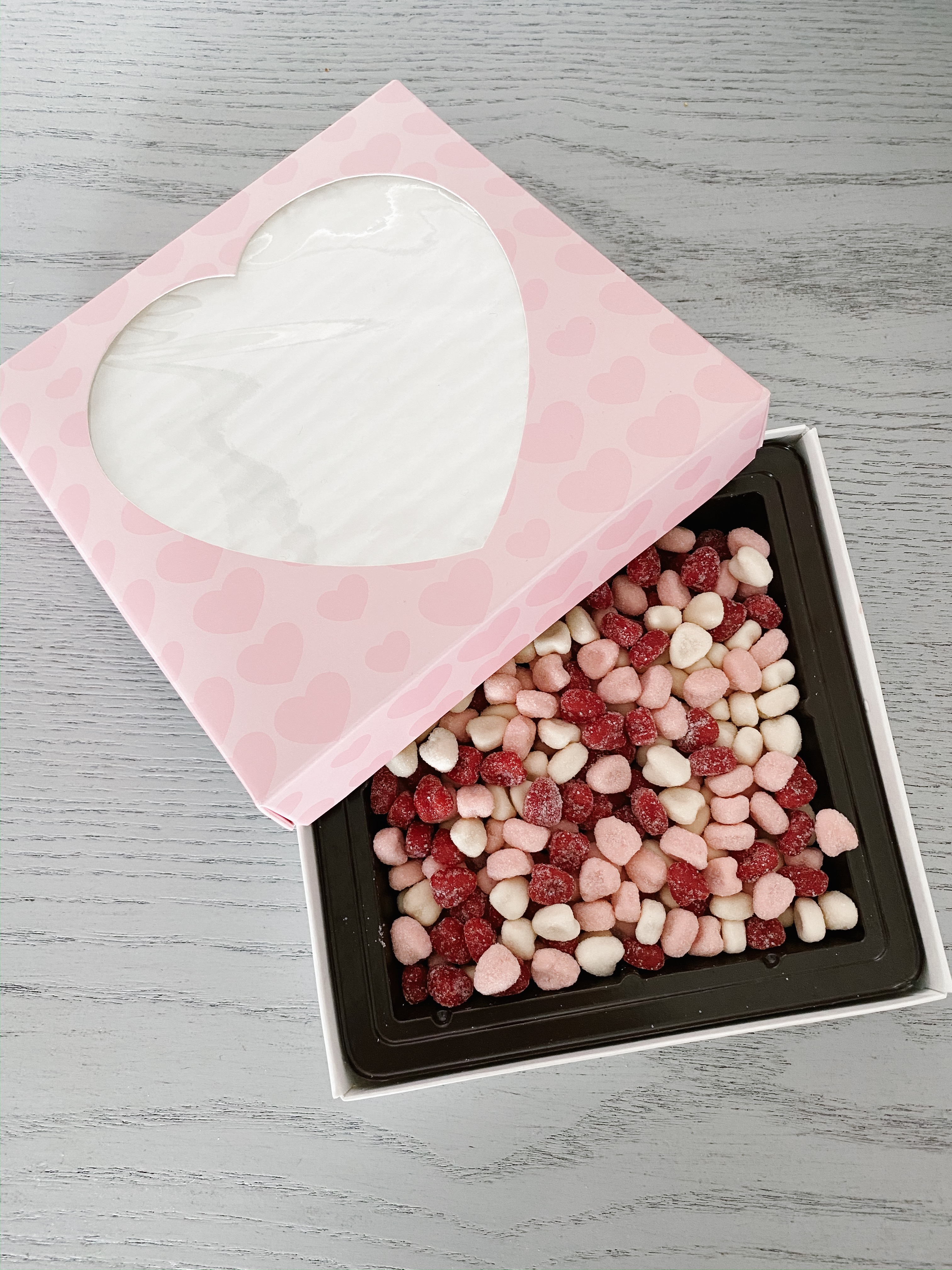 Petite Sour Hearts // These little hearts are SOO delicious and would make the cutest little kid's or adults Valentines day gift. Or you can just eat them for yourself because once you start you won't want to stop! You can buy them in this gift pack (the shipping makes this exact product not really worth it TBH), or other sizes like a 10 lb bulk haha!! They are sweet and a little sour and each color tastes a little different! The first link will take you to all the listings of them on Amazon!
To see past Amazon hauls – CLICK HERE! The great thing about Amazon is that many of the items will continue to be in stock or will restock often! If you are looking for a swimsuit for an upcoming vacation, check out last year's swimsuit and coverup haul!!