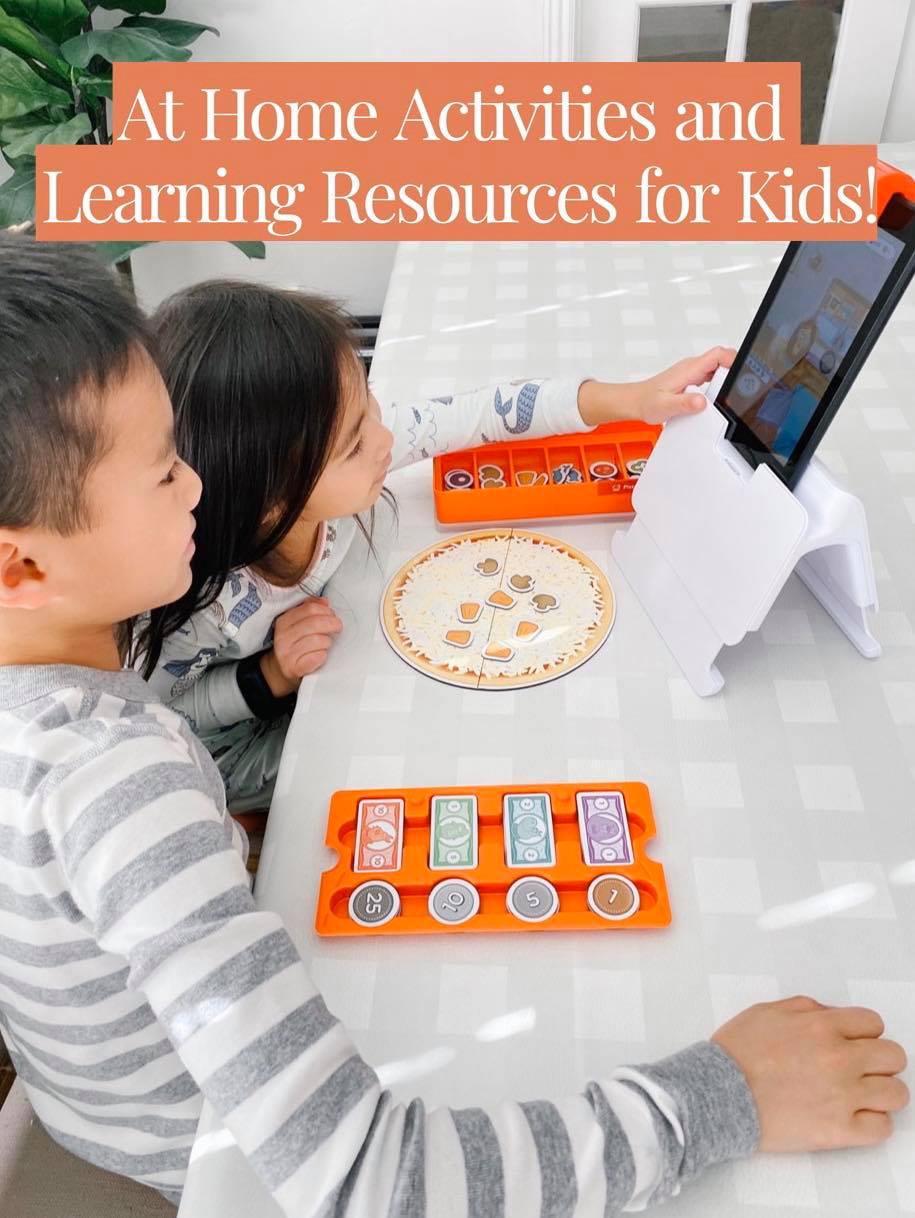 Right now, many of us are facing worldwide lockdowns, schools are closed, and many of us parents (regardless of working status) will need to stay home with our kids. As a working parent who always either worked outside of the home and am currently working from home, I have been personally struggling with what to do with my kids at home!! Utah schools have a 2 week dismissal, and I am determined not to let my kids have screen time ALL day long (although that is tempting). So I have asked my Instagram friends, stay-at-home mom friends, and my assistant who was a former 1st grade teacher to help come up with some ideas for this post!!
First off, this comic or video is a great to show your kids who are feeling scared or anxious during this time.
Websites
Here's a list of awesome companies offering free or subscriptions to learning resources during this time!
Here's another website that has complied a list that are offering free subscriptions.
Pinterest also have a plethora of ideas if you're stuck on ideas!
ABC Mouse (grade Prek-2nd) – I've heard such great things about ABCMouse!
Adventure Academy (2nd-5th) – Games and Videos for reading, math and science
Brain Pop – Lots of great educational videos for the older kids
Brain Pop Jr. – Geared towards the younger kids with free videos and games
Code.org – Kids can learn how to code
Epic (ebooks and educational videos)
Go Noodle (available in app and YouTube) – My kids LOVE watching these videos!
Khan Academy – Offers exercises, quizzes and tests.
Libby (link your local library account to download ebooks)
Other Goose – They are offering the next 3 weeks free!
Scratch Jr. – Coding for children 5-7.
Prodigy Game – Engaging math games for 1st – 8th grade!
Reading Eggs – Online reading games and activities.
Revolution Math – Austin has been doing this Math program for over a year now and LOVES it! They are extending their $1 trial sign up and offering more class times too – use code SANDY1. They really make Math fun!! See a detailed review here.
Scholastic – They're offering free 20 days of resources. Each day is something new!
Teachers Pay Teachers – Worksheets and workbooks created by teachers! Great way to support them! Moffatt Teachers is a popular teacher who creates worksheets and is offering them for $5 right now!
Also, several museums are offering virtual tours, which one of you shared with me!
Digital Games/Apps

PBS Kids – (Ages 2-8) Lots of games and videos.
Quick Math Jr. (App only, Ages 4-8) – interactive Math journeys.
Starfall – (Ages 5-9) – Educational lessons including language arts and math
Workbooks
Brain Quest – The most recommended workbooks! We used them and are a great way to review learned concepts. They have them split up my grade! Also, love the flashcards!!
Interactive Notebooks -These take a bit more to setup but I love having the kids more hands-on in their learning!
School Zone Workbooks – These books come highly recommended by home-school moms! Look at those reviews!!
Flash Kids Harcourt – These books go up to 6th grade and offers all subjects!
Tinkeractive – Geared for the younger kids. I love the bright colors and illustrations!
Geography Workbooks – These workbooks are great to learn about the world around us!
Daily Practice – There are many subjects to choose from and it is all laid out on what they need to do each day!
Scholastic Workbooks – So many great workbooks to choose from!
Wipe Clean Workbooks – Love that you can erase and reuse them!
Testingmom.com Flashcards – A good change of pace from worksheets. Lots of different subjects and categories!

Toys/Activities/Crafts
One of the best suggestions one of my followers suggested was have the kids write letters and make cards for those that are in the front line of this pandemic; health professionals, first responders, fire fighters, police officers, etc.
Scavenger Hunt to earn some screen time! It does take some time to set up on your part but they'll have so much fun!
I saw this post with 50 easy indoor activities!
One thing I will like to mention with any toys/activities that you have for your kids, is to rotate them out every few days. This keeps it interesting for them and when their older toys/activities rotate back in, it will be like new again!
Paint by Stickers – Vivian and Austin love doing these! It's a great quiet time activity.
Stained Glass Easy Peel Kit – Another quiet activity but I love that they can hang it up and admire their work!
Craft kit – If you're in need of supplies for crafts, this is a great kit for that!
Fort Building Kit – Instead of using your furniture, kids can use these to build their own fort! See what they can come up with!
Magnetic Tiles – Vivian and Austin can play with these for hours on end. It's so fun to see what they create! These ones are a great price/per tile value!
Snap Circuits – Great STEM activity!
LEGOs – Or if LEGOs are not your jam, these interlocking discs are great STEM building toy!
Perler Beads/Fuse Beads – There are so many options for these fun beads! Keep in mind that it requires an iron and adult supervision with that part.
Bounce House – It may be expensive but I feel like it's worth the investment. It can be used over and over again! Some people have mentioned that they are even able to set it up indoors!
Canvas and Paint – Let their creativity flow and see what kind of paintings they come up with! Or do your own guided paint lessons at home!
Water Beads – These are so fun but make sure you do them in a contained space or outdoors! For babies, you can
Sensory Boxes – We love these sensory boxes! It's all prepared for you already so no need to gather all the supplies! There are many themes to choose from!
Puzzles – Great family activity!
Play-Doh – Always entertaining! Here's are some accessories that has some fun tools for them to use with their Play-Doh!
Doughsie Dough Kits – These are themed Play-Doh kits and come in various sizes. They have mermaid, animal, space themes and more!
Water Sprinkler – If you have the luxury of going outside with some nice weather, this will keep the kids entertained and you can water your lawn as well!
Jump Rope – This rope is adjustable and comes with a booklet for fun ideas! Also, a way to sneak in some exercise!
Slime Kits – If you're feeling brave!
Bath Toys – When you can't go outside, throw them in the tub to splash around!
Straw Building – Another great STEM building activity!
Origami – Has lots of instructions and you have beautiful artwork at the end!!
Necklace/Bracelet Kit – I love that these beads snap together and the possibilities are endless!
Tie Dye Kits – Tie dye is so trendy right now so why not have them make their own? Would be great for older kids too!
Coding Robots – Promotes screen-free play and problem solving.
Air Forts – All you need is a fan and you have a fort!
Chalk – An oldie but a goodie! Chalk is always fun!
Trampoline – If you want to make sure your kids stay active and outdoors, my kids LOVE this and will probably jump on it every day!! We also have this basketball attachment and a ladder (linked a similar one, ours is sold out) too!
Microphone – Best little microphone for at home karaoke!! You can hook it up with Bluetooth to play songs through it too!
Kiwi Co. – Love these STEM kits! It comes with everything you need! There are different age groups as well.
Kinetic Sand – This is best played outside or with a mat under but it's so fun!
Games For The Family
Games for Age 5+


Games for Age 8+


Instagram Accounts
These accounts have great ideas for activities to do with kids, homeschooling ideas, and more!!
@BusyToddler // @LoveStalgia // @Dayswithgrey // @Kidsplaytricks // @7daysofplay // @LipglossandCrayons // @twothriftymamas
Schedule/Routines
Staying home with my kids for an extended period of time / home schooling is something that I am not used to at all! My good friend Daisy (@crappy2happy on Instagram) is a stay-at-home mom of 4, whose older kids typically go to school. However, since many schools are closed now for a couple of weeks, with some not offering virtual learning (probably is harder for younger elementary aged kids to do that), have an at-home schedule is crucial!! I LOVE LOVE LOVE this schedule for what she will be doing at home with her kids, so she can do her part in helping to flatten the curve!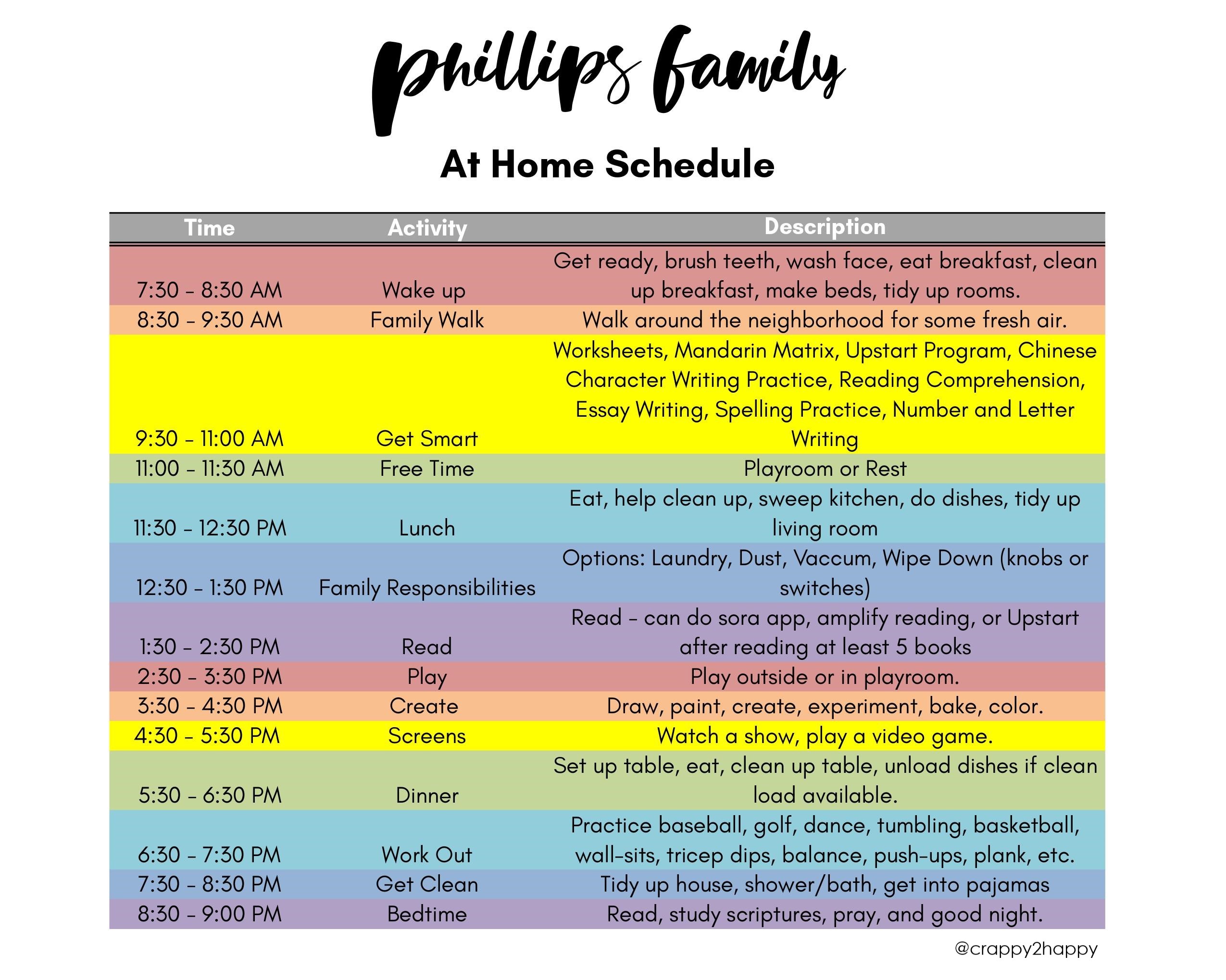 It's rainbow colored, because she said that will make things happier too! 🙂 I will be modifying it a little bit to fit my own families needs, but I love that there is blocked out term for certain types of activities, chores, helping around the house, meals and bedtime!! BUT, we wanted to offer you guys a FREE DOWNLOAD of this schedule (it is in Excel format, you could also put it into Google Sheets). If you want to use the same fonts as this template, she used is Holiday Sun font for "Phillips Family", and Glacial Indifference font for the rest – you can download them for free on dafont.com. Make sure to print it the schedule and hang it up wherever your family hang outs the most, so that you can be sure to stick to it!!
Download The At Home Schedule With Kids
I also wanted to add that there were for sure be days where I cannot follow my schedule perfectly, and that is TOTALLY OK! I am going to do my best to keep some type of routine/structure for my kids, because I personally know that they thrive on routines and so do I!! Mamas, we are in this together, and we are all just doing our best!!! I truly appreciate and love each and every one of you and hope this post can be of help to you in some way! Stay safe!