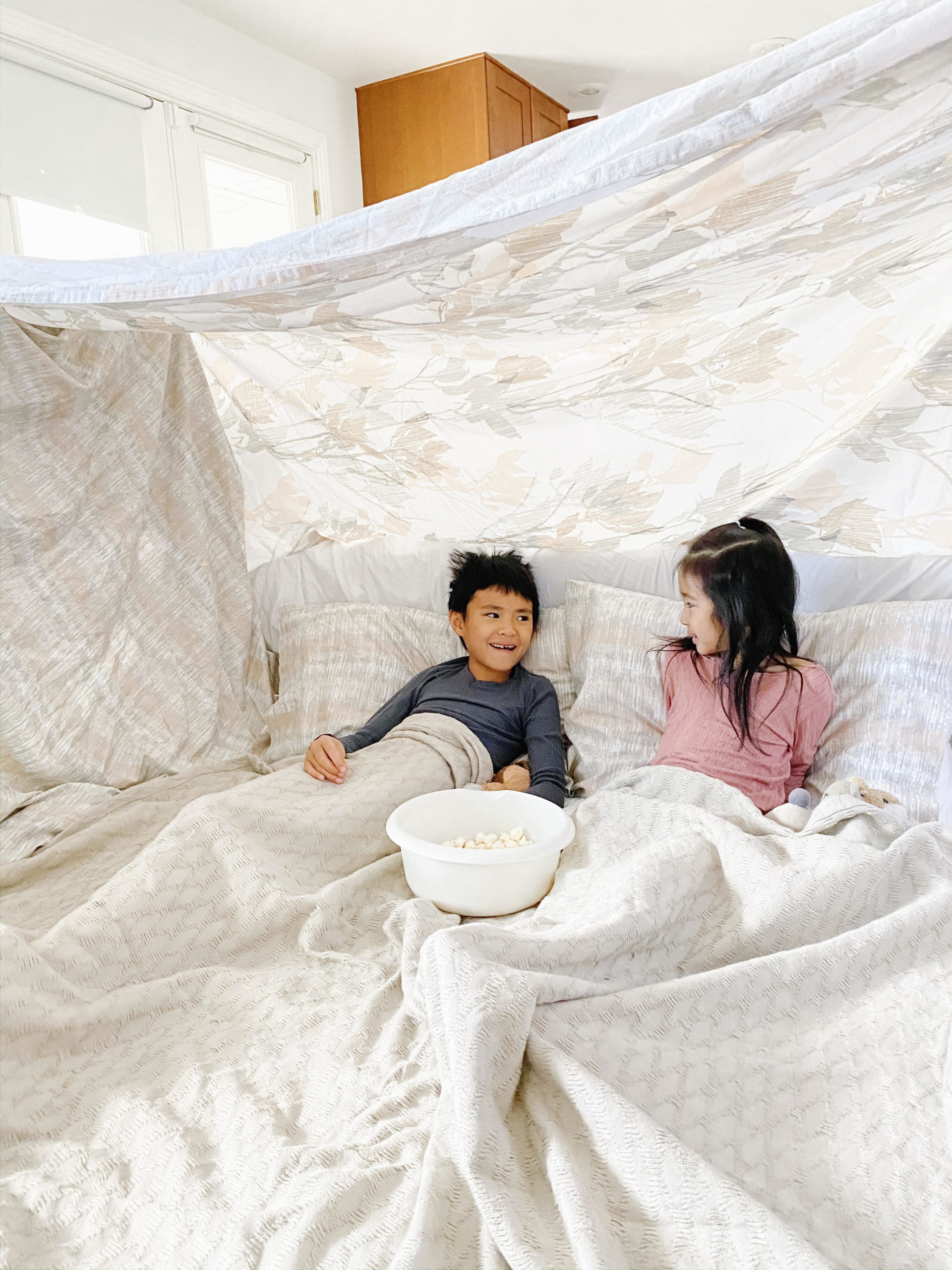 These past few months, we've all had to come up with a lot of different ideas in terms of activities and things to do around the house. I feel like the kids have already played with every toy in our house, but sometimes it really just takes a little creativity to come up with a new activity! One thing that we have been doing lately is a "Family Movie Night". I've got to say, even though we are all at home together, it's rare that we actually find the time to do an activity all together. After dinners a lot of times we will play a family game, but that's usually more in the rush before bed time!! So having a dedicated movie night is always a good idea because we can start it at dinner time with ordering some pizza in, and then we make some popcorn for the movie.
The other night we grabbed some of our taller dining chairs, some comforters, sheets, and pillows and made a little blanket fort in our living room, right in front of our TV! The kids used their imagination and ran wild with the idea, with a little help from me and Marvin of course! The kids also decided to have a little sleepover in the fort that night, they've actually been testing out sleeping in like every room of our house, haha!!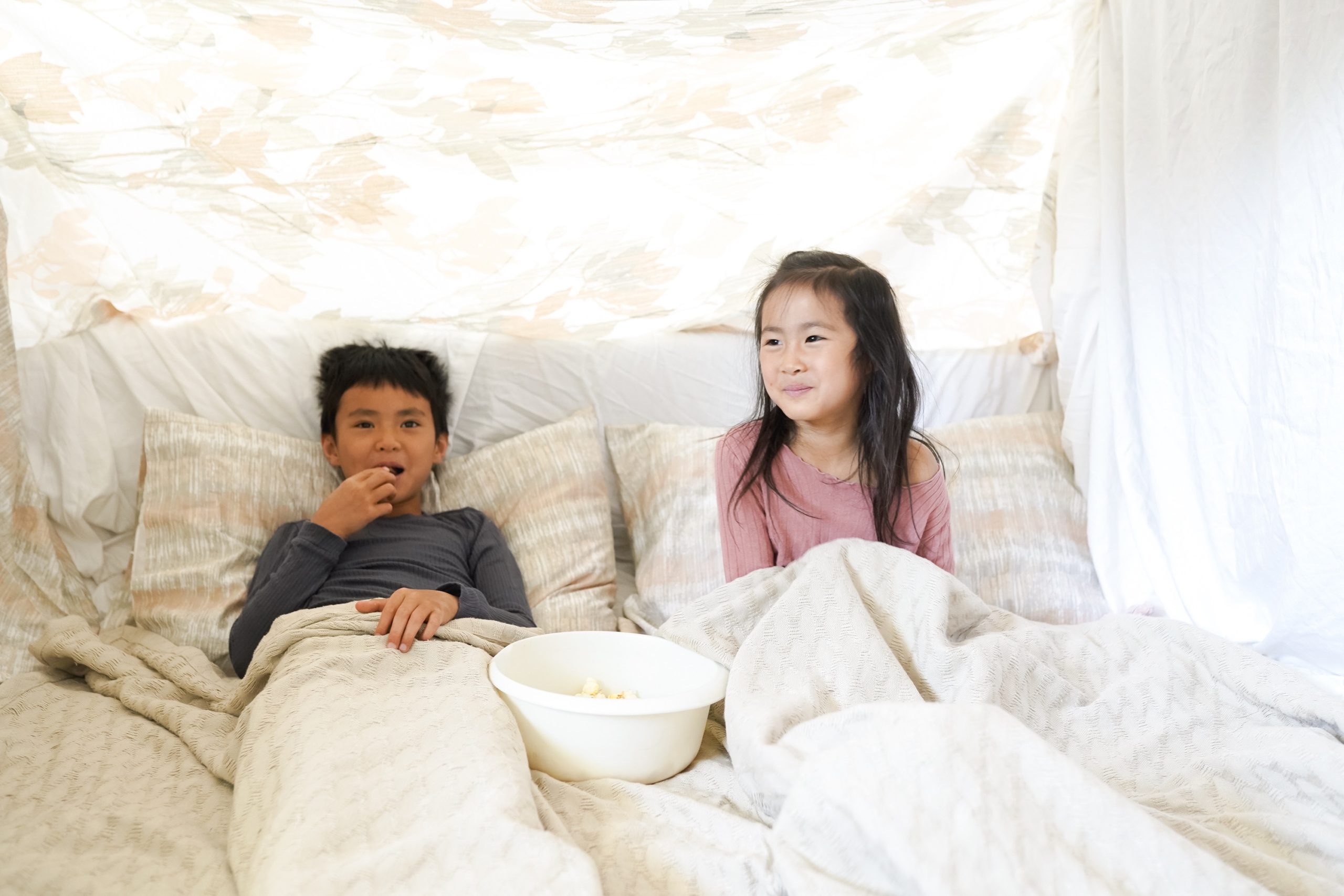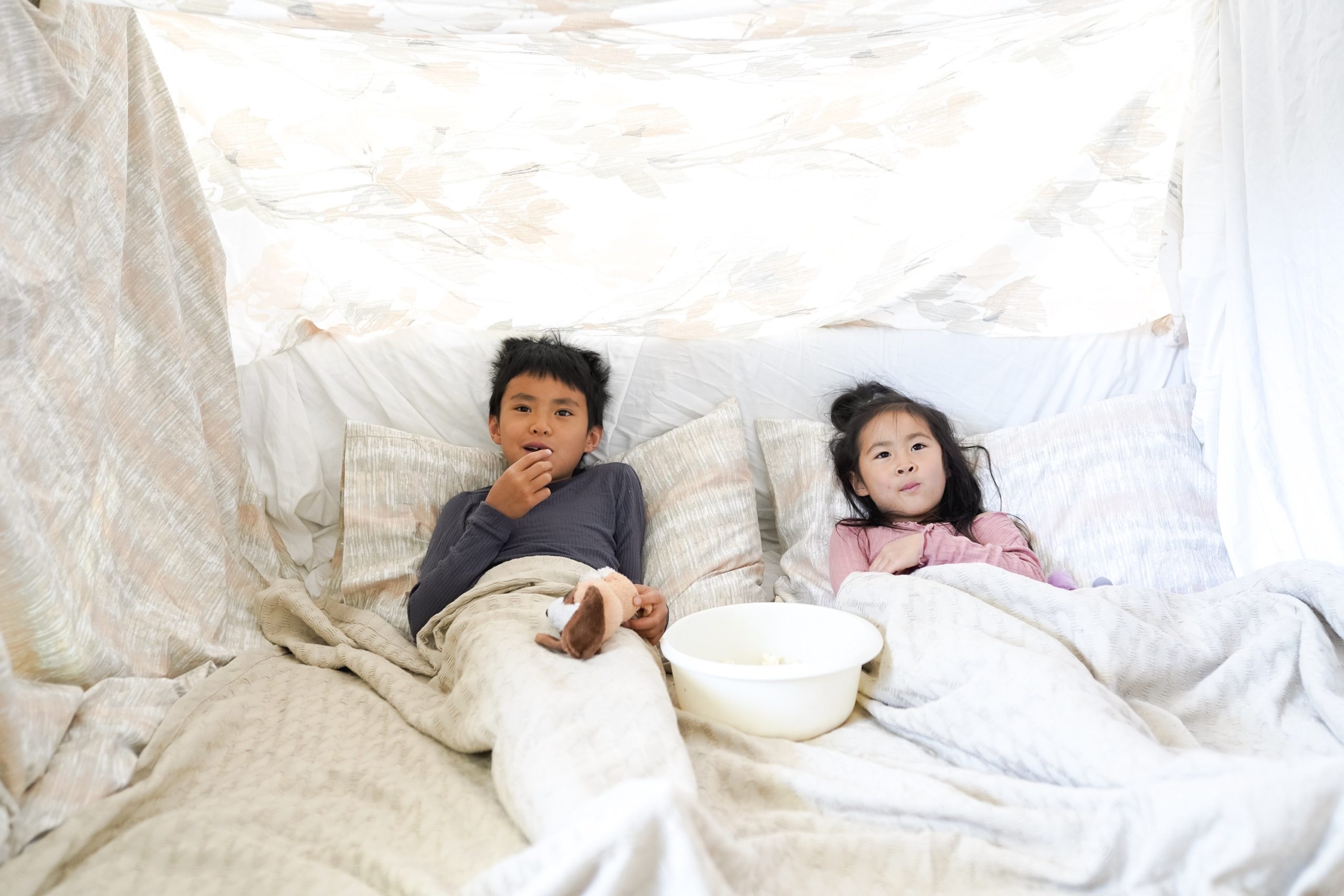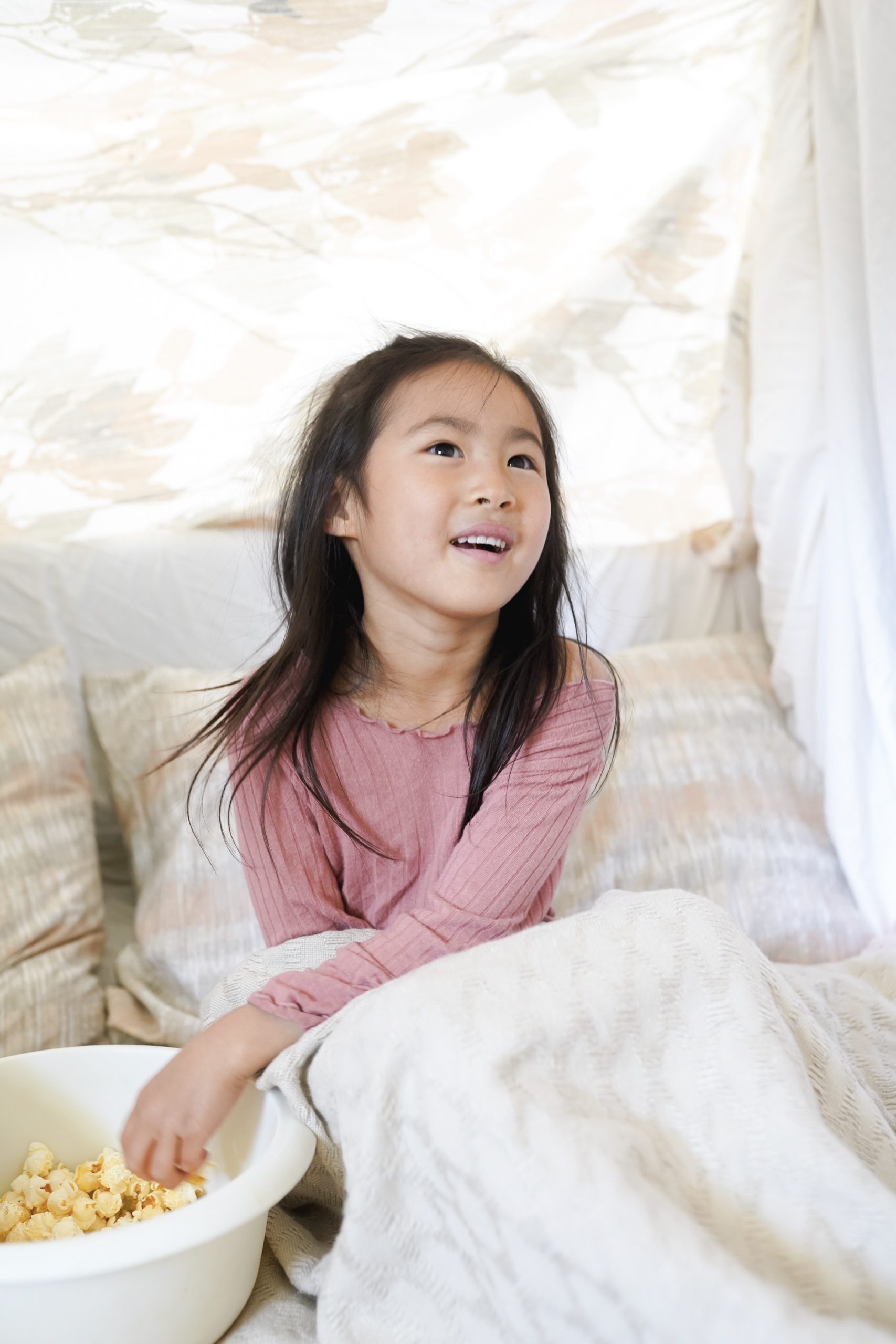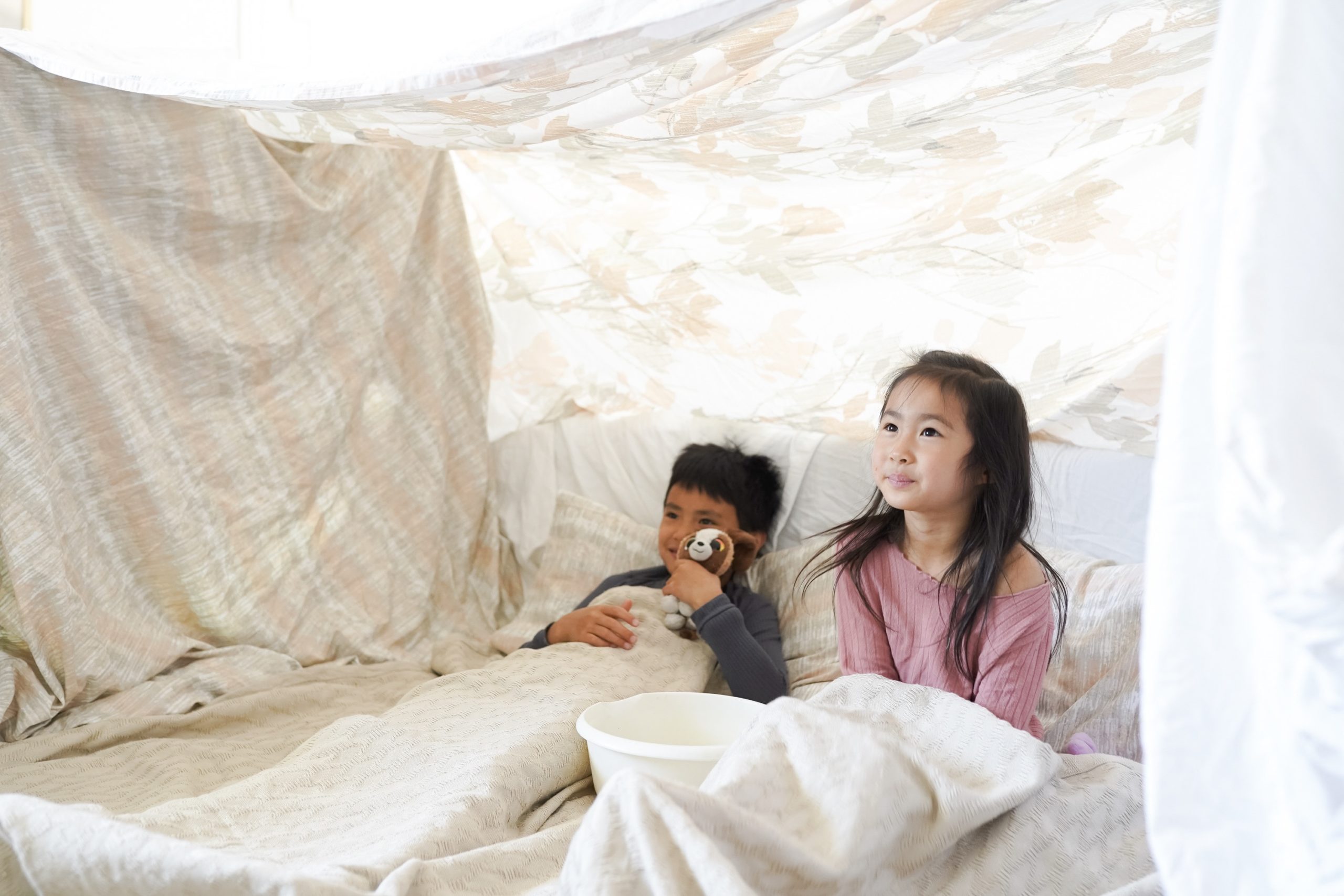 The bedding we used for the fort is from The Company Store, it's actually the bedding that I am using to refresh the guest room a bit. I love that they have some Mix and Match collections, so I was easily able to pick some different patterns of sheets and pillows that coordinated well together. I was drawn to the Prentiss Geo Collection and knew I wanted to build the bedding around it. The Prentiss Floral Collection color coordinated perfectly with it, so it was a no brainer! And then to brighten up the space, I knew I wanted a few crisp whites, so mixed in a duvet cover from the Bamboo Cotton Sateen Collection. My in-laws were supposed to come this month, but we postponed that trip. Instead, the guest room had been just a landing spot for new packages and just random stuff (we all have those rooms in our house, right?), haha. We hope that they can come visit in a couple of months, and when they do, the guest room will be all ready for them! Also, I picked up some new Cotton and TENCEL™ Lyocell Bath Towels as well and oh my gosh, the material on these are so soft! I originally got it to update our guest bathroom, but I kind of want to use them for myself too haha! The Company Store currently has a White Sale going on right now where you can get up to 25% off with code SUMMER20.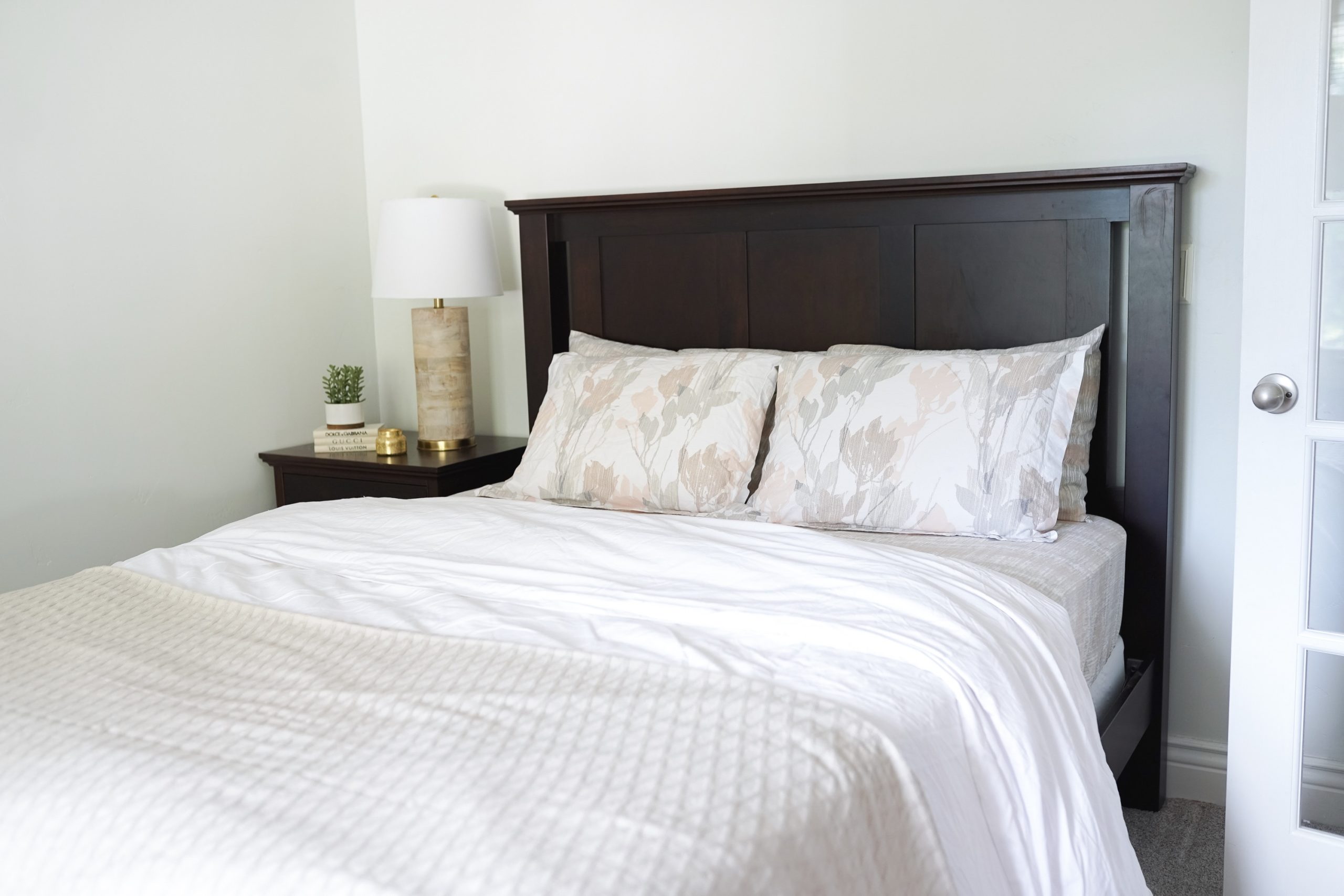 Shop the post:
Lastly, I wanted to let you know about a fun challenge and giveaway that The Company Store is doing right now!! The rules are pretty simple (and fun if you ask me)!
Build a blanket fort. Just grab any sheets, bedding, blankets, pillows you have laying around!
Take a picture enjoying your fort.
Share the image on Instagram, tagging @TheCompanyStore and #BlanketFortChallenge
Tag 3 friends and challenge them to build a fort!
For every entry, The Company Store will donate $10 to the Ronald McDonald House New York
In addition to the donation, they will select bi-weekly winners to receive $1000 worth of The Company Store e-gift cards!! Winners will be selected on 5/29, 6/12 and 6/26 and will notified by DM on Instagram. Contest period ends 6/25.
This post is sponsored by The Company Store, but all opinions expressed are 100% my own.