This has been quite a busy January for me and it's just flown by! I just wanted to thank all of you who follow me on Twitter, have added me to your Google Reader, and commented on my posts.
It means a lot to me that you would take the time out of your day to stop by my blog. And I can proudly say that I have met and exceeded my personal goal of posting at least once a week! I have some exciting, new things planned for February such as "Guest Posts" and more crafts… and I potentially might start somewhat of a posting schedule, but I'll let you know on that one. But to end this month, I wanted to leave you with a throwback recipe with a twist that I got awhile back from my soon-to-be-married friend, Roanna.
White Chocolate Rice Krispies® Treats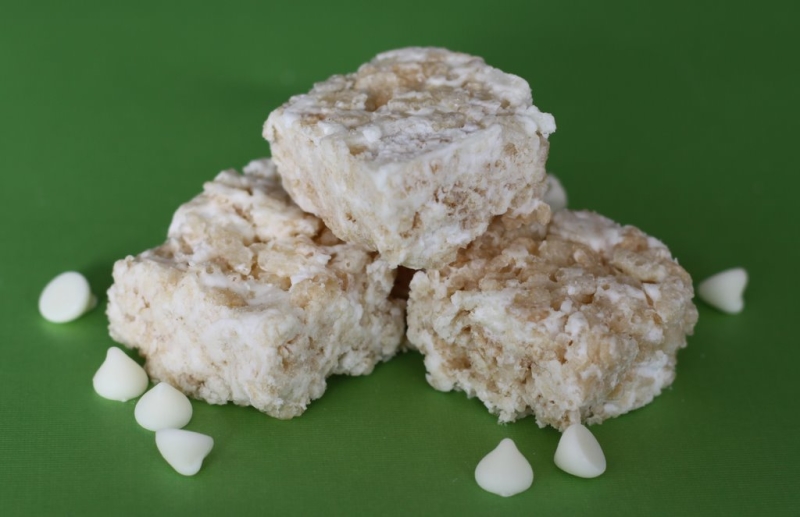 Ingredients
3 tablespoons margarine or butter
1 (10 oz.) package regular marshmallows – or – 4 cups mini marshmallows
6 cups Rice Krispies® cereal
1/2 bag of White Chocolate Chips
Directions
1. Melt margarine in large saucepan over low heat.
2. Add marshmallows and stir until completely melted.
3. Add white chocolate chips until evenly spread. Remove from heat.
4. Add Rice Krispies® cereal. Stir until well coated.
5. Using buttered spatula or waxed paper, press mixture evenly into 13 x 9 x 2-inch pan coated with cooking spray. Cut into 2-inch squares when cool. Best if served the same day.
I made these for my husband on a Sunday before I left on a business trip. I had 3 squares myself before I left. When I got back on Thursday, there wasn't a crumb left. He proceeded to tell me that they tasted kind of meaty suggesting that I may have thrown in a piece of bacon or used a dirty pot to make these treats, which I definitely did not do. But then he said that they were kind of tasty with a little meat flavor!!! Eh, really?? Maybe I should do that next time hehe.
Long story short, we figured out that during the week he had broiled some meat and the tray of treats were near the oven so I guess the aroma infused the treats haha! Not sure what the point of this story was… but either way, these treats are really quick and simple to make so I think you should make some too for Super Bowl Sunday or your Valentine!