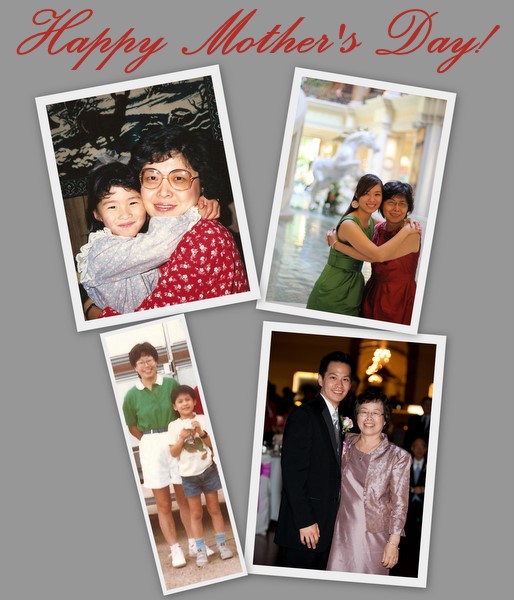 This is the first year that I have not one, but TWO mama's that I am sooo grateful for on Mother's Day!
My mother has always been there for me, through the ups and downs, encouraging me to keep on going and always striving for better. Since I was a Chinese folk dancer from the ages of 3 to 18, her favorite thing to say to me went something like this: "Life is like a stage, where you only have one shot to shine. Don't just be a dancer, be an elegant dancer." She has taught me so many important lessons in life, such as "Finish your rice: for each leftover grain, your husbands' face will gain a pockmark". I listened, Marvin has no pockmarks. 🙂 More than anything, I just love listening to her stories, because they usually always make me smile or laugh!
My mother-in-law has raised my husband to be a charming, caring, compassionate, and easy-going guy. She's also taught him how to cook, which is a great bonus for me! 😉 She is a superstar when it comes to all things crafty, I kid you not. Remember my first sewing project, camera strap covers?? Her sewing lessons were invaluable of which without them, I may not have started this little blog of mine!
Here's our gift to our two mama's: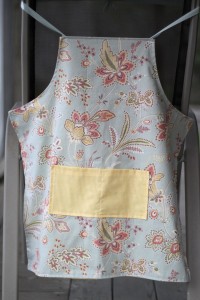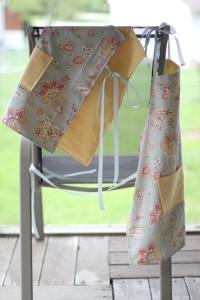 Matching aprons! 🙂 If you want to learn how to make one, check out my previous apron post.
Thank you for everything Mamas! I love you both more than a monkey loves his bananas. And lastly, just wanted to give a special shout-out to all the Mama's out there! Without you, the world would fall to pieces! YOU ARE SIMPLY AMAZING!