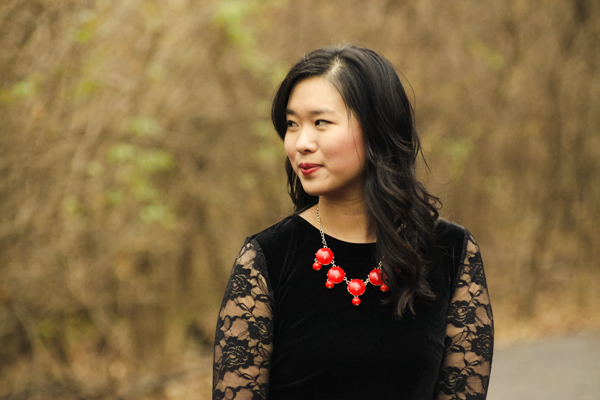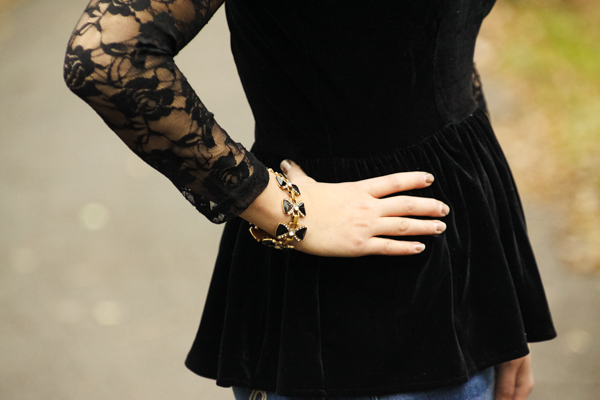 Top: Lulu's | Pants: Lee Jeans | Shoes: Shoemint | Necklace c/o BlueBird | Bracelet: J.Crew Factory
First off, I'd like to thank all of those who linked up to last week's Copy Cat Closet Challenge – Sequins post with your sparkly outfits!  We had a record of 23 link-ups which is amazing.  It was great meeting some new bloggers too.  This week's challenge was a pretty simple one – Holiday Wear!  I'm sure most of you fashion bloggers out there have posted a holiday inspired outfit or will be soon, so don't forget to link up to Ma Nouvelle Mode and The Grant Life this week as well!
For my Holiday Wear, I decided to go the classy black and red route.  The top is pretty much 3 trends in 1 – lace, peplum, and velvet and I adore it so much.  And as you know, bubble necklaces were the IT statement necklace of 2012 but I like this one because it's a different style than all the J.Crew inspired ones you see out there.  It's got less bubbles and the red color is PERFECT for spicing up any holiday outfit.  I'm wearing bows on my arm and bows on my shoes which are also totally holiday (like gift wrap bows) but I wear bows year round anyways.
I love this time of year because of Christmas music, all the pretty lights and decorations, holiday cheer, a focus on family time, and lots of people taking vacations (because taking vacation makes everyone happier).  I also hear it is going to snow soon here in KC, which makes me happy and sad as well.  On one hand, I do think snow can be very pretty (as long as it's not yellow) and I am excited for Austin to experience it.  But on the other hand, it just means it's so dang cold.  Every night these past couple of weeks have also been filled with planning Austin's birthday celebration(s).  I guess that just comes with the territory of having an almost Christmas baby, but you know what?  I am just thankful that he is here, happy, healthy, and learning new things every day.
Don't forget to enter the Blowfish Shoes giveaway for a free pair of shoes and the Jose Eber Hair giveaway for a new set of holiday tools!!
How insanely busy are you these days?