Oh dear, it's Monday again… but at least this one is a Holiday, woohoo! And now all of the Chang brothers are happily married, my mother-in-law is ecstatic! 🙂 And what else does Monday mean?? It's the perfect time to share things that I don't want to put in a full blown blog post, but I want to share nonetheless. Thanks Carissa for letting me be random!
(1) Last week when I checked into my hotel, I walked into a room full of men's dress shirts, dirty socks, and a laptop and TV on. Housekeeping did not do such a great job cleaning up the room… and in case you're wondering, I was promptly checked in to a different room which happened to be properly cleaned. No, it was not housekeepings' fault, I was given the wrong room. Thank goodness no one was in there when I walked in, that could have been bad..
(2) See this bad boy and this macho man pictured below?? These are my newest Polaroid babies. Oh, and I happened to pick up a vintage suitcase pictured on the right (the cream and grey one), the inside is unsightly and I plan on redoing it, will blog about that laters!
The Polaroid Impulse came with 3 packs of 1998 film which I don't think are usable, but we shall see. I'm so thankful that The Impossible Project makes the film now but you pay quite a hefty price for it… at least compared to 1990. If you are beginner to Polaroid photography, make sure to check out One Pearl Button's blog for some great tips! You know, I really used to be a pro at using a Polaroid when I was ten…
(3) I ate a Subway Meatball Marinara on Italian Herbs and Cheese last week. It was topped with cucumbers, spinach (to make it healthy) and then the grand finale?? Chipotle Southwest Sauce all over it, baby. YUM! You think it's gross huh? I think you should try it first before talking smack about it!
(4) My stuffed monkey, Jojo, says HI! We left Koko, Bebe, and Lulu at home… are we bad parents??
(5) I'm totally wanting to go on a segway tour. You have to admit, it looks kind of ridiculous, but sooooo cool at the same time. Have you been on one before? Did you enjoy it?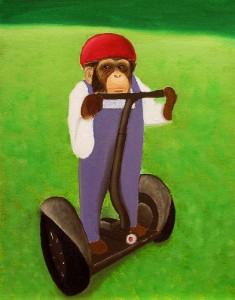 By the way, that's an illustration I drew up of my Jojo on a segway, NOT! You think I can draw that well??? In my dreams! Click on the pickity pic for the source.
(6) Got a hybrid Toyota Prius (or as my friend Christine likes to call it, the car of the future!) as my rental car last week, spent about 15 minutes trying to figure out how to turn that dang thing on. No, you don't just push the Power button… you press the brake AND push the Power button. If you didn't know either, now you can say you learned something today! Also, drove about 2.5 hours on the highway and spent only $2 on gas, wow!
Hope you all had a wonderful long weekend! I had a great time seeing family again as well as meeting some new ones! 🙂