Hello Month of June!! Wow, you really snuck up on us, huh?? A few weeks have gone by since our one year anniversary celebration and I've been so busy that I just got around to uploading all of the pictures from it, not to mention, I'm pretty behind on all my picture uploading which means behind on posts too. 🙁 Anyhow, since our anniversary date fell on a Sunday, Marvin and I decided to kick off the anniversary weekend with dinner on Friday… because an anniversary WEEKEND celebration is totally the way to go!! So after work on Friday, I headed off to my hairstylist for a complimentary style (THANKS DEBBIE)! I love getting my hair curled so she did just that. 🙂
Here's me all decked out in pops of pink and Marvin looking all spiffy in his brown suit!
We set up the tripod in front of our house and snapped away!
Props like hearts (picture idea credit goes to hanamik) and pink flowers were totally necessary to represent our anniversary.
These beautiful hydrangeas were actually given to us by my parents when they were here the week before.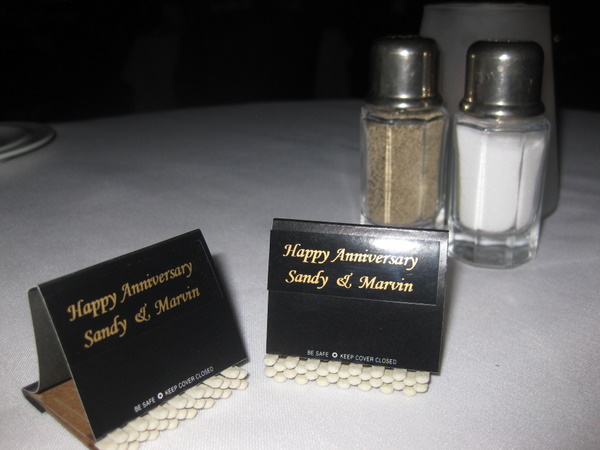 Then we headed to Peppercorn Duck Club where we were greeted with these personalized matchbooks on our table!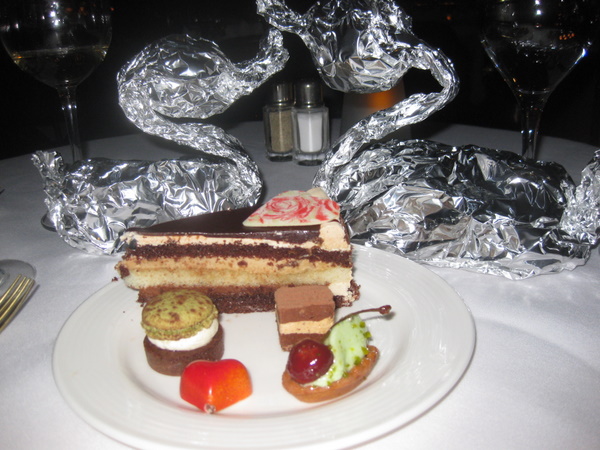 We had soup, salad, duck, steak and best of all… there was a DESSERT BUFFET. Yes you read that right… ALL YOU CAN EAT DESSERT!
And one last dessert to end the wonderful evening. 🙂
I love the dress that I wore for the evening, it's a Max and Cleo dress from Dillard's that my mom gave it to me over Thanksgiving and I haven't had a chance to wear it until recently because the weather has been too cold!! Also, did you see that cute pink hairpin I was wearing? That's the one Jozen from Lola's Girl gave me for doing a guest post on her blog. It matches really well with the pink hydrangeas! THANKS Jozen, I wear that pin ALL THE TIME now, I LOVE IT!! 🙂
And you know what Tuesday means, I'm linking up a photo to Sweet Shot Tuesday!

Also, I'll be back with Part 2 of our anniversary weekend celebration later!