This past Saturday, my friends and I celebrated the Lunar New Year, and by celebrated, I mean we ate… and ate… and ate for 7 hours straight! I'm not even kidding here, friends. See below for evidence!
Course 1:

Cold Dish/Appetizer
We began around 12:00-12:30PM with peanut sesame noodles, tofu, mushroom, turkey pearl balls, chicken and more!
Course 2:

Hot Dish/Entree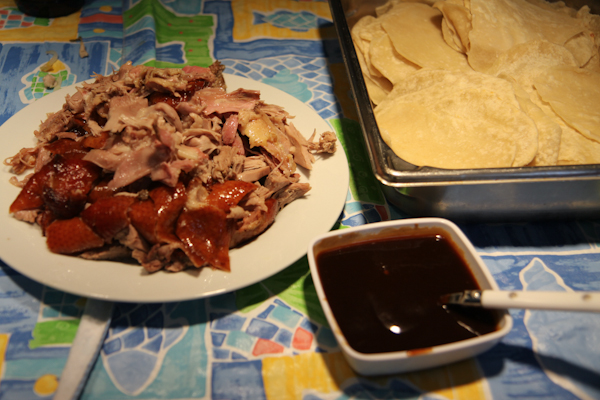 Then moved on to beef stew, pork ribs, and duck tacos, YUM!!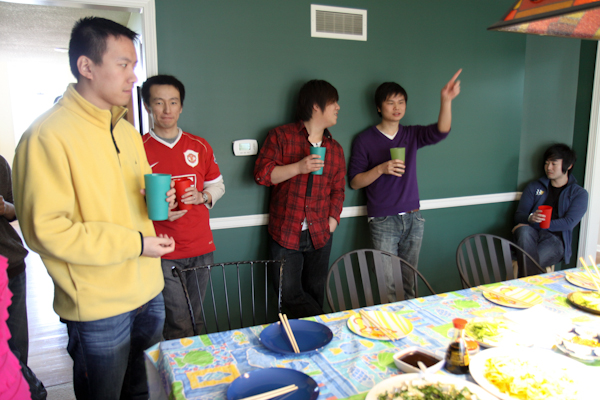 And let's not forget about drinks in fun colored cups!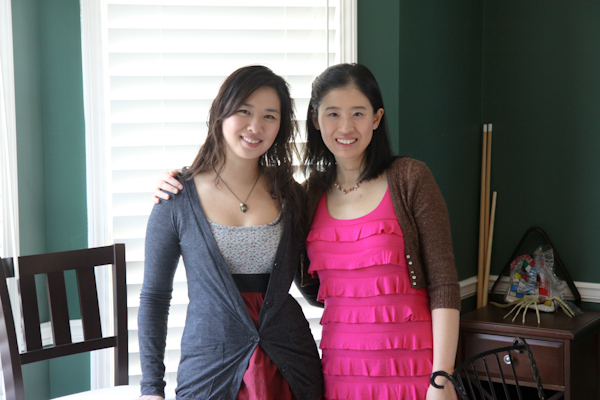 After those two courses, we decided to take a break and play with baby Audrey! But first, here's me with the beautiful host and mommy, Lai! 🙂
Umm… isn't her monkey outfit SO darling? It even has a finger puppet monkey in the pocket. This outfit was given to her by Aunt Sandy and Uncle Marvin! 😉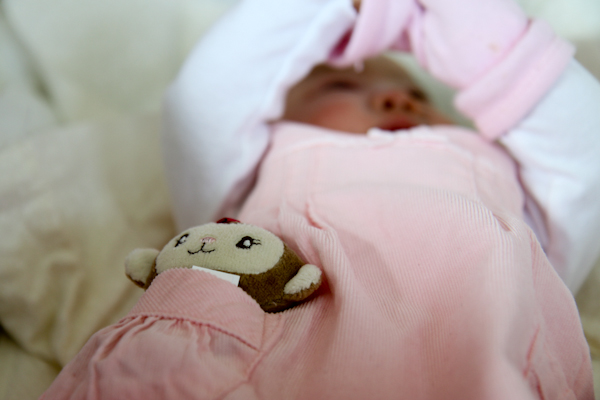 I love the perspective of this picture. 🙂 Linking it up to Sweet Shot Tuesdays.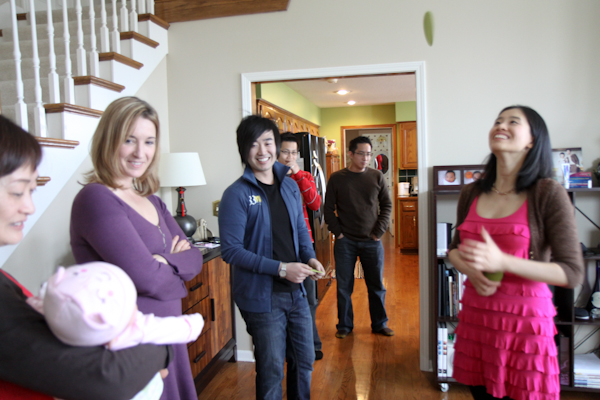 Then we all took turns juggling different objects, trying to make Audrey laugh.
I think these funny guys won the game with bears on their head. Yes, these bears were parting gifts, haha!
Course 3:

Dessert
And finally, many hours later, we ended the evening with almond tofu, cheesecake bars…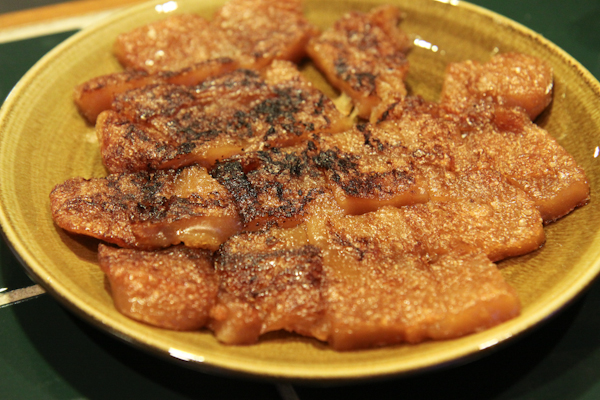 and traditional Chinese nian gao (or sticky rice cakes) which are commonly eaten to celebrate the New Year!
And finally I just wanted to share a recipe for the Pearl Balls I made for the party, these little bites are a perfect appetizer! Juicy and flavorful, they are pretty much similar to dumplings, except rolled in rice instead of wrapped in dumpling wrappers!
Pearl Balls (ZhenZhu Qiu)
recipe adapted from Asian Dumpling Tips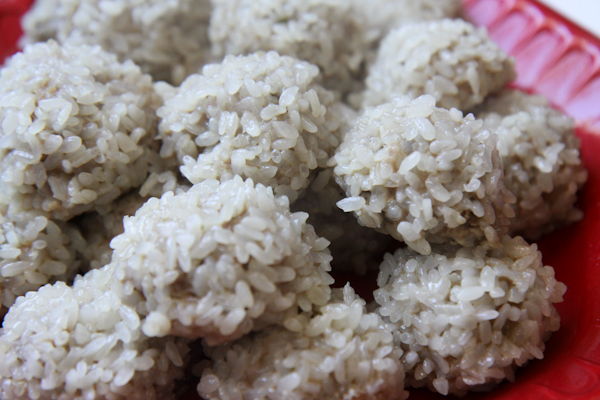 Ingredients
¾ cup sticky (sweet) rice, short-grain or long-grain variety
½ teaspoon plus generous ¼ teaspoon salt
1 pound ground turkey
11/2 teaspoons minced fresh ginger
1 tablespoons finely diced water chestnut
5 or 6 shitake mushrooms, diced
2 scallions (white and green parts), minced
1 pinch of white pepper
1 teaspoon sugar
1 tablespoon cornstarch
1 tablespoon Shaoxing rice wine or dry sherry
1 teaspoon light (regular) soy sauce
1 teaspoon sesame oil
1 tablespoon canola or peanut oil
1 large egg
Directions
1. Put the rice in a bowl and add water to cover by 1 inch. Let stand for at least 2 hours (or even overnight) at room temperature.
2. Drain the rice in a mesh strainer, shaking the strainer to expel excess water. Let aside to dry while you prepare the pork mixture. Drier grains adhere to the meat mixture better.
3. In a small bowl cover the mushrooms with 1/2 cup of warm water and let them soak for 30 minutes. Discard the water (or save for your stock pot). Cut away stems and chop the caps finely.
4. Combine the turkey, ginger, water chestnut, mushroom and scallion in a bowl. Stir and mash with a fork to combine well.
5. In a small bowl, stir together the generous 1/2 teaspoon salt, white pepper, sugar, cornstarch, rice wine, soy sauce, sesame oil, and canola oil. Add the egg and beat to combine well. Pour over the meat mixture and stir vigorously to create soft, sticky mass.
6. Line a baking sheet with parchment paper. Use two teaspoons to scoop up a generous tablespoon of the pork, then pass the pork back and forth between the spoons to form a neat ball about 1 inch in diameter. Deposit it on the prepared baking sheet before repeating. Freeze the baking sheet for 10 minutes to firm up the meatballs.
7. Meanwhile, line steamer trays with parchment paper and set aside. Get the water boiling for steaming and lower the heat to keep it hot and ready.
8. For good measure, shake the strainer again to rid excess water. If the rice glistens with moisture, blot it with paper towels. Transfer to a bowl and toss with the remaining 1/4 teaspoon of salt. Put about 1/3 of the rice on a plate.
9. Use your hands to pick up one of the balls of turkey, roll it between your hands to smooth any rough edges, then roll it in the rice. Aim to coat the surface with a single layer of rice. Place on the prepared steamer tray. Repeat with the remaining balls, spacing them about 1/2 inch apart. Overflow balls can be put on parchment paper lined baking sheets.
10. Steam the dumplings over boiling water for about 20 minutes, until the rice is translucent and the turkey is done. Detach the trays and place each on a platter. As the pearl balls cool, they take on a pink cast from the pork below the rice.
Serve immediately with soy sauce and hot chile garlic sauce. Refrigerate leftover dumplings, return them to room temperature, and steam them for about 5 minutes to reheat.
Happy Tuesday!