i've been busy mailing out packages for my first week on etsy!  thanks to all for your support and especially to those who placed orders with me!  hope you enjoy your item!  🙂  i still think my packaging could use some tweaking so this week i've been inspired by different types of envelopes.  and here's just a few that i've found in all different forms!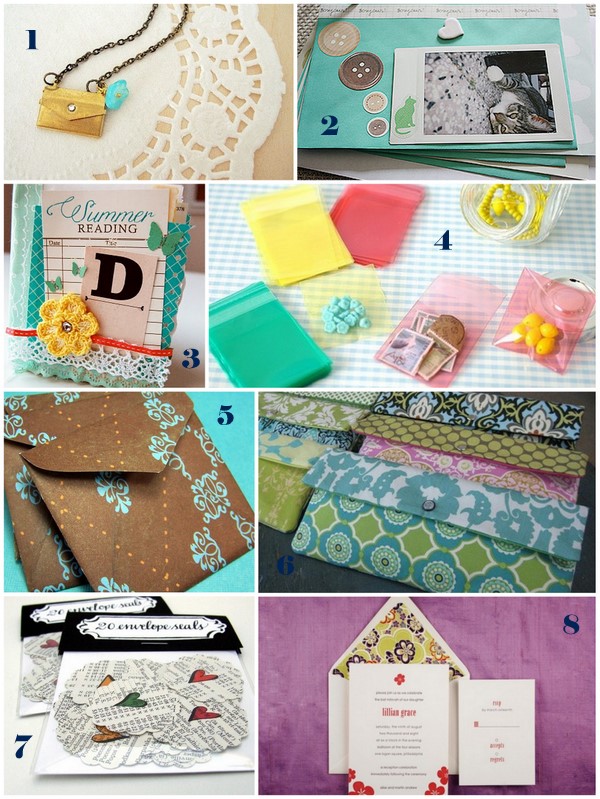 1 a beautiful flower letter envelope locket necklace made by cocoachuchu
2 a super neat DIY envelope mini album brought to you by birds of a feather
3 so crafty envelope booklet tutorial by ann-marie seen on elle's studio
4 mini clear plastic envelopes great for packaging small goodies by pugly pixel
5 unique brown and aqua scroll mini envelopes by mamacateyes
6 envelope clutches perfect for a bridal party or as a present by karamia sofia
7 rustic hearts recycle atlas stickers by k is for calligraphy perfect for sealing envelopes!
8 bell'invto pretty lined envelopes seen on oh so beautiful paper
isn't this post just soo pretty??  hope this inspires you as it has me!  i'm off to spend the weekend with my in-laws and hopefully come up with a ton of new items for my shop!  hope you have a beautiful weekend!