Psssst… have you entered the For The Love Of Joy and Slieberry Designs giveaways going on right now?  You have until Tuesday!
***
Hey friends!  Yayyy it's almost the weekend, aren't you excited?  I sure am!  I'm always counting down days haha.  This week has been an interesting one, I'm still fighting a minor rash that I got after my cold/fever last week and the doctor doesn't exactly know what's wrong with me, so hopefully time can heal this one.  He says he doesn't think it's too serious, so I am hoping he is right on this one!  Besides that, I've made a few new pretties for my etsy shop this week but am still waiting on some new supplies to come in so I can make even more!  And of course, the snow has decided to come back and grace us with its presence once again, grrr.  Luckily, I'll be heading back out to beautiful, sunny California again next week, so exciting!! 🙂  I'll be working part of the week and the other part I'll be playing with family (so excited to see my nephew again) and friends, hoping to visit some more of those food trucks I blogged about before!
For this week's Flavors To Follow (I haven't done one in a few weeks and I miss it), I have a collection of beautiful Statement Necklaces for y'all!  I've pretty much been obsessed with them lately and I've seen them on all sorts of fashion blogs!  A statement necklace is well, kinda obvious if you ask me, it makes a "statement" to your outfit.  You could wear a simple black dress or  a white tee and jeans, and once you dress it up with a statement necklace, voila, your outfit is complete.  It speaks for itself, really.  Here's a few that I love… and thanks to all those twitter friends who sent me links as well!  😉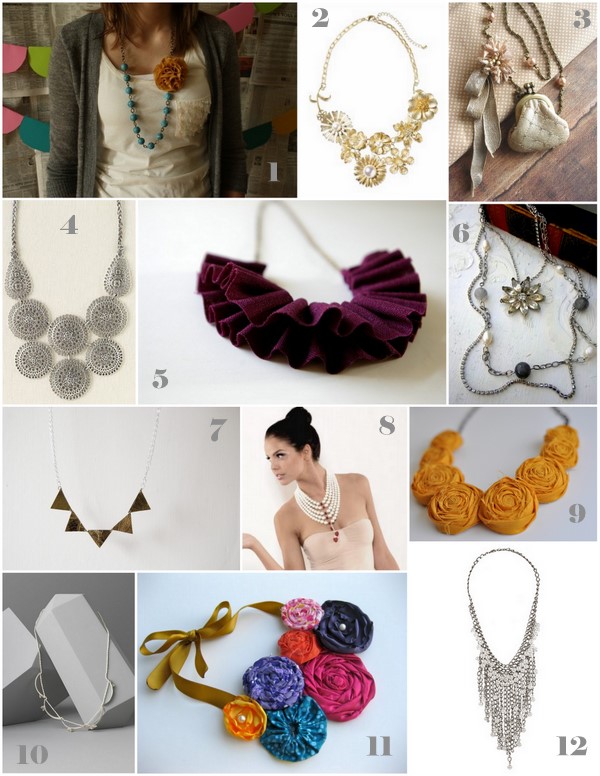 1 add a few pops of color to your outfit with miss lyndsi by sunshine and carousels
2 wear this beautiful gold tinley road necklace with that little black dress and you'll be nominated for ms. glamorous!
3 store your lipstick or coins in this risshun mini purse necklace, spotted by ms. megan
4 little girl in the big world is celebrating 100 followers by giving away this stella and dot medina necklace
5 be my twin by ordering this plum ruffle necklace from pretty things by meg!
6 win a necklace of your choice from simply me art in lola b's giveaway!
7 if you're a fan of bunting like i am (just look at my header), then this is the perfect leather bunting necklace for you, thanks krystal!
8 dress like royalty in this spoil me fashion queen of hearts necklace spotted by statements in fashion!
9 made by allora handmade, i own this rosette statement necklace in this very mustard color and love it!  wanna be twinsies?
10 it's from anthropologie's new wedding line, bhldn, enough said.
11 sweeten up your wardrobe with this jelly bean statement necklace from craftee mcgee (i know reviving remnant's has been eyeing it)!
12 add a pearl or many to your wardrobe for a super affordable forever 21 price (thanks stories at my fingertips)!
Hope you all have a beautiful weekend, lovelies!!
Are you a fan of statement necklaces?
I'd love for you to include links of ones you're crushing on!