So my last three recipe posts had pumpkin in them, nothing wrong with pumpkin, I mean I LOVE pumpkin, but I'm guessing you're probably ready for something new huh?  This weeks recipe was sent to by my friend Amy, from Pura Vida Nutrition!  And what's so special about this recipe?  Well, it uses stevia, instead of sugar!  From the trusted Wikipedia, stevia has a negligible effect on blood glucose, even enhancing glucose tolerance; therefore, it is attractive as a natural sweetener to diabetics and others on carbohydrate-controlled diets.  Would you believe that 3/4 teaspoon of powdered stevia is equal to 1/2 cup of sugar??? (Stevia also comes in liquid form and 1/4 teaspoon of liquid is equal to 2 teaspoons of sugar.)  OK, enough with the lesson and on to the pictures and recipe!  😉  I introduce to you the White Chocolate Chip Cranberry Cookie, a soft, cake-like wonderful cookie!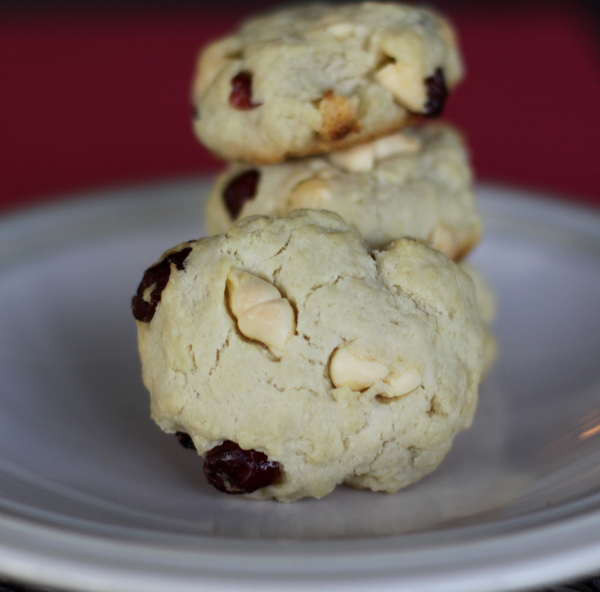 How does it look?  It's a mix of white chocolate chips , cranberries, and delicious soft dough… perfect for a holiday party!  Here's the recipe adapted from Sensational Stevia Desserts by Lisa Jobs, background design created by Lovely Design, if you'd like to try it!  I think I was inspired by the Winter Recipe Exchange to put my recipe on a "card" this time instead of just listing it out in a post!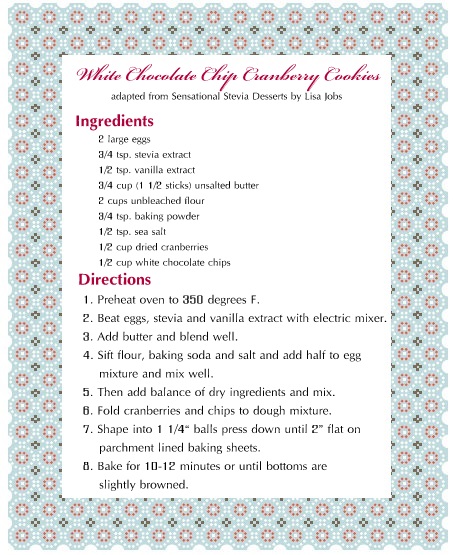 *Note: these cookies will NOT brown on top like traditional cookies, so you must first check the bottom for browning to tell if they are done.  You can also put a toothpick in center to see if its dry.  If so, then cookie is done.  Enjoy!!
Have you baked with stevia before?