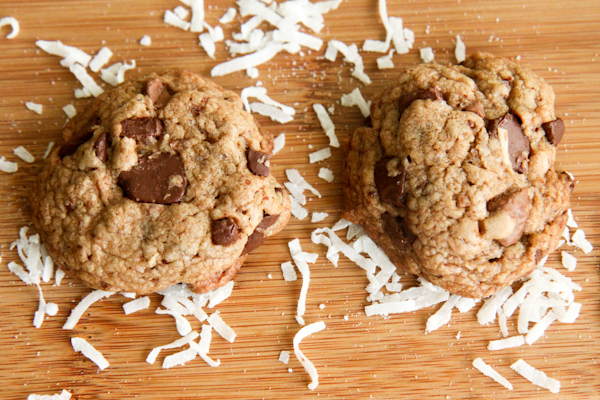 You can never go wrong with bringing a basic chocolate chip cookie to party. Everyone loves those babies and they get gobbled up in minutes. But I'm always looking for new ways to spice up basic recipes and I may have met my match with these Toasted Coconut and Browned Butter Chocolate Chip Cookies seen on Doughmesstic. What takes these cookies to the next level are the:
1) browned butter (must must must brown the butter, don't get lazy and think you don't need to brown it)
2) coconut (takes me back to paradise)
3) sea salt (don't think I can express enough in words how much I love a sweet and salty contrast)
4) chopped chocolate bars (I didn't have Scharffen-Berger but wish I had. I've actually been on the Scharffen-Berger chocolate factory tour in San Francisco before, so fun and yummy!)
I made these over the holidays, hence I couldn't bring them into work, sorry team, I'll make another batch when I return at the end of March. 🙂 Me, Marvin and my parents finished these off in no time, they went with breakfast, lunch and dinner. I promise you that these cookies (and you) will be the talk of any event if you make them, the more gourmet the chocolate, the more of a hit you'll (err the cookies) will be.