Have you entered the FOUR GIVEAWAYS going on right now? You could win two beautiful prints, a mustard headband, a Polaroid pocket mirror and postcard set, or a cowl in your favorite color!!
***
If you've followed my blog for the past year, you'll know that I traveled A LOT in 2010! Business trips, friend's weddings, baby showers, holidays and vacations were the main reasons. And my 2011 is shaping up to have a good amount of travel as well! 🙂 Southwest and Delta (hello status and First Class) are my best friends as I don't have to pay baggage fees on either!! But, we are not always so lucky to be able to fly our favorite airlines and sometimes a checked bag costs a hefty $25! So I've pretty much been trained now to pack everything (for up to 9 days) into my trusty ole mini red suitcase.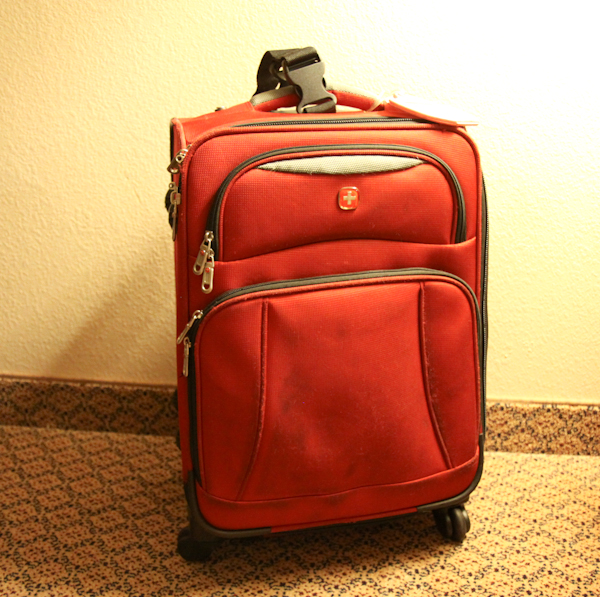 Here she is!! Please excuse its' rough look (that's from when I HAD to check this sucker b/c I had too many carryons). I love how her wheels roll in every which direction, perfect for pushing and dragging around the terminal, up and down the escalator, on and off the tram, and out to your rental car! Anyhow, I just wanted to share a new method of packing that I recently discovered, the "Burrito Method of Packing"! No, you don't need to be a Chipotle burrito roller to know how to do this. In the past, i used to fold my clothes in half (like most fold laundry) and place it in my suitcase one on top of another. And when I take the clothes out, it's wrinkle city. But this burrito method is anything but. You simple fold each article of clothing in half the long way, then roll away, like a burrito.
Look at those burrrritos! Saves space in your suitcase and doesn't make wrinkles, wowza!!
And here are a few other tips I have for packing smart:
1) Pack neutrals. A simple white t-shirt: you can dress it up with jeans, heels and a long necklace or dress it down with jeans and sandals.
2) Stick to the same color family. For those of us that aren't daring enough to mix black and brown, it'll be easier to stick with one base color. If I am bringing 1-2 pairs of black dress shoes (because shoes take up a lot of space), I usually make sure my pants are black, grey, khaki and my tops match with those.
3) Put your shoes in plastic grocery bags. This ensures that your dirty shoes don't get all over your clothes, I like it.
Got any travel tips to share?