Today, I am excited to kick off the It's In the Bag Blog Crawl hosted by A Hasty Life!  There's a whole bunch of bloggers that are participating this week and next week, so you'll have to check them out!  Who knows?  You may find a few new blogs to follow too b/c we know we all LOVE finding new pretty blogs to read!  🙂  For this blog crawl, each blogger shares a picture of their bag, the contents of the bag and what the contents say about you as a person.
This crawl couldn't have come at a better time, as I just happened to purchase a new bag recently! Meet the Class Act Bag from Spotted Moth!
This creamy gray bag is my new favorite bag, it matches with just about anything and is the perfect medium sized bag to fit everything I need!  Would you like to have a look inside?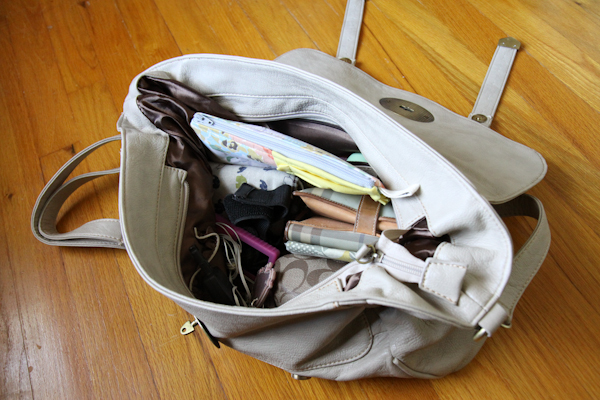 See, perfect fit for everything I need!  And it's got an inside zippered pocket, outer zippered pocket as well as slots for your cell phone/camera!  Do you want a better look at what I'm carrying inside?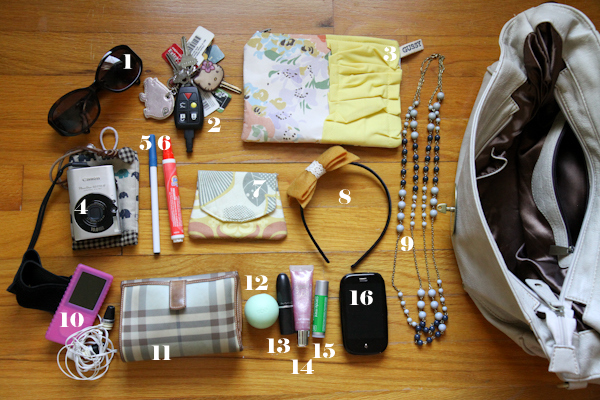 Tadaa~!  There you  have it! 🙂 And a little description of each item and why I carry it…
1. Coach sunglasses – Given to me by my husband a couple years ago, I like to own a few nice/designer things 🙂
2. Keychain set – The Hello Kitty key cover was purchased Hawaii when we were on our honeymoon and it reminds me of Hawaii, shaved ice and warm weather everytime I look at it!  And the pink pig represents my animal in the Chinese Zodiac!
3. Gussy Sews pouch – A super pretty, well made, functional and adorable pouch to hold all my accessories (8. and 9.)!
4. Canon Powershot SD770IS with elephant pouch – To capture all those point and shoot moments, or basically when I don't feel like carrying around my big DSLR.
5. Pen – You never know when you need it, like when the waiter forgets to give you a pen to sign the bill!
6. Tide to go pen – You never know when you're going to spill something or drop food on yourself!
7. Business card pouch – One of the first things I ever sewed, this pouch is my pride and joy!  I always carry my Sandy a la Mode and work business cards in it because you never know when you'll need to pass one out.
8. Sandy a la Mode bow – Headbands possibly coming to my shop soon!
9. Necklace – I love carrying accessories in my purse, just in case, you never know when you'll need to jazz up your outfit!  This particular one is from Forever 21.
10. Zune – Completely necessary for working out.
11. Burberry wallet – Given to me by my sister-in-law years ago, shows that I like some designer things and I can hold on to them for awhile!
12. EOS lip balm – Given to me by my sister-in-law, these keep my lips nice and smooth instead of dry and crackly!  It sure helps in the winter time!
13. Victoria's Secret lip gloss – I'm a sucker for shiny lips.
14. MAC lipstick – The color is Midi Muave and this is probably my fifth tube of it.  What does that say about me?  I don't really know how to branch out from my regular makeup routine, pretty much have been doing the same thing for years.
15. Minty lip balm – Yea… I'm obsessed with lip stuff.  I pretty much have at least one lip balm/gloss/stick in every purse I carry.
16. Palm Pre cell phone – Pretty much my sidekick and I can't live without it.  I use it to check email/twitter/blog comments/facebook/google/and I could go on.  I'm pretty lucky that my work pays for it.  🙂
Tomorrow, the beautiful blogger Krysten, from After I Do, will be sharing the contents of her bag, so you must check it out!
To see the full list of blogger participating and their days, visit here.  Thanks again Ashley for putting this together, it was so much fun!
P.S. My ONE YEAR BLOGIVERSARY is coming up this Wednesday and I simply cannot wait!!  I'm have a huge GIVEAWAY party here so don't forget to come back!! 🙂 And you have ONE more day to enter the FOUR GIVEAWAYS going on right now!  You could win two beautiful prints from City of Blackbirds, a mustard headband from Maie Dae, a Polaroid pocket mirror and postcard set from OPB Studios, or a cowl in your favorite color from Holly Knitlightly!!