Have you entered the Livy Love Designs giveaway for the print of your choice in 8.5 x 11″ size?
It's been forever since I've done a Flavors to Follow and I have to say, I've missed them! Lately, I've been obsessed with bracelets, bangles and cuffs. I have to say, I can probably count on one hand how many of these I own. I normally wear a watch on my left wrist and a black hairtie on my right wrist (I always forget to take it off for outfit posts, fail). But I'm ready to branch out and add pops of color and fun designs to my outfit, in other words, just another reason to go shopping! 😉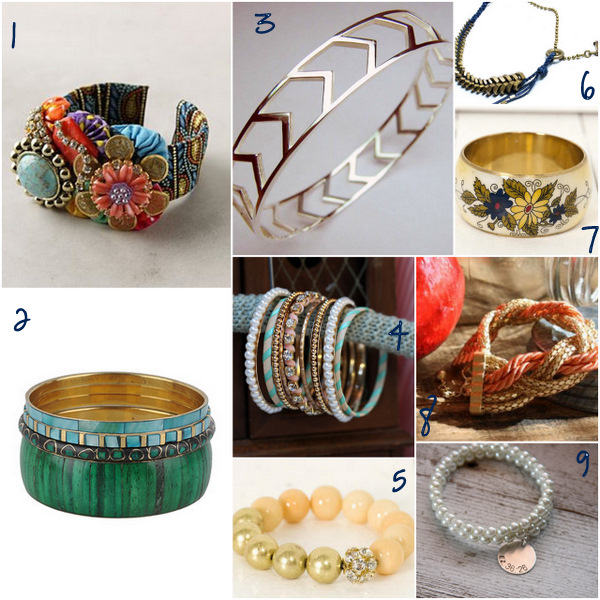 1 Loving this super colorful African inspired cuff from none other than Anthropologie.
2 Pretty much two of my favorite colors (for now) in one Forever 21 bracelet set, seen on Cafe Fashionista.
3 Chevron's are so IN right now, just ask Jess LC!
4 REALLY wanted to buy this Shop Ruche bangle set, but sad it's sold out. 🙁
5 So perfect for girl's night out or a date with your boy by Francesca's.
6 Super cool DIY braided bracelet, made of… hex nuts! Thanks Tiny Twig!
7 And florals? Oh how I just love them. Another gem from Francesca's!
8 So sophisticated and pretty, great color combo from Spool No. 72.
9 Choose your verse on this classic pearl bracelet from The Rusted Chain!
So pretty, yea? I'm ready to start buying… them all, heh. Or maybe if I make enough money from my craft fair tomorrow or if y'all use code GOODLUCK for 15% off your order to my shop, you can help me on my way to a new bracelet! 😉
Are you a bracelet, bangle, and cuff wearer?