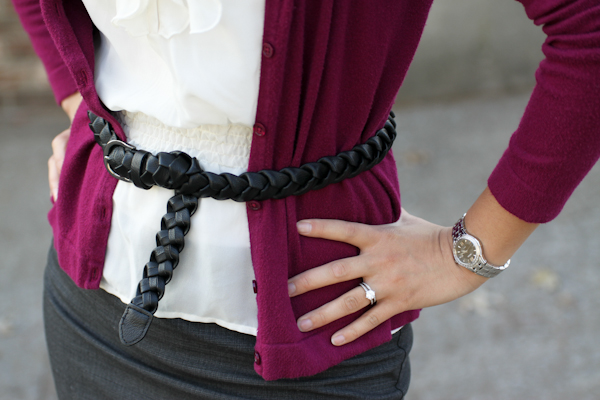 Blouse: H&M, Cardigan: Ann Taylor, Belt: Forever 21, Skirt: Kenneth Cole Outlet, Tights: Forever 21, Shoes: TJ Maxx, Purse: Spotted Moth, Watch: Christmas present from hubby :), Necklace: Forever 21
First off, just wanted to thank you all for making my one year blogiversary such an amazing day! The giveaway has had an overwhelming response and I've never received so many emails in such a short amount of time, ever (yup, I got an email each time y'all comment)! Also, a big thanks to all my amazing sponsors for offering such generous discounts, don't forget to take advantage of them!! Both giveaway and discounts end this Sunday, January 16, 2011, so make sure to get your entries in and your shopping done! And now I think I probably have 100+ new blogs to follow, which is great for me since blog reading is quite possibly my favorite hobby, but not sure how hubby is gonna feel about that one~! 😉
Earlier this year, OK so that was just last week, I kicked off the year with a "In Style" post and I said I'd be doing more of these this year. Now I don't personally consider myself a fashionista but I'm hoping that blogging about my outfits can help me be more creative with my current wardrobe. And not to mention, my hubby and I made a deal that if I only buy 1 top, 1 bottom, 1 shoe, and 1 accessory (cost of each can't be over $100) between now and May 1… he'll buy me a certain item that I've been eyeing! 🙂 And for a shopaholic like me, that's gonna be one tough feat!!! Do you think you could do that!? It's gonna take A LOT of willpower, especially with all the cute stuff you guys always find and post on your blogs!
So anyhow, where was I, oh yes, in my first "In Style" post of the year, I mentioned this new installment I'm going to start called "Cubicle Chic" for all us women who have 8-5 jobs that require you wear business casual attire to your cubey cube (if you have your own office, you're not allowed in the club because you're probably a CEO making millions, sorrrrrry)! My favorite part about it is the belt over cardigan over ruffle top look! What do you think? Oh, and I'm pretty much in love with my heels that I purchased from TJMaxx for like $10, total steal right there! And since I never did a "What I got for Christmas post", there's a peek at the Seiko watch my hubby got for me, you may not be able to tell from the pic, but there is bling on it, and I love it, except that I haven't had a watch in ages so I keep forgetting to wear it, doh! And remember the bag, it's the one I posted for my "It's In The Bag Blog Crawl" post! If you have been living under a rock, you can check out all of the other participating bag revealers over on A Hasty Life!
So tell me, what's the longest you've gone without shopping (for clothes/accessories/shoes)?