You've asked, so I'm delivering. 🙂 I'm SO SO SO super excited to finally give you all a tour of our new house, the one we finally just got all settled in to! We're still working our way unpacking all the boxes and it's pretty much a disaster zone right now (I won't be sharing those pics) but we're so very happy as can be with it. We've got a lot more space, live in a wonderful cul de sac neighborhood that is walking distance to an elementary school, and the closest shops are Target and Chipotle (can't get much better than that)!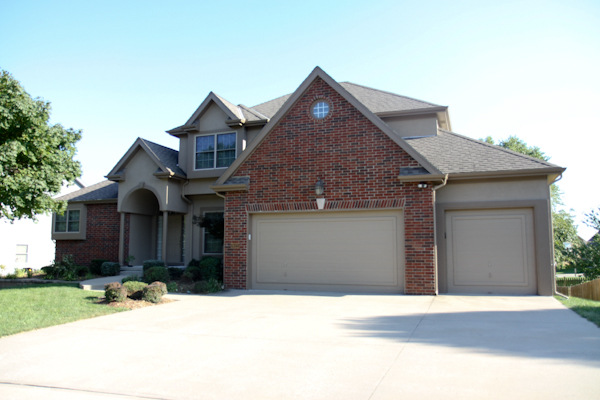 The front of the house, yay for a 3 car garage!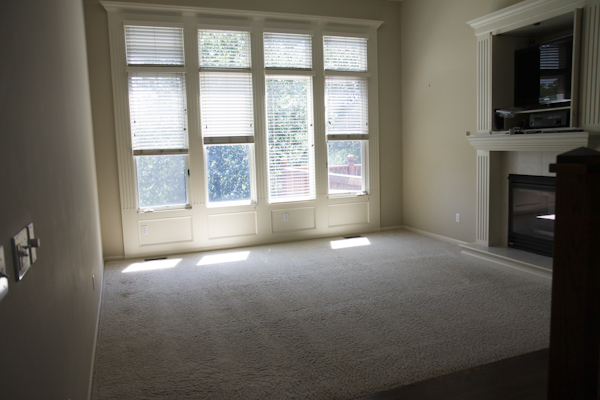 As you walk in, the first thing you will see is the living room with great big windows and a see through fireplace…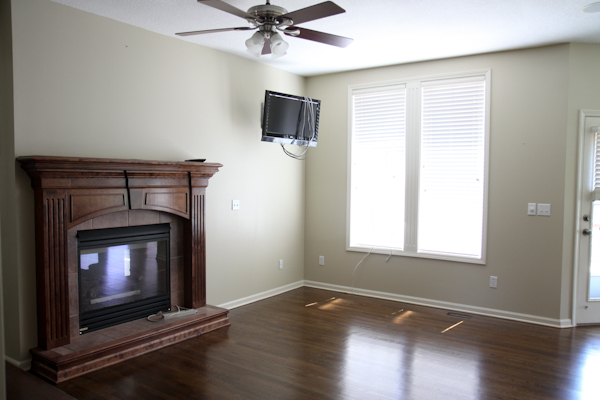 … that goes through to the hearth room (notice the hardwood floors, we got them refinished in a dark color, love it)!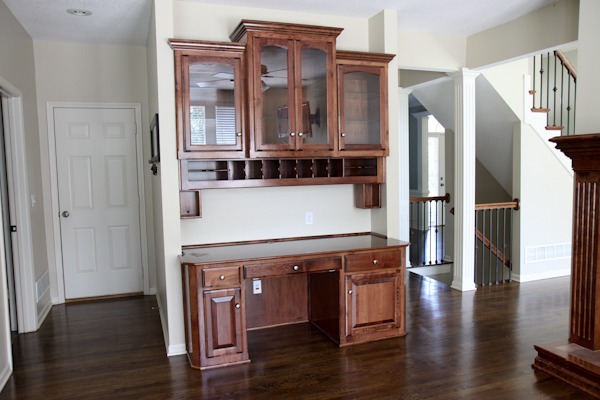 Part of the hearth room is this beautiful built in desk which is like a mini mail collecting area, china display and working desk!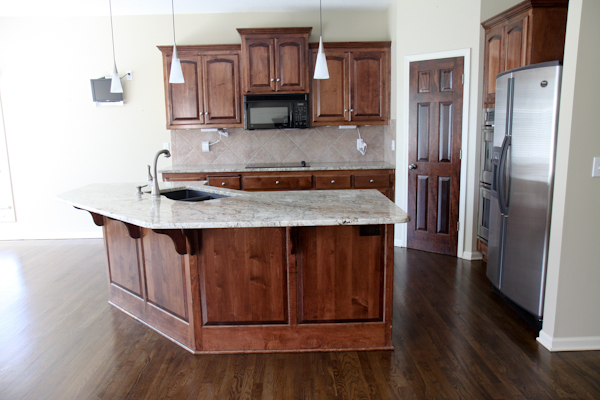 The hearth rooms opens up to one of my favorite rooms in the house, the KITCHEN… with granite countertops, a walk in pantry and double ovens!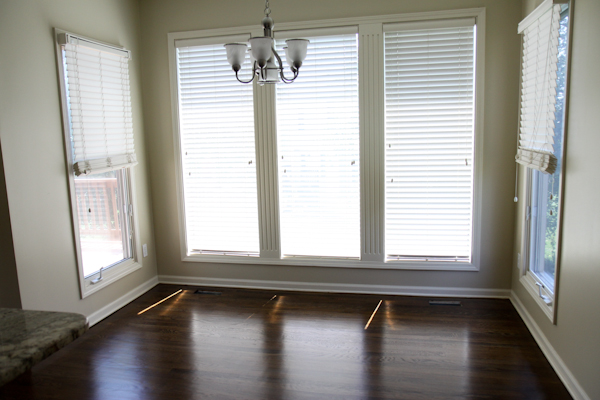 We can't forget about the little eat-in kitchen area where we have yet to find a table/chairs for~!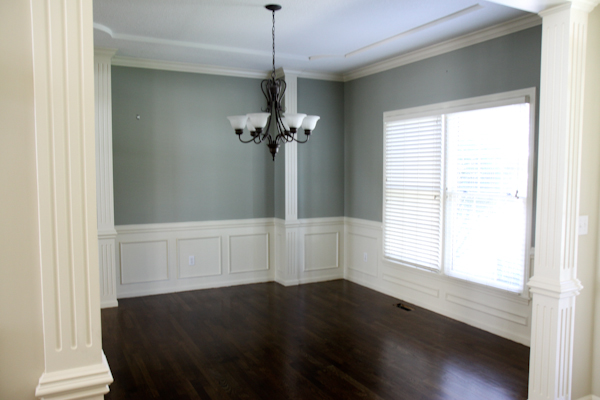 Here's the formal dining room with beautiful wainscoting and ceiling details.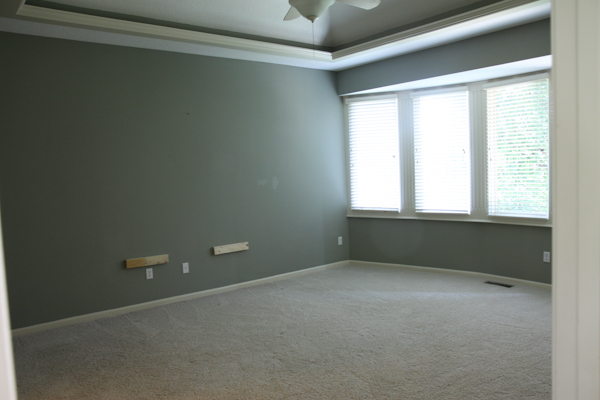 And it happens to be painted the same color as the master bedroom! You can't see it real well, but there's a tall tray ceiling with rope lights if we want to make it ultra romantic and bowed out wall with 5 windows!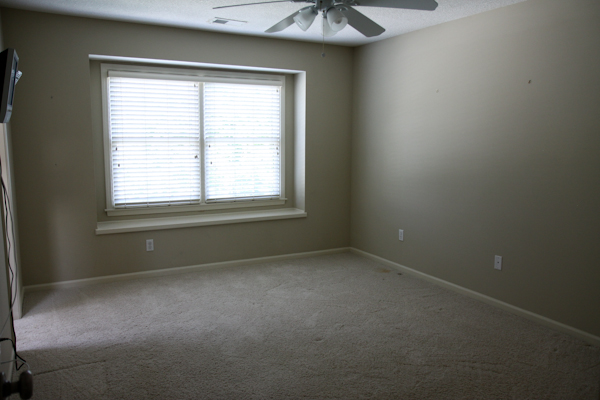 Here's bedroom #2 which includes a full bath and a cool sitting area by the window.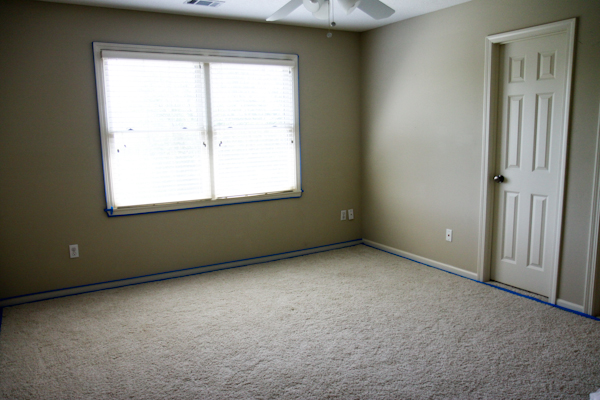 Bedroom #3 is what we're turning into the nursery! 🙂 Notice the painter's tape as we are in the process of redoing this room before Baby a la mode's arrival!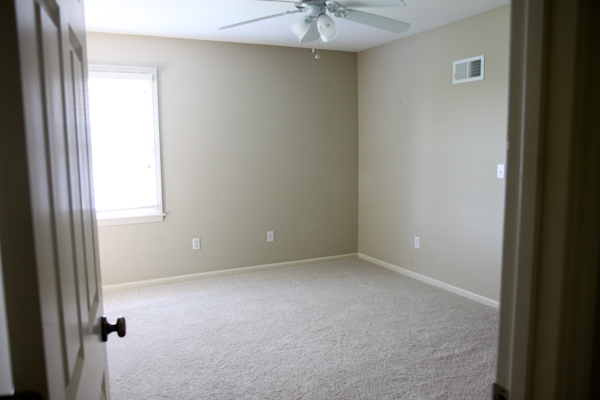 And Bedroom #4 which has a BONUS room off of it too, we'll finish that room later~!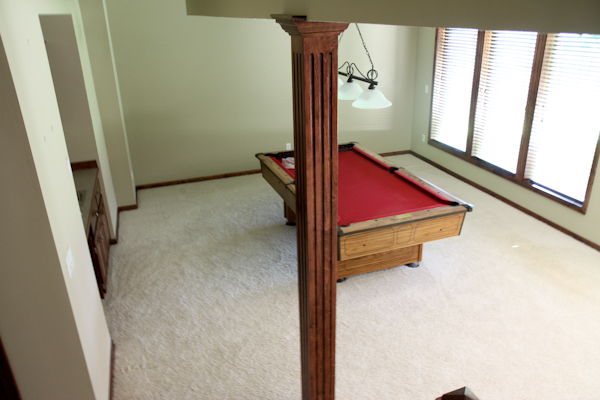 Hold your horses, we aren't done yet! Here's a view of the walk out basement! And yes, the old owners left us a pool table – suh-weet! There's also a mini-bar off to the left side as well.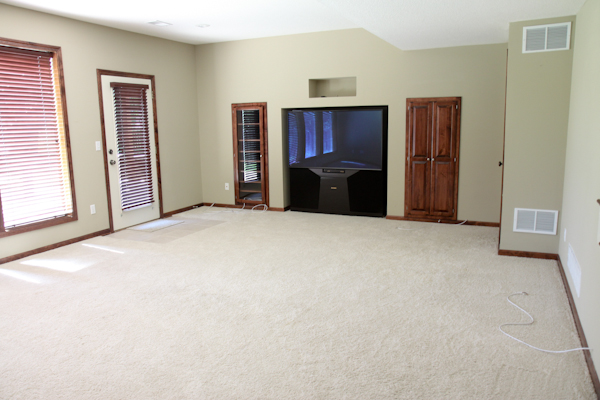 The rest of the basement is a sweet entertainment space, that Marvin's already been setting up to be his man cave. Then there's a whole other half of the basement that is all storage, but I'll spare you of those pictures.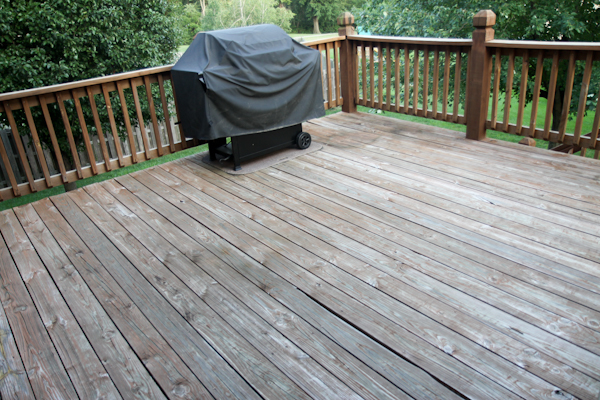 And lastly, are some views of the back of the house. Here's the deck off of the main floor and our BBQ grill's new home.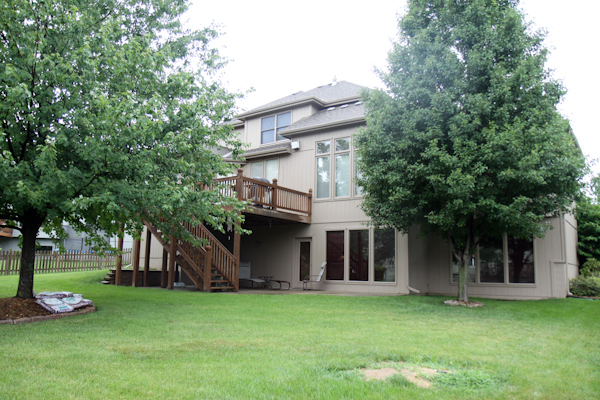 Walaa! There you have it. 🙂
You can bet I'll be blogging more about our home as we start decorating it. It's always so fun having a new space to design… although I know it's going to cost us as we have more rooms and walls to fill then we're used to. We've decided that we'll do it slowly but surely though, there's no rush right now, except maybe the nursery! 😉